The Department of Conducting is one of the nation's most highly-ranked and esteemed graduate conducting programs. The faculty lead a diverse list of band, choral, and orchestral ensembles in the School of Music, Theatre & Dance (SMTD), and throughout the University. The MM and DMA degree programs offer students the opportunity to study band/wind, choral, and orchestral conducting in a challenging, collaborative, and engaging environment. Mentored by world-class conductors and surrounded by supportive and talented colleagues, students gain first-hand experience leading a wide-range of ensembles. Department alumni are known for their comprehensive training and consummate professionalism, and can be found leading acclaimed ensembles around the globe.
Faculty
The members of the world-renowned University of Michigan conducting faculty are in frequent demand as guest conductors both nationally and internationally, clinicians for masterclasses and residencies, and as adjudicators for competitions. As active practitioners of their craft and celebrated pedagogues, they offer weekly private lessons and seminars to all their students.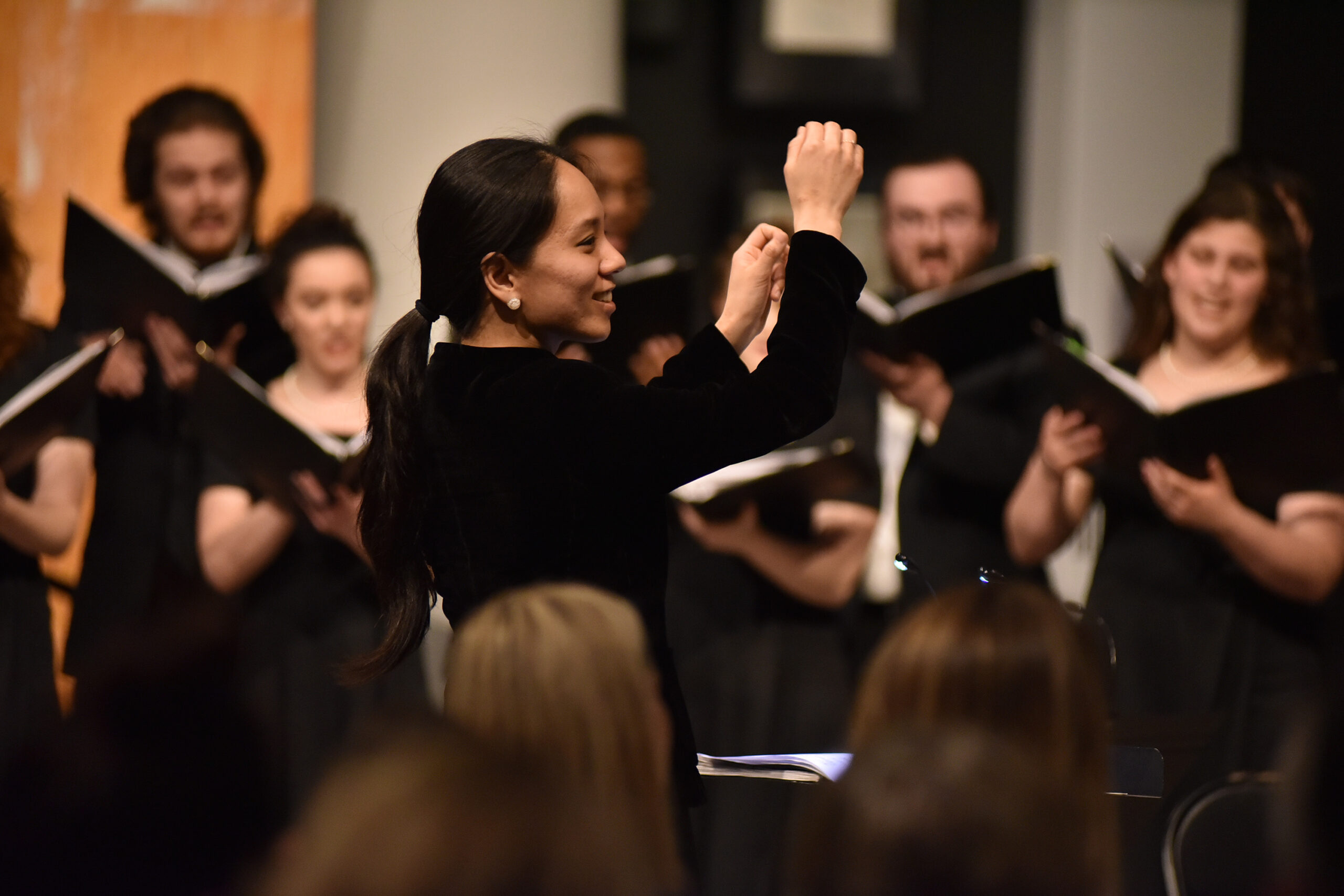 Performance Opportunities
From large ensembles in celebrated concert halls to chamber groups in intimate recital spaces, performance opportunities across all disciplines abound, with nearly 900 student performances each academic year. Whether your focus is on early, classical, or contemporary music, whether your passion is for jazz, electronic, or world music, there is an ensemble—or in many cases, multiple ensembles—to suit your interests.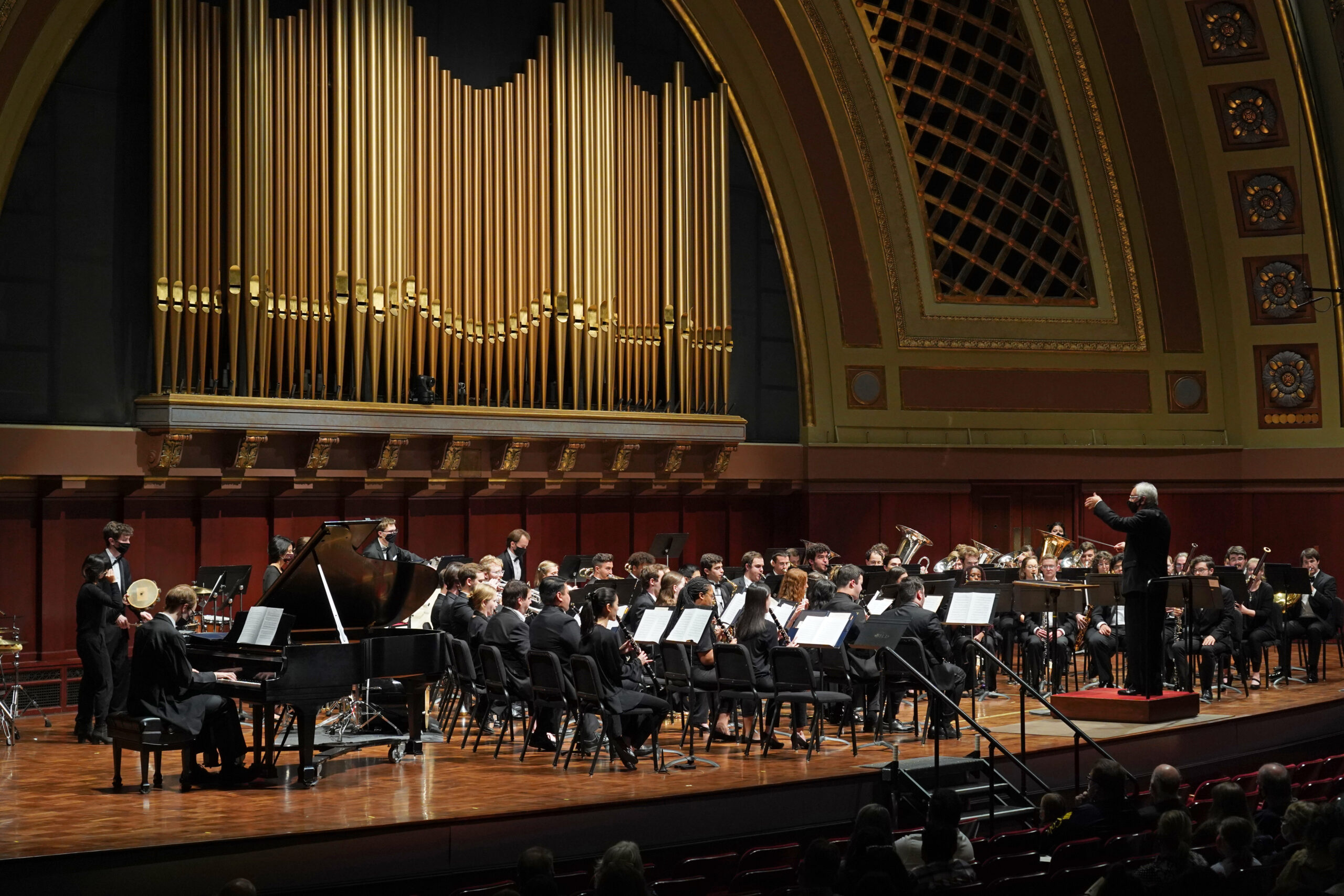 Symphony Band
Symphony Band
Michael Haithcock, conductor
The University of Michigan Symphony Band is a leader of the wind band movement in America. Through recordings and performances in prestigious venues such as New York's Carnegie Hall, Walt Disney Concert Hall in Los Angeles, Beijing's National Center for the Performing Arts, and Milan's La Scala , the U-M Symphony Band is known for its professional quality of performance and keen sense of "trailblazing" in building repertoire.The Symphony Band splits into chamber groups for one concert each term, allowing the musicians to improve communications between instrument sections, helping to build a more cohesive band when they again rehearse as a full ensemble. The Chamber Winds perform both standard and modern works.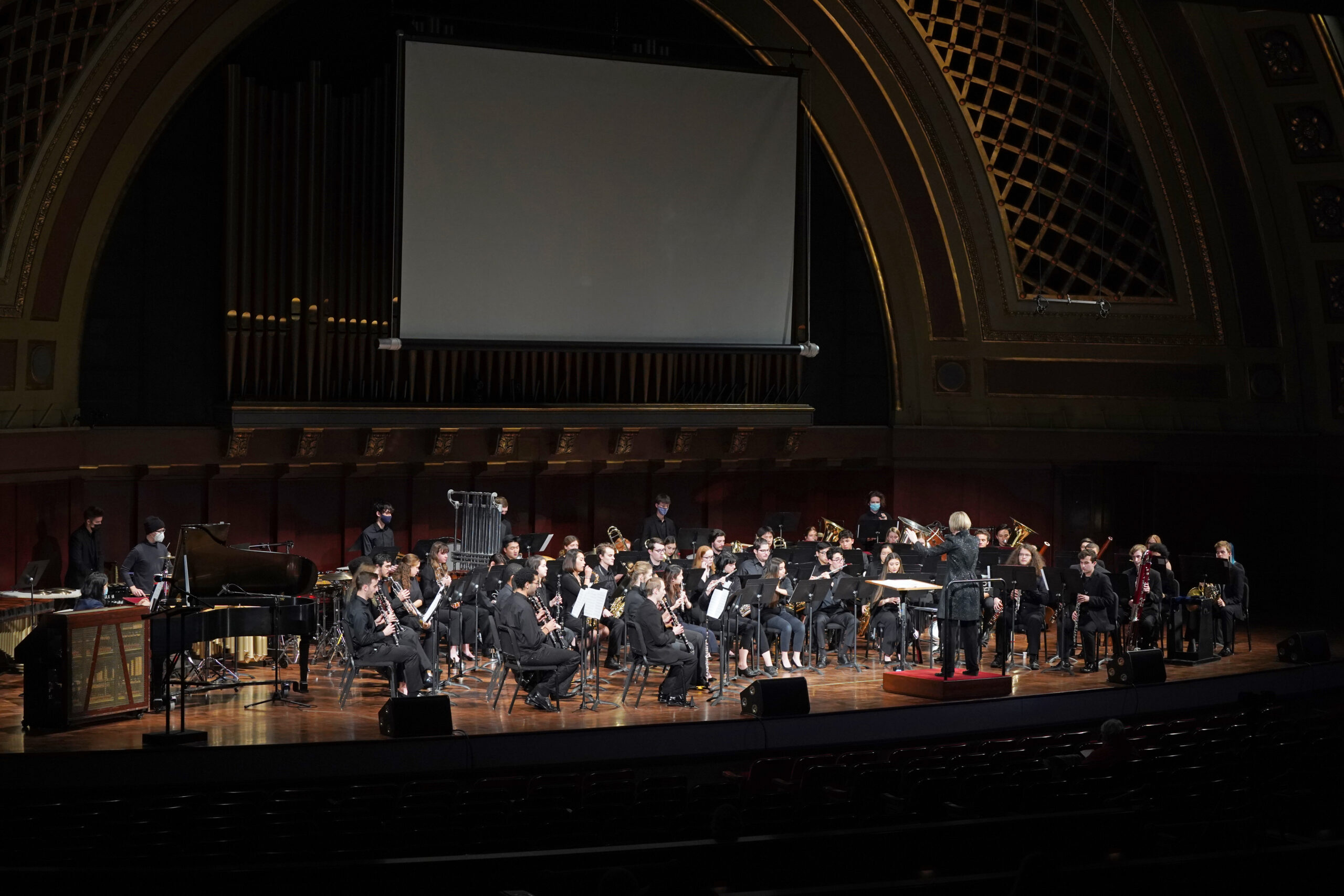 Concert Band
Concert Band
Courtney Snyder, conductor
Concert Band provides large ensemble performance experiences in a wide range of musical styles and periods for all wind and percussion performers at U-M. The music performed varies from term to term and is selected to provide a challenging opportunity for musical growth.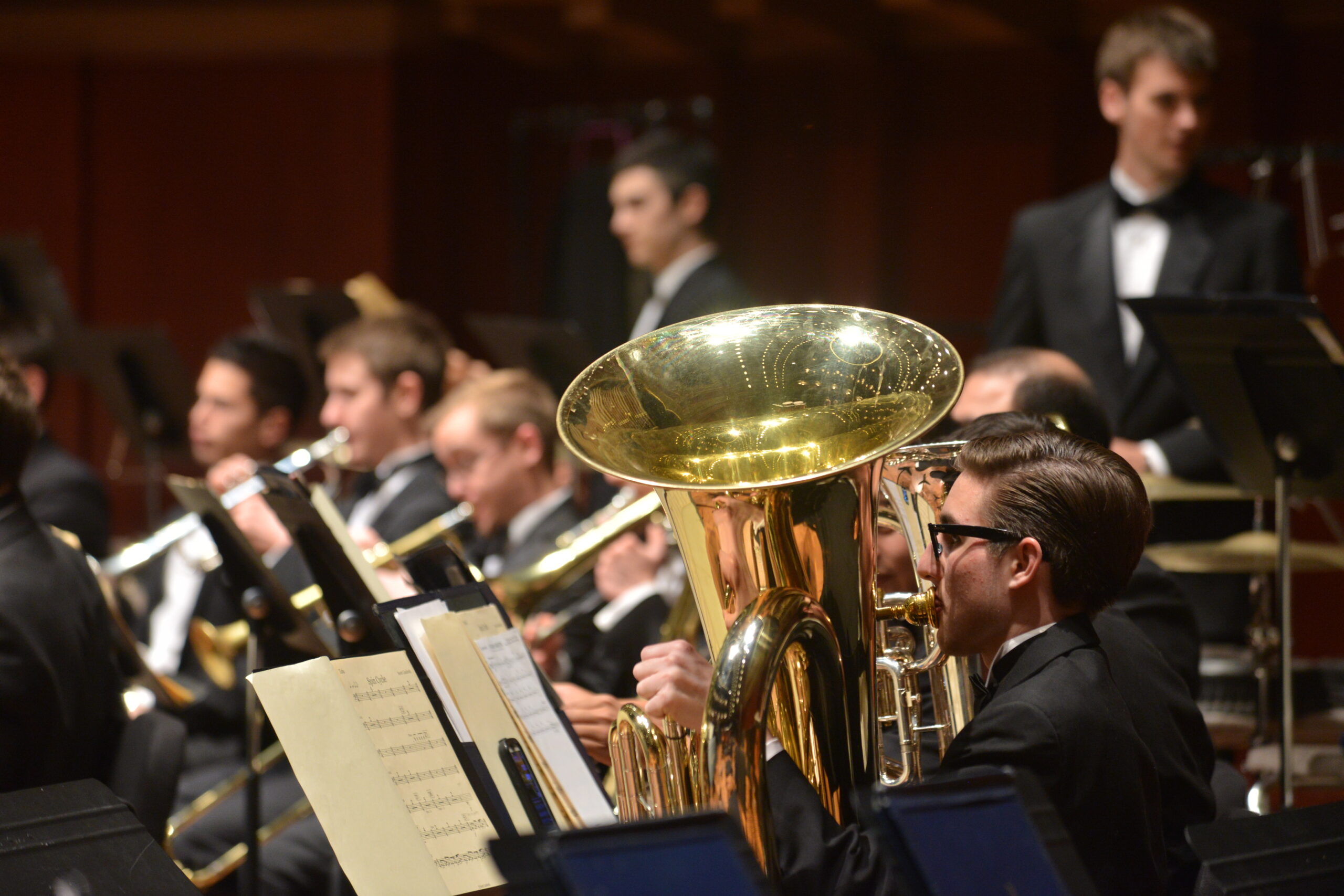 University & Campus Bands
University & Campus Bands
John Pasquale, conductor
Richard Frey, conductor
Primarily for non-music majors who desire a concert band experience, the University and Campus Bands are open to the entire U-M community and offer a great opportunity to enjoy an immersive musical experience and to learn from SMTD's renowned faculty. The University Band is the most advanced non-music-major band and placement is by audition. Campus Band is open to any student with experience.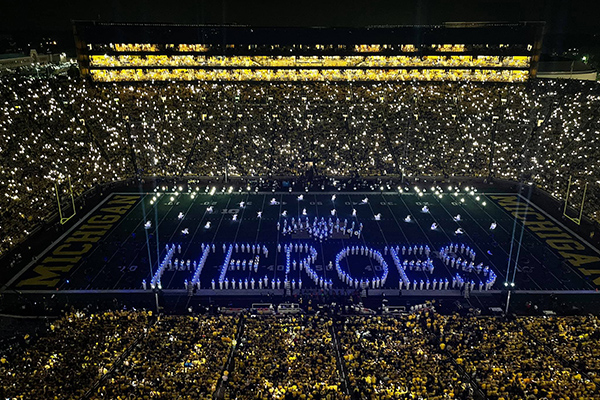 Michigan Marching Band
Michigan Marching Band
John Pasquale, director
Open to all U-M students, including those at Dearborn and Flint, the Michigan Marching Band has thrilled hundreds of thousands of fans with exciting performances for more than 100 years, making it one of the great college bands in the country. A beloved U-M cultural ambassador, the MMB inspires school spirit as it "takes the field" at the Big House in Ann Arbor, and at away football games, throughout the fall semester.  The MMB has performed at Super Bowls, Rose Bowls, Gator Bowls and more.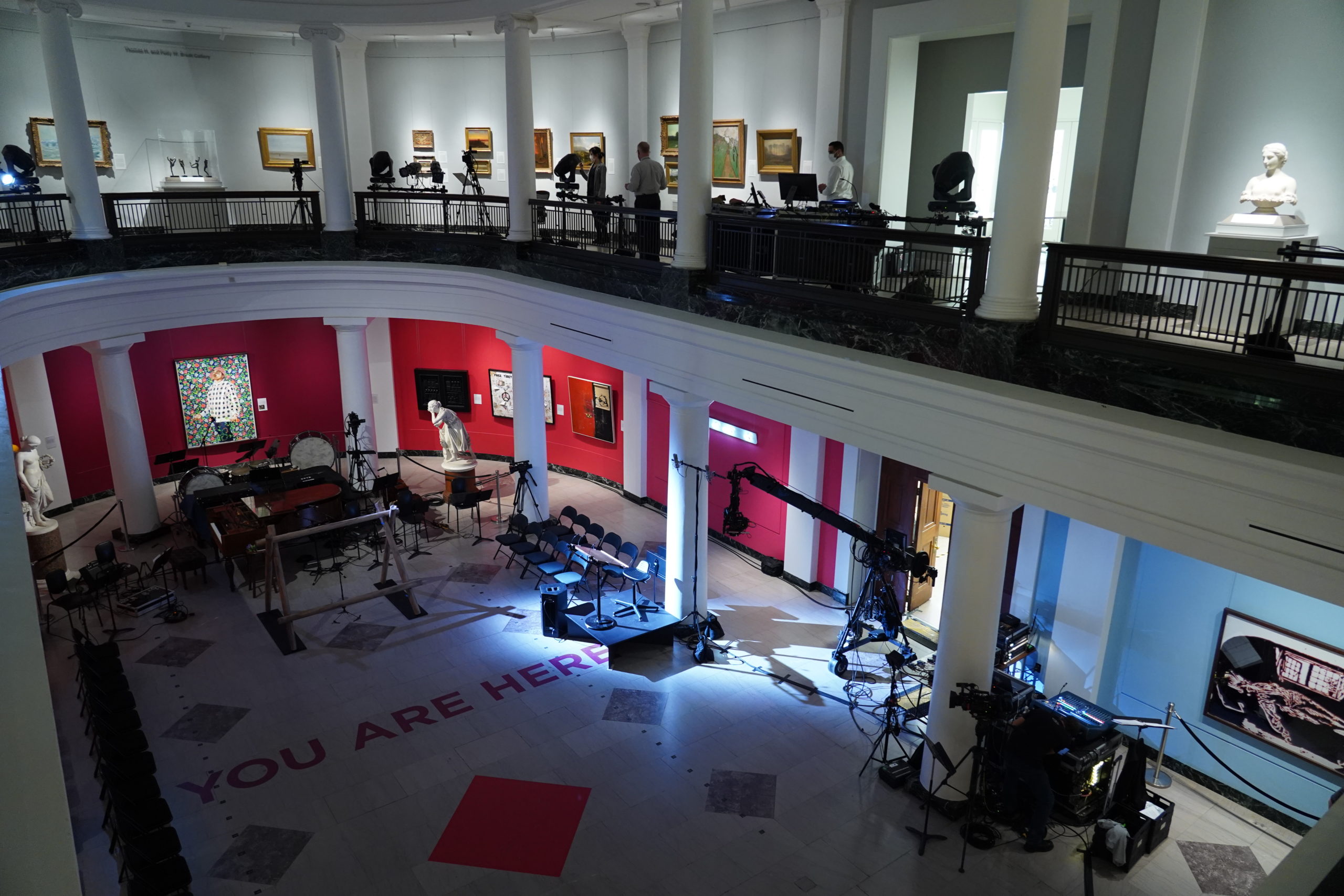 University Symphony Orchestra
University Symphony Orchestra
Kenneth Kiesler, conductor
The USO strives for and attains the highest level of excellence as a symphony orchestra. Led by the Director of Orchestras, the USO has performed on GRAMMY Award-winning and GRAMMY-nominated albums and is committed to performing the greatest works in the symphonic repertoire from the Classical, Romantic, and Modern eras, with concerts in historic Hill Auditorium. The USO frequently commissions new works, performs with celebrated guest soloists, and is one of the ensembles that accompanies the SMTD Concerto Competition winners.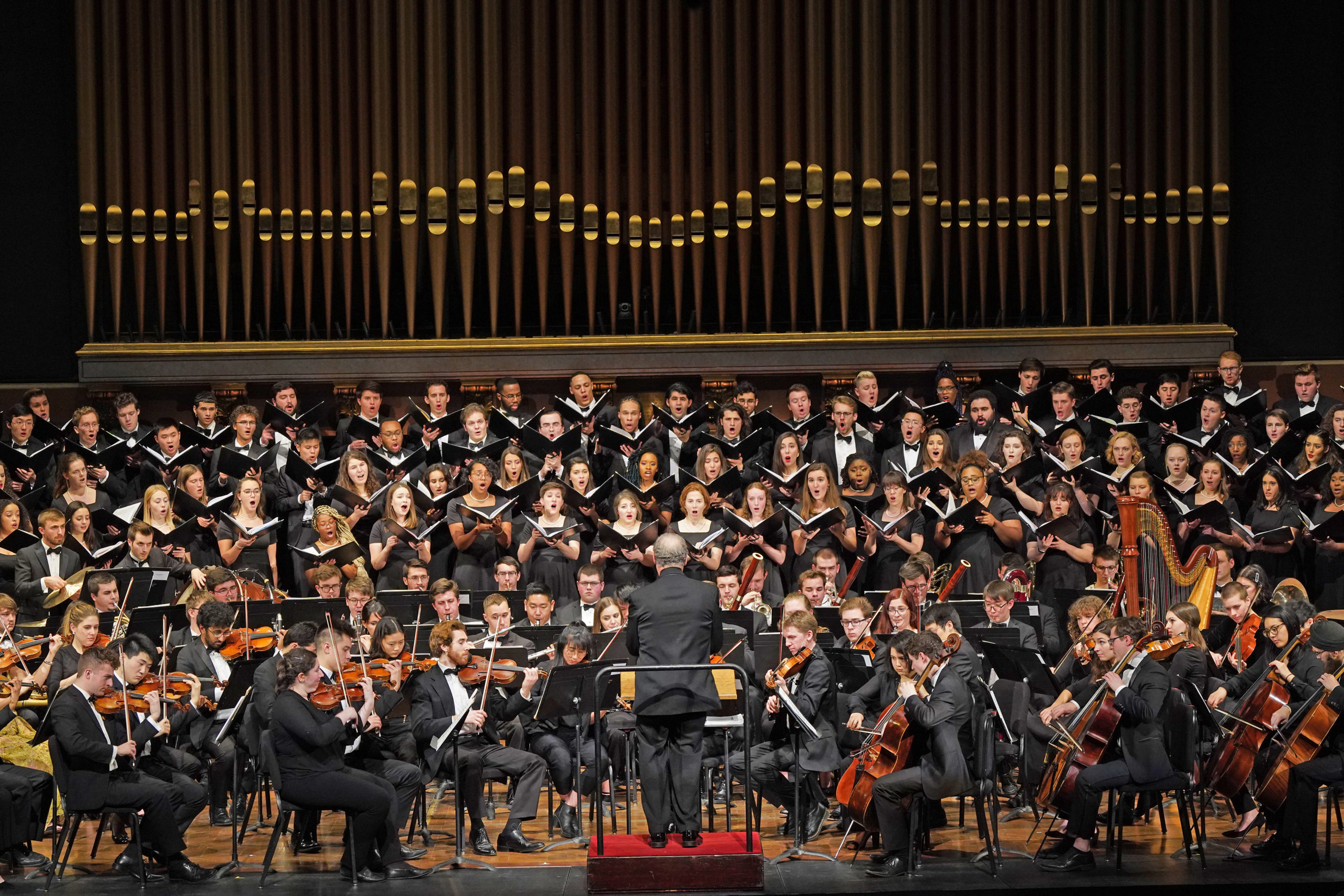 University Philharmonia Orchestra
University Philharmonia Orchestra
Jayce Ogren, conductor
With a string section comprising all freshman, the Philharmonia Orchestra provides student musicians an immersive opportunity to improve their large ensemble skills and play some of the greatest works in the symphonic repertoire.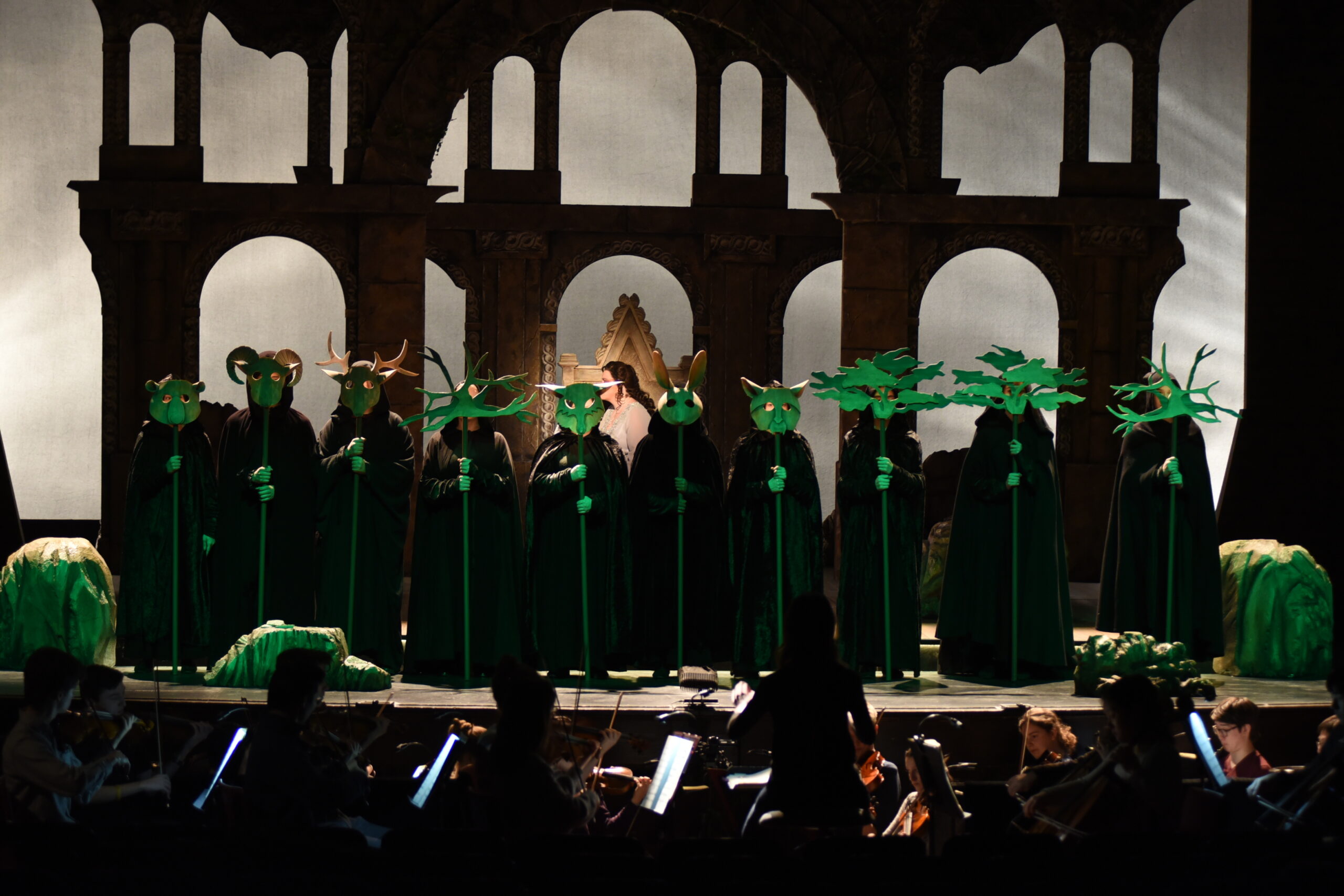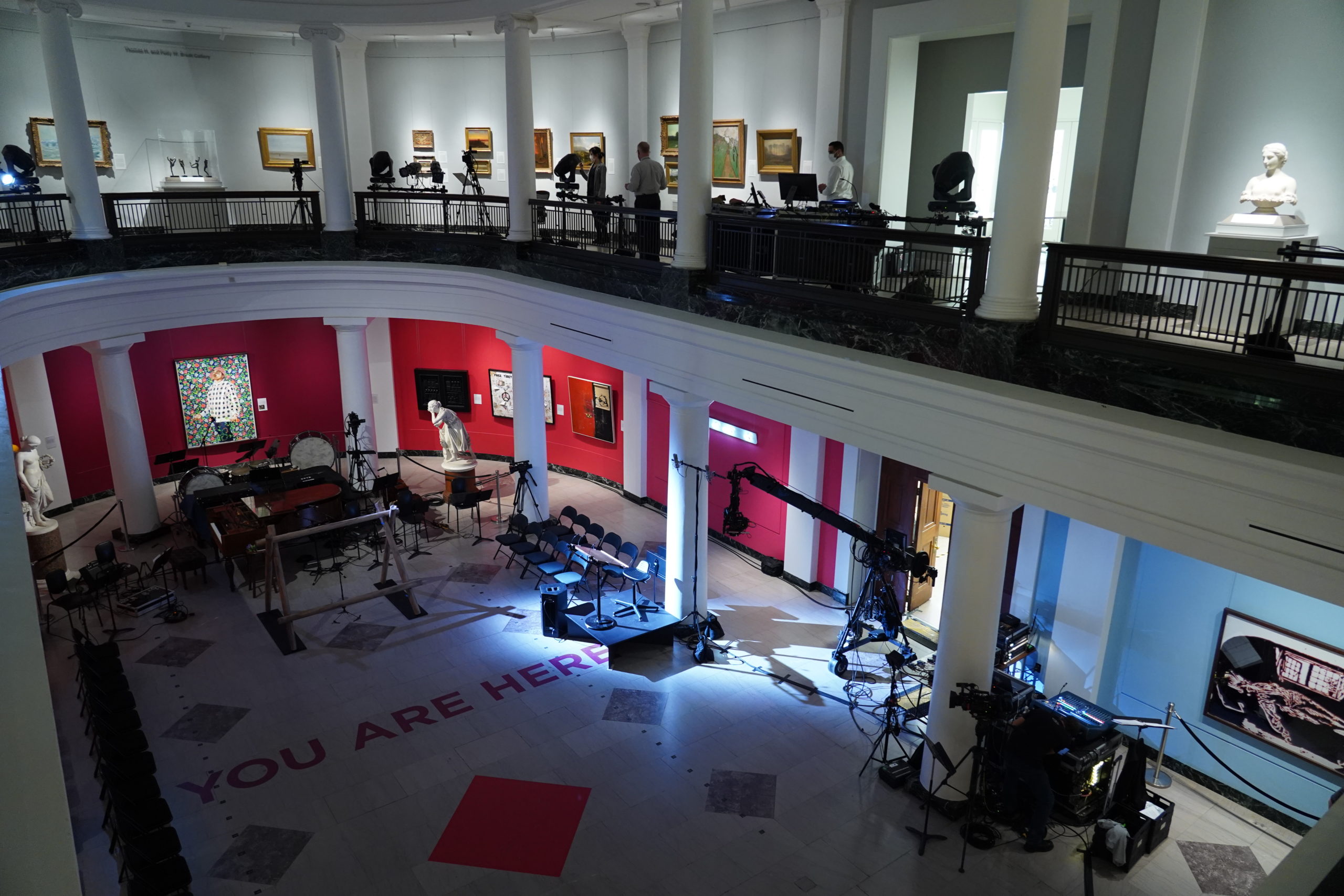 Chamber Choir
Chamber Choir
Eugene Rogers, conductor
Led by the Director of Choral Activities, the Chamber Choir performs 6-8 concerts annually in both Hill Auditorium and in special settings, such as the University of Michigan Museum of Art (UMMA), and is often featured at high profile U-M special events. The Chamber Choir has been featured on GRAMMY-winning and GRAMMY-nominated albums; sung with the Detroit and Ann Arbor Symphony Orchestras; performed at conventions of the ACDA and NCCO; and has toured internationally. They perform standard, classical, and contemporary choral works and often perform commissioned works in world premieres.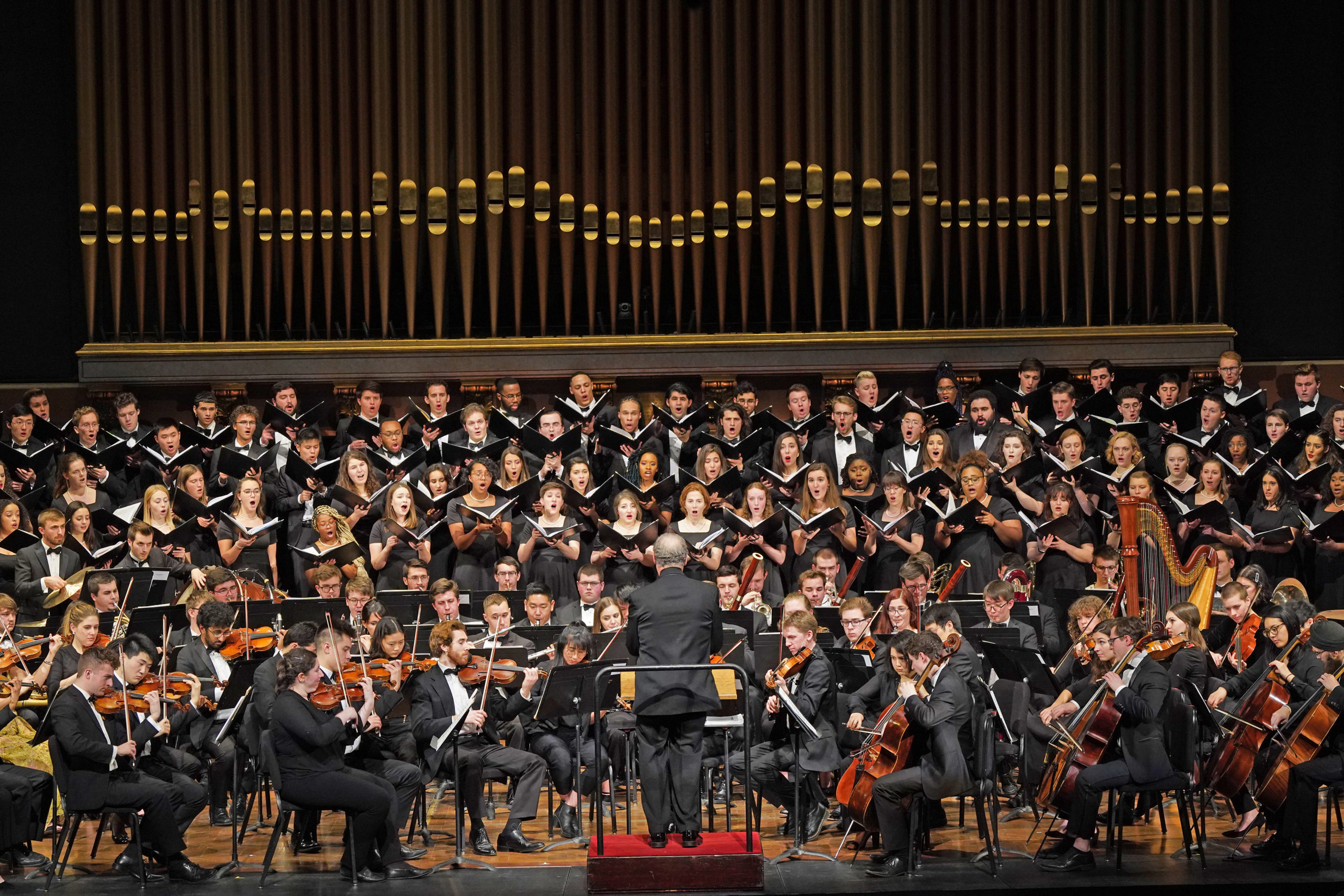 University Choir
University Choir
Mark Stover, conductor
The University Choir, led by the Assistant Director of Choral Activities, performs 6 times each year in Hill Auditorium and often collaborates with the University Symphony Orchestra singing celebrated symphonic chorales and other masterworks. A large SATB choir, the ensemble is open to all but demands extensive rehearsals and performances.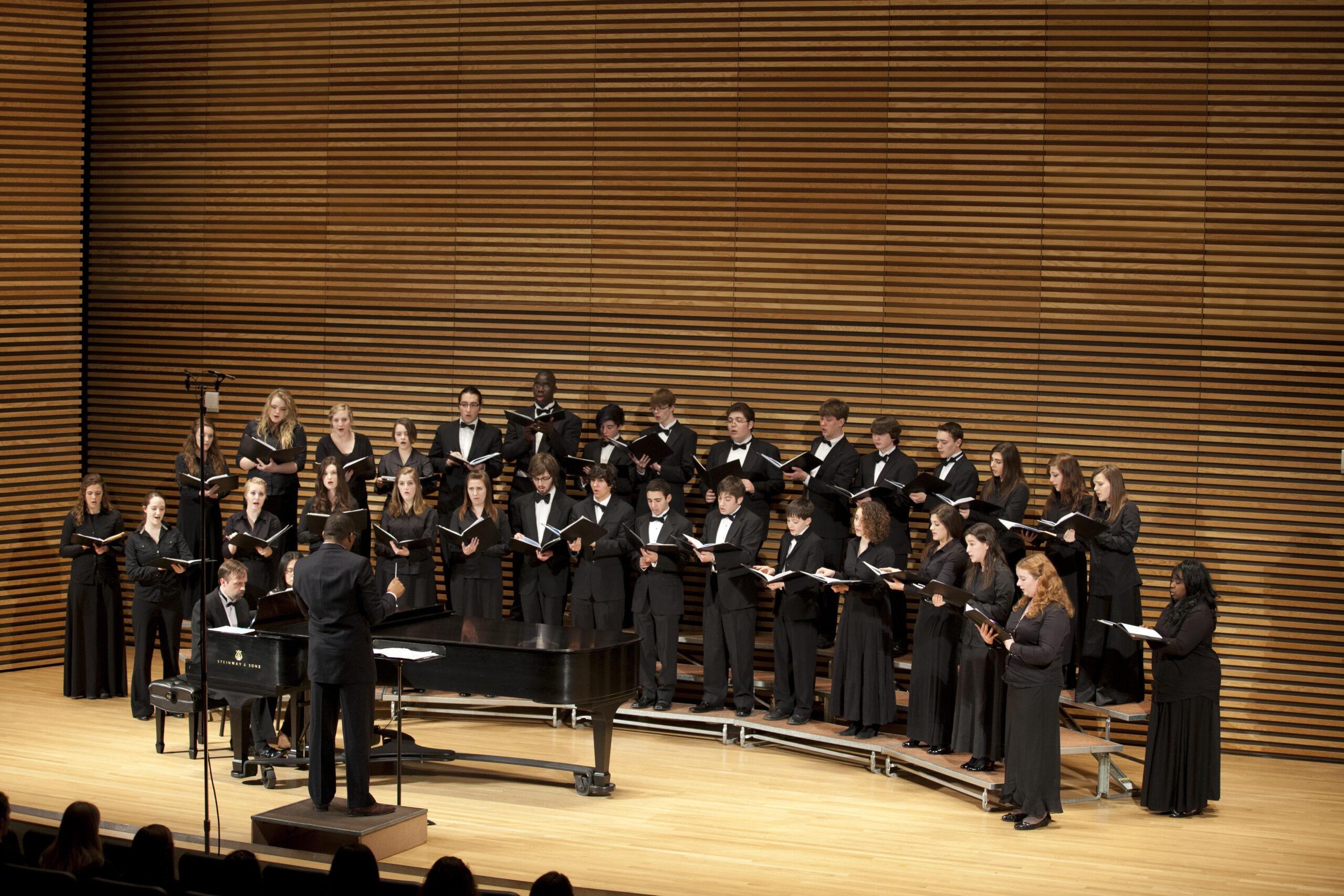 Orpheus Singers
Orpheus Singers
Eugene Rogers, director
A seminar-style choir, conducted and led by the choral conducting studio, this is the smallest SMTD choir and typically consists of about 25 music-majors. The repertoire is primarily Classical and Baroque.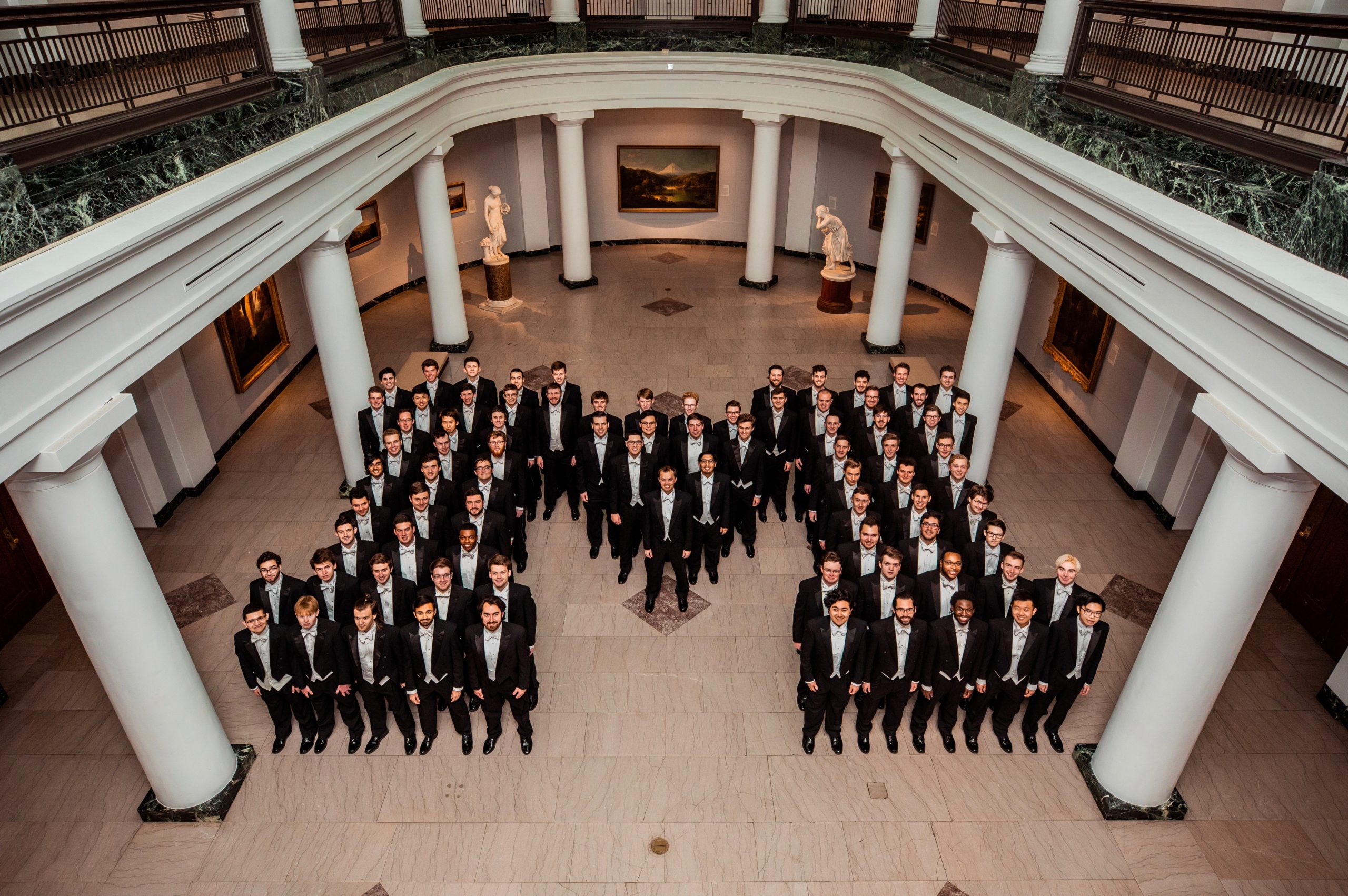 Mens' Glee Club
Mens' Glee Club
Mark Stover, conductor
Founded in 1859, the Men's Glee Club is one of the oldest collegiate chorus in the United States and the oldest continually-run student organization on the Michigan campus. Long acclaimed as one of the finest male choruses in the world, the Glee Club, comprising graduate and undergraduate students from across the university, has become renowned for its wide repertoire, including world premieres. The Friars, an eight-member subset of the Glee Club, serve as an extension of Club as they maintain an ambitious performing schedule.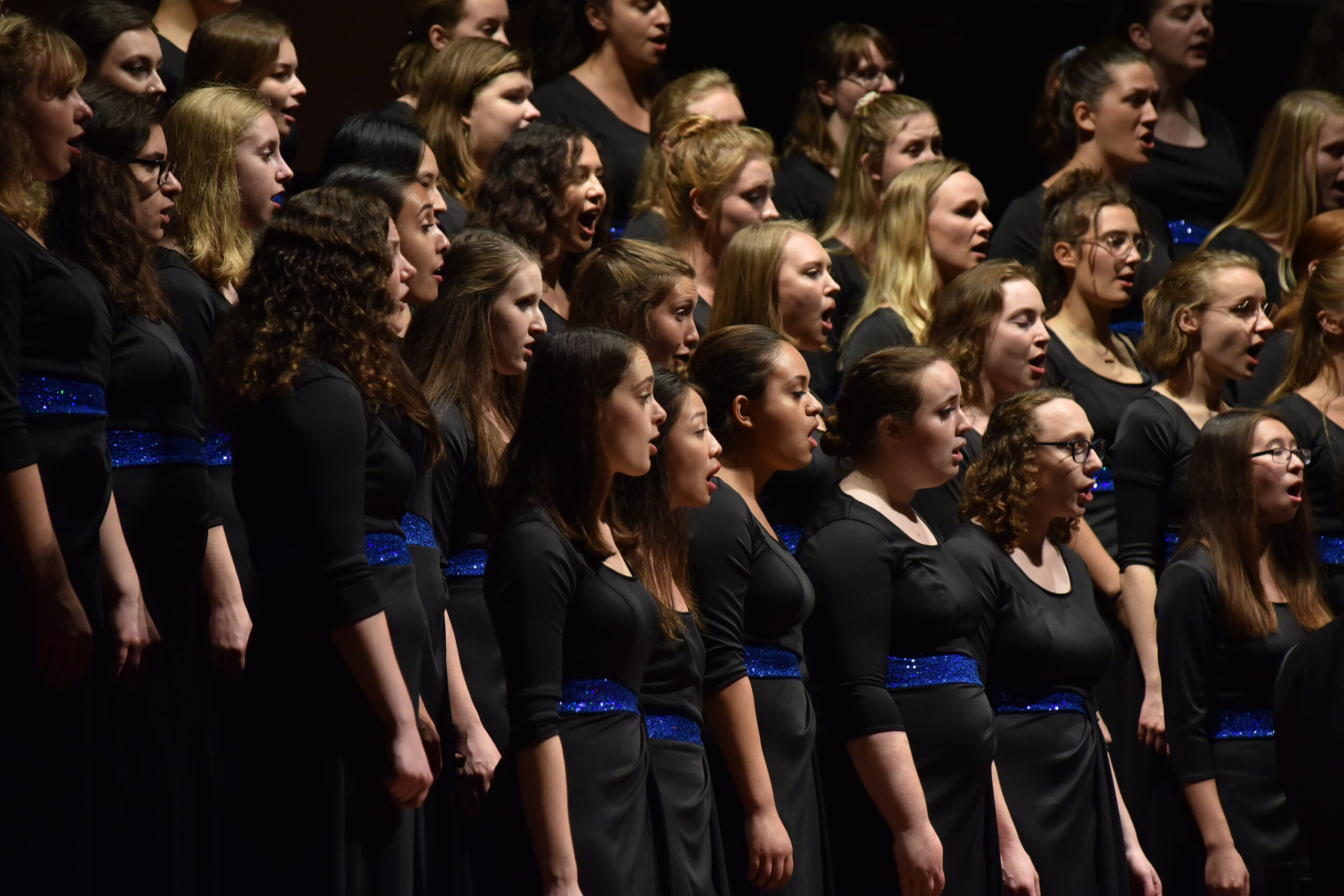 Womens' Glee Club
Womens' Glee Club
Julie Skadsem, conductor
The Women's Glee Club (WGC) is a choral ensemble representing undergraduate and graduate women from diverse fields across the U-M campus. Composed primarily of non-music majors, WGC gives female students the opportunity to express their love of music through performance, community outreach and travel.
Show Your Support
Any gift to SMTD helps launch the next generation of artists, scholars, educators, and entrepreneurs who challenge and inspire the world.
You can support the Department of Conducting with a contribution to:
Explore our Campus
Meet the people who make up this dynamic community.
Apply Now
Most applications for 2024-2025 are due by December 1 - check for exact dates on the appropriate admissions page below.
Program Costs, Financial Aid & Scholarships
Explore the many options available to make Michigan an affordable choice.