Engage Your
 

Entrepreneurial Spirit

The Excellence in Entrepreneurship, Career Empowerment & Leadership (EXCEL) Lab is SMTD's home base for performing arts entrepreneurship, leadership, and career services. We take a personalized, collaborative approach to professional development by first exploring students' individual visions and goals, and then connecting them with the resources they need to thrive. Whether you are seeking out a new career pathway or honing in on your competitive edge, EXCEL offers comprehensive access to skill-building, mentorship, and funding to help make your dreams a reality.

The EXCEL Lab catalyzes success for SMTD students and alumni through weekly workshops, 1:1 mentoring, and more than $100,000 in student project and venture funding. Initial funding for the programming was made possible by the Eileen Weiser EXCEL Fund, thanks to a generous gift from The Weiser Family.

Stay up to date about student projects, special guests, and other upcoming activities with the EXCEL Log.
Mission & Strategic Priorities
EXCEL is committed to providing the resources each SMTD student needs to launch and sustain a life in the arts. We expand the professional development bandwidth of your degree program and support a variety of your needs, from the job search to project management and more. EXCEL is committed to helping each student turn ideas into action, while broadening the spotlight on success so that every member of our community can emerge from Michigan poised to claim their individual leadership potential.
Our work aims to advance systemic change around practices of arts leadership, management, and entrepreneurship, guided by three strategic priorities:
Fostering community in online environments by elevating a diverse array of student stories and new programming formats that will better serve an increasingly virtual world.
Elevating anti-racist agendas throughout SMTD, and developing best practices to situate social and racial justice at the heart of our training programs.
Deepening our offerings by intentionally sequencing courses, workshops, and experiential learning opportunities to enrich the potential for budding arts leaders to catalyze change.
"The constant support of the EXCEL department helped us continue with our festival during the pandemic. The suggestions given to us during those hard times were especially helpful, and the support to our SA'OAXACA faculty was an aspect that helped keep the momentum of the festival going."
1,094
Students attended an EXCEL coaching session, event, or class during the 2021-22 school year
Making Big Things Happen
Do you have a project or idea that will advance the performing arts?
Does your chamber ensemble want to go pro?
Do you want to organize a dance festival or bring new plays to the stage?
Maybe you have an idea for a killer smartphone app that will enhance the audience experience?
Whatever your dream, the EXCEL program can help put your ideas into action.
Funding Opportunities
Eileen Weiser EXCEL Fund
The Eileen Weiser EXCEL Fund has supported more than $700,000 in student project, venture, and internship funding to-date. Initially funded by the Weiser Family, EXCEL's funding programs continue to impact hundreds of students each year.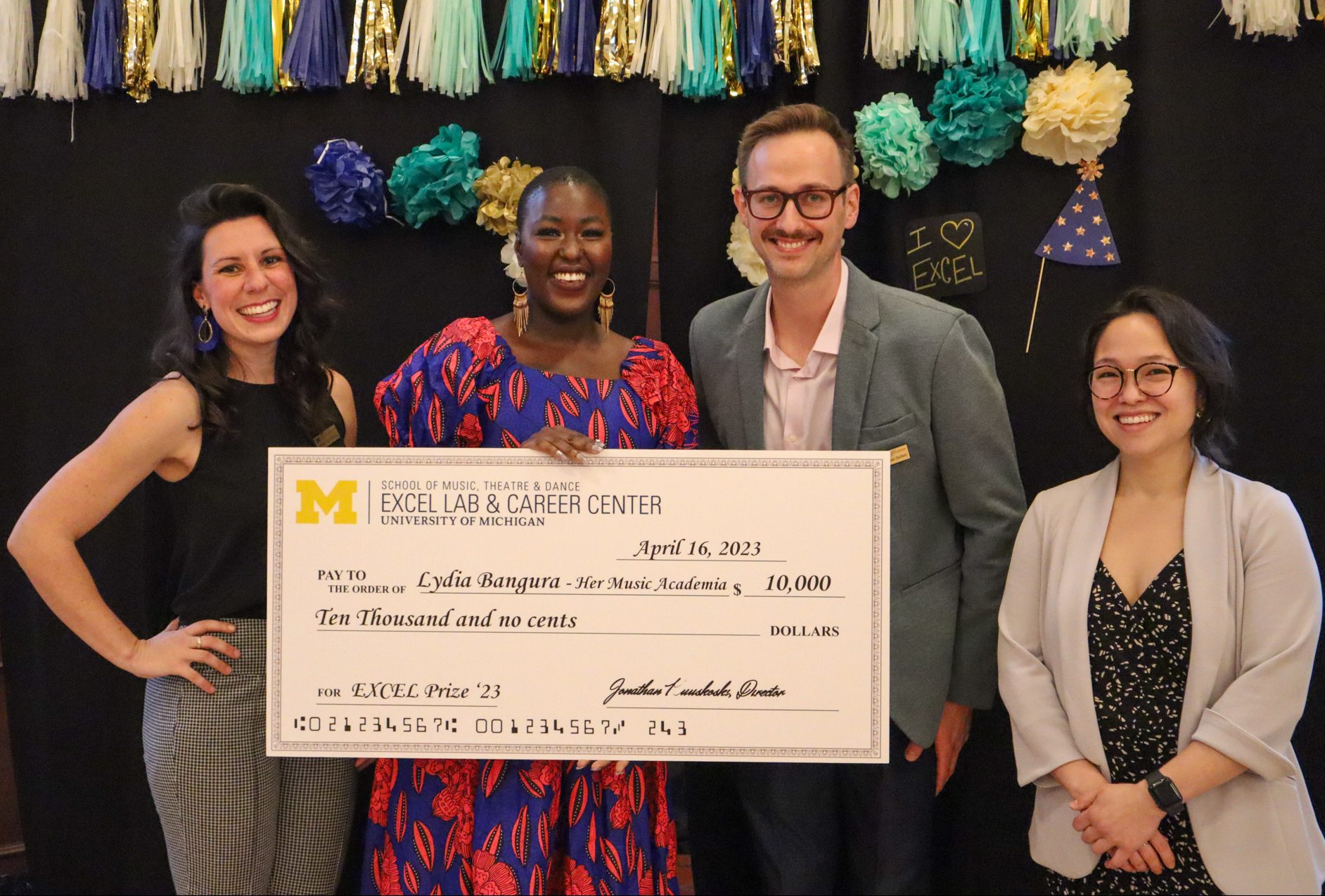 EXCEL Immersions
EXCEL Immersions are unique, professional development trips that take students to different cultural centers around the world to meet professionals doing work in a broad range of artistic disciplines. See firsthand what a career in the arts can look like and start building your network by exploring leading arts organizations and engaging with top professionals in the field.
Previous Immersions
The EXCEL Lab 2022 Annual Report
Contact Us
General questions? Email
smtdexcel@umich.edu
and you will be directed to an appropriate staff member.