Michigan Youth Performing Arts Pre-College Program
The Michigan Youth Performing Arts Pre-College Program (MYPAP) provides world class instruction for elementary through high school violin, viola, and cello students. Students who participate in the MYPAP will receive the following: 
Weekly private lessons with renowned U-M string faculty, guest artists, and/or graduate students
Regular group classes with MYPAP program faculty
Monthly masterclasses with MYPAP program faculty and guest artists
The opportunity to perform student recitals held twice during the MYPAP program season (once in Fall, once in Winter)
All events take place at the Earl V. Moore Music Building on the beautiful University of Michigan North Campus
MYPAP Applications are now being accepted on a rolling basis. Please click the link above to submit your application / join us for the 2022-23 Season!
Rehearsal / Event Time: All group and public events on Saturdays between 12:00 and 5:00 P.M., and will be communicated to students upon acceptance into the program.
Rehearsal / Event Location: E. V. Moore Building (UM North Campus, 1100 Baits Dr, Ann Arbor, MI 48109)
Pre-College Program Faculty
LEO SINGER 
Artistic Manager / Cello Instructor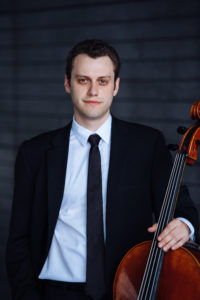 Dr. Leo Singer is an active American cellist, teacher, administrator, and scholar. Leo was recently named Artistic Manager at the University of Michigan Performing Arts Pre-college, and also currently serves as Distinguished Artist of Cello at the Robert McDuffie Center for Strings in Macon, GA (part of the Townsend School of Music at Mercer University). In the summer, Leo is on faculty at Center Stage Strings on the University of Michigan campus. As a performer, Dr. Singer has enjoyed a multifaceted career collaborating with many of the great artists of our time. An experienced orchestral musician, Leo has played principal cello of the Aspen Philharmonic Orchestra, the Yale Symphony Orchestra, the Juilliard Pre-College Orchestra, and others. As a teacher, Leo has seen his students attend the finest music schools and summer festivals in the world, including the Juilliard School, Rice University, Manhattan School of Music, The Aspen Music Festival, Pacific Music Festival, Music Academy of the West and many more. An avid scholar of technical studies, Leo authored his own book "Changes of Position," which focuses on principles and concepts for the left-hand.
Previous artistic leadership include founding and serving as Artistic Director of the Ann Arbor Chamber Fest, a series of chamber music concerts performed by doctoral students and professional musicians in the Ann Arbor area. During his college years, Leo was the music director of the Low Strung cello ensemble, the largest all-cello rock and pop ensemble in the world. This group has recorded three albums, toured around the United States and the globe, and continues to perform today. Also at University, Leo was granted the Richter Summer Research Fellowship as well as the highly coveted Bates International Research Fellowship, which he used to study original Brahms' manuscripts in Vienna. Leo received his Bachelor of Arts degree from Yale University, where he graduated with distinction in the Intensive Music Major. He went on to receive his Master's Degree and Doctorate of Musical Arts from the University of Michigan, serving as teaching assistant for world renowned pedagogue Richard Aaron. Previous primary instructors are Ole Akahoshi, Andre Emelianoff and Sibylle Johner. Leo plays an award-winning cello made by Lawrence Wilke in 2012.
INSTRUCTORS**
VIOLIN
*Danielle Belen
*Aaron Berofsky
*David Halen
Zoie Hightower
*Fabiola Kim
Will Thain
*Kathryn Votapek
VIOLA
*Caroline Coade
Zoie Hightower
*Yizhak Schotten
CELLO
*Richard Aaron
*Amir Eldan
Nathaniel Pierce
Megan Yip
*Current SMTD Faculty
**Additional faculty to be posted soon
Pre-College ProgramSchedule - 2022-23 season
*NOTE: Dates and times for MYSO 2022-23 Season Events are subject to change
Pre-College Program Applications | Auditions | Eligibility - 2022-2023 season
Apply for the 2022-2023 Michigan Youth Performing Arts Pre-College Program (applications will be live at 12:00 P.M. on Friday, August 12, 2022). Application requirements will be included in the application via the following link. For questions about applications, feel free to contact SMTD Engagement & Outreach Staff via email at smtd-youthandadult@umich.edu.
*A piano accompanist is not required for your audition.
ELIGIBILITY
Students interested in the MYPAP Program must be enrolled in grades Pre-K through 12 for the 2022-2023 academic year.
MYPAP accepts students who perform the following instruments: Violin, Vola, Cello.
MYPAP Applications are now being accepted on a rolling basis. Please click the link above to submit your application / join us for the 2022-23 Season!
Tuition, Fees, and Financial Aid - 2022-23 season
*+2022-2023 Tuition
MYPAP Participant (Studying with SMTD Faculty) – $5,500
MYPAP Participant (Studying with Guest Instructor / Graduate Student Instructor) – $3,677
Non-refundable application fee – $55
*Need-informed scholarships and tuition payment plans are available. Feel free to contact Engagement & Outreach Staff via email (smtd-youthandadult@umich.edu) for more information
+Tuition covers all lessons and events for the school year: September, 2022, through April, 2023.
Need-Based Scholarship Awards
A limited number of need-based scholarships are available to families with an Adjusted Gross Income (AGI) of $100,000 or under in the previous calendar year, or with special circumstances due to the pandemic. To be considered you must upload your financial aid materials by the application deadline as part of your application. This includes:
Monthly Expenses
Previous Year's Tax Return
Statement of Need
Pre-College Student Resources
The student resources section is currently under construction and will be populated with more information near the start of the season.