Application Deadline for 2023-2024 - December 1
Join Our Community
At SMTD, you'll benefit from one-on-one and small-group instruction with our expert faculty, and partner across disciplines with other students — allowing you to grow as a scholar, performer, and artist.
SMTD is a highly selective professional school with rich and diverse undergraduate programs. We encourage you to connect with our outstanding faculty and investigate the vast resources and opportunities available through the greater University of Michigan community.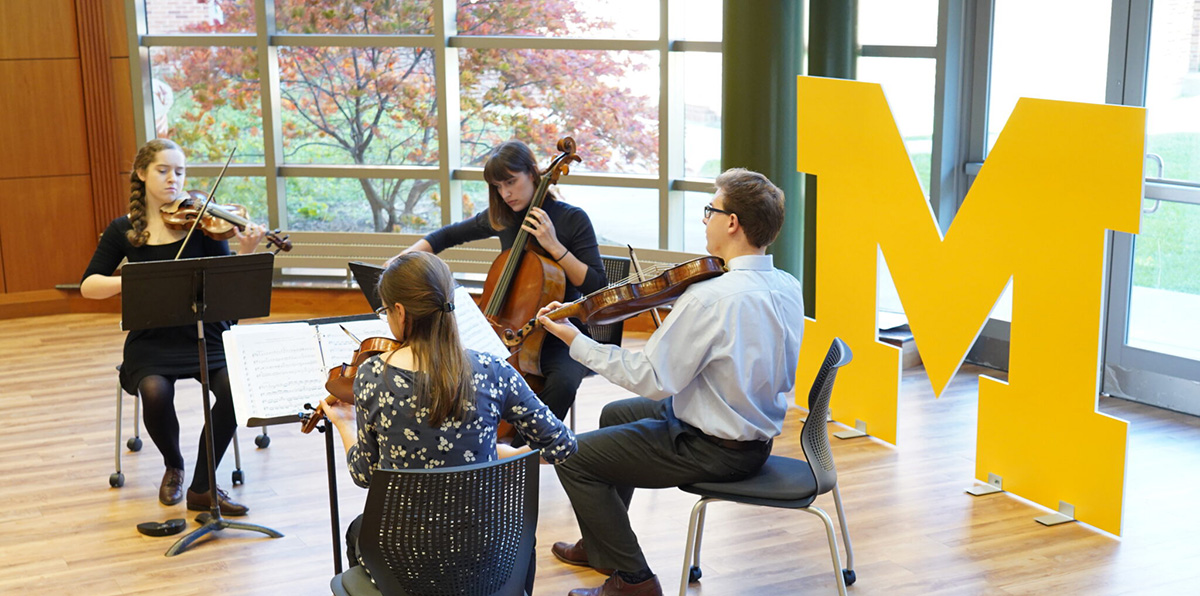 Find Your Path
Looking for the right degree to fit your interests? SMTD offers more than 40 undergraduate degree programs. In addition to critical courses within a chosen field, undergraduate students also receive a well-rounded academic experience through liberal arts coursework.
Prepare to Apply
Admission to SMTD is highly selective, and we are proud to have students with a wide variety of backgrounds, experiences, and skill sets. Our admissions process looks at both artistic preparation and academic achievement.
Audition & Interview Dates and Information
Auditions and interviews will be held in both in-person and virtual formats for the coming season. Our in-person auditions/interviews are being offered in accordance with the University of Michigan's current COVID-19 safety guidelines; should these guidelines change at any time, we will be sure to promptly communicate any subsequent changes in plans. For programs who have the option to audition/interview virtually or in person, candidates will be given full and equal consideration regardless of which format is chosen.
Upon receiving an invitation to audition/interview, you will have the opportunity to register for your preferred date (and format, when applicable).
Deadlines for Undergraduate Applicants
All materials
must be submitted in order for the review process to go forward.
*For the 2023-2024 application year, U-M has adopted a test-flexible policy. Please read the Office of Undergraduate Admissions website to learn more. Test requirements for future application years are yet to be determined by the university.
The following programs do not accept Winter applications in any year.
BFA in Musical Theatre
BFA in Performing Arts Technology
BFA in Theatre Design & Production

Policy will take effect starting Winter 2025

BFA in Theatre Performance (Acting & Directing)
BM in Music & Technology
BS in Sound Engineering
October 15
Deadline for Winter term admission for Dance applicants who want to audition in November, and for Theatre Design & Production applicants who want to interview in December.
Application and Artistic Profile Submissions are due.
November 1
Auditions/interview recordings are due for winter term applicants, if applicable. Please email smtd.auditions@umich.edu when you are ready to submit your required recordings.
December 1
Deadline for all Fall 2024 programs.
The December 1 deadline applies to all undergraduate applicants, including external and cross-campus transfer applicants. SMTD does not participate in Early Action.
 All deadlines are for 11:59pm on the day listed for your local time. For example, applicants living in Chicago must submit no later than 11:59pm Central Time on December 1.
Costs, Financial Aid & Scholarships
We encourage you to explore all of your financial aid options—grants, scholarships, Work-Study, and loans—so you can pursue your dreams at Michigan. Most of our students are pleasantly surprised by how much support is available.
FAQs
 If you do not see the answer to your question here, it may be because the answer is in another section of the admissions page. You may always email smtd.admissions@umich.edu for an answer to your query.
Undergraduate Application
Application Questions
Do I have to apply separately to the University of Michigan?
No, admission to SMTD comes with admission to the University of Michigan.
Do you accept paper applications?
No, both undergraduate and graduate students must apply online.
What is the UMID? How do I get one?
A University of Michigan ID number is assigned to you when you register as a prospective student or when you apply to the University. You don't need a UMID to complete the application, but if you already have one, by all means use it.
I've already submitted my application. How can I change what I've submitted?
If you need to make changes, email .
The application deadline is here. May I still apply? What if a document arrives late?
December 1 is the application deadline for admission and merit-based award consideration for all undergraduate and most graduate programs. For some programs there may be a short grace period to accept late documents. Complete applications consist of the online application, all transcripts, any required test scores, essays or personal statement, recommendations, and an Artistic Profile. We understand that recommendation letters may not come in until after the deadline, but we will require that all have been received before making an offer of admission.After the deadline, we may accept late applications at our discretion if space remains.
What is Enrollment Connect?
Enrollment Connect​ is a U-M website for all your application needs: track your checklist and application status, receive important messages from the Office of Undergraduate Admissions, view your application decision, and more. Enrollment Connect is only for undergraduate applicants.
What is a Friend Account? How do I get one?
A Friend Account is an online account that allows you to log in to Wolverine Access for the purpose of tracking your financial aid information (if applicable), updating your contact information, and (if you are a graduate applicant) tracking your application status. One to two days after you have submitted your online application, you will receive an email message with instructions on how to create a Friend Account.
Covid-19 Impact on Admissions Policies
(Last updated 2/24/2022)
If I took classes pass/fail due to the pandemic, will that count against me?
No, we understand these were extraordinary circumstances and will not view pass/fail classes negatively.
My school moved to online instruction. Does this mean I have to follow the guidelines for Homeschooled and Online High School applicants?
No, if you attend an in-person high school that moved to remote/online instruction due to Covid-19, you do not have to complete those requirements. If you are or were previously enrolled in a high school that exclusively teaches online courses (and was doing so before the pandemic), then you will need to complete those requirements.
My testing session was canceled. Do I still have to submit ACT or SAT scores?
The U-M Office of Undergraduate Admissions has decided to implement a "test flexible" policy for the ACT or SAT for Fall 2021 through Fall 2024 applicants whereby First Year applicants can still be considered for admission if they were not able to test. They recommend that you submit scores from a different standardized test if you have them (such as PSAT or AP or similar), but if you do not have scores then you can apply anyway under the test flexible policy. More information on their policy is posted on their website. Please contact the Office of Undergraduate Admissions to clarify any questions you have about their standardized testing policy.
Undergraduate Degree Programs
What's the difference between the various bachelor's degrees?
One of the strengths of the School of Music, Theatre & Dance (SMTD) is the diversity of programs available to undergraduate students.
Here are the various undergraduate degrees that the school offers.
Bachelor of Arts (BA)
The Bachelor of Arts is designed for students seeking a well-rounded, substantive music education within the framework of a solid liberal arts education. The BA is not a performance program but is designed for students who want to pursue careers in areas such as arts administration, music criticism, or graduate study in a variety of fields.
Bachelor of Music (BM)
The Bachelor of Music provides intensive artistic training and preparation within a concentrated musical field. The BM is offered in Composition, Music Education, Music Theory, Musicology, Performing Arts Technology, and Performance.
Approximately 75% of the coursework of the BM is in music, while the remaining 25% is completed in other areas.
Bachelor of Musical Arts (BMA)
The Bachelor of Musical Arts is a four-year professional degree with a larger commitment to the liberal arts. Within the BMA, concentrations are offered in performance or multidisciplinary studies. The performance concentration allows a student to pursue either jazz or classical performance along with a mixture of outside academic coursework. The multidisciplinary studies concentration allows students the flexibility to pursue academic coursework—within SMTD and in other departments across the University—which is tailored to each student's specific musical and non-artistic interests.
Approximately half of the coursework required for the BMA degree is based in SMTD with the remainder based in liberal arts courses.
Bachelor of Fine Arts (BFA)
The Bachelor of Fine Arts offers professional coursework for an intensive concentration. The BFA is offered in Acting, Dance, Design & Production, Directing, Interarts Performance, Jazz, Musical Theatre, and Performing Arts Technology.
A majority of the coursework for the BFA is based in the major concentration with the remaining coursework based in other areas.
Bachelor of Theatre Arts (BTA)
The Bachelor of Theatre Arts is designed for students seeking a well-rounded, substantive theatre education within the framework of a solid liberal arts education. The BTA is not a performance program but is designed for students who want to pursue careers in areas such as production management, arts administration, dramaturgy, or teaching.
Bachelor of Science (BS)
The Bachelor of Science is offered in Sound Engineering with a rigorous professional training in acoustics, the physics of sound, sound engineering, computer science, and sound recording.
Because of the academic rigor of this program, there are higher academic expectations than in other music programs.
Dual Degree Programs
Students have the option to pursue a dual degree program with another school or college within the University. Dual degree programs are intended for students who seek the technical or academic studies associated with the College of Engineering or the College of Literature, Science, & the Arts in combination with the professional training in performance-based or academic music studies associated with SMTD. Students interested in these programs can seek concurrent admission to both colleges. If successful, their programs of study lead to stand-alone bachelor's degrees from each unit. It is usually possible for students electing 16–17 credits per term to meet all requirements in 5 years.
Early Action
Does SMTD offer Early Action for admission?
No. While Early Action is available at several other U-M schools and colleges, SMTD does not offer Early Action.
If I apply as a Dual Degree student to a U-M school or college that has Early Action, will that apply to my SMTD application?
No. While you will be considered for Early Action at the other school or college, your SMTD application will follow the Regular Decision timeline.
My program of interest has an October 15 deadline for early applications. Does this mean I'll hear back sooner about whether I'm being admitted?
No. Some programs, such as Dance, have early audition dates for which we need students' application materials earlier but it does not otherwise have an impact on the admissions timeline. For Musical Theatre applicants, those who apply by October 15 will receive the results from their pre-screening and academic review by November 15, but the rest of the admissions timeline will remain the same.
Michigan Marching Band Auditions
I would like to audition for the Michigan Marching Band.  How do I schedule an audition?
The Michigan Marching Band is an ensemble open by audition to any student at U-M. Please contact the Michigan Marching Band directly to learn more about their audition process.
Readmission
If I was previously enrolled at SMTD but left before obtaining my degree, can I continue my degree program?
Any continuing degree-seeking student who has not been enrolled for twelve months or more must apply for readmission. If you are seeking readmission at the same degree level, the application fee is waived. Please submit an SMTD Artistic Profile containing a copy of an official transcript of all work completed since your previous enrollment, an updated resume and repertoire list (if applicable), and a personal statement outlining concrete plans to complete your degree. For more information and to start the process, please contact SMTD Admissions.
Parents & Guardians of Undergraduate Applicants
What is it like to be a performing arts student at the University of Michigan?
The first impression that many people have of the University of Michigan is it is a very large institution. While this is true of U-M as a whole, the School of Music, Theatre & Dance is one of the smallest academic units. Our total student body is about 1150 with approximately 150 faculty members. Our incoming class for the Fall of 2021 numbered 214 First-Years, 30 transfer students, and 105 new graduate students – we're a tight-knit community with members who share similar goals and motivations.
Our faculty strive to create a nurturing atmosphere while challenging students to develop their talents and further their ambitions. Michigan students are surrounded by both peers and teachers who are consistently performing at the highest possible level of excellence. Our graduates rise to this challenge and become leaders in their fields.
What type of education does SMTD offer?
We are a professional school for the performing arts with curricula that reflects a commitment to training professional actors, dancers, educators, musicians, and scholars.
In most of our curricula, 75 percent of the coursework is completed by taking courses in SMTD. The remainder is completed in non-SMTD courses, most typically through the College of Literature, Science & the Arts (LSA). Usually our students will take a number of performing arts courses and one non-SMTD course per semester.
As a university rather than a conservatory, there are a wide variety of ways that Michigan students can broaden their academic options. In addition to the degree programs offered at SMTD, we also have a full range of dual-degree programs that allow students to pursue two concurrent degrees, one at SMTD and one at another U-M college, such as the College of Literature, Science & the Arts, the College of Engineering, or the Ross School of Business (for example, majoring in Performance at SMTD and Neuroscience at LSA). This variety expands the opportunities for our students and is another important reason why a Michigan education is unique and excellent.
What will my child do after graduation?
Of all the questions asked, this one creates the most anxiety for parents whose children are considering a career in the performing arts. While there are certainly no guarantees to be made regarding your child's ultimate career path, one of the things of which we are certain is that an education from the U-M School of Music, Theatre & Dance provides students with the solid training they will need to be successful in their chosen disciplines.
Recent graduates have pursued additional studies in the finest graduate programs around the world. Others are faculty members of prestigious schools of music and universities around the country.
Music graduates are also performers with the Metropolitan Opera, Chanticleer, San Francisco Opera, Glimmerglass Opera, Chicago Lyric Opera Orchestra, Chicago Civic Orchestra, Los Angeles Philharmonic, Philadelphia Orchestra, San Francisco Symphony, Detroit Symphony Orchestra, Pittsburgh Symphony, the Corigliano Quartet, and the Cavani Quartet.
Musical Theatre graduates continue to find great success with roles on Broadway or in touring productions of shows such as Avenue Q, Assassins, Beauty and the Beast, Bombay Dreams, Book of Mormon, 42nd Street, Fosse, Gypsy, Hair, Hamilton, Into the Woods, Jersey Boys, Les Misérables, Little Shop of Horrors, Mean Girls, Miss Saigon, Ragtime, Rent, Show Boat, Sunset Boulevard, and Phantom of the Opera.
Theatre graduates are working as performers or behind the scenes with companies such as the National Shakespeare Company, Theatre by the Sea, the Bat Theatre Inc., and many others. On screen, theatre alumni have starred on television in The Americans, The Blacklist, Bones, Glee, GLOW, Grimm, Justified, NCIS: Los Angeles, and Star Trek, and in films such as Jumanji, the Star Wars saga, and Whiplash.
Dance graduates perform with major dance companies like the Alvin Ailey Repertory, Merce Cunningham, Bill T. Jones, Bella Lewizky, and Mark Morris. They have also pursued careers as dance instructors and in the healthcare profession.
Michigan graduates continue to play a large role in shaping the direction of the performing arts industry.
What additional opportunities are available?
SMTD offers over 900 concerts and performances each year. These range from student and faculty recitals, to orchestra, band and choir concerts, to opera, musical theatre, theatre, and dance productions. This means that students at SMTD have ample opportunity to express themselves through performance. The training that our students receive from the faculty is the most important factor in their education, but it is also important to note that there are also abundant resources for the performing arts in Ann Arbor.
The University Musical Society, a professional music series, sponsors nearly eighty concerts each year featuring the top professional touring artists in the world. Many of these groups and individuals present master classes and workshops for SMTD students while they are on campus.
The Ann Arbor area as a whole is one that embraces the arts, so our students can supplement their education with numerous professional opportunities in the surrounding communities. This enhances and extends the education that Michigan students receive and plays an important role in developing the skills to make them successful once they graduate.
What is unique about applying to SMTD?
Applying to a performing arts school is different than applying to a liberal arts college. All applicants to SMTD must complete an audition, interview, or portfolio review before they are offered admission.
The audition/interview process also allows students to experience SMTD firsthand. The audition/interview process is an interactive one where we learn as much about you as you learn about us.
We are a university program, which means that academics play an important role in the evaluation of our applicants. Every applicant must meet minimum academic criteria in order to be considered for admission.
The evaluation of academic criteria for undergraduate students is a cooperative process. Admissions counselors in the Office of Undergraduate Admissions conduct a preliminary review of a student's prior academic record (i.e. course curriculum and grades earned), and their scores on either the SAT or ACT (if submitted). Concurrently, all applications are reviewed by the admissions staff at SMTD. Our counselors will review not only the academic credentials of each applicant, but also their performing arts background. In programs that have pre-screening or portfolio reviews, those materials are forwarded to the constituent faculty for their review.
If all of these reviews are positive, then the student is invited to audition and/or interview. It is this final step that will largely influence the final admission decision.
MParents provides information on academics, student life, important dates, and much more.