Eugene Rogers
Associate Professor of Music and Director of University Choirs
---
Bio
A two-time Michigan Emmy Award winner, a 2017 Sphinx Medal of Excellence recipient, and a 2015 GRAMMY® Award nominee, Eugene Rogers is recognized as a leading conductor and pedagogue throughout the United States and abroad. In addition to being the founding director of EXIGENCE, Dr. Rogers is the director of choirs and an associate professor of conducting at the University of Michigan. Recently, he was named as the fifth Artistic Director of the two-time GRAMMY® Award-Winning Ensemble, The Washington Chorus (Washington, D.C.).
At the University, Rogers leads the graduate choral conducting program, conducts the chamber choir, and administers the program of over eight choral ensembles. His choirs have toured throughout China, South Africa, the United States, and have appeared at national and regional conferences. In December 2017, Musical America named Rogers one of the top 30 "Movers and Shapers" professionals in North America. His past appointments include being the director of the University of Michigan Men's Glee Club, Macalester College (St. Paul, Minnesota), the Boys Choir of Harlem, Waubonsie Valley High School (Aurora, Illinois), and Anima Young Singers of Greater Chicago (formerly the Glen Ellyn Children's Choir). In 2016, Rogers' passion for issues of social justice and music was featured in the award-winning documentary Love, Life and Loss which highlights Joel Thompson's powerful Seven Last Words of the Unarmed, and in 2013, he co-managed the production of the joint CD Ye Shall Have a Song with the Michigan, Yale, and Harvard Glee Clubs, a collaboration celebrating America's three oldest collegiate choirs.
In 2015, Mark Foster Publishing began the Eugene Rogers Choral Series, a series featuring emerging composers who specialize in contemporary classical and folk music traditions, and the EXIGENCE Choral Series in 2018 which features folk and contemporary works by Black and Latinx composers. In 2011, Rogers traveled to and studied the choral traditions of East Africa (Tanzania).
Rogers holds a Bachelor of Arts degree in choral music education from the University of Illinois at Urbana Champaign and the Master of Music and Doctor of Musical Arts degrees in choral conducting from U-M. He currently serves on the board of Chorus America and is the former national chair of the Diversity Initiatives Committee for the American Choral Directors Association.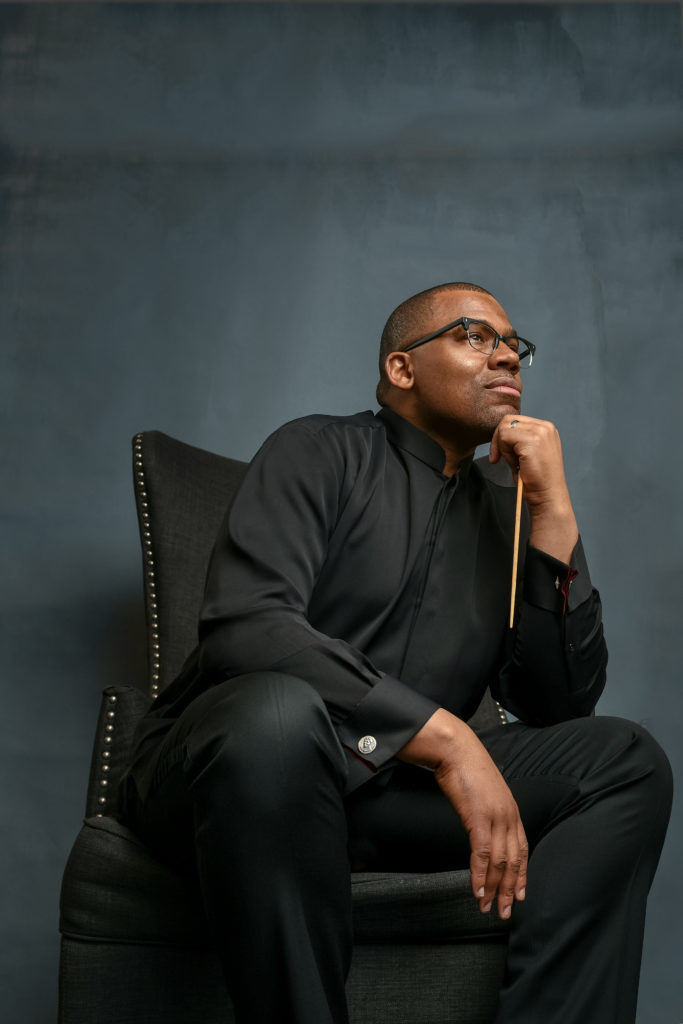 Education
BA (choral music education), University of Illinois – Urbana-Champaign
MM, DMA (choral conducting), University of Michigan
Selected Media Coverage
Washington Post review of the The National Symphony Orchestra and the Washington Chorus; June 4, 2023
OperaWire: The Washington Chorus Renews Contract with Artistic Director Dr. Eugene Rogers, Appoints Executive Director Anthony Salvi-Exner; February 27, 2023