By Brandon Monzon
As women are forging diverse careers in the field, the Department of Performing Arts Technology has stepped up recruitment of female students.
According to a January 2018 study by the University of Southern California's Annenberg School for Communication and Journalism Inclusion Initiative (2012–17), women constitute just two percent of producers working in music.
"For most people, the default image of a 'sound engineer' is a man, which can make it difficult for girls and young women to see themselves in that role," said Michael Gurevich, chair of the Department of Performing Arts Technology (PAT). To try and change that perception, Gurevich and two other faculty participated in a campus-wide program titled Faculty Leading Change. Their goal was to address the gender imbalance in the PAT program and understand it in the field of music technology as a whole.
"Historically, roughly 20 percent of the students in PAT were women, which is also about the same fraction for the field as a whole," said Gurevich. "In talking with current female students, many expressed this feeling that they found PAT 'by accident' and hadn't otherwise ever considered pursuing it as a career."
In response, PAT created Girls in Music and Technology (GiMaT), a summer enrichment program for high school students that is open to all genders but was designed to promote participation by girls, potentially increasing enrollment of female PAT majors. After just one year of the program, the incoming freshman class of PAT majors is 40 percent female.
"GiMaT can explicitly show these young people that women can and do work in this field, so we can start to change that perception," said Gurevich. "We value the diversity of our students in terms of their identities, experiences, and interests. Open-mindedness and a well-rounded intellectual curiosity are defining characteristics of current PAT students and our alumni."
Those characteristics are thoroughly reflected in some recent female PAT graduates, who are pursuing diverse careers in a field that offers many paths to success.
---
The Mastering Engineer
As the owner and chief mastering engineer of Neato Mastering, Piper Payne, BFA '09 (performing arts technology) works on albums for independent artists and major labels. After graduating, she continued her education at the University of Stavanger in Norway and has apprenticed under some of the most renowned mastering and audio professionals in the world, including Bob Katz and Michael Romanowski. Payne has mastered for a myriad of artists including Madame Gandhi, Third Eye Blind, Geographer, Beats Antique, Jane Wiedlin from the Go-Gos, Blithe, Betsy, Basement, and Shamir to name a few. She also works as an audio professor and guest lectures frequently about mastering and recording.
Active in industry trade groups, Payne is a newly elected governor of the Audio Engineering Society (AES) and is the co-founder and co-chair of the AES Diversity & Inclusion Committee, as well as an active member of Women's Audio Mission. She said she "lives for quality and equality in audio." "Women are outnumbered by men in the audio industry. That's a fact," said Payne. "The engineering community is not just male dominated—it's white male dominated and all minorities are not feeling welcome."
But girls, she agrees, are often not even considering the field. "We need to make girls feel more welcome by encouraging STEM education at a young age," said Payne. "This isn't a problem that will fix itself overnight. It will take a generation of close attention to the problem, and constructive adjustments for real change to occur."
---
The Artist
Composer, producer, and multi-instrumentalist Kelly Moran, BM '10 (performing arts technology) describes her work as "if John Cage took acid and went down a post-minimalist spiral." In other words, Moran utilizes a "prepared" piano, which involves placing objects on or between its strings.
Moran has made five albums, including Microcosms, self-released a few months after she graduated from SMTD. Her first label release Bloodroot made The New York Times's "25 Best Classical Musical Recordings of 2017" and Rolling Stone's "20 Best Avant Albums of 2017."
"Dozens of labels told me that Bloodroot was too weird and wouldn't do well commercially," said Moran. "The fact it was so weird and unique is exactly why it did well. What others perceived as its weakness was its main strength."
Bloodroot's success enabled Moran to trust her artistic impulses and push the envelope, which she did on 2018's Ultraviolet, her first record on storied electronic label, Warp Records. "Ultraviolet came hurling out of an intense improvisation session," said Moran. "It was almost like a cathartic release, and once I listened back to what I had done, I realized it was my next record."
Playing a number of musical instruments at a young age, Moran began writing music as a teen and found she preferred recording as a way to organize her ideas, which set her on the path of making electronic music.
"The first thing that drew me to PAT was the chair, Mary Simoni," said Moran of the emerita professor who chaired the department from 1996 to 2009. "That alone got my attention because so many technology departments are male-dominated."
Simoni has been a role model and support for Moran but she also credits Professor Stephen Rush for going above and beyond to nurture her talent. "I owe a lot to Steve for spending a whole year teaching me contemporary piano repertoire that included extended techniques and prepared piano," Moran said. "I wouldn't be where I am today without Steve. He truly taught me out of the kindness of his heart."
Moran is currently on tour supporting Ultraviolet. "I make a living touring and making records, which is beyond what I thought I could ever achieve," said Moran. "The best advice is to follow your gut and do what you want to do artistically. That's the only thing that has ever gotten me anywhere."
---
The Software Engineer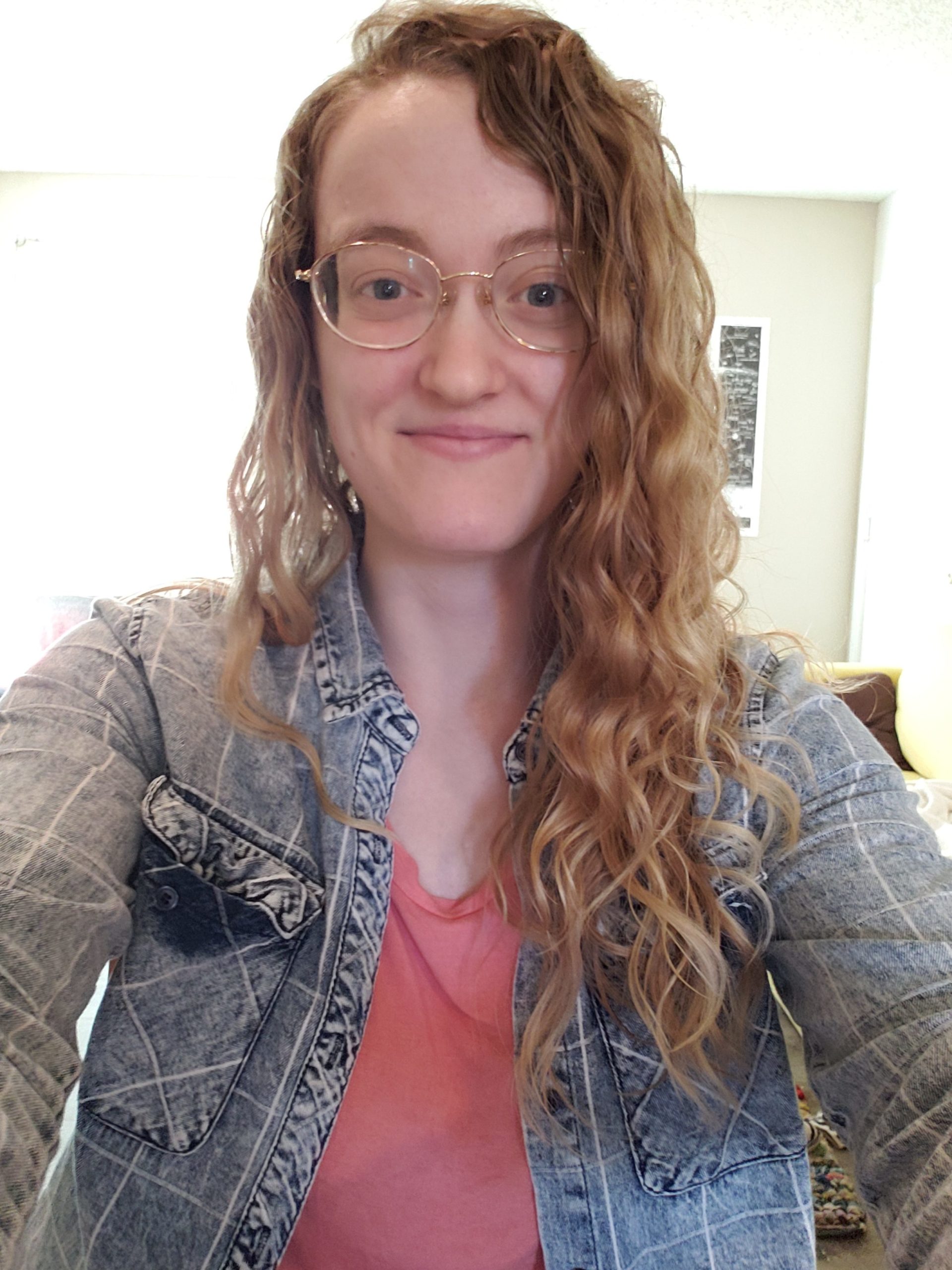 Emma Azelborn, BS '17 (sound engineering), BSECS '17 (computer science) came to Michigan specifically for the PAT Department. "I liked how flexible the program was, that there was an option to focus more on the technical side of audio," said Azelborn. "My classes were small, I worked directly with professors, and my experiences working with the studios and performance spaces have been invaluable to me."
The intersection of technology and audio was something that always interested Azelborn. "I knew I wanted to find a job as a software developer at an audio company," she said. "I wasn't sure what that would look like, if it would be making digital audio workstations [such as Ableton], writing firmware for microphones and speakers, or writing audio plugins, but I knew I wanted to do something in that field."
In Azelborn's senior year, she accepted a job offer at Goodhertz, Inc., a Californian audio software company. She had interned for the company the previous summer after the co-founder and CEO, alumnus Devin Kerr, asked for recommendations from then-chair Jason Corey, who suggested Azelborn.
Since being hired as an audio DSP software engineer at Goodhertz, Azelborn has worked on all the company's releases, including Goodhertz Plugins v3.0 update (a cross-platform support that allows their plugins to work on both Mac and Windows) and Goodhertz Megaverb (a fun reverb plugin that features the gritty sound of early digital reverb units).
---
The Freelancer
Like many women students, Veniece Session, BS '16 (sound engineering) was surprised that careers that involved music and engineering even existed at the University of Michigan. "I wanted a career that would allow me the opportunity to be a creative problem solver," she said.
After graduating, Session knew that she wanted to produce sound for live shows and major events, but didn't want to jump directly into a corporate 9 to 5 position. Instead, she wanted to freelance so she'd have flexibility in her schedule to maximize opportunities. One of these was serving as the program leader and studio manager at The Neutral Zone (NZ), a diverse, youth-driven teen center in Ann Arbor.
"NZ allowed me the freedom to grow professionally and creatively with the skills I acquired through my PAT major," said Session. "I was a key leader in the redevelopment and growth of the music department, and as the studio manager, I led workshops teaching audio technology and songwriting. I was able to share my passion for music and technology with the youth."
Working as a freelancer has allowed Session to build a career that focuses on solutions for programs in a creatively efficient way. One of her big projects at NZ was upgrading the B-Side, a 400-person music venue, and Orpheum, a recording studio, with over $10,000 worth of donated and grant-funded digital audio gear and software.
Freelancing can be tough at times, but Session said that keeping a close community of positive people she can learn from and grow with has been key to her development.
"Growing up in Detroit, there's such a diverse pot of musical talent, and most major artists have someone in their circle from Detroit," said Session. "The work I take on continues to challenge me in a way that makes me excited about the career I'm building."