By Marilou Carlin
Everyone knows character actor David Paymer. They just don't know they do.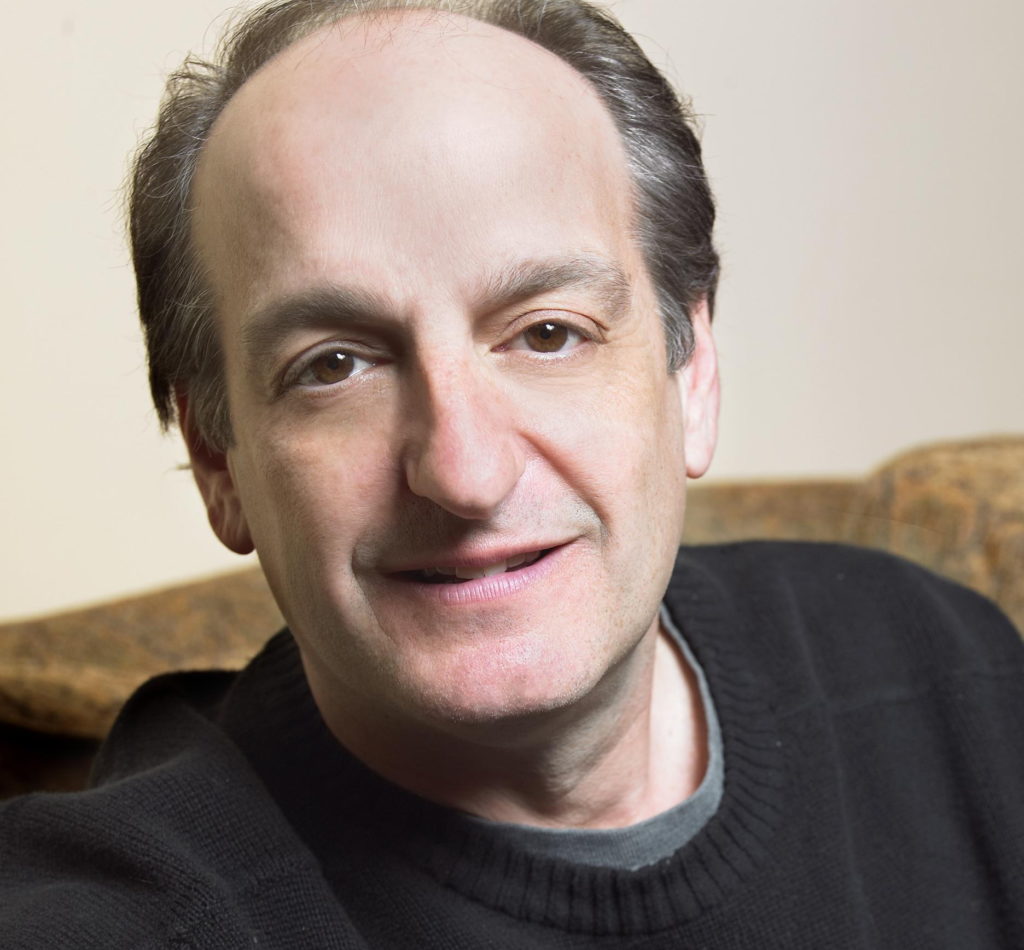 Mention actor David Paymer to the average person and you might get a blank stare. Even if you list some of the dozens of films or TV shows in which he's been featured – from his earliest days, in shows like Barney Miller, to Billy Crystal's Mr. Saturday Night (for which he received Academy Award and Golden Globe nominations) to the current smash hit The Marvelous Mrs. Maisel – the dazed and confused countenance might continue. But share a photo of Paymer, and you'll get: "Oh! That guy." Which might be followed by, "I love that guy!"
David Paymer, BA '75 (theatre) is arguably one of Hollywood's greatest character actors: he rarely plays the lead, but often steals the show in supporting roles that allow his chameleon-like talent to shine as he disappears into his character.
Paymer is masterful at comic roles, like the cranky judge he played recurrently on The Good Wife, or the sweet and nebbishy Ira Shalowitz, ice cream magnate, in City Slickers, the role that led to him becoming a go-to character actor for Hollywood's top directors.
But some of Paymer's most memorable performances have been in dramatic roles. His award-worthy Stan Young, the wise and patient brother of Mr. Saturday Night (Crystal's Buddy Young, Jr.) was described by Roger Ebert as "a heartbreaking performance." Not only did it give him that Oscar nod – which Paymer says was like getting his passport stamped – it also led to Quiz Show, directed by Robert Redford, in which he played the unscrupulous TV game show producer Dan Enright.
Paymer didn't set out to be an actor after graduating from high school in Oceanside, New York, though he had appeared in high school musicals. Instead, he enrolled at the University of Rochester as a psychology major – largely to appease his parents, who wanted him to be a doctor. But he still performed in theatre productions there and had no trouble being cast, making him want to pursue acting more seriously. When his parents divorced, he said it somehow freed him from doing what he was expected to do and instead enabled him to follow his heart.
He sought out a school that would give him a double major, and found it at U-M, where he obtained a degree in theatre and psychology. "U-M was like the big city," he said, "they had a real theatre department!"
One of his first roles was in the ensemble of Cyrano de Bergerac at the Power Center. But he also acted in shows at the Campus Inn, and was actually getting paid for performing. "U-M was a building block for me," said Paymer. "It gave me the confidence and the realization, from my teachers and my peers, that I was good enough to take the next step and continue pursuing my dream."
Just six months after graduating, he landed a role in the touring company of Grease playing Sonny LaTierri. He did that for about eight months and then took over the role on Broadway.
"It was the most fortuituous job I ever had," he said. "When I got out of school I said, 'I'm gonna give it a shot.' If I had not had that early success, I might not have stuck with it."
While still playing in Grease, in 1979, he auditioned for the movie The In-Laws with Peter Falk and Alan Arkin, and landed the part of a cab driver, which gave him some "nice scenes" with Falk. He subsequently sent postcards to 400 agents in the Los Angeles area, pitching himself. He received only two responses, but one was from Susan Smith, an agent who specialized in repping character actors, such as Brian Dennehy and Kathy Bates. Smith took on Paymer and remained his agent for the next 34 years, until her death in 2013.
Paymer was soon auditioning for a myriad of parts, and over the next 10 years consistently appeared as a guest star on a wide variety of television shows. "I guess you could call it my apprenticeship, but I always worked," he said.
Smith, he said, fought for him and secured an audition for 1991's City Slickers. "My wife (Liz Georges) made me a western tie, which, on me, looked a little ridiculous," he said. "But Billy [Crystal] liked it so I'm convinced my wife is responsible for my career."
That's because City Slickers was not only a huge hit, but it led directly to Mr. Saturday Night, which Crystal was writing at the time. Paymer didn't know it, but Crystal already had him in mind for the role of Stan Young, which changed the trajectory of his career.
"I was finally invited to a seat at the grownups' table," he said. "I'd been working since '76, really happily, but in relative anonymity. [Mr. Saturday Night] represented a big change – suddenly doors opened that were not open to me before."
One of those doors led to Quiz Show, allowing Paymer to show his range – he wasn't just a funny guy – and the work started rolling in. They weren't inviting him to audition; they were offering roles, based on his proven record. "I said, 'you mean I don't have to read anymore?'" said Paymer, recalling his wonder at this new turn in his career. The offers were from a who's who of top 1980s and '90s directors of major films: Steven Spielberg (Amistad), Oliver Stone (Nixon), Mel Gibson (Payback), Rob Reiner (The American President), and Barry Sonnenfeld (Get Shorty) – to name just a few.
Since then, Paymer has worked continually in both film and television. Among his most recent work are recurring roles on two period TV shows about the comedy business: The Marvelous Mrs. Maisel on Amazon and I'm Dying Up Here on Showtime. The latter, set in the 1970s, focuses on comedians who work at Goldie's, a comedy club loosely based on L.A.'s Comedy Store. Paymer plays Ernie Falk, a rich and famous TV producer. His time on set brought back memories of his days doing standup with his brother Steve Paymer, an actor/producer/writer. "And you get to wear bell bottoms and the double breasted suits," he added.
Though I'm Dying Up Here was canceled after two seasons, The Marvelous Mrs. Maisel is now one of TV's biggest hits, winning top awards in multiple categories and renewed for a third season before the second was even released. Paymer plays Harry Drake, the cutthroat manager of Sophie Lennon (Jane Lynch), and he is expected to return in the third season.
This is not the first time that Paymer had worked with the show's creator, Amy Sherman-Palladino; he had directed an episode of her previous hit, Gilmore Girls, and a few episodes of Bunheads, with Sutton Foster, a show Sherman-Palladino created for ABC Family.
"Mrs. Maisel is a joy," said Paymer. "I love working with Amy – she and her husband Daniel do it all: they write, they produce, they direct. It's great because there's no guesswork. It's all shorthand. And the production values are just amazing."
Another recent project for Paymer was The Sunlit Night, a new film that had its world premiere at the the 2019 Sundance Film Festival and is currently seeking distribution. He also just finished work on a series titled On Becoming a God in Central Florida, a comedy produced by George Clooney's Smokehouse Productions and Sony's TriStar Television, and starring Kirsten Dunst. It will premiere on YouTube Premium later this year.
"It's another period piece, this time set in the '90s," said Paymer. "It's about the pyramid scheme business. I play one of these hucksters, selling these beauty products. It's that whole world of greed, people doing terrible things to one another. I don't know: I'm a really a nice guy but I keep getting those villain roles."
All of these recent roles represent a return to acting after several years in which Paymer focused on directing. Since 2003, he has directed more than 70 hours of television, including episodes of Grey's Anatomy, The Mentalist, and Brothers and Sisters.
"I directed many sort of actor-centered shows," said Paymer. "It was really hard work, and very different from acting – I learned a lot about the production end of things and came to appreciate what directors and production managers face in terms of time, especially in television. It filled in a part of my creative life that I'd always wondered about. I did it for about 10 years and it was just great to be on the other side of the camera."
But now Paymer is rededicating himself to being in front of the camera, and it appears that there's no end in sight to his performing career. He's up to 160 roles on his IMDB page, and that doesn't even include some of his most recent work. When he was just starting out, he said, he never could have imagined the success he's enjoyed.
"I never thought about movies or television," he said. His highest ambition then was to maybe getting into a regional theatre somewhere. "I don't care about the money," he remembers thinking, "I just love acting."