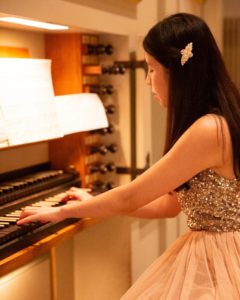 Department of Organ student Zoe (Kai Wai) Lei (DMA '23, organ & sacred music) has been named a winner of the American Guild of Organists (AGO) National Student Commissioning Project.
"I am very humbled and honored to be selected for the AGO grant to continue polishing my skills and creativity in contemporary organ works," said Lei. "Thank you again for Prof. Kibbie's guidance and patience, as well as Prof. Wilson's coaching."
The AGO Student Commissioning Project is the AGO's most recent new music initiative. They have provided a cash award of $1,000 to Lei and composer Alvin Tam to create and premiere a new organ work expressing Chinese culture. The first performance will be scheduled for Hill Auditorium in 2022.
"Ms. Lei is a brilliant performer and a leader of the rising generation of organists," said Prof. James Kibbie. "I'm delighted that this award provides her an opportunity to expand her advocacy for new music expressing Chinese culture."
Lei has previously been named to The Diapsaon's "20 under 30" class of 2021 and was selected as a "New Music Star" by Hong Kong Radio. Together with fellow organists Ryan Chan and Ivan Leung, she has formed the IZR Trio.