Department of Organ students Zoe (Kai Wai) Lei (DMA '23, organ & sacred music) and Jackson Merrill (MM '22, organ performance) have been named part of The Diapason magazine's "20 under 30" class for 2021. Each year, the magazine selects the top 20 "young talents in the fields of organ and harpsichord performance, organ and harpsichord building, carillon, and church music." 
Lei was recognized for her emerging career as a concert artist and her advocacy for new music.  She has previously been named a "New Music Star" by Hong Kong Radio. Together with fellow organists Ryan Chung and Ivan Leung, she has formed the IZR Trio, with upcoming appearances in Hong Kong, Macau, and Taiwan.
"I am truly honored to be named "20 under 30" by The Diapason for my achievements in organ, carillon, continuo playing, and sacred music," said Lei. "In my musical journey, my professors, family, and friends have not only helped me polish my technique and refine my musicality, but have been a constant source of moral support. I keep myself motivated by always trying to expand my repertoire and doing different collaborative performance projects, rather than solely focusing on solo performance."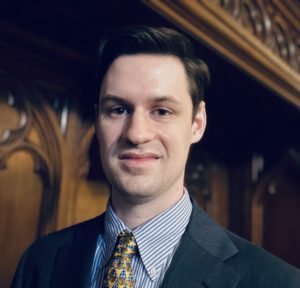 Merrill was recognized for his contributions to organ performance, sacred music, music education, and community outreach. He is currently the Organ Scholar at St. John's Episcopal Church, Detroit, and he previously directed an extensive music program, a chant schola, a program of collegiate choral scholars, and a concert series for Trinity Episcopal Church in Hartford, CT. As music director for the Choir School of Hartford, Merrill also led a non-profit, community-based program of chorister education which offered children in the Hartford-area RSCM training, touring opportunities, and free piano and organ lessons.
"I am honored to be recognized in The Diapason's "20 under 30′ list along with my colleague, Zoe Lei," said Merrill. "I am grateful to Prof. James Kibbie, the university organist and my teacher for his guidance, and also to Profs. Joseph Gascho (Basso Continuo), and Tiffany Ng (Carillon). I am also thankful for the warm, collegial and comprehensive learning environment at the School of Music, Theatre and Dance which helps us all thrive."
The Diapason is an international journal devoted to the organ, harpsichord, carillon, and church music. It has been in circulation for more than 100 years, providing consistent coverage on instrument specifications, recent news, scholarly and technical articles, and more. Learn more about The Diapason's "20 under 30" award and read about achievements of the 2021 class.