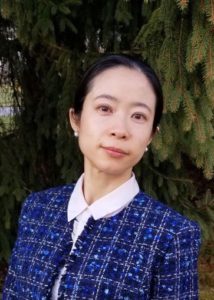 Fangfei Miao, an international scholar-artist, joined the Department of Dance in the fall of 2020 as an assistant professor. Prior to joining SMTD, Dr. Miao taught her contemporary fusion technique across the country. Focusing her artistic research on promoting racial and gender equality, she has toured internationally and staged her choreography in New York City, Los Angeles, Auckland, and Beijing, among others. Dr. Miao's scholarly publications, in both English and Chinese, have been featured in leading research journals in the US and China. Dr. Miao received her PhD in culture and performance from UCLA and MFA from the Beijing Dance Academy, China's premier dance conservatory.
Dr. Miao is one of four featured choreographers in the "Dance Despite COVID" production, currently available to view online. She is also the featured soloist in her work, Across. Here, Dr. Miao gives us a look into her process. 
How did you approach your work for "Dance Despite COVID"? Was it a work you already had in progress, or did you develop it specifically for this concert?
I developed my work specifically for this project. I really appreciate our department chair Christian (Matijas-Mecca)'s invitation. I take this creation as an opportunity to introduce who I am. Across crystalizes my constant pursuit of racial and gender equity through experimentations with postmodern avant-garde concepts and Chinese traditional artistic philosophies.
What was your biggest challenge in producing your performance?
I want my work to be beyond beautiful. I want it to criticize, to subvert, and to rewrite. The biggest challenge for me is how to package the serious critique with humor so that the performance is fun to watch. 
What was the biggest positive that came out of this experience?
I am very blessed to discover that people understand me—my colleges, co-workers, assistants, etc. I almost burst into tears because bravery and sincerity truly matter. Dance empowers me. I feel extremely grateful.
What do you want people who are viewing your work to know? 
Across utilizes my personal immigration experiences as paradigms to trouble the politics of reading racialized and gendered bodies—a Chinese female dancing body. By undoing the different dance genres that I was trained in, this work aims to surprise my audiences and play with their expectations. Potentially, I am not someone who they think I am. 
Speaking more broadly, what are your major observations about being a performing artist during COVID?
Doing a solo indeed is safer and more convenient. I enjoyed working with myself. At the same time, I also miss working with other people in the studio.