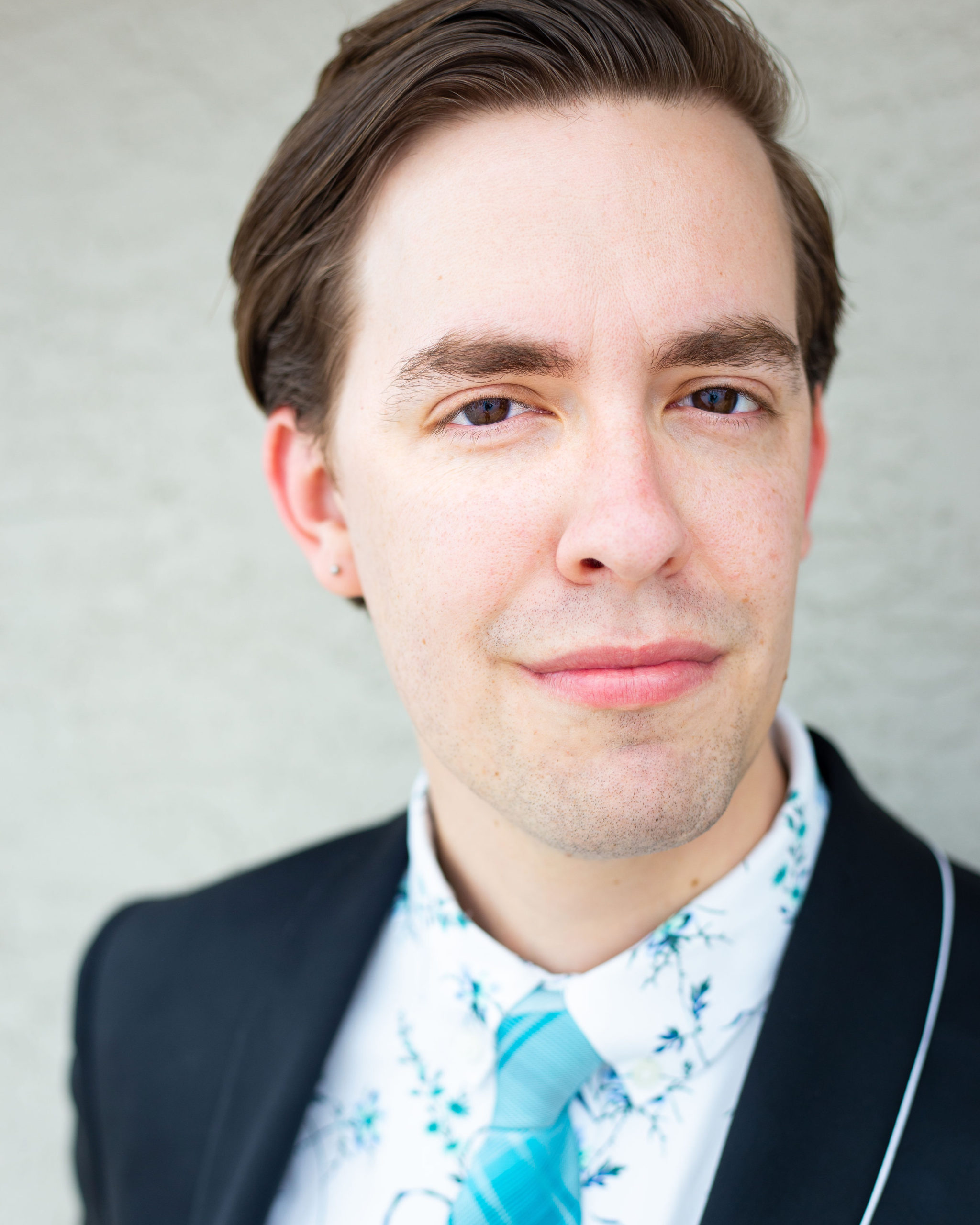 "Don Pasquale" marks the second fully-staged opera presented by the Department of Voice and the University Symphony Orchestra in the 2020-21 academic year. In grand opera tradition, the show was double cast, with two casts alternating performances. In a typical year, these casts alternate on a Thursday/Saturday, Friday/Sunday rotation. In the digital realm, both casts' performance will be available to stream simultaneously beginning Friday, May 14.
Below, Paul Leland Hill—who portrayed the titular Don Pasquale in the Rome cast, which performed the Friday/Saturday rotation—discusses his approach to the character, gaining inspiration from his fellow Don Pasquale actor, Alan Williams, secret tricks of the trade, and performing in the time of COVID-19.
Paul Leland Hill is a bass from Salt Lake City, Utah. In 2019, Paul began pursuing a Masters of Music degree in Vocal Performance at the University of Michigan, studying with Professor Stanford Olsen graduating in Fall 2021. He took a leave of absence from school to apprentice at Sarasota Opera, covering the sergeant in La Bohème. Paul returned to Michigan to sing the Sodbuster in their socially distanced production of Missy Mazzoli's Proving Up and Don Pasquale in Donizetti's Don Pasquale. This summer Paul will be attending the Taos Institute and singing Figaro in Utah Valley Arts Academy's production of Le nozze di Figaro. 
What drew you to the study of opera/voice?
I actually studied piano performance and pre-med for undergrad, but after graduating I joined the Utah Opera Chorus. I had sung in several choirs and had done music for most of my life, but when the curtain went up for my first performance as chorister of Verdi's Aida, I felt like I had found my home on the stage. I'm a little older than a typical master's student in voice, but I feel grateful for the experience that brought me to this point. 
How did you approach your performance as the titular character in "Don Pasquale"? 
When thinking about the character of Don Pasquale, I wanted to both parody the patriarchy and several of the old white men that we see in Washington and around America, but I also wanted to make him a real person who loves his nephew Ernesto, and definitely has his flaws and blindspots (creating much of the fun interplay of his character). 
How much did you interact with your counterpart in the other cast? Do you share any character development, or do you work independently? 
It was so exciting to work with Alan [Williams, who portrayed Don Pasquale in the Montecarlo cast] in this role, because his approach was really different from the beginning. We would switch off who was on stage, and I learned a lot about ways to make bits stronger, or ways to physicalize my performance more clearly. Al is a very experienced singing actor, so it was incredible to see him work and build his character. 
What are your key components for a successful performance? 
I try to leave everything on the stage for each performance, and to do it without judging the product as it's happening. I think creating real characters and drawing from real life experience and then pushing at as far as possible is the way to make a comedy come to life. 
Any behind-the-scenes tricks you swear by? 
I almost always walk to the hall for a performance, this is a way to get my heart and lungs ready to sing. I generally listen to some pump up music on the way (Recently Montero – Call me by your Name by Lil Nas X, always rocking some Britney Spears and Rihanna, and Beyonce) listening to popular music is a way for my brain to have a clean slate when I get to the theatre. I also try to get at least 15-20 minutes of laying on the ground in my dressing room when I arrive at the theatre. This helps me ground and center, and also to get acclimated to the theatre and start scanning through the performance. Then I warm up and do my make up and usually go and say hello to cast and crew before the show, socializing always helps me calm down and get ready to share my heart on stage. 
What were the major changes/challenges you faced in performing an opera during a pandemic? 
Luckily, I had performed in Proving Up, and many of the safety precautions were the same. The hardest thing for me is not getting the energy of an audience to feed off of and play to, I really love the feeling of having people to laugh and smile at the work we've done. I also miss being closer to my colleagues than 6 ft, when not singing 12 ft when singing. 
Speaking more broadly, what are your major observations about being a performing artist during COVID-19?
I think I really took performing [before an] audience, socializing with colleagues for granted. As things get more and more open, hopefully we won't take the arts and performance for granted. It is such a key element of society.