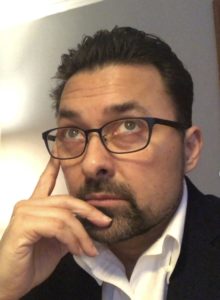 Dipu Gupta will join the School of Music, Theatre & Dance as a Visiting Associate Professor in the Design & Production area of the Department of Theatre & Drama during the 2021-22 academic year.
"I am thrilled to be joining one of the country's top BFA design programs," said Gupta. "It is an exciting time of evolution across the country for live and virtual design. I look forward to working with the students, faculty, and staff in helping to train the next generation of visual storytellers." 
Gupta is a prolific designer both within the fields of theatre as well as architecture and design. 
He has designed scenery for the Santa Fe Opera, Opera Africa Johannesburg, Opera Theatre of St. Louis, Gotham Opera NYC, Wolf Trap Opera, the Manhattan School of Music, Opera Pacific, Geva Theater Center, Syracuse Stage, Seattle ACT, Center Rep Walnut Creek, San Jose Rep, the Berkshire Opera Company, Madison Opera, Pacific Northwest Opera, the NJ Shakespeare Festival, Shakespeare Santa Cruz, The New Swan Shakespeare Festival, Shakespeare Orange County, Theatreworks Colorado Springs, and the Teatro UNAM Festival in Mexico City.
Gupta is also a licensed architect with completed building projects in California, New York, New Hampshire, Washington, and New Mexico.
"The School of Music, Theatre & Dance looks forward to welcoming Dipu Gupta this fall," said Dean David Gier. "Dipu's creative, forward thinking approach to theatrical design will be an exciting addition to the Department of Theatre & Drama. I look forward to seeing him work with our students to incorporate more digital elements and innovative technologies into their work."
Gupta currently serves as an Associate Professor of Set and Projection Design at Western Washington University, Bellingham. He has also taught at University of California, Irvine where he previously served as Head of Set Design. 
"The Department of Theatre & Drama is thrilled to announce that Dipu Gupta will join theDesign & Production area this coming year, as we explore ways to integrate digital media and projection design into our curriculum and production season, said Priscilla Lindsay, Claribel Baird Halstead Collegiate Professor and Chair of the Department of Theatre & Drama. "Dipu will bring creative and bold perspectives as demonstrated in his professional portfolio. We are looking forward to his mentorship of design students and his expertise in contemporary theatre design innovations."
Gupta holds a Master of Fine Arts degree in set design from the University of California,Los Angeles, a Master of Architecture degree from the University of Virginia, Charlottesville, and a Bachelor of Arts degree in art history from the University of Pennsylvania, Philadelphia.