Kevin Judge will return to the School of Music, Theatre & Dance as a Visiting Associate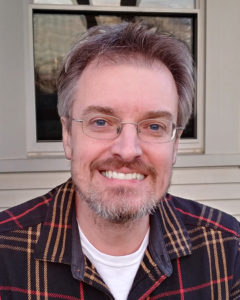 Professor in the Department of Theatre & Drama during the 2021-22 academic year. 
"In 2020-21, the Department of Theatre & Drama brought Kevin Judge to Ann Arbor for a one-year visiting professorship in design & production. From the get-go, Kevin stepped into one of the most difficult semesters ever experienced—followed by another one this winter—and taught beautifully," said Priscilla Lindsay, Claribel Baird Halstead Collegiate Professor and Chair of the Department of Theatre & Drama. "Kevin guided and advised our student designers, participated in faculty business, and generally made himself indispensable as a colleague and as a teacher. We are pleased to welcome Kevin back for another, hopefully less stressful, year in the department."
"What an inspirational year seeing the great work of the students in unprecedented circumstances," said Judge of his first year at SMTD. "Although I loved the recorded productions the School did last year, I can't wait to do some design work in-person in the fall."
Judge joins SMTD from the City University of New York, College of Staten Island, where he serves as an Associate Professor.
"Kevin has been a wonderful addition to the SMTD community this year, and we are pleased to welcome him back in the fall, said Dean David Gier. "Under his guidance, our design & production students continued developing their artistry during the pandemic through innovation, embracing new technologies, and hard work. We are grateful to have him stay on for another year to continue to mentor our students."
In addition to his academic work, Judge is a freelance scenic designer with extensive experience in theatre and television. His theatrical credits include the scenery for the Broadway production of Irena's Vow at the Walter Kerr Theatre, and many other shows in New York City. Among these are Laugh It up, Stare It Down at The Cherry Lane Theatre; Anthem at Baryshnikov Arts Center; Lovesick, The Revival, and FUBAR with Project Y; and Frankenstein with 37 ARTS. 
Regionally, Judge has worked at the Cincinnati Playhouse in the Park, La Jolla Playhouse, Delaware Theater Company, and Dorset Theatre Festival. He also designed the scenery for Grammy Award-winner Esperanza Spalding's 2016 international tour.
Judge was also the Associate Designer on over 40 theatre productions with Alexander Dodge including the Tony Award-nominated designs for A Gentleman's Guide to Love and Murder and Present Laughter. 
In addition to his theatrical designs, Judge has been a set designer on over 100 episodes of television, including The Whitehouse Plumbers (HBO), For Life (ABC), Manifest (NBC), Jessica Jones (Netflix), Blindspot (NBC), The Americans (FX), and Master of None (Netflix). 
Judge received his MFA from The University of California, San Diego.