Alex Pan is a recent graduate of the University of Michigan, majoring in business, organizational studies, and psychology and minoring in music, writing, and women's studies, as well as an Ann Arbor native. While not an SMTD student, Pan is one of the featured playwrights in PLAYFEST, an annual showcase of the best original works from the SMTD playwriting class, all directed by SMTD BFA directing students. PLAYFEST is led by artistic director José Casas, himself a decorated playwright.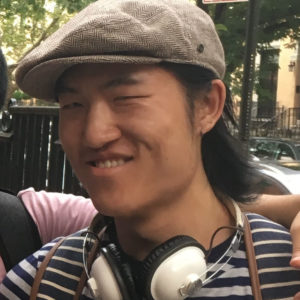 Pan's play, "Another Mother's Summer," is one of five plays featured in PLAYFEST this year. Here, he discusses how he came to SMTD as a non-major, working with a dramaturg, and the importance of playwriting. 
PLAYFEST premieres tonight at 8 p.m. EDT on the SMTD's YouTube channel. 
What is your affiliation with SMTD? Are you a student, faculty, staff, alumni, guest? If a student, what your year/degree designation? If currently employed at SMTD, how long have you been here?
None. I'm a student in the business school and LSA here. I have a minor in music (composition emphasis) and took two previous playwriting classes in SMTD (José is the best), but that's about it.
What is PLAYFEST, and how did you become a part of it?
PLAYFEST is an opportunity for student writers/directors/artists to explore the collaborative process of storytelling, with the potential to explore the nuances of our experience/world around us as college students. José first mentioned that I should write a play for PLAYFEST when I took my Intro to Playwriting course with him—I thought it was interesting, but I was really new to writing at that time and didn't expect to get anything I made produced. A year later, I got an email about this year's PLAYFEST, and I just wrote the script that night and sent it the next morning and that was that!
Your play is titled "Another Mother's Summer." Can you give a brief synopsis?
"Another Mother's Summer" is a play about one mother alone in a bedroom, but really tells the story of many mothers: hence, "Another" Mother's Summer. It's a story about the self-giving mother we all know or otherwise wish we had, and how they face the internal conflict of both wanting their child to grow up and succeed, but also wanting them to stay home with them forever. 
You worked with a dramaturg on your play. Can you explain that relationship?
I never had a dramaturg before! I'm so used to writing alone, that it was a totally new and valuable experience to bounce ideas and thoughts off of someone who is totally invested into the storytelling process. Kudos to Shannon Harper!
What drew you to playwriting? Is this your first play?
I saw the intro to playwriting course and was mostly just curious, but really enjoyed the intro class with José's help and mentorship. I wrote a few things before, but mostly for practice. I've always been into storytelling, and thought playwriting would be a great way to explore that in a visual/performative way.
Why do you think playwriting is important?
Playwriting is such a great and accessible form of expression and giving a voice to artists, let alone people. Other than that, I think storytelling is one of the most important artifacts we have to explore the human condition and understand each other.
What were the major changes/challenges you faced in producing your play during a pandemic?
Other than just the nuances of collaborating made more complex with being remote (especially in such a collaborative and visual medium), I think I was pretty lucky to not have been that affected by it.
Speaking more broadly, what are your major observations about being an artist during COVID?
I really love the remote setting! It gives me more time to think about things and what's around me, and reflect upon things. You start to notice (and maybe miss) the things you used to take for granted, and it's great food for thought about where you stand in the world (or lack thereof) around you. Collaborating is a lot tougher as I mentioned but you win some, you lose some.
Any final thoughts you'd like to share?
I really do want to encourage anyone who has ever thought of or wants to write (or make any art) to just do it! And if you're already doing it—please don't give up! It's really cheesy advice, but this is coming from someone who didn't seriously start writing until a year ago. I went through a lot of difficulty in my writing and wrote hundreds of pages of stories that I'd never put out there, was self-doubtful about a lot of my work at the time, and even totally gave up on writing once or twice. But in the end, I always went back to it, and always learnt from my previous work. There will always be a demand for great stories that talk about our experiences and teach us something about ourselves, and artists are more needed in our world than ever.
PLAYFEST may contain adult themes, and viewer discretion is advised.