By Marilou Carlin, director of communications and editor of Michigan Muse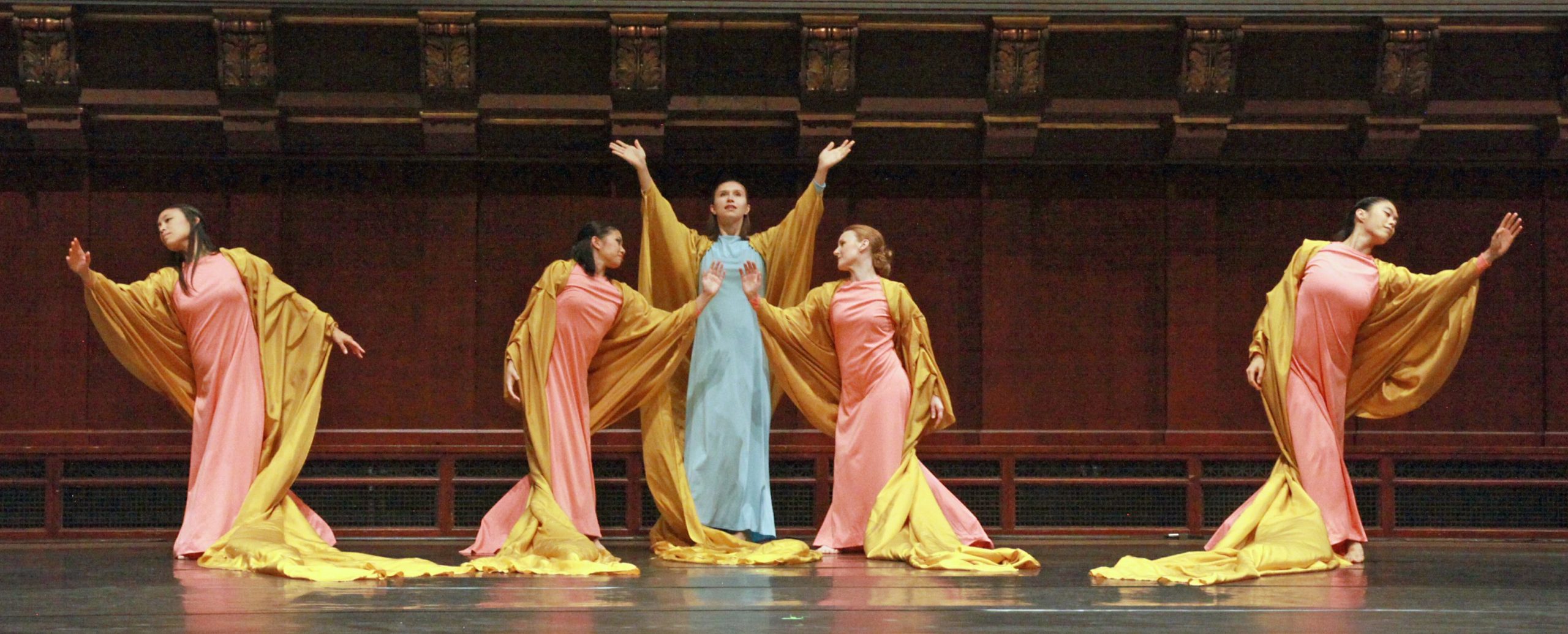 Built for music, with its world-famous acoustics, Hill Auditorium rarely has its stage graced by dancers. Large-scale dance performances are generally reserved for the Power Center for the Performing Arts, with its versatile stage and technical sophistication. But that changed in October when the Dance Legacy Project (DLP) had its premiere performance in Hill, primarily because it is home to the Frieze Memorial Organ, which played a major role.
Created and directed by SMTD professors Christian Matijas-Mecca and Jillian Hopper, the Dance Legacy Project is a new initiative that aims to stage historical dance works with live music. It launched with a celebration of Doris Humphrey (1895–1958), a seminal modern dance pioneer who had a particular affinity for the music of J.S. Bach.
Titled "Doris Humphrey at Michigan," the performance featured three of her most famous dances set to Bach's works: "Air" and Brandenburg Concerto No. 4, both featuring SMTD's Baroque Chamber Orchestra, led by Joseph Gascho, professor of harpsichord and early music; and the Passacaglia and Fugue in C Minor for organ, performed by James Kibbie, chair of the Department of Organ. It was the first time all three works were performed to live music in a single program, illustrating the brilliant collaborative possibilities at SMTD.
The company comprised SMTD dance students as well as dancers from Eastern Michigan University and local professionals. Matijas-Mecca was the musical repetiteur and rehearsal musician. Hopper, who specializes in the technique and choreography of Humphrey, staged the Brandenburg Concerto, and also danced in "Air." The duo also engaged visiting artistic director Gail Corbin, a leading exponent in the technique and repertory of Doris Humphrey and her creative partner Charles Weidman; she staged "Air" and the Passacaglia. The concert was the finale of the 58th Annual Organ Conference titled "Trailblazers: Women's Impact on Organ, Carillon, Harpsichord, & Sacred Music."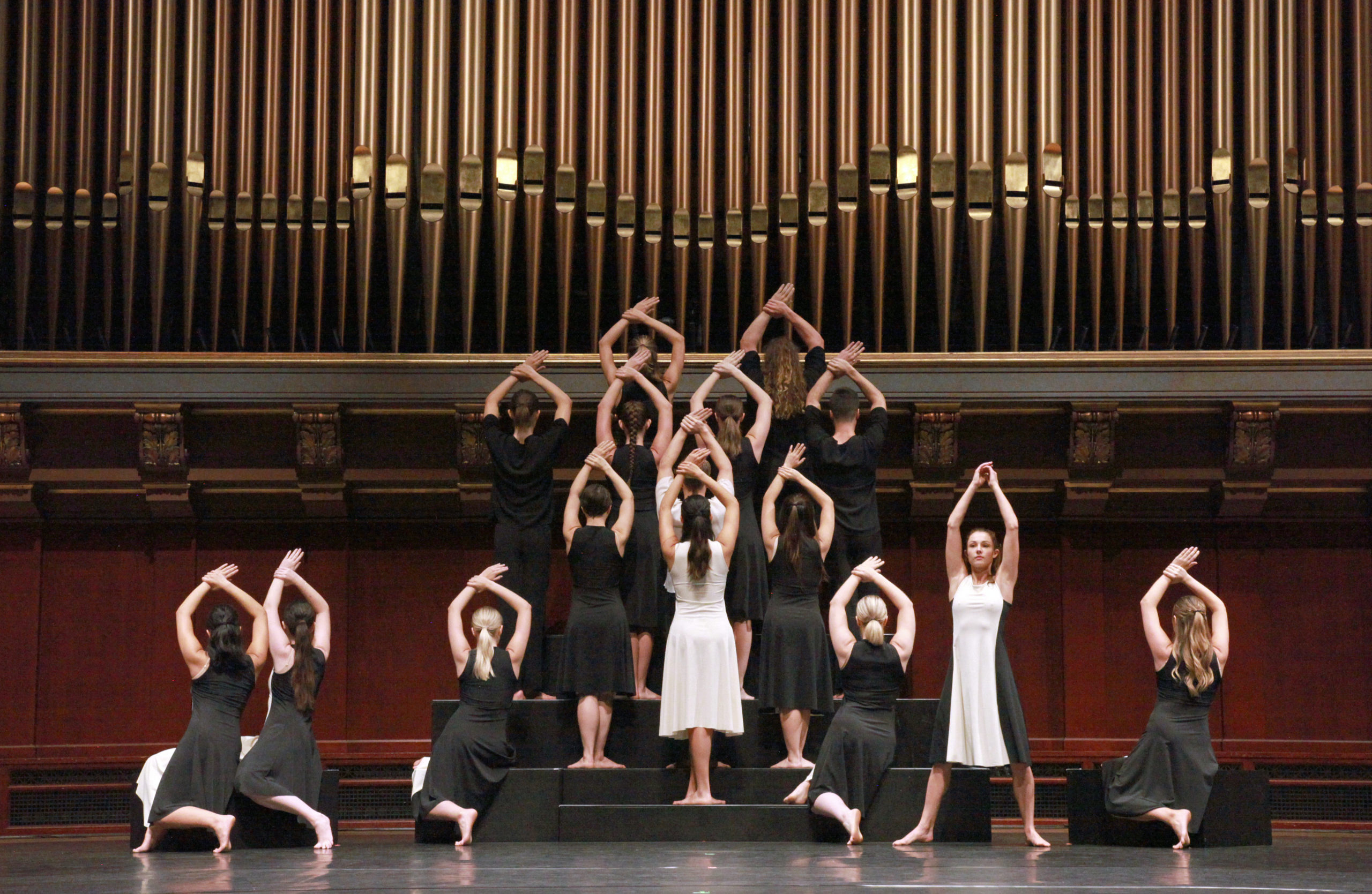 The project evolved from an idea that came to Hopper two years ago when she was listening to Eighth Blackbird and Third Coast Percussion perform Music for 18 Musicians by Steve Reich at a UMS concert at Hill. "I was sitting there and letting this music wash over me and I knew that I had to see Humphrey's Passacaglia and Fugue in C Minor performed onstage at Hill Auditorium with live organ. It struck me all at once that Humphrey's work and sensitivity to music needed to be brought to life once again, in a setting where both music and dance could be fully experienced. I didn't want to stage it somewhere that might facilitate dance better but would lose the acoustic beauty of Hill."
Hopper took her idea to Matijas-Mecca, who was enthusiastic. Three decades earlier he had been the musical repetiteur for a staging of Weidman's Brahms Waltzes, a work Weidman dedicated to the memory of Humphrey. Matijas-Mecca quickly set up a meeting with Gascho and Kibbie, who, he said, jumped in feet first, despite the uncharted territory of combining live dance and music on a large scale in Hill.
What ensued was a two-year journey of fundraising and engaging a team of collaborators, from the dancers to the musicians (both students and faculty), to the many SMTD colleagues who contributed time and energy in bringing the performance to the stage.
Doris Humphrey is considered one of the most influential figures in American modern dance. A contemporary of Martha Graham, her technical and compositional practices are still being taught in higher education throughout the world today. She also played an important part in bringing dance performances to college campuses in the 1930s and '40s. While influencing choreographers internationally, Humphrey's direct legacy passed to her student José Limón, who formed his company in 1946 with Humphrey as artistic director. The Limón Dance Company has long been considered a modern dance giant, along with the Limón Institute, its educational arm.
Greatly inspired by Bach, Humphrey used nine of his compositions in her 40-year professional career. She wrote: "I picked Bach for music because I still think he has the greatest of all genius for these very qualities of variety held in unity, of grandeur of the human spirit, of grace for fallen man; not only this, but I sincerely believe the music has movement in it, based on dances of forgotten men and women who are the unknown authors of much of the music of this or any age."
In Humphrey's lifetime, many of her dances were performed to piano transcriptions of Bach's works. (For the Passacaglia and Fugue in C Minor, she used the Leopold Stokowski transcription.) After the advent of the LP era (early 1950s), the company began to use recordings. Matijas-Mecca believes that performing to live music makes all the difference. "If you get to the core of movement, and you do it with the music as it was originally scored, you'll have a very different experience with it," he said.
Kibbie, who is also the University organist, attended a showing of the dance piece in June, to inform his performance. "It's well known that James has played the entirety of Bach's works for organ," said Matijas-Mecca. "But for this concert, he had to do an interpretation that was informed and shaped by the choreography, and he never made it difficult to achieve this—he was a great collaborator."
"Our performance needed to integrate Humphrey's historic choreography, the brilliant restaging directed by Christian and Jillian, and live performances of Bach works that were quite different from the ones Humphrey knew in the 1930s," said Kibbie. "It was our wonderful student dancers who brought it all together—their creativity, polish, and professionalism are extraordinary. It all made an ideal culmination to this year's Organ Conference."
Hopper was thrilled for her dance students—who have studied Humphrey technique with her—to experience the actual staging of Humphrey's work. She noted that many schools and companies may stage those works without providing training in the choreographer's technique. "They look completely different when you have actually been trained in the technique and you come at it from an informed place," said Hopper.
The October performance was a great success, and Hopper and Matijas-Mecca are now looking ahead to the next installation of the Dance Legacy Project.
"I have a pipe dream of having a repertory company within the University that is both dance and music," said Hopper. "Those two things should exist together, and we should stage historical dances, and understand them in our day-to-day contemporary lives."
"Work of the past is not museum work," said Matijas-Mecca. "It's just as vital now. Our music students play Beethoven, our theatre students perform Shakespeare—so there is no reason dance students shouldn't perform work from the 1930s, alongside the work of contemporary choreographers. Our goal is to fill that gap for students and for audiences."