Two students and a faculty member at the School of Music, Theatre & Dance (SMTD) received 2020 North Campus Deans' MLK Spirit Awards. The awards are given to students, student organizations, staff, and faculty members at the University of Michigan North Campus who exemplify the leadership and vision of Dr. Martin Luther King, Jr. through their commitment to social justice, diversity, and inclusion.
The awards ceremony took place on January 20 as part of U-M's MLK Symposium, which begins on MLK Day. The North Campus units also include Stamps School of Art & Design, the College of Engineering, and the Taubman College of Architecture and Urban Planning.
SMTD Student MLK Spirit Award Winners were Kandis Terry (dance) and Levana Wang (theatre). The faculty winner was Alvin Hill (performing arts technology).
Here are the MLK Spirit Award winners' profiles:
MLK Spirit Awards: Students
Kandis Terry is a junior pursuing a BFA in the Department of Dance. As a black dancer from Miami, moving to Ann Arbor has driven her to focus her work with youth in-and-around the Detroit area, where she is an inclusion specialist for the YMCA's Teen After School Program, and the program specialist for Michigan Youth in Government. Her passion centers around art as medicine. "Finding the right medicine for you takes time, passion, and patience," says Terry. "It's okay to switch or even take a break from it sometimes." On top of her studies, Terry is also treasurer for the Black Leaders in Art Collective (BLAC), a student organization dedicated to uplifting the campus' black voices in the arts.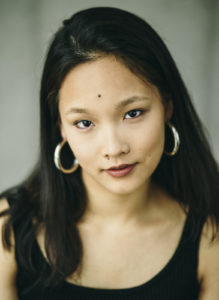 Levana Wang is a junior in the Department of Theatre & Drama. She currently serves as the marketing director for PROUD Polycultural Productions, a U-M student organization aimed at challenging the stereotypical roles minorities are often cast in, in hopes of leveling the playing field in theater casting. Wang has helped the organization gain traction and support during its first year on campus. She has also worked with larger companies such as Insomnia Cookies, Education First, and The Barre Code to create marketing strategies that are inclusive of minority races and people of all sizes and gender identities in order to create ads that everyone can see themselves in.
MLK Spirit Awards: Faculty
Alvin Hill, lecturer and technical events manager, has long been a leader in the Southeast Michigan music community. Hill's dedication to students of all ages is demonstrated through his work with the Neutral Zone; his volunteer work with high-school and middle-school students; and his SMTD students. His commitment to diversity, equity, and inclusion is evident in his work with the Future Black Electronic Artist's Camp, where he has led workshops on visual programming for the participants. Hill's teaching has the ability to engage students who have no experience with programming and in a short period of instruction he has them creating dynamic visual presentations. He has been a supporter of the Future Black Electronic Artist's camp since its inception two years ago and continues to support the camp through his shared expertise and teaching.  He also makes time to help students with personal projects and in doing so he has supported female students, students of color, and queer-identifying students who would not have completed projects without his assistance. Hill demonstrates a commitment to DEI initiatives and has been exemplifying those qualities long before there was a University mission to do so.