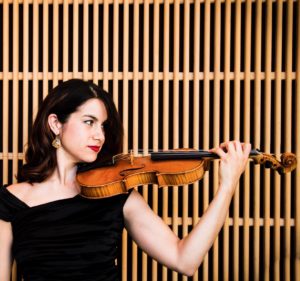 Danielle Belen, Associate Professor of Violin, joined the SMTD faculty in 2014. Winner of the 2008 Sphinx Competition, she is known as a master teacher who is dedicated to encouraging and mentoring young performers.
Focused on resilient teaching in the wake of COVID-19, Danielle shares how her pedagogical approach is changing to meet the needs of students in a remote setting.
How has your teaching evolved in response to COVID-19?
It is vital to maintain a sense of purpose and passion, especially in these trying times. Although school ended last month, I'm doing my best to continue to provide framework and guidance for my current SMTD students. I've also connected with my incoming class of six wonderful young artists, as the sudden gap in their summer has provided an opportunity for us to get a jumpstart on our work together. Like my colleagues, I am used to teaching remotely now, though I've shifted a bit in the last few weeks to a combination of having shorter zoom lessons but supplementing with recordings sent back and forth between us. I find that we are even more productive this way, as the recordings are a real indicator of how students are actually doing and pushes them to listen objectively before sending to me. Nothing is more honest than a recording, for better or worse!
I find that there are definitely some aspects of this new method of teaching, however strange and seemingly distant, that will prove to be worthy of maintaining even when we return to some semblance of normality.
I am currently preparing for the eleventh summer of my festival, Center Stage Strings, a four-week-long intensive program for gifted young string players, run as part of SMTD's MPulse Summer Institutes. The students, as always, will be joining us from all parts of the country to focus on their solo and chamber music skills. It will be different, for sure, but the new online format will allow us to focus on skill sets that often go overlooked in the hustle and bustle of the normal program. And it will make us appreciate each other even more when we can all return to playing together again!
Why Michigan?
U of M is a unique and powerful setting for our music school and I think now, more than ever, we can really shine, doing the things we've always done best—joining together as a community and maximizing our resources. I strive to help my students take full advantage of everything that we have to offer by creating a conservatory-like atmosphere of intense musical study alongside a major research university. My students have received support through our EXCEL program for some incredible projects of their own imagination. Anything is possible here!

Is music a vehicle for change?
I believe we can definitely use our art form to help bring attention to social issues. In classical music, we know that there is a major problem with the lack of representation and voices heard from all communities. This is something we can do something about, from the students we teach to the composers we study. I am committed to increasing representation of musicians of color in our field, particularly in strings.
African American musicians make up less than 1.8 percent of American symphony orchestras and Latinos make up only 2.5 percent. I am proud to say that my studio of violinists in the School of Music, Theatre & Dance is truly representative of the diversity we want to see more of in our field of classical music.
Describe your artistic journey.
Though I began violin at the age of 5, my world didn't revolve around music until I was a teenager. I've always wondered what it would have been like if my parents were musicians, whether they would have pushed me to practice many hours everyday as a youngster, but in hindsight I think it was very healthy for me to have "my own thing." Violin became my identity in middle school after, as concertmaster of our orchestra and one of the few kids taking private lessons, I was given the opportunity to lead sectionals when the conductor was gone and to share my musical ideas, however simplistic they were. At times I took this power a little too seriously, certainly annoying my schoolmates with my convictions (I'd yell "more bow!" at the poor 6th graders) but it was certainly the seed of my lifelong dedication to teaching!
Fast forward about 15 years, when I would start my own summer program Center Stage Strings and begin to firm up my career identity as a violin teacher first, with everything else orbiting around that main passion. Between that giant gap of time since middle school sectionals, I'd study with my great mentor, Robert Lipsett, at both USC and The Colburn School, win the Sphinx Competition in 2008, resulting in solo appearances with a number of top tier orchestras, work as a freelance musician and concertmaster in Los Angeles, join the faculty at Colburn, and marry my amazing husband and life partner, Ryan Vaughn
My decision to leave Los Angeles and my class of incredible pre-college students in order to teach at U of M was difficult, but it has opened so many doors for me. My students at the School of Music, Theatre & Dance inspire me on the deepest levels, and I wake up every morning planning how to be a better mentor, a better violinist, and a better human for them.
I am most artistically satisfied and my most creative when problem solving and studying a piece along with a gifted young student. And as much as I adore the vast and diverse repertoire that we are privileged to play, I am even more fascinated by the physicality of the violin playing itself.  There are literally thousands of ways we must learn to use our bodies in harmony with this inanimate object, training tiny muscles to move in such tandem with one another that sparks begin to fly and the violin comes alive with electricity, but only if we do it just right.