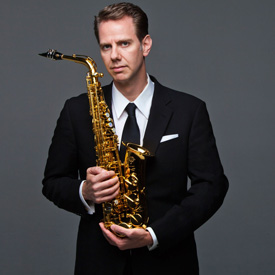 Professor Timothy McAllister was one of four University of Michigan faculty members selected to receive Henry Russel Awards for 2019. One of the university's highest honors for junior faculty members, the Henry Russel Award is conferred annually to faculty members who have demonstrated an extraordinary record of accomplishment in scholarly research and/or creativity, as well as an excellent record of contributions as a teacher.
McAllister, who joined the university in 2014, is the leading performer of the classical saxophone in the world today and a leading champion of contemporary classical music. He performs regularly as a soloist with the world's finest orchestras, including the Berlin Philharmonic, the Chicago Symphony Orchestra and the Detroit Symphony Orchestra.
A member of the PRISM Quartet, McAllister is credited with more than 200 premieres of new works by eminent and emerging composers. He has made more than 40 recordings as a soloist and ensemble performer with major music labels, and he is only the second saxophonist to appear as a soloist in the 120-year history of the BBC Symphony Proms concerts in the Royal Albert Hall.
McAllister, who performed on the Grammy-winning recordings John Adams: City Noir and Gavin Bryars: The Fifth Century, has earned several accolades, including SMTD's Paul C. Boylan Alumni Award.
Under McAllister's leadership, the university's saxophone program has maintained its reputation as being the most prominent in the world. He has expanded the curriculum to focus on group improvisation and creative music-making.