For Priscilla Lindsay, Claribel Baird Halstead Collegiate Professor of Theatre and former chair of the SMTD Department of Theatre & Drama, being part of the Big Ten Theatre Consortium was a wonderful experience that had significant professional benefits. She and the other theatre department chairs in the consortium would gather annually to confer about common concerns and productions and to share best practices. "We talked about our triumphs, we talked about our failures," she recalled. "We talked about our challenges and what our departments were doing. It was just great."
In 2014, Lindsay and the other members of the consortium launched a program, initiated by Alan MacVey of the University of Iowa, that would widen the group's impact well beyond the universities within it: the New Play Initiative. With this initiative, the consortium took an important step toward equity in the theatrical repertoire, commissioning new plays written by female-identifying playwrights and featuring multiple strong roles for women.
Five plays have been written and produced to date as a result of this initiative. The most recent commission, Jen Silverman's Bonnets: How Ladies of Good Breeding Are Induced to Murder, opens Thursday in the Lydia Mendelssohn Theatre. Presented by the Department of Theatre & Drama and University Productions, Bonnets is directed by Lindsay. It is the eighth play she has directed at Michigan, and, given that she is retiring at the end of this academic year, it will be the final SMTD play she directs as a member of the faculty.
A darkly comic tale with a rock & roll spirit, Bonnets tells the stories of women in three different times and places – Salem Village in the late 1600s, France during the reign of Louis XIV, and England in the late 1800s – who respond to being wronged in what might be seen as an extreme fashion. In her director's note in the production program, Lindsay described Bonnets as "a perfect piece for our time and for our students, hitting a real sweet spot of wicked zeal that is funny, form-breaking and feminist in the best sense of the word."
Lindsay also characterized the play as "really, really fun," with characters jumping from one time period to another and, by the end, a general breakdown of the time-space continuum. She noted, however, that its themes are difficult and challenging: "It talks about violence against women, and it holds up a mirror to situations where women are subjugated or patronized or put down throughout history. But of course it's reflecting today, as well."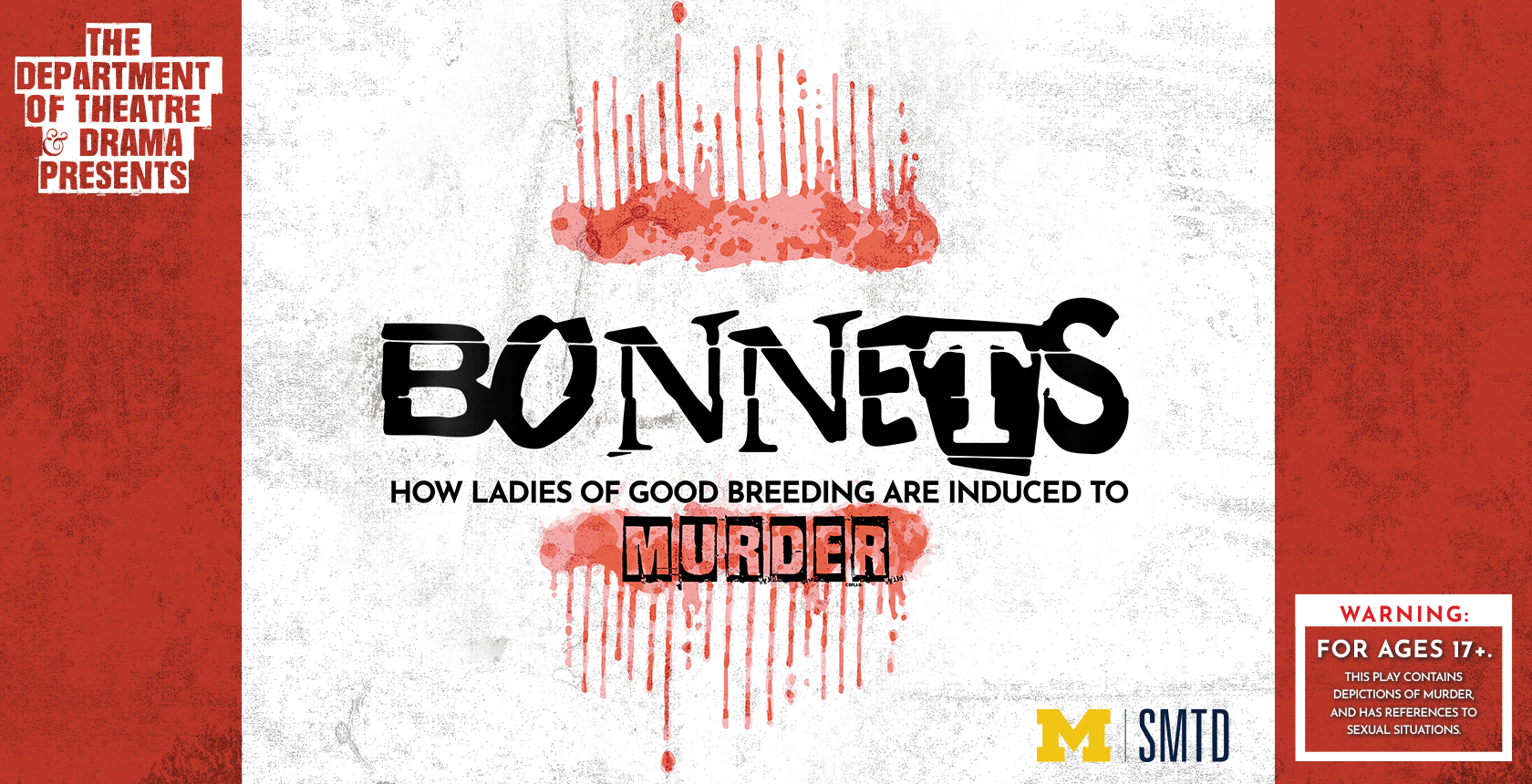 Bonnets: How Ladies of Good Breeding Are Induced to Murder runs February 16–19, 2023, at the Lydia Mendelssohn Theatre. Buy tickets.
A prolific writer, Jen Silverman is among the most-produced playwrights in the United States. In addition to Bonnets, they are known for their plays Witch, Collective Rage: A Play in 5 Betties, The Roommate, and The Moors. But Silverman hasn't stopped at writing for the theatre; they also have published a novel, a short story collection, and a book of poetry, as well as writing for film and television. In 2022, Silverman was named a National Endowment for the Arts Fellow (for prose) and a Guggenheim Fellow (for theatre).
Directing at SMTD
Looking back on the eight plays she has directed during her time at SMTD, Lindsay balked at the notion of choosing a favorite. "They're like your babies, you know, you fall in love with them." Each one has aspects that stand out in her memory. Directing You Never Can Tell was a special experience for her in part because she loves George Bernard Shaw and in part because her daughter, Maggie Ferguson-Wagstaffe (BFA '09), was in the cast. She fondly recalled working with Jacqueline Toboni (BFA '14) in Three Sisters ("she was so superb") and Caleb Foote (BFA '16) in Henry IV, Part 1 ("he was just terrific"). As for directing Sense and Sensibility, Lindsay felt privileged to work with such extraordinary material: "You know, Jane Austen, are you kidding?"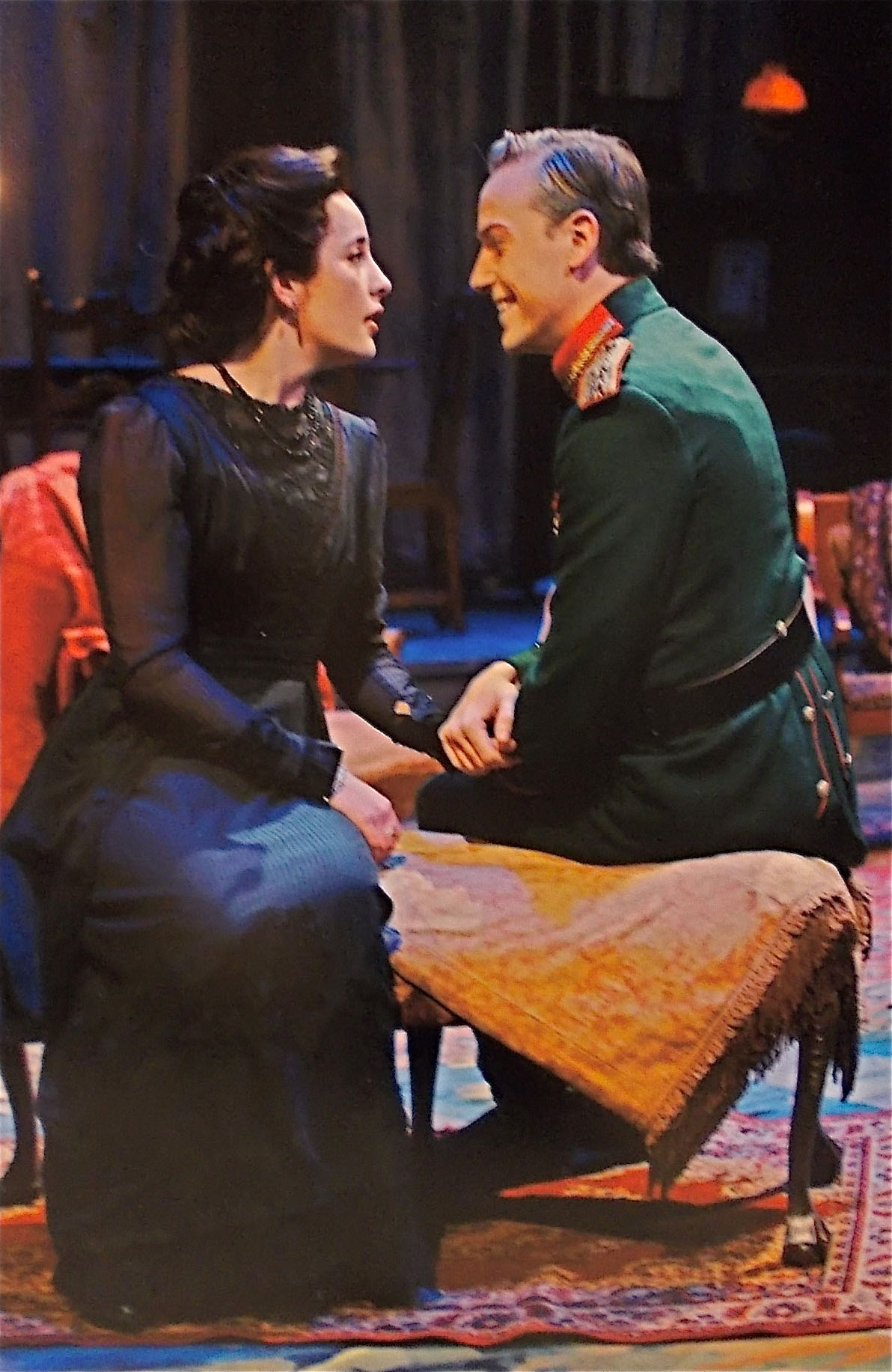 SMTD's November 2013 production of Three Sisters, directed by Priscilla Lindsay and featuring Jacqueline Toboni (BFA '14) and Tim Markham (BFA '14).
Right now, she acknowledged, she is "so in love with Bonnets; I'm really, really happy." Knowing she would be directing one of the department's plays this year, Lindsay had enthusiastically pitched Bonnets to faculty advisors and students in the department's Season Selection Advisory course last year. This one-credit class was started in 2022 in response to students' requests to be more involved in selecting the plays for the department's season. "The committee jumped on it," Lindsay said. "They loved it."
The cast consists of 11 women, ranging from first-year students to seniors. Lindsay described the commitment and dedication of the cast in bringing to life this "thought-provoking, wonderful piece," and members of the cast, in turn, noted the positive experience of working with Lindsay as director. "It has been a joy to be a part of Priscilla's last production here and to see her vision come to life," said senior Olivia Sinnott. "I have not gotten to work with many female directors, and working with Priscilla is so inspiring. She has created such a safe space for all women to openly share their thoughts and collaborate."
Alyssa Maria Melani also noted the benefits of working on a production focused on women, praising the environment fostered by Lindsay: "Working on a female-centered show with an all-female cast has been the most fulfilling experience of my senior year. I've loved the space that Priscilla has created throughout this process for each actor's individual needs and her focus on bringing joy into each rehearsal."
A Rich and Multifaceted Career
Before coming to SMTD in 2010, Lindsay had a full career as an actor and director. She attended the University of Michigan, earning a BA in 1971 and an MA in 1972 as part of the Professional Theatre Program fellowship. After she and her husband, scenic designer Richard Ferguson, got married, they spent some time working in theatres in Houston and then in Kansas City, Missouri, before settling in Indianapolis. There, they raised their three children – Sarah, Bill, and Maggie – and built professional careers, largely at the Indiana Repertory Theatre (IRT).
Lindsay graced the IRT stage for more than 35 seasons, in more than 60 roles. She directed more than 25 plays professionally, including an annual production of A Christmas Carol at the IRT. She headed up the IRT's summer conservatory and served as the theatre's associate artistic director for 12 years. In addition to acting and directing stage productions, Lindsay had what she calls her "parallel career" doing voiceover work for national commercials. She recalled a period when she had a regular gig every Monday in Chicago, where she would spend the day recording one spot after another. She has also, in recent years, started dabbling in doing voice work for animation.
Throughout her many years in Indianapolis, Lindsay's ties to U-M remained strong. She kept in touch with all of her theatre & drama professors, bringing her children to Ann Arbor to meet them. For a production of Murder in the Cathedral at the IRT, Lindsay enlisted her former professor Claribel Baird Halstead – who would later become the namesake of Lindsay's collegiate professorship – as well as several alumni, to be part of the cast.
So, when Lindsay was encouraged by Erik Fredricksen, former chair of SMTD's theatre & drama department, to apply for the newly open position of department chair, she seized the opportunity. She recalled coming to Ann Arbor for the interview process: "I gave a sort of Ted Talk, and taught a class, and did all that kind of stuff, and people seemed to think it was a great idea, so I did it. And it was terrific. It was just terrific."
Leaving an Indelible Imprint
Lindsay was appointed chair in 2010; she served in that role until the spring of 2021, at which time she stepped down to focus on teaching and directing for her final two years at SMTD. As chair, Lindsay had several goals for the department. First, she wanted to diversify the faculty, ensuring that new voices became part of the fabric of the department. She also sought to get T&D "on the map and at the table for all the important discussions," raising the profile of the department within the school, the university, and beyond.
She made sure to properly celebrate the 100-year anniversary of the theatre program at Michigan – the second oldest in the country, one year younger than Carnegie Mellon University – and, when U-M celebrated its 200th anniversary in 2017, she guaranteed that SMTD had a visible role in the festivities. Acting as producer of "True Blue! A Tribute to Michigan," a star-studded bicentennial extravaganza at Hill Auditorium, Lindsay recruited two well-known T&D alums, Jacqueline Toboni and Darren Criss, to act as hosts, and she made sure the program included several performances by SMTD students.
Lindsay also set out to bolster alumni relations, understanding the importance of those connections for the department and the alumni themselves. "I made it a point to go to New York, LA, Chicago, to meet with alums and interview them – and not just actors, but directors, writers, producers, no matter what field they were in." Lindsay also worked toward solidifying scholarship support for T&D students, a vital effort in terms of attracting talented students and reducing their student loan burden after graduation. She noted that careers in theatre can take time to build, and graduating with minimal debt allows some breathing room. Establishing relationships with prospective benefactors – "people who care about the department and have the means to support our students in their education" – takes time, she said, "but boy, oh boy, it means everything."
Relationship-building, it turns out, is just one of many strengths Lindsay demonstrated as chair. "She has modeled grace in leadership," said Christianne Myers, professor of theatre & drama, particularly during the challenging years of the pandemic. "Under Priscilla Lindsay's leadership," Myers said, "the Department of Theatre and Drama thrived, recruiting excellent students and committed faculty, and developing into a nationally recognized undergraduate program that fosters artists, creative citizens, and scholars."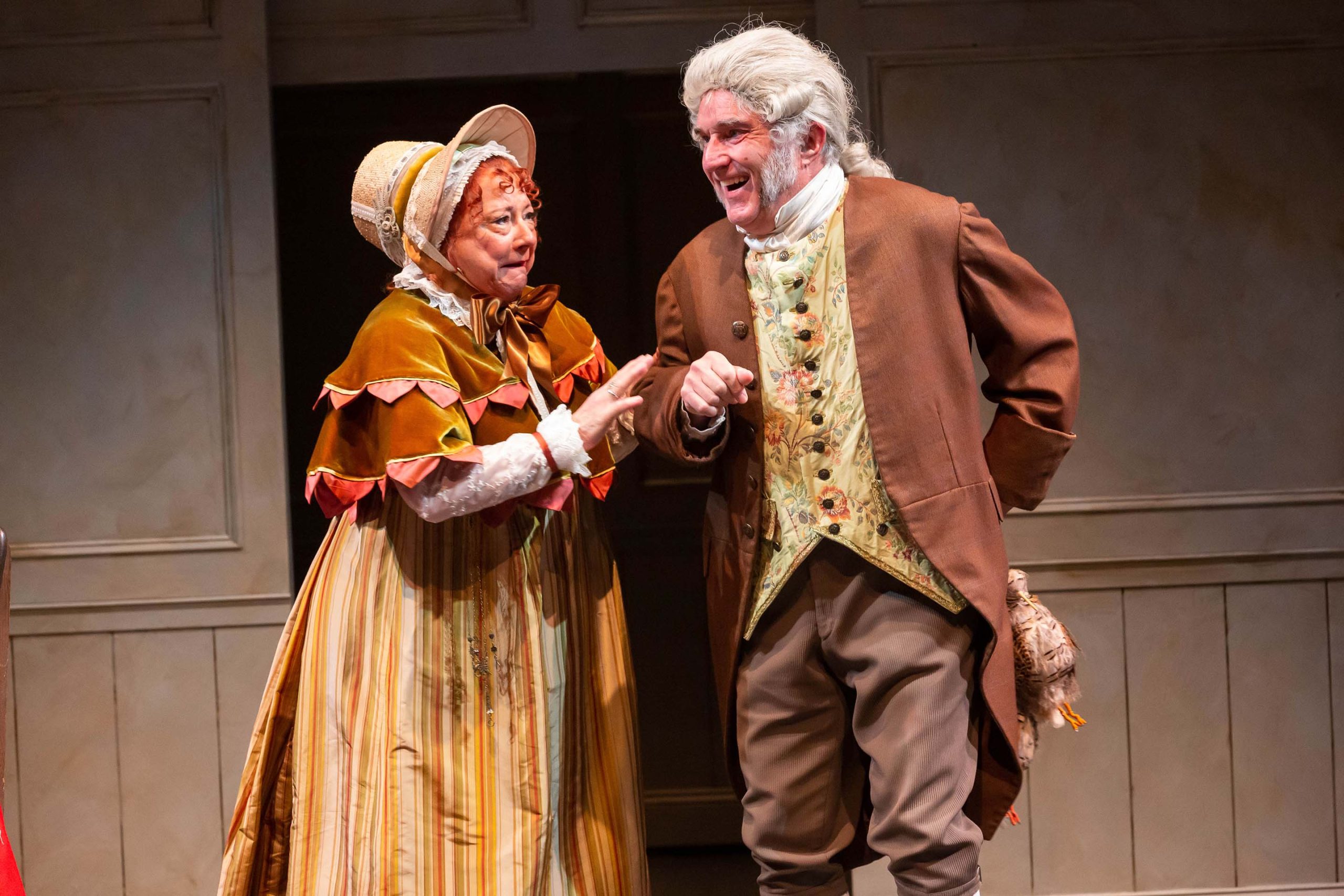 Priscilla Lindsay and Ron E. Rains in the IRT's 2022 production of Sense and Sensibility. Photo credit: Zach Rosing.
Actress and former T&D faculty member Janet Maylie worked with Lindsay for most of her time at SMTD and described her as "a consummate artist and beautiful human with unflagging, relentlessly positive energy." Maylie went on to say, "From day one she infused the department with warmth and respect, encouraging the freedom to explore and inquire. Throughout her tenure she continued to elevate all facets of the department through her listening, her dedication, and her great ability to love. Her imprint is indelible."
The Next Chapter
When thinking about how the next stage of her life will unfold after retiring from SMTD, Lindsay has one concrete plan: A river cruise down the Rhône in France with her husband, her brother-in-law, and her sister-in-law. Beyond that, however, she remains open to whatever comes her way. She may find herself in a plum role at the IRT, where she has returned periodically since moving to Michigan. (She recently played Mrs. Jennings in an IRT production of Sense and Sensibility, describing the experience as "a joy on every front; it made my heart happy.") She may continue doing animation voice work, maybe secure a directing gig now and then. She will most definitely spend time with her grandchildren. "Watching them grow and being a part of their lives, there's nothing like it," she shared. But she doesn't have this next chapter mapped out, and that's exactly how she wants it. "I've never wasted too much time plotting things out," she said. "Things just happen to come my way, and I think I'll continue that. I've been very, very lucky."