Logan Skelton long dreamed of creating a fully realized two-piano arrangement of George Gershwin's 1928 orchestral work An American in Paris. For a decade or more, however, his idea languished on the back burner.
Now, after three years of dedicated work, Skelton's ambitious project to bring Gershwin's popular tone poem back to the concert stage for two-piano performances is nearing completion. His successful effort was supported by the U-M Gershwin Initiative, SMTD faculty, and two SMTD students who assisted him throughout the project.
Skelton, Arthur F. Thurnau Professor of Music, recently submitted his two-piano arrangement to the Gershwin Initiative for inclusion in the George and Ira Gershwin Critical Edition, which is producing new, scholarly imprints of the two brothers' complete musical legacy. "An American in Paris has been played for many years by orchestras, but infrequently on two pianos, because Gershwin's original two-piano score was not fully worked out," Skelton said. "I feel certain that this arrangement has a good chance of entering the repertoire and being played by two-piano teams all over the world for many years to come. When I look back at my career, I think this will be one of the things I did that really mattered," he added. "I've loved every second of it."
Learn more about the process of creating the new two-piano arrangement of George Gershwin's An American in Paris.
Gershwin's Working Sketch
The seeds for Skelton's Gershwin project sprouted years ago when he heard a CD recording of a two-piano version of An American in Paris played on an old-fashioned player piano.
Gershwin's longtime collaborator, Frank Milne, made the original piano roll in 1933 based on the orchestral piece, but he embellished his arrangement with extra notes that rendered it virtually unplayable by just two pianists.
"I thought that recording was truly amazing, so I located Gershwin's original two-piano arrangement and tried playing it with other pianists," Skelton said. "However, his score was sometimes too minimal and other times difficult to play. It was just a working sketch that Gershwin made while he was composing the orchestral piece. He never really intended the two-piano arrangement to be performed."
Skelton's interest in the two-piano project was rekindled in September 2013, when the Gershwin Initiative was established at U-M to document and analyze the trove of works featuring music by George Gershwin and lyrics by Ira Gershwin.
Mark Clague, associate dean for collaborations and partnerships and professor of music, was appointed director of the initiative and editor-in-chief of the Gershwin Critical Edition, which will be published in book and electronic forms through European American Music and Schott International.
Three years after the initiative's launch, the first critical edition of An American in Paris was premiered by U-M's University Symphony Orchestra. Skelton, who attended the 2016 performance, was enthralled by what he heard.
"It was amazing to hear the piece in its original version," Skelton recalled. "I started thinking again about recreating Milne's two-piano version (on the piano roll) as a playable arrangement for two pianists. Finally, I got the go-ahead from the Gershwin Initiative to start working on it for the critical edition."
Endless Trial and Error
Without an original score to guide him, Skelton attempted to decipher the individual notes being played on the piano keyboard on Milne's piano roll. He and his undergraduate student, Eric Yu (BM '23), slowed down a YouTube video of the player piano in action and watched frame by frame to identify which keys were pushed down in what order. Then they used the decoded notes and durations to create a semblance of a score.
It was a tedious and time-consuming task, to say the least. "We made a lot of progress, but there were still many missing pieces," Skelton said.
To fill in the blanks, he obtained MIDI data from a computerized recording of Milne's piano roll version. (MIDI, or Musical Instrument Digital Interface, is a way to connect synthesizers, samplers, and computers that make and control sound, so they can communicate with each other, using MIDI messages.) However, when the electronic information was used to generate a musical score, the helter-skelter notation on the page appeared almost incomprehensible. "The raw MIDI data looked like notes on a staff, but the notes went from top to bottom," Skelton said. "It was a complicated mess. We had to clean it up and try to make sense of it."
That effort required months of compositional experimentation and revision by Skelton, Yu, and Sheena Hui (MM '21), a pianist finishing her graduate degree. That work was also done by two senior editorial assistants with the Gershwin Initiative: Brandon Scott Rumsey (DMA '17, composition), a lecturer in SMTD's departments of composition and music theory, and Olivia Davis (DMA '20, composition). The two-piano project finally gained traction once Skelton began studying the critical edition score of the orchestral piece.
"I realized the orchestral score is much more detailed and accurate, and much more fully realized, so I ultimately focused on that as my primary source," Skelton said. "I also went back to the first recording of the orchestral version that Gershwin himself oversaw in 1929."
Drawing on these multiple sources, Skelton successfully completed a clear, legible – and playable – score of An American in Paris for two pianos. To date, the arrangement has been "test performed" eight times by two-piano teams around the country. "Some of the teams have suggested improvements and revisions, and these have improved the score a lot," Skelton remarked. "I have really appreciated their feedback. At this point, the changes are very small, and the score is in pretty good shape."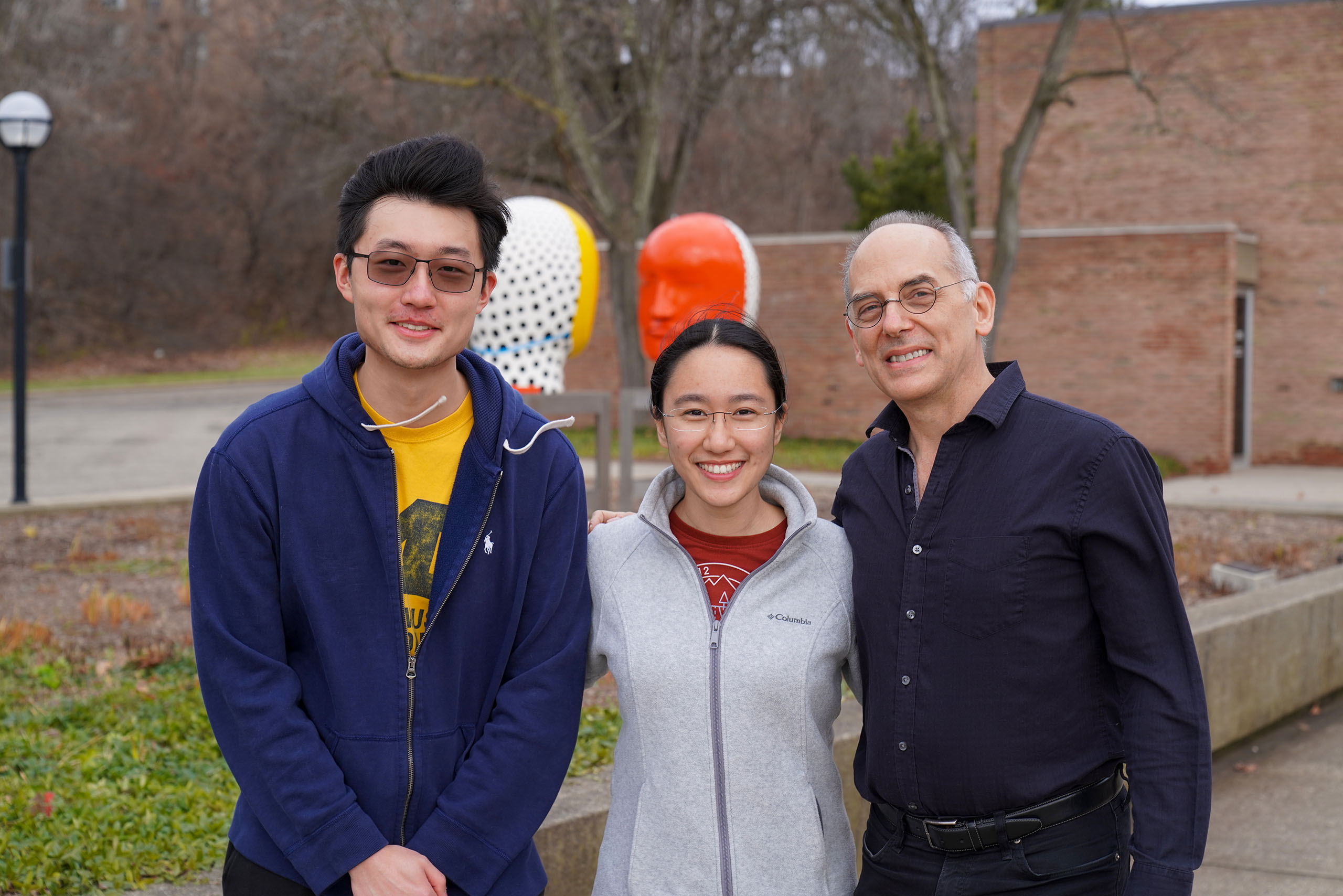 Students Eric Yu (left) and Sheena Hui worked closely with Logan Skelton on the two-piano project.
Watch Sheena Hui and Eric Yu perform the two-piano version of An American in Paris.
Taking a Deep Dive
Through their involvement in the Gershwin two-piano project, Skelton's students gained a deeper appreciation for how music is actually made – from the composer's point of view.
"I think it changed the way they look at musical scores, and at music in general," Skelton explained. "A score is a composer's attempt to put something into some sort of musical notation, but it's not written in stone. A score of music is a living thing that can change and evolve."
Yu, a piano performance major who had no prior experience doing research or transcription, dived headlong into the work. He used iMovie, a video editing app, to capture the sequence of the individual piano keystrokes in the YouTube video of Milne's piano roll. He also helped to translate the raw MIDI data into a readable musical score.
"Getting the score to be playable, however, was a whole different thing," Yu said. "The first challenge was to distribute the notes evenly between the two pianos. We wanted to give each of the pianists an equal amount of music material. We didn't want one to have all the melodic lines and the other to play all the harmonies."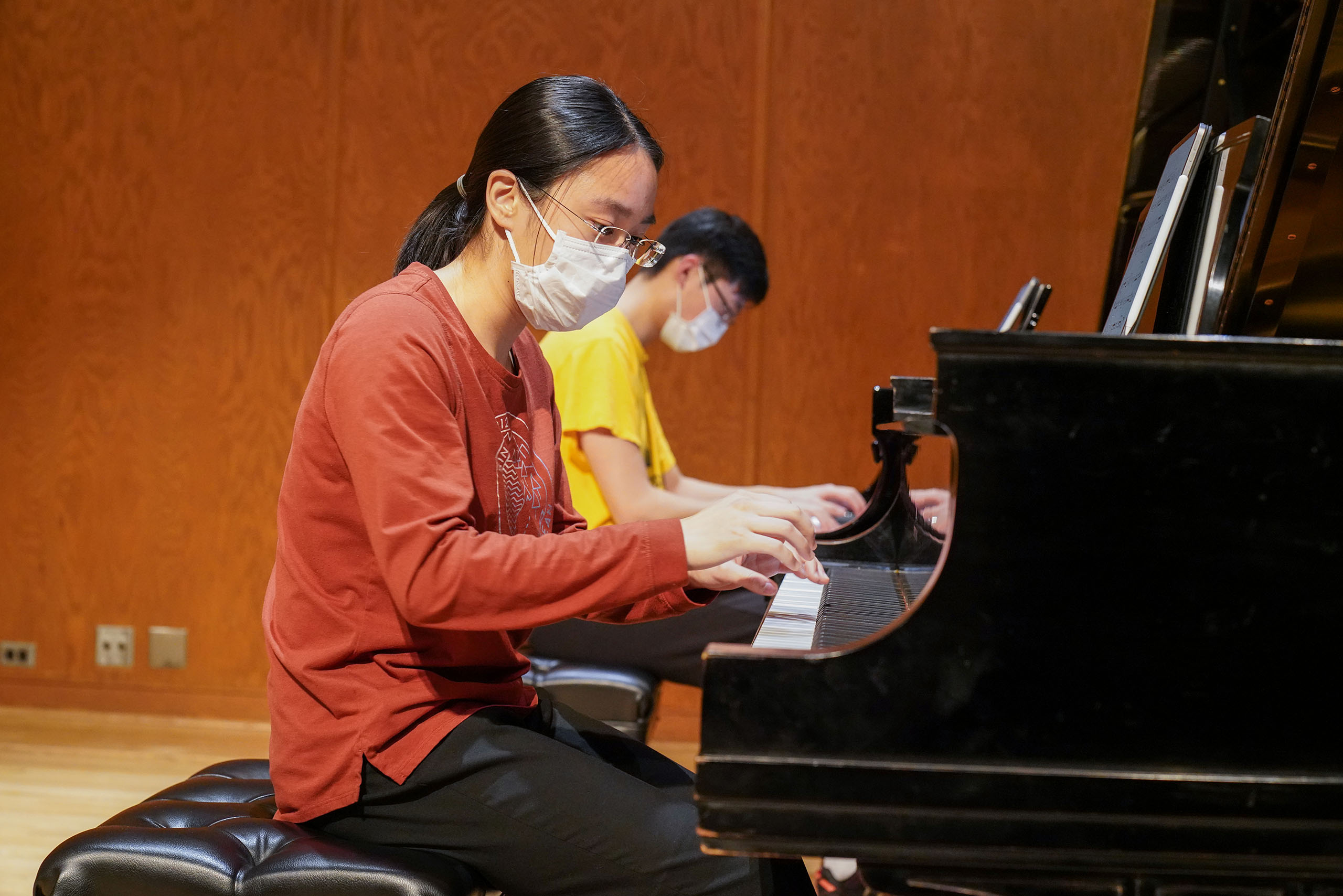 Sheena Hui and Eric Yu practice the two-piano version of An American in Paris.
The second challenge was to make the music playable by two real pianists. "The piano roll version is melodically and harmonically thick, and the chords are so large that not all of the music is playable using four hands," Yu explained. "We needed to approach the music from a very pianistic view to see what feels good on the hands and what feels good as positions. From there, it was basically a very long process of trial and error."
For Yu, the two-piano project was the highlight of his undergraduate studies at SMTD. "The importance of this project is that students have the ability and facility to collaborate with the faculty on almost a professional research level," he remarked. "I am actually able to produce something that will be performed."
Yu also indicated that his deep dive into Gershwin's composition has benefited him as a performer. "This has made me a better musician, because I could see where the composer was coming from, what he was feeling, and what he wanted to evoke," he remarked.
Impact on Future Generations
Sheena Hui devoted many long hours to arranging, reworking, and editing the two-piano score. "The most enjoyable part of this project was knowing that our work was important and significant," she explained. "Performers always look to our critical edition scores for our interpretive decisions. So, it's important to make a good score that reflects the intention of the composer, George Gershwin, and, in this case, the arranger, Frank Milne."
The collaborative opportunities offered to students through the U-M Gershwin Initiative set Michigan apart from other universities, according to Hui. "I don't know of anyone at any other school who has this opportunity to work on such an important project that will affect [future] generations of performers," she explained. "We are just students working on this along with faculty and editors and experts from around the world."
Hui, a pianist who often "scours" the critical editions of works by major composers, came away with a greater appreciation for Gershwin's unique compositional style. "As a composer, Gershwin used so many motifs in his music," she observed. "Often, you'll have two motifs being played at the same time by the two pianists, so both performers have very interesting contrapuntal lines."
Hui expressed that she feels honored to have been able to participate in the Gershwin two-piano project while she was still in graduate school. "I would love to do more of this in my career, because it's such an important part of every performer's process of preparing their repertoire," she added.