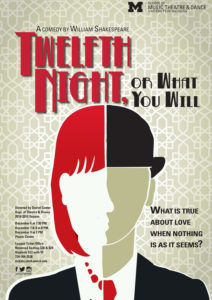 Twelfth Night
A comedy by William Shakespeare
Department of Theatre & Drama
December 6-9, 2018 • Power Center

Shakespeare's timeless comedy about love and being in love, Twelfth Night, follows separated twins Sebastian and Viola. Finding herself shipwrecked off Illyria and believing her brother dead, Viola disguises herself as a man and enters the service of Duke Orsino. The Duke believes himself in love with Olivia, but Olivia is swiftly falling for the disguised Viola. In the meantime Viola is developing feelings for the Duke. When Sebastian (who is not dead) arrives in Illyria, confusion reigns supreme. Unrequited love and mistaken identities abound as the foursome journey towards a joyous discovery.
Twelfth Night, written around 1601, is one of Shakespeare's happiest plays. The show takes its title from the revelry following the twelfth day of Christmas, bringing together romance and music in a tale full of festivity and folly. One of the most "modern" of Shakespeare's plays, the comedy's themes about the fickleness of love, the arbitrary nature of relationships, and the re-thinking of sexuality, all conspire with brilliant verse to push boundaries and look at the world upside down. Setting the tale during the 21st Century, our production of Twelfth Night explores the many facets of love in a rich and varied portrait of the human condition.
This production is dedicated in gratitude to Professors John Neville-Andrews and Leigh Woods for their many years of service to the Department of Theatre & Drama on the occasion of their retirements.
Artistic Staff
Director: Daniel Cantor
Music Director and Composer: Gian Perez
Associate Music Director: Allie Reynolds
Scenic Designer: Gary Decker
Costume Designer: Jessica Hahn
Lighting Designer: Emily Miu
Wig Designer: Dawn Rivard
Choreographer:  Chelsea Hamm
Additional Choreography: Shannon Nulf, Daniel Cantor
Voice and Text Coach: Kris Danford
Fight Choreographer: Christina Traister
Stage Manager: Sam Schoenfeld
Cast
Orsino, Duke of Illyria: Kyle Prue
Olivia, a countess: Leyla Beydoun
Viola, a shipwrecked lady, later disguised as Cesario: Mallory Avnet
Sir Toby Belch, Olivia's kinsman/Shipman: Adam Ortega
Sir Andrew Auguecheek, companion to Sir Toby/Shipman: Will Pratt
Maria, Olivia's waiting-gentlewoman/Shipman: Julia McDermott
Malvolio, Olivia's steward/Shipman: Ben Rodenmeyer
Sea Captain, captain of the wrecked ship, befriends Viola/Servant to Olivia: Austin
Friedberg
Fabian, a member of Olivia's household/Shipman: Shaunie Lewis
Sebastian, Viola's twin brother, also shipwrecked: Jon Hull
Antonia, a sea-captain, befriends Sebastian/Shipman: Lauren Kenner
Feste, clown, Olivia's jester: Gian Perez
Musician – Attendant to Orsino: Allie Reynolds*
Musician – Attendant to Orsino/Servant to Olivia: Kirsten Mossberg
Curio, Musician – Attendant to Orsino/Officer 1: Steven Jean**
Valentine, Musician – Attendant to Orsino/Servant to Olivia/Officer 2/Priest: Shea
Galaudet
Musician – Attendant to Orsino: Stephanie Guralnick
Understudy: Emerson Smith
*Fight Captain
**Dance Captain
Resources
[accordion title="From the Director"]
Twelfth Night is a play of delicious contradictions. Of course, it's funny and can delight. It's also framed by sadness, by two women grieving for dead brothers. And while the play gets roughly "happier" as it goes, it maintains its awareness of the transience of youth, of love, and of life, woven in through Feste's songs:
Come away, come away death
And in sad cypress let me be laid.
Fie away, fie away breath,
I am slain by a fair cruel maid.
My shroud of white, stuck all with yew,
O prepare it.
My part of death no one so true
Did share it.
Melancholic and yet – recognition of impermanence can be as much an exhortation as a lament. When Feste sings "In delay there lies no plenty,/Then come kiss me, sweet and twenty./Youth's a stuff will not endure," he delivers us to the contradictory consequence of mortality.
And more paradox still can be found in the play's exploration of human desire. That is, it's because Viola is disguised that Olivia's and Orsino's homoeroticisms emerge. So, while her "mask" hides her identity, it also reveals truth by giving license for the expression of repressed desires. Similarly, Feste impersonates Sir Topas to express his deepest contempt for Malvolio, and Malvolio puts on a costume (yellow stockings) to reveal his actual desire for Olivia.
In this sense, our ability to separate what is the mask and what is the face becomes difficult if not impossible. Add to that mistaken-identity-hijinks, and occasional meta references to the audience itself, and Twelfth Night sends us on an epistemological journey in which, as Feste says in Act IV, "Nothing that is so is so."
In a time that cries out for the reclaiming of foundational truths, that's not so reassuring. Though know this: Twelfth Night's love, laughter, longing, and song – through the long arc of the human experience at least – do endure.
— Daniel Cantor, December 2018
[/accordion][accordion title="In Appreciation of John Neville-Andrews"]
John Neville-Andrews has employed his talent for comedy at the University of Michigan for the past twenty-six years. Not only does he have renowned comic skills as a professional actor and playwright, he is noted for communicating these skills as a teacher. His ability to stage physical comedies is unsurpassed. Audiences roared with laughter at his stagings of such plays as Noises Off, Don't Dress for Dinner, A Flea in Her Ear, and Volpone. A further testament to his expertise is that the production staff, despite seeing his plays three and four times in rehearsal and knowing what was coming in a scene, still burst into laughter every time. His admiration of Shakespeare should also be acknowledged, with productions for the Department of The Merry Wives of Windsor, Henry V, Measure for Measure, Much Ado About Nothing, and The Comedy of Errors, as well as many more for the Michigan Shakespeare Festival. He directed a total of twenty-five productions for the department; he is also expert at conveying poignant human emotion through tragedy. His legacy to performance students is a set of techniques for a lifetime, and to audiences, many memorable evenings of theatre.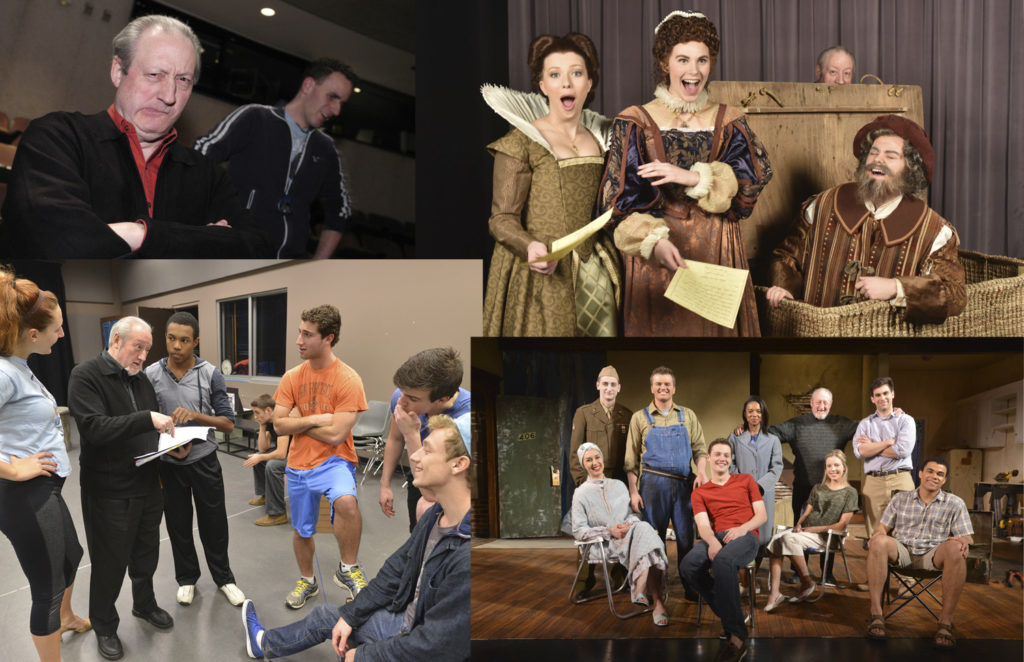 [/accordion][accordion title="In Appreciation of Leigh Woods"]
Leigh Woods is distinguished in academic circles as an authority on the history of acting and performance, with five books on the subject as well as many articles in prestigious theatre journals. He joined the department in 1987, and has served as Head of Theatre Studies since 2003. Leigh is much beloved as an actor, with over 100 roles onstage as a member of Actor's Equity, most recently in the role of Uncle Charley in the UMS/Theatre & Drama staged reading of Death of a Salesman starring Alec Baldwin at Power Center. He has graciously performed specialty roles for Theatre & Drama as well as for other departments such as Dance. He has participated in numerous university commencements and ceremonies since 1991 in his role as Assistant Chief Marshall for U-M, with his acting ability adding appropriate pomp and circumstance to these important occasions. Thousands of parents unknowingly owe him thanks for pronouncing each graduate's name clearly and distinctly, even with dramatic flair. His leadership and collegiality will be missed greatly within the university.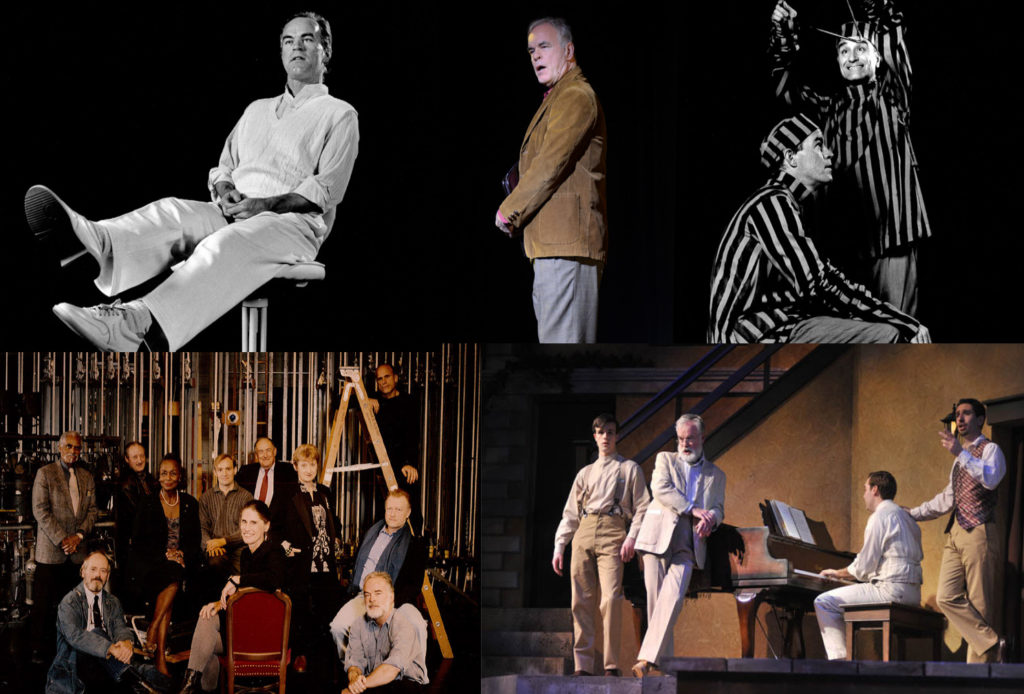 [/accordion]
Media
Program