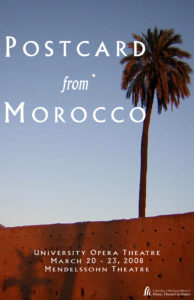 Postcard from Morocco
Music by Dominick Argento
Text by John Donahue
University Opera Theatre • University Philharmonia Orchestra
March 20-23, 2008 • Lydia Mendelssohn Theatre

The Story: Set in a train station in 1914, Postcard from Morocco explores the human mind through seven travelers who are characterized by their possessions: a lady with a hand mirror, a lady with a hat box, a lady with a cake box, a man with old luggage, a man with a shoe sample kit, and a man with a cornet case. The only named character, Mr. Owen, carries a paint box. As the enigmatic travelers await the next train, they begin to share the fantasies, dreams and lies that people only share with strangers. Interspersed with entertainments from puppets, mimes, and the café orchestra, each traveler carefully guards their secrets and possessions until truths are unexpectedly and wrenchingly revealed.
Artistic Significance: Composer Dominick Argento is considered to be one of America's leading composers of lyric opera, having written over thirteen operas and numerous song-cycles – many of which have been written specifically for leading opera singers including the 1996 "A Few Words About Chekov" written for Frederica von Stade, Hakan Hagegard and Martin Katz. Argento received the 1975 Pulitzer Prize for Music and the 2004 Grammy for "Best Classical Contemporary Composition" for von Stade's recording of his Casa Guidi. His 1971 opera with John Donahue, Postcard from Morocco, placed Argento on the international opera scene. Postcard's score is richly melodic, featuring a brilliant variety of musical flavors borrowing from ragtime and popular music along with a deft parody of Wagner's Flying Dutchman. The New York Times declared the score "listenable, entertaining, and very beautiful." Don't miss this witty, sensitive, and 95-minute work nicely wrapped in an exotic package.
Artistic Staff
Director: Joshua Major
Conductor: Douglas Kinney Frost
Assistant Conductor: Mark Latham
Scenic Design: Vincent Mountain
Costume Design: Rachel Laritz
Lighting Design: Joseph R. Walls
Wig & Makeup Design: Dawn Rivard
Diction Coach: Timothy Cheek
Repetiteurs: Kevin Miller, Jeremy Reger
Stage Manager: Brett Finley
Cast (Thursday-Saturday/Friday-Sunday)
Coloratura-soprano (A Lady with a Hand Mirror, An Operetta Singer): Jennifer Rosetti/Kelly Holst
Soprano (A Lady with a Cake Box): Jody Doktor/Leonora Green
Mezzo-soprano (A Lady with a Hat Box, A Foreign Singer): Jennifer Trombley/Cynthian Brundage
Lyric Tenor (A Man with Old Luggage, An Operetta Singer): Dustin L. Scott/Bernard D. Holcomb
Tenor (A Man with a Paint Box): Steven Tompkins/Brian Tanner
Baritone (A Man with a Shoe Sample Kit): George Cornelius/Wes Mason
Bass (A Man with a Cornet Case, A Puppet Maker): Edward Hanlon/Andrew Munn
Mimes (Entertainers): Janai Brugger, Jonathan Christopher
Sponsors
The School of Music, Theatre & Dance acknowledges the generosity of McKinley Associates, Inc. whose support has helped make this production possible.
Media sponsorship by WRCJ.
Resources
[accordion title="Synopsis"]
A small group of people wait in a railway station. One of them sings about the hand mirror she carries. The passengers ask Mr. Owen, a man with a paint box, what he does; before answering, they are distracted by a puppet show. One of the passengers talks about his luggage. Another man has a cornet case, but will not open the case. Another traveler makes hats for the movies, but is misunderstood by the rest. One passenger reveals that he is a shoe salesman, but also refuses to open his case. Mr. Owen is asked about his painting. One of the ladies has a cake box, in which she says she keeps her lover. Mr. Owen talks about a magical ship he imagined when he was younger. A puppet maker appears, talking about all of the things that go into puppet making. Mr. Owen is asked to paint a group portrait of the passengers. As they wonder about his paint box, they bully and jostle him as they are scrambling for position in the portrait. His box falls open, revealing that it is empty. The puppet show concludes, and everyone but Mr. Owen leaves. He sings about the ship of his childhood dreams.
— Reprinted by kind permission of Boosey & Hawkes
[/accordion][accordion title="Director's Notes"]
Imagine looking through an old box of photographs or postcards from another time and place that are out of order. The sense of time is unclear. The relationships between the people in the photos are unknown. Yet, somehow a story emerges. It is with this idea that one must watch Argento's poignant work. Questions of identity, fear, destiny and human connection are brilliantly considered in this opera. Why are we so afraid of each other? Why is it so difficult to express mercy and love, and to be selfless? Why is it so hard to be vulnerable, to accept ourselves and each other? Indeed, we are masters of our own destiny, and have the power to steer through our lives and negotiate the magic that is all around us. At the end of the opera, the Tenor, vulnerable and empowered, offers these words:
We sail this summer morning, set sail this summer morning, we sail new waters, uncharted seas, with new stars on high and new sea-beasts at our side. But do not fear. The boat is magical, made out of glass and ice. We'll sail through fire and clouds. We'll anchor in a flower's bell. The birds will guide us home. Their wings will be our sails, for this is my ship, my ship, I'm captain of this magic ship.
— Joshua Major
[/accordion]
Media
Program
Photos
[cycloneslider id="07-08-postcard-from-morocco"]