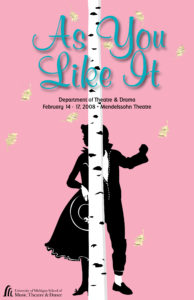 As You Like It
By William Shakespeare
Department of Theatre & Drama
February 14-17, 2008 • Lydia Mendelssohn Theatre

The Story: It's love at first sight when Rosalind and Orlando meet at a royal wrestling match. But love rarely takes a smooth course as Rosalind is banished from the court by her jealous, treachery-fearing uncle. Rosalind disguises herself as a man for safety when she takes up residence in the Forest of Arden. To her delight, Rosalind discovers that Orlando has also taken refuge in the forest to avoid his murderous brother. Finding Orlando's truly horrible attempts at love poetry posted throughout the trees, Rosalind, in her disguised state, offers to teach him the finer points of courtship – in order to win herself! Will her deception work – or will Rosalind get too caught up in her disguise to lose her own heart?
Artistic Significance: Written in 1599, As You Like It has delighted audiences with its brilliant dialogue for over 400 years. In Rosalind, Shakespeare created a most glorious female character – the largest female role in the entire Shakespearean cannon. Rosalind is a major force in the action of the play with her sharp intellect and witty tongue. The work also contains some one Shakespeare's most famous passages including "All the world's a stage…," 'the fool doth think he is wise…," and the songs "Under the greenwood tree," and "It was a lover and his lass." A clever commentary on identity and role-playing, Shakespeare's pastoral comedy is a play of merriment and humor, full of shimmering conversations, passionate possibilities, and the transformative effects of love.
Artistic Staff
Director: Gillian Eaton
Scenic Design: Rob Murphy
Costume Design: Christianne Myers
Lighting Design: Stephanie Shechter
Choreographer: Sara Greenfield
Music Design: Paul Koch, Seth Moore, Tom Wolfson
Original Music: Seth Moore, Tom Wolfson
Fight Choreographer: Eric Pierce
Vocal Coach: Annette Masson
Stage Manager: Gina Rattan
Cast
Rosalind, daughter of Duke Senior: Jaime Lyn Beatty
Celia, daughter of Duke Frederick: Rebecca Whatley
Duke Senior (Ferdinand), living in exile: Dylan Saunders
Duke Frederick, his usurping brother: Alex Polcyn
Orlando, youngest son of Sir Rowland de Boys: John Jarboe
Oliver, his eldest brother: Aaron Seeburger
Adam, servant in the de Boys household: Nick Lang
Dennis, Oliver's servant: Joey Richter
Charles, a personal trainer and fighter: Matt Semler
Le Beau, a courtier: Marc Paskin
Touchstone, a clown: Joseph Walker
Amiens, lords, followers of Duke Senior: Seth Moore, Tom Wolfson
Jaques, a melancholy gentleman: Mckean Scheu
Corin, shepherd: Jonathan Christopher
Silvius, shepherd: Brian Holden
Phoebe, a shepherdess: Ali Kresch
Audrey, a country girl: Tiffany Williams
Sir Oliver Mar-text, a country vicar: Corey Dorris
William, a country youth: Lee Chrisman
Jaques de Boys, second son of Sir Rowland de Boys: Justin Creeden
Court Singers and Courtiers: Lucy Head, Daniel Kane, Lily Marks, Kelli Rasmus
Forest Singers & Courtiers: Josh Berkowitz, Lee Chrisman, Justin Creeden, Gordon Granger, Paul Koch
Sponsors
The School of Music, Theatre & Dance acknowledges the generosity of McKinley Associates, Inc. whose support has helped make this production possible.
Media Sponsorship by the Ann Arbor News.

Resources
[accordion title="Director's Notes"]
As You Like It begins with exile and hatred. Brother is set against brother; kingdoms are stolen; daughters separated from fathers. Shakespeare then turns this potential tragedy on its head, and, instead, tips us headlong into a forest – the Forest of his own childhood, the Forest of Arden.
Shakespeare's forests are places of transformation, far away from the 'civilized' world, and this forest is no exception. We meet lovers, fools and philosophers wittily dissecting and joyfully celebrating the timeless subjects of love and human nature. It is a magical, musical place where force can be turned into farce, and bleak tragedy into sublime comedy.
Seeking a modern analogy for the action of this play, we might start in the mid 1950s at the House Un-American Activities Committee trials where brother could be set against brother and become an exile in his own land. Leaving this bleak place we could meet up with the rebellious beat poets in their jazz cellars railing against the establishment, and then, who knows? We might land up at Woodstock. This analogy might assist us in seeing the play as a reminder of the constant human need to transform restraint into freedom, exile into self-examination and hatred into forgiveness.
Maybe we don't need analogies to remind us how powerful Shakespeare's comedies are. Maybe we just need to do them as often as possible in as many ways as possible so everyone can enjoy their timeless messages. So, enjoy this version as YOU like it.
Loving thanks to cast, crew and faculty for such a fun journey through this particular forest.
— Gillian Eaton
[/accordion]
Media
Program
Photos
[cycloneslider id="07-08-as-you-like-it"]