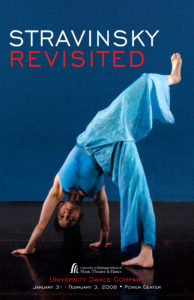 Stravinsky Revisited
Choreography by guest artists Rennie Harris, Daniel Gwirtzman, and Ginger Thatcher with faculty Amy Chavasse and Jessica Fogel
Department of Dance
January 31-February 3, 2008 • Power Center

Igor Stravinsky's music has inspired many of the most innovative choreographers of the 20th Century. Following the success of Viva Stravinsky in 1989, the University Dance Company creates another vivacious concert paying homage to the composer. Jessica Fogel creates a choreographic mosaic of her works set to an original score by Stephen Rush based on a musical fragment from Stravinsky's "Symphony of Psalms." Amy Chavasse premieres a work set to Stravinsky waltzes, polkas and tangos. The dance will combine movement, video, and text to relate historical events of the 1920s and 40s. Village by guest Daniel Gwirtzman is set to seven brief movements from four Stravinsky compositions. Inspired by the folkloric traditions of Eastern European cultures, Village honors the unions of new lovers, the rituals of a cohesive community, and the presence of tragedy among life's joys. Guest Ginger Thatcher explores the idea of light, shadows, the cut out motifs of Matisse, and the realms in between in her work Shadow Dances, set to Stravinsky's "Ebony Concerto." Highlighting the concert is a brand new work by hip-hop dance choreographer Rennie Harris, Artistic Director of Puremovement based in Philadelphia. Known for his ground-breaking all-male adaptation of Shakespeare's classic story, "Rome & Jewels," Mr. Harris will take a new look at Stravinsky's "The Rite of Spring." The Philadelphia Inquirer declared "Harris has built a wedge that will open the doors of America's art centers, displaying hip-hop as clear cultural expression, compelling to all races and generations."
Artistic Staff
Artistic Director: Jessica Fogel
Scenic Design: Kasia Mrozewska
Lighting Design: Mary Cole
Music Coordination: Christian Matjias
Stage Manager: Stephanie Anderson
Repertoire & Performers
[accordion title="Village"]
Choreography by Daniel Gwirtzman
Music by Igor Stravinsky: Andante and Napolitana from "Suite No. 1 for Small Orchestra," Andantino and Larghetto from "Instrumental Miniatures, Galop from "Suite No. 2 for Small Orchestra," Intrada and Song from "Norwegian Moods"
Costume Design by Rebecca Baygents Turk
Rehearsal Assistance by Lindsey and Jason Dietz Marchant
Dancers: Justin Cook, Derek Crescenti, Julia DeNardo, Elyse Leonard, Logan McClendon, Francesca Nieves, Allegra Romita, Tara Sheena, Emily Wanserski, Sarah Yarrington
Village is dedicated to the memory of Stefanie Jill Silverman (1973-1996), University of Michigan alumna and dancer.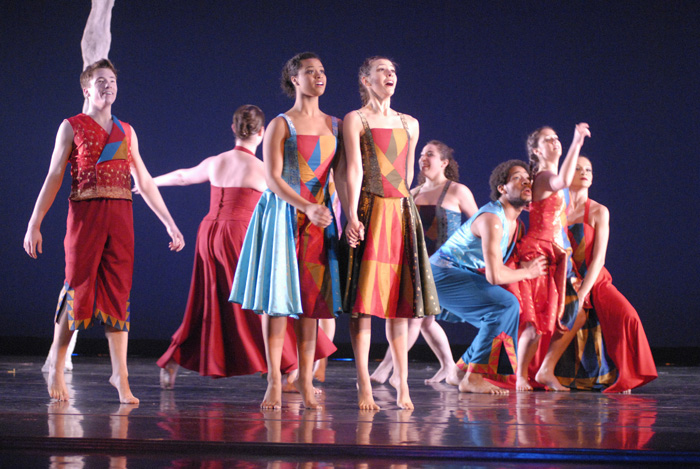 [/accordion][accordion title="Shadow Dances"]
Choreography by Ginger Thatcher
Music by Igor Stravinsky: "Ebony Concerto"
Costume Design by Rebecca Baygents Turk
Rehearsal Direction by Christian Burns
Asst. to the Choreographer: Jennifer Gerhart
Dancers: Abra Cohen, Amy Cova, Megan DeShong, Elizabeth Dugas, Amanda Dye, Aidan Feldman, Jennifer Gerhart, Samantha Goltz, Laura Irion, Lindsay Kline, Sarah Konner, Lara Martin, Jordan Risdon, Joseph Roth, Jarel Waters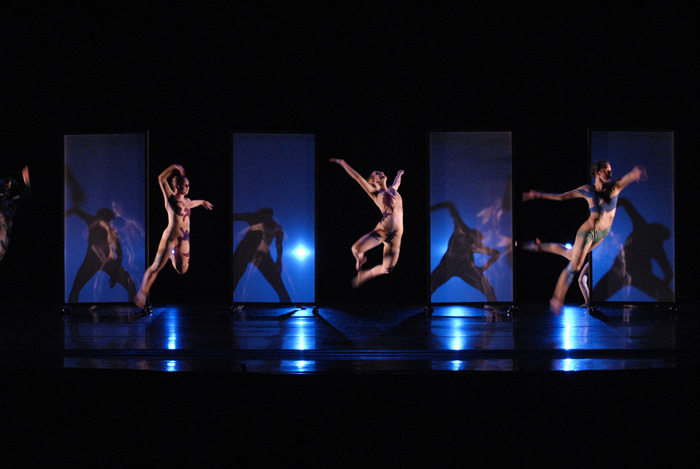 [/accordion][accordion title="In the House"]
Choreography by Jessica Fogel
Music by Stephen Rush
Costume Design by Rebecca Baygents Turk
Video Design by Russ Kuhner
Sound Treatments and Editing by Michelle Chamuel
Dancers: Valerie Barnes, Halie Bojovic, Betsy Busald, Cristina Calvar, Marlee Cook-Parrott, Trina Mannino, Sarah Pelc, Kimberly Sable, Austin Selden, Thayer Jonutz, Marly Spieser-Schneider, Tomoko Takedani, Sophie Torok, Nadia Tykulsker, Abigail Zeitvogel
Choreographer's Notes: In this dance, fragments from my earlier works are arranged into a new mosaic. The dance explores the layering and resurgence of memories, crossing thresholds between past and present. Rush's score embeds two Stravinsky fragments – one from the third movement of Symphony of Psalms (1930), and the other from Pastorale (1907). These fragments have appeared in my earlier dances – the former in Beast (1980), and the latter in Pastorale (1989), another collaboration with Rush using the music of the same title. In addition to the aforementioned dances, In the House contains excerpts from: Departures (1974); Twofold (1979); Enfield in Winter (1983); Vermeer Variations (1986); People in the Sun (1987); Perennial (1988); Connoisseurs of Chaos (1990); The Only Way Around (1991); Dig, a Dance in 21 Parts (1991); Dance for Eighteen (1993); Save Changes Before Quitting (1994); Unfold/Entwine (1998); Routines and Reveries (2001); Brave Souls (2002); Red Trail to Open Field (2003); We Will Meet Again in Petersburg ( 2004); Identified Flying Objects/1-800-COSMOS (2006).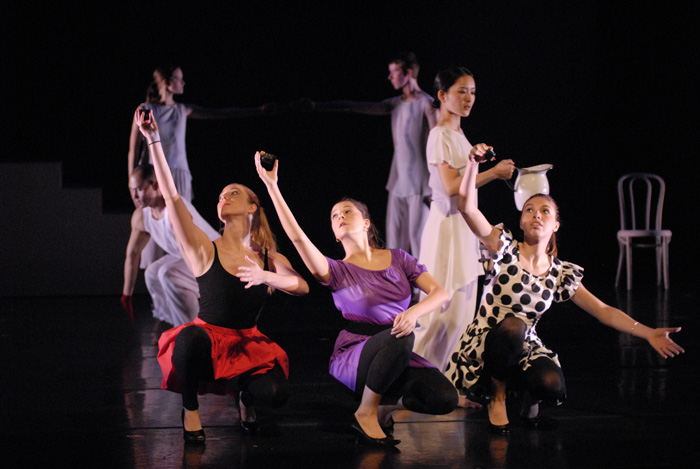 [/accordion][accordion title="Swimming the English Channel"]
Choreography by Amy Chavasse, in collaboration with the dancers
Music by Igor Stravinsky: Passacaglia from "Septet," Excentrique from "Etudes for Orchestra," Adagietto from "Sonata for Piano," Valse from "Suite No. 2 for Small Orchestra," and "Tango" (new orchestration, 1953)
Costume Design by Lena Sands
Vacuum Cleaner Design by Arthur Ridley
Video Design by Sue Rees
Dancers: Helen Bates, Catherine Coury, Angela Gary, Jennifer Harge, Sheila Klein, Zari Le'on, Julie Meehan, Stephanie Overton, Gretchen Platt-Koch, Alexander Springer, Samantha Stone, Erika Stowall, Kristina Tate, Jenny M. Thomas, Yu-Ju Wei
I. First woman to swim the English Channel
II. The eruption of Mt. Vesuvius
III. Attempted assassination of Lenin
IV. The invention of the portable vacuum cleaner
V. The murder of Trotsky (climbing axe in the head)
Choreographer's Notes: The organizing and inspirational element that drove the creation of this dance comes from identifying events that occurred during the years in which each piece of music premiered. Enjoy the very brief history lesson.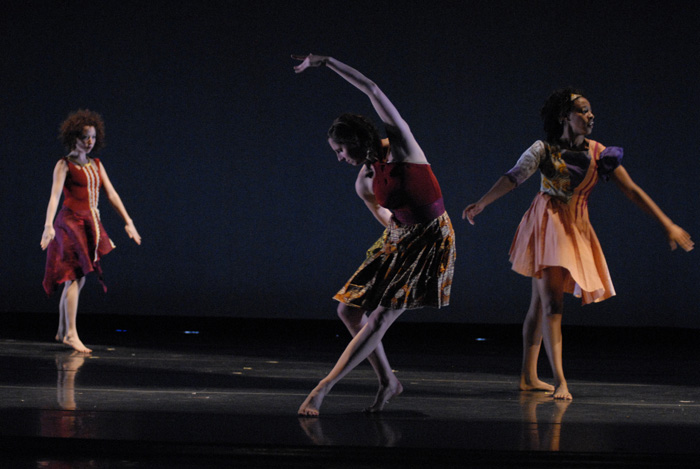 [/accordion][accordion title="Heaven"]
Choreography by Rennie Harris
Original soundscape and compositions composed and produced by Darrin M. Ross for
Kitinay Music (ASCAP)
Costume Design by Rebecca Baygents Turk
Assistant Choreographer: Nina Flagg
Rehearsal Direction by Robin Wilson
Rehearsal Assistance by Krisilyn Tony Frazier
Dancers: Tomoko Takedani and Thayer Jonutz with Justin Cook, Amy Cova, Derek Crescenti, Aidan Feldman, Angela Gary, Jennifer Harge, Zari Le'on, Lara Martin, Joseph Roth, Marly Spieser-Schneider, Samantha Stone, Sophie Torok, Yu-Ju Wei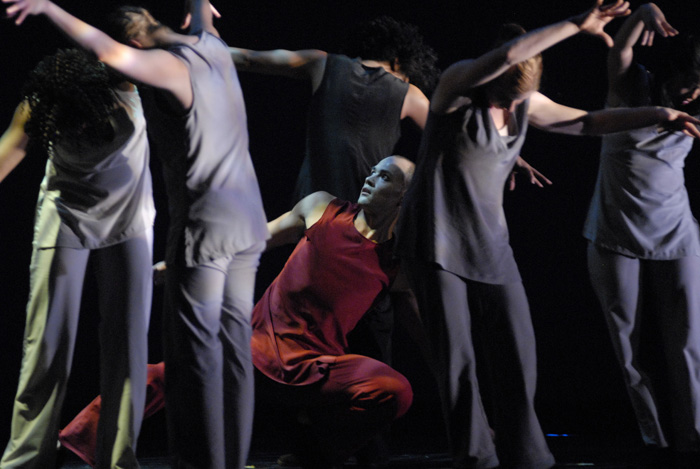 [/accordion]
Sponsors
The School of Music, Theatre & Dance acknowledges the generosity of McKinley Associates, Inc. whose support has helped make this production possible.
Resources
[accordion title="From the Chair"]
Welcome to the Department of Dance's annual Power Center concert. The choreographic ideas and performance styles in tonight's program reflect the breadth of dance opportunities and education at University of Michigan, and they showcase the exceptional talents and versatility of our students. The Department provides a strong conservatory training complemented by high-quality academic courses, and tonight you will see our entire cohort of undergraduate dance majors and Masters' students cast across five new dances – in works created by full-time faculty, Amy Chavasse and Jessica Fogel; Fall semester guest faculty, Ginger Thatcher and Daniel Gwirtzman; and the Philadelphia-based hip-hop artist, Rennie Harris. The rehearsal process has been demanding, exciting and enriching for all involved. We are delighted to share the creative and artistic rewards of this endeavor with you tonight. Enjoy!
— Angela Kane, Professor and Chair of Dance
[/accordion][accordion title="From the Artistic Director"]
Choreographers across the world have been drawn to Stravinsky's music and he is one of the most often used composers for dance over the past 100 years. Perhaps it is what Balanchine called the "powerful motor drive," the "rhythmic invention," and the "dazzling…. melodic line" of Stravinsky's music that have inspired so many choreographers. With the five works included on this program, the number of dances choreographed to his music continues to grow. In 1989, our department presented a concert of dances inspired by Stravinsky, and it proved to be one of the most popular productions we have ever done. Thus we decided to again pay homage to the composer in Stravinsky Revisited. The five choreographers on tonight's program have each taken very different approaches. Three of us are using original Stravinsky works while two are using his music as part of a sound collage. We invite you to take in the images, and to enjoy this truly diverse program of dances.
— Jessica Fogel, Artistic Director
[/accordion]
Media
Program