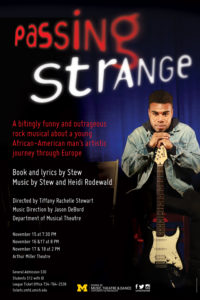 Passing Strange
Book and lyrics by Stew
Music by Stew and Heidi Rodewald
Department of Musical Theatre
November 15-18, 2018 • Arthur Miller Theatre

In this semi-autobiographical story by musician Stew, a young man escapes to Europe to find his identity, both as a young person of color and as an artist. Unable to connect with his 1970s Southern Californian middle-class roots, the youth rebels against his family and travels to Amsterdam and Germany looking for the 'real.' As a narrator guides us through the youth's journey of pot use, sexual exploration, and the nature of friendship, the youth comes to discover what it means to Feel Real.
Declared an "invigorating new perspective to the classic coming of age story (New York Times)," Passing Strange is a heartfelt and hilarious story about the challenges of being a young artist. Commissioned by the Public Theatre, the musical was work-shopped at the Sundance Theatre Lab for two years before debuting at the Berkeley Rep in 2006. The show moved to Broadway in 2008 where it won five Drama Desk Awards including Outstanding Musical, Lyrics, and Music, and the Tony Award for Best Book. The powerful, high-octane score combines rock, punk, R&B, and soul. "Richer in wit, feeling, and sheer personality (New York Times), Passing Strange is a passionate and original tale of growing up.
Artistic Staff
Director/Choreographer: Tiffany Rachelle Stewart
Music Director: Jason DeBord
Scenic Designer: Justin N. Lang
Lighting Designer: Samantha Weiser
Costume Designer: Michaela Tanksley
Sound Designer: Al Hurschman
Stage Manager: Sophie Raymer
Cast
Youth: Liam Allen
Reverend Jones: Lee Alexander
Desi: Leanne Antonio
Renata Holiday: Zan Berube
Sudabey: Cydney Clark
Joop: Rohit Gopal
Sherry: Lauryn Hobbs
Hugo: Matthew Kemp
Mother: Emilie Kouatchou
Terry: Mason Reeves
Mr. Venus: Matthew Sanguine
Marianna: Alyah Chanelle Scott
Narrator: Justin Showell
Edwina: Brianna Stoute
Mr. Franklin Jones: Chris Washington
Christophe: James Young
Sponsors
Guest Director Tiffany Rachelle Stewart's residency is made possible through the generous support of the Benard L. Maas Foundation.
Resources
[accordion title="From the Director"]
Restlessness. It's something I'd bet every person reading these words can relate to. The feeling that creeps up inside of you when you want something different than what you have or where you are. It's an inner scratching that begins in many of us during our upbringing, when we first start to be curious about our own identity. In this moment we often look around at some aspect of our family, our town, or the ideas painted on us by others, and begin to hear an intrinsic voice calling for something more. Something else. Something that feels more you. For some this happens later in life when they find themselves in a marriage they don't love or a career that doesn't love them. But whether young or mature, people tend to answer their restlessness by trying to blend a little longer where they do not fit, or… by running. From relationship to relationship, or ambition to ambition, or towards wherever or whoever will feel real. And this is where we find the beautifully drawn protagonist of Passing Strange. In this story, you will meet a young man on the precipice of answering his own restlessness. A young man on an exhaustive, complicated, often-imperfect journey to figure out where he belongs. To answer where, in fact, is home. As many of us come to know, and as our hero in this story comes to find out – the answer to our inner restlessness is that there are no easy answers. Life, in the end, may be about the journey of the questions, and the realization that even if everything isn't okay… it's alright. We're alright.
-Tiffany Rachelle Stewart, November 2018
[/accordion]
Media
Program