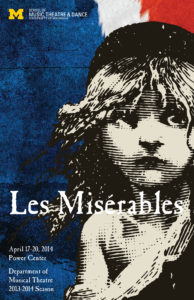 Les Misérables
a new production of the musical by Alain Boublil and Claude-Michel Schönberg
Based on a novel by Victor Hugo
Music by Claude-Michel Schönberg
Lyrics by Herbert Kretzmer
Original French text by Alain Boublil and Jean-Marc Natel
Additional material by James Fenton
Department of Musical Theatre
April 17-20, 2014 • Power Center

The Story: Sent to jail for stealing a loaf of bread in 19th-century France, prisoner Jean Valjean earns his release after 19 years of imprisonment only to find a world unwilling to give him a second chance. When a kind Bishop comes to his aid, Valjean breaks his parole in the hope of starting a new life. In time, Valjean is able to become a prosperous business owner, loving adoptive father, and politician. But not all is serene as police inspector Javert, convinced Valjean cannot change, relentlessly pursues the parole breaker. As Valjean confronts and evades Javert at various turns, each man must face how their game of cat and mouse has challenged their ideas of a virtuous life. A story filled with revolution and romance, Les Misérables is an epic tale of hope and redemption.
Background: Based on the 1862 novel of the same name by Victor Hugo, the musical Les Misérables debuted in France in 1980 as a concept album by Claude-Michel Schönberg and Alain Boublil. The show gained popularity after an English version opened on the West End in 1985 and reached Broadway in March 1987. The musical won the Tony and Drama Desk awards for Best Musical, Book, and Score. It has been hugely popular ever since, playing to over 60 million people around the world. Join us beyond the barricade for a decisively U-M take on this contemporary masterpiece.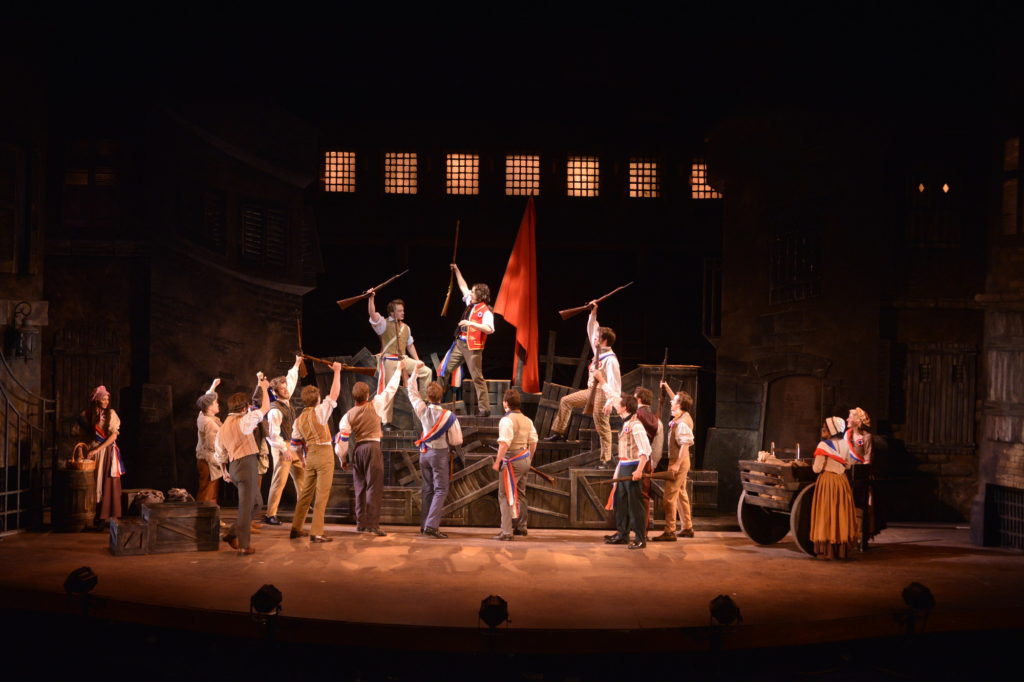 Artistic Staff
Director: Joe Locarro
Music Director/Conductor: Catherine Walker Adams
Original Scenic/Properties Design: Bruce Brockman for Music Theatre of Wichita
Additional Scenery & Properties provided by Music Theatre of Wichita
Costume Designer: George Bacon
Lighting Designer: Aaron Tacy
Sound Designer: Jake Zerrer
Wig & Makeup Designer: Dawn Rivard
Stage Manager: Katie Lantz
Cast
Jean Valjean: Conor Ryan
Javert: Bobby Conte Thornton
The Bishop of Digne: Conor Guzmán
Factory Foreman: Alex Miller
Fantine: Erika Henningsen
Factory Girl: Reilly Richardson
Old Woman: Alexandra Fragoso
Wigmaker: Darcy Link
Bamatabois: Woody Buck
Fauchelevant: AJ Klopach
Little Cosette: Emma Li
Madame Thénardier: Kalia Medeiros
Young Éponine: Eve Kaplan
Thénardier: Mackenzie Orr
Cosette: Rachel Eskenazi-Gold
Gavroche: Kelsey Ryan Moore
Éponine: Whitney Brandt
Students
Enjolras: Alex Prakken
Marius: Sean Seymour
Combeferre: Jordan Edwin André
Feuilly: Tyler Leahy
Courfeyrac: Daniel Schwartzberg
Joly: Trevor Carr
Grantaire: Keith Allen
Lesgles: Riley McFarland
Jean Prouvaire: Kyle McClellan
Bahorel: Alex Miller
Listolier: Woody Buck
Ensemble: Meg Aldridge, Brittany Browning, Alexandra Fragoso, L'ogan J'ones, Darcy Link, Christina Maxwell, Conor McGiffin, Hannah Lynne Miller, Henry Nettleton, Jordyn Norkey, Shea Renne, Reilly Richardson, Nora Schell, Carly Snyder, Dylan Stasack, Kyle Timson
Sponsors
Les Misérables is sponsored in part by generous support from the Benard L. Maas Foundation Guest Artist and Speakers Series and the Friends of Musical Theatre.
Resources
[accordion title="Synopsis"]
Act I
After 19 years on the chain gang, Jean Valjean finds that the ticket-of-leave he must display condemns him to be an outcast. Only the Bishop of Digne treats him kindly, but an embittered Valjean repays him by stealing some silver. Valjean is caught and is astonished when the Bishop lies to the police to save him. Valjean decides to start his life anew. Eight years later, Valjean, having broken his parole and changed his name, has become a factory owner and Mayor. One of his workers, Fantine, has a secret illegitimate child. When the other women discover this, they demand her dismissal. Desperate for money to pay for medicines for her daughter, Fantine sells her locket, her hair, and finally herself. Utterly degraded, she gets into a fight with a prospective customer and is about to be taken to prison by Javert when 'The Mayor' arrives and demands she be taken to hospital instead. The Mayor then rescues a man pinned beneath a cart. Javert is reminded of the abnormal strength of convict 24601 Jean Valjean, who, he says, has just been recaptured. Valjean, unable to see an innocent man go to prison, confesses that he is prisoner 24601. At the hospital, Valjean promises the dying Fantine to find and look after her daughter Cosette. Javert arrives to arrest him, but Valjean escapes. Cosette has been lodged with the Thénardiers, who abuse her while indulging their own daughter, Éponine. Valjean pays the Thénardiers to let him take Cosette away to Paris. Nine years later, there is unrest in the city because of the likely demise of the popular leader General Lamarque. A street-gang led by Thénardier and his wife sets upon Jean Valjean and Cosette. They are rescued by Javert, who does not recognise Valjean. Éponine, who is secretly in love with the student Marius, reluctantly agrees to help him find Cosette, with whom he has fallen in love. News of General Lamarque's death circulates in the city and a group of politically-minded students stream out into the streets to whip up support for a revolution. Éponine brings Marius to Cosette and then prevents an attempt by her father's gang to rob Valjean's house. Convinced it was Javert outside, Valjean tells Cosette they must prepare to flee.
Act II
The students prepare to build the barricade. Marius, noticing that Éponine has joined the insurrection, sends her away with a letter to Cosette, which is intercepted by Valjean. The barricade is built and the revolutionaries defy an army warning to give up or die. Javert is exposed as a police spy. In trying to return to the barricade, Éponine is killed. Valjean arrives at the barricade in search of Marius. He is given the chance to kill Javert but instead lets him go. The students settle down for the night and Valjean prays to God to save Marius. The next day, the rebels are all killed. Valjean escapes into the sewers with the unconscious Marius. After meeting Thénardier, who is robbing the corpses of the rebels, he comes across Javert once more. He pleads for time to deliver the young man to hospital. Javert lets Valjean go and, his unbending principles of justice having been shattered by Valjean's own mercy, kills himself. Unaware of the identity of his rescuer, Marius recovers in Cosette's care. Valjean confesses the truth of his past to Marius and insists he must go away. At Marius and Cosette's wedding, the Thénardiers try to blackmail Marius. Thénardier says Cosette's 'father' is a murderer and as proof produces a ring which he stole from a corpse the night the barricade fell. Recognizing his own ring Marius' realizes Valjean rescued him. He and Cosette go to Valjean, where Cosette learns of her own history before Valjean dies.
— courtesy LesMis.com
[/accordion]
Media
Program
Photos
[cycloneslider id="13-14-les-mis"]