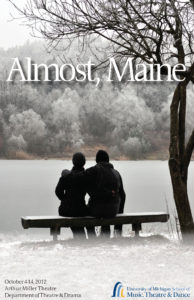 Almost, Maine
a romantic comedy by John Cariani
Department of Theatre & Drama
October 4-14, 2012 • Arthur Miller Theatre

The Story: On a cold winter night graced with the Northern lights, the remote community of Almost, Maine, sparkles with wonder. As the night progresses, nine couples experience the various, unpredictable elements of love – that first spark, heartbreak, falling in love, breaking up, and the joys of discovering you're meant for each other, or perhaps not. Filled with comic and poignant tales, Almost, Maine examines our search for human connection.
Background: Actor John Cariani (Law & Order, Numb3rs) began writing when he found contemporary audition materials lacking and decided to create his own. His monologues evolved into scenes that eventually became Almost, Maine. A love letter to Northern Maine where Cariani grew up, the play premiered at the Portland Stage Company in 2004, and became the most successful production in the theatre's history. The comedy took off like a proverbial snowball in regional and international theatres, rolling over Our Town and A Midsummer Night's Dream in yearly amateur productions. Whimsical, effervescent, and endearing, Almost, Maine is a heart-warming, midwinter night's dream about the joys and perils of romance.
Artistic Staff
Director: Jerry Schwiebert
Scenic Designer: Eli Schlatter
Costume Designer: Christianne Myers
Lighting Designer: Jennifer Jacobs
Vocal Coach: Annette Masson
Stage Manager: Katie Lantz
Cast
Pete: Tyler Dean
Ginette: Carrie Royce Fisk
East: Jon Manganello
Glory: Lena Drake
Jimmy: Philip Maxwell
Sandrine: Brittany Uomoleale
Waitress: Melissa Golliday
Marvalyn: Allison Brown
Steve: Devin Rossinsky
Gayle: Madeline Sharton
Lendall: Jeffery Owen Freelon, Jr.
Randy: Avery DiUbaldo
Chad: Lucas Kane
Phil: Neal Kelley
Marci: Quinn Scillian
Hope: Jacqueline Rose Toboni
Man: Elliot Cruz
Rhonda: Emily Shimskey
Dave: Nathan Magyar
Sponsors
The School of Music, Theatre & Dance acknowledges the generosity of McKinley Associates, Inc. whose support has helped make this production possible.
Resources
[accordion title="Dramaturg Notes"]
The inspiration for Almost, Maine struck playwright and actor John Cariani in the early 2000s, as he searched for audition monologues he himself could use. Not finding any to his liking, Cariani wrote his own, based on his experiences growing up in northern Maine. After a series of workshops and a successful run in Portland, ME, the monologues developed into the play as you see it today. Cariani is also known for his Tony nominated performance as Motel Kamzoil the tailor in the 2004 revival of Fiddler on the Roof.
In Cariani's own words, "Almost, Maine was written for northern Maine and for the people who are from there. I think most of the people up there are surprised by that. And relieved that I didn't make fun of them!" On the contrary, Almost, Maine is presented as a town full of ordinary people, who as Cariani notes, "are normally very grounded, but who have become very excited by love…and other extraordinary occurrences." These are people who are not "cynical, sarcastic or glib." They are "honest, smart and dignified" and speak "simply and truly from the heart." In short, these are people you are lucky to meet, but don't encounter very often.
When you reach Almost, Maine, you're in "unorganized territory" – a town that hasn't been formally recognized as such (an "almost" town) and therefore isn't marked on maps. It's not a coastal place, and is a "mythical composite of several northern Maine towns" where it feels like winter from October to May. It's important to note that regardless of when you see the play, each scene takes place at 9 PM on one snowy Friday night in winter. Every vignette speaks from the heart, creating the opportunity for all of us to recognize an aspect of our own lives and relationships on stage. This is a place where ideas become real and you can touch the ephemeral. Welcome to Almost, Maine!
— Joanna Miller, Dramaturg
with thanks to the Almost, Maine Study Guide, written by Martin Andrucki, Charles A. Dana Professor of Theater at Bates College
[/accordion]
Media
Program
Photos
[cycloneslider id="12-13-almost-maine"]