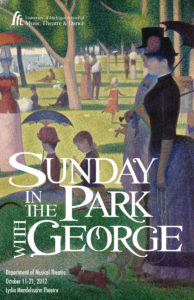 Sunday in the Park with George
Music and lyrics by Stephen Sondheim
Book by James Lapine
Department of Theatre & Drama
October 11-21, 2012 • Lydia Mendelssohn Theatre

The Story: In a small Paris park in 1884, artist Georges Seurat works on what will become his most famous painting – A Sunday Afternoon on the Island of La Grande Jatte (in the permanent collection of the Art Institute of Chicago). Consumed with composing his canvas, George is indifferent to the lives of his subjects and, to his own detriment, his loved ones. One hundred years later, Seurat's great-grandson, a performance artist also named George, has perfected the art of connecting with his audience and, more importantly, funders. But in pandering to current trends, George has lost his own creative drive. Drawn to France to visit the site depicted in his Great-Grandfather's painting, George builds a bridge to his past that restores his artistic vision.
Background: Just as Seurat's masterpiece challenged the ideas of painting and light of the 1880s, the inaugural collaboration between Sondheim and Lapine was an equally radical version of a musical. The New York Times stated "Mr. Lapine and Mr. Sondheim have made a contemplative modernist musical…setting the stage for even more sustained theatrical innovations yet to come." Sunday in the Park with George won the 1984 Drama Desk Award for Best Musical and the 1985 Pulitzer Prize for Drama. Featuring a soaring score and insightful lyrics, Sunday in the Park with George offers a glimpse into the conflicts between artistic passion and everyday life in an "audacious, haunting, and touching work. (NY Times)"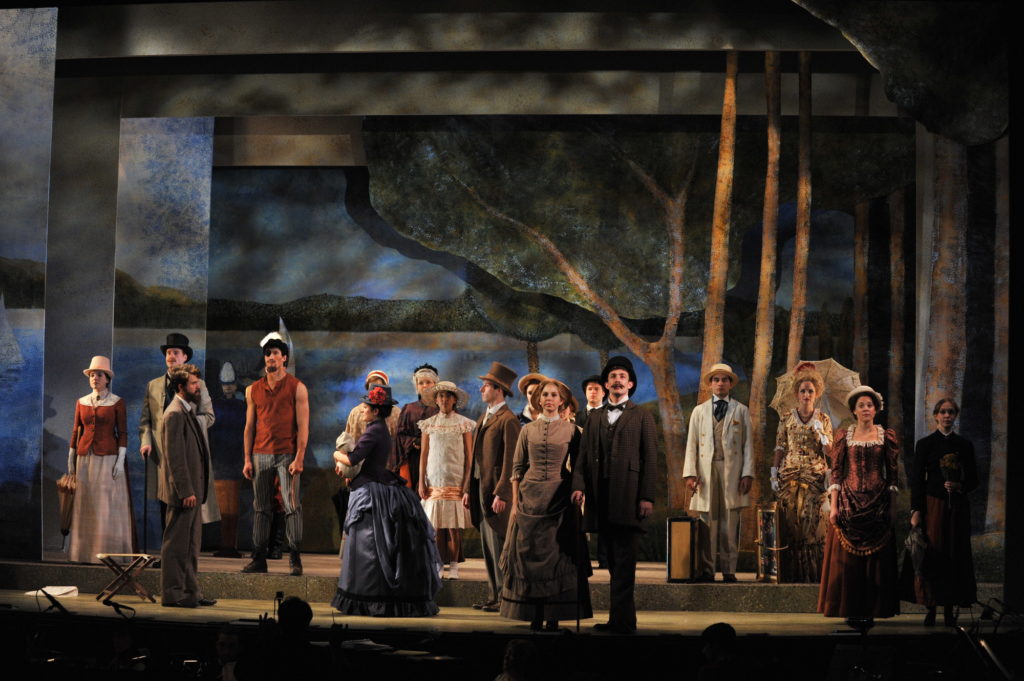 Artistic Staff
Director: Mark Madama
Music Director: Cynthia Kortman Westphal
Music Director/Conductor: Alexander Gemignani
Scenic Designer: Arthur Ridley
Costume Designer: Rachel Laritz
Lighting Designer: Andrew Lott
Projection Designer: Aaron Tacy
Sound Designer: Jim Lillie
Hair & Make-up Designer: Erin Kennedy Lunsford
Stage Manager: Michael Barbour
Cast
Act I
George, an artist: Trevor St. John-Gilbert
Dot, the mistress of George, and his model: Madison Micucci
an Old Lady, George's mother: Elisabeth Evans
her Nurse: Jordana Grolnick
Jules, another artist: Ryan Morton
Yvonne, his wife: Darcy Link
a Boatman: Conor Guzmán
Celeste #1, a shop girl: Erika Henningsen
Celeste #2, another shop girl: Devon Perry
Louise, the little daughter of Jules and Yvonne: Kelsey Moore
Franz, coachman to Jules and Yvonne: Conor Ryan
Frieda, cook for Jules and Yvonne and wife to Franz: Erika Peterson
a Soldier: C.J. Eldred
Mr. & Mrs., an American couple: Robert Ariza, Stephanie Styles
Louis, a baker and Dot's husband-to-be: Dereck Seay
Woman with a baby carriage: Whitney Brandt
Man with a bicycle: Al Fallick
Little Girl: Hava Kaplan
Act II
George, an artist: Trevor St. John-Gilbert
Marie, George's grandmother: Madison Micucci
Dennis, a technician: Conor Ryan
Bob Greenberg, the museum director: Ryan Morton
Naomi Eisen, a composer: Darcy Link
Harriet Pawling, a patron of the arts: Jordana Grolnick
Billy Webster, her friend: Dereck Seay
a Photographer: Whitney Brandt
a Museum Assistant: Al Fallick
Charles Redmond, a visiting curator from Texas: Conor Guzmán
Alex, an artist: C.J. Eldred
Betty, another artist: Erika Peterson
Lee Randolph, the museum's publicist: Robert Ariza
Blair Daniels, an art critic: Elisabeth Evans
a Waitress: Erika Henningsen
Elaine, George's former wife: Devon Perry
a Woman in the Gallery: Stephanie Styles
Sponsors
The School of Music, Theatre & Dance acknowledges the generosity of McKinley Associates, Inc. whose support has helped make this production possible.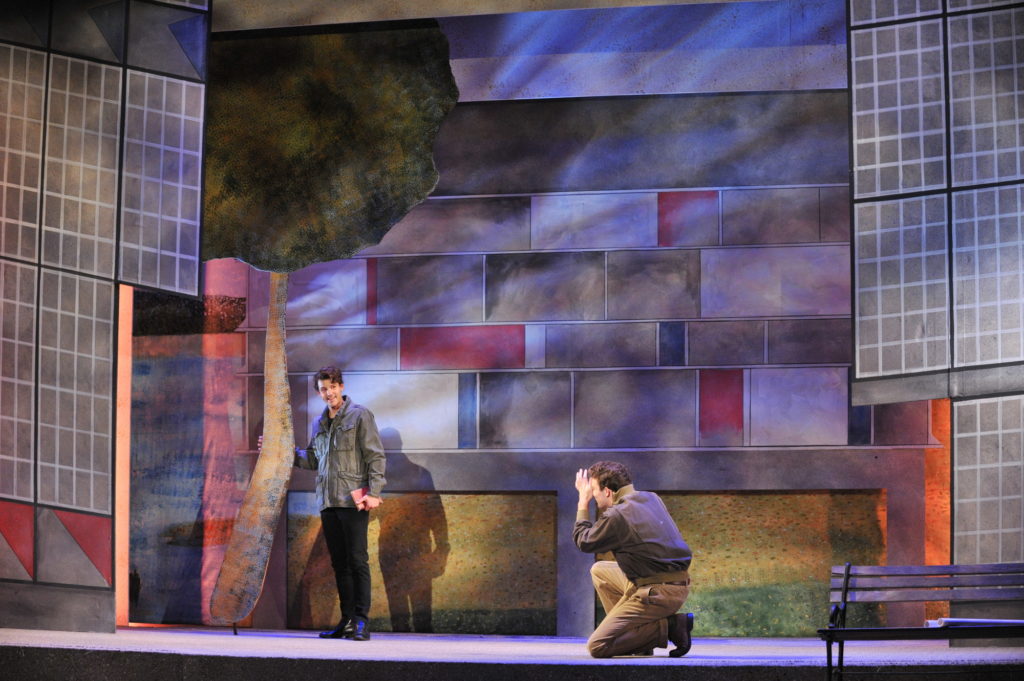 Resources
[accordion title="From the Conductor"]
I affectionately refer to Sunday in the Park with George as the "mantra show" for the message it holds for artists. But really, it's a message for anyone who ever wanted to be heard and understood. It is an unforgettable show and one I'm thrilled to be discovering again.
My father, Paul Gemignani, was the original musical director for Sunday in the Park with George on Broadway. I remember, as a four year old, occasionally being brought in to rehearsals and becoming mesmerized by the music, the lyrics, and the imagery. And what's not to love? The precise yet romantic music, the sharp yet passionate lyrics and the characters themselves…full of color and light each an every one of them. It is truly a masterpiece, much like the painting itself.
Later, when I played the Boatman and Dennis in the Broadway revival, I was reminded of that childhood wonderment every time I heard the opening chords strike. And at every curtain call, Dot's words echoed in my ears as they do everyday of my artistic life: "Anything you do, let it come from you. Then it will be new. Give us more to see."
Words to live by.
A mantra.
—Alexander Gemignani, Music Director/Conductor
[/accordion]
Media
Program
Photos
[cycloneslider id="12-13-sunday-in-the-park"]