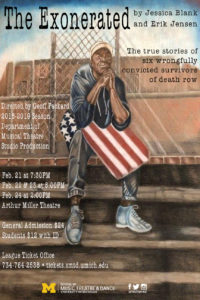 The Exonerated
By Jessica Blank and Erik Jensen
Department of Musical Theatre Studio Production
February 21-24, 2019 • Arthur Miller Theatre

"An artful and moving evening of documentary theater (Variety)," The Exonerated follows the true stories of six wrongly convicted inmates and their paths from death row to freedom. Winner of the 2003 Drama Desk for Unique Theatrical Experience and the Outer Critics Circle Award for Outstanding Off-Broadway Play, this ninety-minute drama was made into a movie by the same name in 2005. Don't miss our musical theatre students in this straight drama sure to spark debate.
Artistic Staff
Director: Geoff Packard
Lighting Designer: Emily Miu
Scenic Designer: Henry Pederson
Assistant Director: Berrit Keller
Dramaturg: Isabel Olson
Stage Manager: Tessa Hoerst
Cast
Kerry: Andrew Cekala
David: Chris Washington
Gary: Jacob Smith
Robert: Lee Alexander
Sunny: Maddie Eaton
Georgia: Madison McBride
Delbert: Mason Reeves
Sue: Nina White
Doyle, Ensemble: Noah Wolfe
Sandra: Owen Claire Smith
Jesse, Ensemble: Sam Faulkner
Rhodes, Ensemble: Travis Anderson
Resources
[accordion title="From the Director"]
The playwrights of The Exonerated, Jensen and Blank, have chosen a thoughtful and succinct dedication to their play:
For the exonerated
and for those who are still waiting
I would like to add to those sentiments by offering a heartfelt thank you to the folks here at the University of Michigan who have dedicated their life's work to fixing the flaws in our justice system:
David Moran and his colleagues at the Michigan Innocence Clinic, and Ashley Lucas and her colleagues at the Prison Creative Arts Project.
[/accordion]
Media
Program