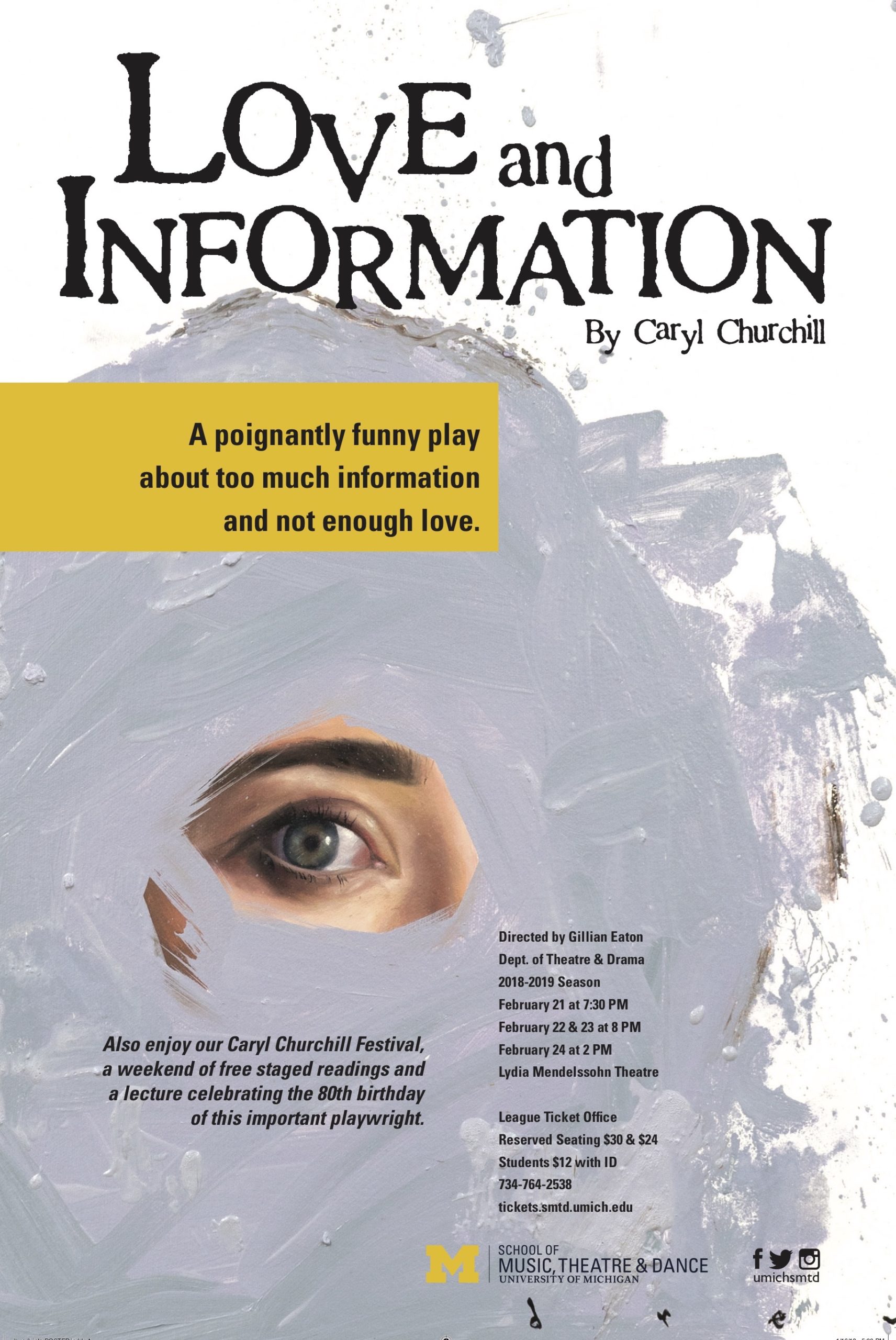 Love and Information
a poignantly funny play by Caryl Churchill
Department of Theatre & Drama
February 21-24, 2019 • Lydia Mendelssohn Theatre

Love and Information features 57 short, hilarious, and poignant vignettes with over 100 unnamed characters trying to communicate with each other in today's world of shortened attention spans and vast societal sharing. Spouses, friends, siblings, and colleagues are dramatized in the middle of conversations as they deal with endless streams of data that can possibly alter relationships. They interrupt. They finish each other's thoughts. They think they have finished each other's thoughts. With so much sharing, when does TMI really become TMI? How do we love in a world with so much information? This is a play about individuals trying to connect with and understand one another.
Written in 2012, Love and Information distills the societal forces shaping our lives. Considered one of Great Britain's greatest living playwrights, Caryl Churchill is well known for her provocative and relevant plays that are remarkably varied in both structure and topic. Her best-known works, Cloud Nine, Top Girls, Serious Money, Far Away, and A Number, combine a darkly funny imagination with a strong political viewpoint. "Leave it to Ms. Churchill to come up with a work that so ingeniously and exhaustively mirrors our age of the splintered attention span." (The New York Times.)
Artistic Staff
Director: Gillian Eaton
Scenic Designer: Gary Decker
Costume Designer: Roger Teng
Lighting Designer: Dina Shulman
Sound Designers: Faulkner Bodbyl-Mast, Henry Reynolds
Assistant Director: Stephanie Guralnick
Stage Manager: Alison Jaruzelski
Cast
Ensemble: Miguel Aviles-Elrod, Morgan Bo, Nathan Correll, Nico Dangla, Pete Dickey, Lolly Duus, Jillian Garner, Lucas Grenda, Ethan Haberfield, Anirudh Keshamouni, Julia McDermott, Allie Reynolds, Emerson Smith, Georgia Spears, Emma Steiner, Ashley Stewart-Smith, Levana Wang, Kieran Westphal
Resources
[accordion title="From the Director"]
Love and Information was produced in 2012. In the years since its first production in London and then in New York, the heart-wrenching loss of human connection in the overwhelming traffic of information is even more poignant. There is no typical plot structure in this play. It consists of more than 60 small scenes that are both connected and separate, as if giving us a vivid illustration of the Multiverse or the paradox of social media (You Tube, Snap Chat) where many events in different universes can play simultaneously but can be viewed in any order. Many questions arise: are we losing our ability to pay attention? Do we know what needs our attention? Can we resist the constant distraction? Is paying attention the most profound expression of love? Does information make us wise? How much information do we need? What do you think?
[/accordion]
Media
Program