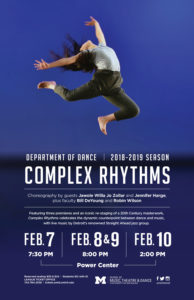 Complex Rhythms
Choreography by guests Jawole Willa Jo Zollar and Jennifer Harge; and faculty Bill DeYoung and Robin Wilson
Department of Dance
February 7-10, 2019 • Power Center

The Department of Dance presents an evening that celebrates the intricate way in which dance and music combine. Complex Rhythms features three new creations and the re-staging of a noted twentieth-century masterpiece. This dance concert explores the interaction between rhythm and bodies, as well as sound and expression.
Shelter, created in 1988 by Urban Bush Women founder Jawole Willa Jo Zollar, is an unsentimental commentary about homelessness and disenfranchisement that the New York Times says "is so filled with compassion and anger that it becomes a powerful incantation against the evils of obliviousness and neglect." Jennifer Harge, Artistic Director of Harge Dance Studios, is an alumna, lecturer, and 2018 inaugural winner of the Eva Yaa Asantewaa Grant for Queer Women(+) Dance Artists in New York. She was also recently honored as a Visual Arts Fellow by Kresge Arts in Detroit. Harge's work lies at the intersection of movement, performance art, African-American culture, and choreographies of protest.
Faculty choreographer Robin Wilson's new work 7 x 12 and a Little Bit of Cha-Cha is full of color and life, inspired by Cuban rhythms. Wilson's dance will include live music from Straight Ahead, an eclectic and innovative jazz group from Detroit.
In celebration of Leonard Bernstein's centenary, faculty member Bill DeYoung sets a new work to Bernstein's Prelude, Fugue, and Riffs (1955).
Artistic Staff
Artistic Director: Jessica Fogel

Repertoire & Performers
[accordion title="7 x 12 and a Little Bit of Cha-Cha (2019)"]
Choreography by Robin Wilson, in collaboration with the dancers
Original music created and performed by Marwan Amen-Ra, Marion Hayden*, and Alina Moor*
*From Straight Ahead
Music: "7 Minutes 2-4" composed by Gayelynn McKinney; "Middle Passage" composed by Marion Hayden; "Cha Cha de al Tarde" composed by Alina Moor
Lighting Designer: Mary Cole
Costume Designer: Suzanne Young
Sound Engineer: Roger Arnett
Stage Manager: Christopher M. Simko
Dancers: Caroline Brown, Alexandria Davis, Michaela Esteban, Stephanie Gennusa, Katrina Granger, Kristin Hanson, Catherine Lesha, Sherry Lin, Grace Nagelvoort, Annelise Senkowski, Matthew Standerski, Izzi Wayner
From the Choreographer: The idea for creating 7 x 12 and a Little Bit of Cha-Cha came out of an evening at the Detroit Jazz Festival, listening to Straight Ahead perform.
I've always been fascinated in the dialogue between the utterance of sound and the generation of movement, and playing with the conversation between improvisation and previously-composed movement and sound.
Creating a tightly-woven relationship of dance and music scores has been central to much of my work – relying on the innovation of all of the collaborators "in the room" – the composer/musicians, the cast of dancers, and me in my role as director, choreographer, and contributor to the musical landscape.
[/accordion][accordion title="Studio A, Will You Die With Me? (2019)"]
Director: Jennifer Harge
Music: Frank Ocean and Ernestine Shockley
Scenic Designer: Sarah Tanner
Lighting Designer: Mary Cole
Costume Designer: Isabelle Molnar
Sound Engineer: Roger Arnett
Stage Manager: Christopher M. Simko
Movement Invention and Performance: Shea Carponter-Broderick, Madeline Joss, Emma Lambert, Alexa Miller, Grace Nagelvoort, Nicole Reehorst, Alicia Samson, Emily Soong, Audrey Vogelsang, Kiara Williams, Florence Woo, Sasha Yakovenko, Courtney Ziegelmeyer
From the Choreographer:
"do you know what it's like to live on land who loves you back?"
– Danez Smith, Don't Call Us Dead
Studio A, will you die with me? is a fire ritual that works to disrupt the anti-black, heteronormative, and capitalist structures that live within the fabric of Western dance studios and dance curriculums. Throughout the ritual, we are working to re-fertilize the soil of any and all dance spaces that exist through the use of oppressive force(s). Our work is an offering to future generations of dance students to be able to move and create in a fully inclusive and liberated space.
To understand the physical functionalities of our ritual, please refer to the movement score that has guided our process:
"what she was breathing would not have been called air. except that it was everywhere. except that she was breathing it." How do we honor our lung capacity?
"something can turn to anything if you get it hot enough."
"you have to release the heaviness in your body and get gentle with darkness on the move."
this is a being real black choreography. (this was always the mission)
"sometimes they stopped and marveled about how thoroughly they had replaced the story that was there before, but usually they just stayed in the practice and watched the world transform."
Reference: Gumbs, Alexis Pauline. M Archive: After the End of the World. Duke University Press, 2018.
[/accordion][accordion title="Prelude, Fugue, and Riffs (2019)"]
Choreography by Bill DeYoung
Rehearsal Director: Jillian Hopper
Music: "Prelude, Fugue, and Riffs" by Leonard Bernstein
as performed by the U-M Symphony Band conducted by Michael Haithcock at Hill Auditorium on November 21, 2017 with Anthony McGill, clarinet; Ellen Rowe, piano; Aidan Cafferty, double bass; Andrew Grossman, drum set.
Scenic Designer: Sarah Tanner
Lighting Designer: Mary Cole
Costume Designer: Suzanne Young
Sound Engineer: Roger Arnett
Stage Manager: Christopher M. Simko
Dancers: Sophie Allen, Victoria Briones, ElleAnna Casterline, Lydia Dunn, Cailin Ferguson, Nicolas Hopkin, Rose Janusiak, Andrew Murfee, Shannon Nulf, Brendan Ryan, Kaitlyn Soloway
[/accordion][accordion title="Shelter (1988)"]
Choreography by Jawole Willa Jo Zollar
Staged by Courtney J. Cook & Samantha Speis
Rehearsal Director: Jillian Hopper
Asst. Rehearsal Director: Jen Peters
Texts: "America Fled Me" by DeWanda Jackson, adapted for Shelter by Jawole Willa Jo Zollar; "Elmina Blues" by Carl Hancock Rux; "Belongo" by Laurie Carlos
Percussionist: Marwan Amen-Ra
Vocalist: Robin Wilson
Original Lighting Design by Susan Hamburger, recreated by Mary Cole
Costume Designer: Suzanne Young
Sound Engineer: Roger Arnett
Stage Manager: Berrit Keller
Dancers
Thursday/Friday: Victoria Briones, Sally Butin, Shea Carponter-Broderick, Michaela Esteban, Nicolas Hopkin, Alicia Samson, Kaitlyn Soloway
Saturday/Sunday: Olivia Johnson, Johnny Mathews III, Alexa Miller, Shannon Nulf, Emily Soong, Arianna Stadler, Kiara Williams
Understudies: Cailin Ferguson, Johanna Kepler
From the Dramaturg: Shelter is a dance piece choreographed by Jawole Willa Jo Zollar, the Artistic Director of Urban Bush Women. Urban Bush Women is an African American women's dance ensemble founded in 1984. The company's mission is to give light to the voices of disenfranchised people through dance. Shelter was first staged in 1988 with the Department of Dance Chair Anita Gonzalez and Associate Professor Robin Wilson as original company members. While the intent of the first staging was to address the suffering and isolation of homelessness, the piece has been restaged multiple times. Each adaptation shifted the theme based upon the bodies and companies performing it. After Hurricane Katrina, the piece was adapted to address the lives of the people that the hurricane left homeless. This is the version of Shelter performed today.
– Efe Osagie
[/accordion]
Resources
[accordion title="From the Artistic Director"]
Welcome to Complex Rhythms, a concert of four dance works that embrace a range of rhythmic dialogues between dance and music, movement and idea. We celebrate the diversity of the dance field with our inclusion of three works by women of color.
Our program features two faculty works and two guest artist works. Professor Robin Wilson's 7 x 12 and a Little Bit of Cha-Cha was developed in a collaborative process with Detroit's innovative jazz trio, Straight Ahead, and features some of the Cuban dance and music rhythms Wilson has investigated on several research trips to Cuba. Set to Leonard Bernstein's Prelude, Fugue, and Riffs, Professor Bill DeYoung's eponymous work features a recording of U-M's Symphony Band and salutes the centennial of Bernstein's birth. DeYoung's exuberant choreography highlights Bernstein's lively blend of classical music forms and big band syncopations.
Complicated rhythms abound in the themes of displacement, exclusion, and resilience explored in the works created by our guest artists. Images of a ceremonial fire ritual unfold in Detroit dance artist Jennifer Harge's Studio A, Will You Die With Me?, developed collaboratively with her cast of 13 dancers. Set to music by American songwriter and rapper Frank Ocean and Harge's grandmother, Ernestine Shockley, the work accumulates rhythms of purification, transformation, and renewal. Shelter, an eloquent work about homelessness created in 1988 by Jawole Willa Jo Zollar for her company Urban Bush Women, is as relevant now as it was at its premiere. The work features closely woven rhythms of dance, live percussion and voice, and recorded music. Our ties to this iconic work run deep. Professor Robin Wilson, the vocalist for the work, was a dancer in the original 1988 cast, as was our chair, Professor Anita Gonzalez.
These dances come to fruition not only through the dedication of our extraordinarily talented dancers, choreographers, re-stagers, and rehearsal directors, but also in collaboration with our superb team of lighting, costume, and set designers, and our larger production team. We are thrilled to share these powerful works with you and hope you enjoy the performance.
– Jessica Fogel
[/accordion]
Media
Program