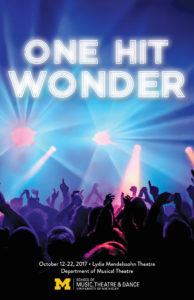 One Hit Wonder
Book by Jeremy Desmon
Additional songs by Jeff Thomson & Jeremy Desmon
Department of Musical Theatre
October 12-22, 2017 • Lydia Mendelssohn Theatre

The Story: Down on his luck, aspiring musician Rick Ramsey has one idea to save his faltering career – reunite with his high school sweetheart Ashley to resurrect their old band, All About the Girl. Ignoring that she can't stand him and has made a new life for herself, Rick tries to entice Ashley with a video of their best performance, but she rebuffs his ideas. However, when one of her co-workers steals and posts the video, it goes viral, creating the chance of a lifetime – the opportunity to open for superstar Mercy Faith's upcoming national tour. Unable to resist, Ashley joins Rick on the road, her current boyfriend in tow. Will the old chemistry spark once again, or will this be the end to both of their youthful dreams of music stardom?
Background: Conceived by award-winning book-writer and lyricist Jeremy Desmon, One Hit Wonder is a fun new pop/rock jukebox musical about music, love, and second chances. The show is set to a soundtrack of some of the greatest one-hit wonders of all time, including "Take On Me" (a-ha), "Walking on Sunshine" (Katrina & The Waves), "Closing Time" (Semisonic), "You Sexy Thing" (Hot Chocolate), "Tainted Love" (Soft Cell) and many more unforgettable hits. The Department of Musical Theatre is thrilled to partner by special arrangement with  Araca Media and Entertainment (founded by alumnus Matthew Rego and Broadway producers of Wicked, Urinetown, and Rock of Ages) and alumnus Hunter Foster (director) in shaping this new musical.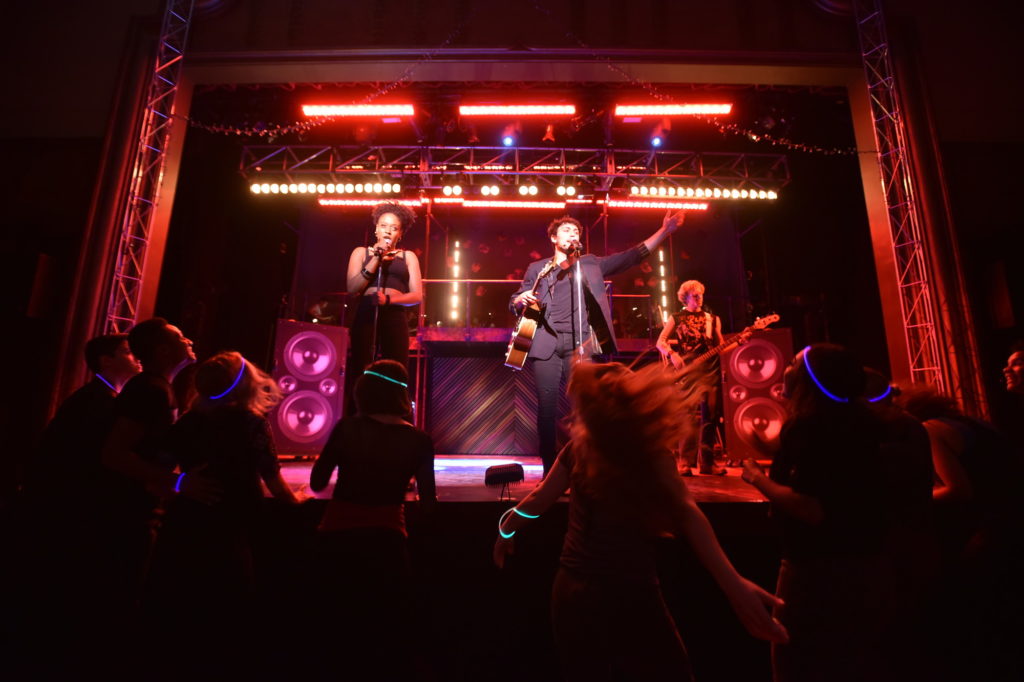 Artistic Staff
Director: Hunter Foster
Music Director/Conductor: Martijn Appelo
Music Supervisor: Cynthia Kortman Westphal
Choreographer: Jennifer Jancuska
Associate Choreographer: Matthew Steffens
Scenic Designer: Adam Koch
Costume Designer: Suzanne Young
Lighting Designer: Rob Murphy
Sound Designer: Al Hurschman
Wig & Makeup Designer: Brittany Crinson
Stage Manager: Jenny Barretto
Cast
Rick, a rock-n-roll musician: Noah Kieserman
Gunner, bassist and Rick's best friend: Elliott Styles
Mercy Faith, a pop-singer: Grace Bydalek
Ashley, Rick's ex-girlfriend: Leanne Antonio
Stewart, Ashley's boyfriend: Simon Longnight
Fiona, Mercy's manager: Nkeki Obi-Melekwe
Ensemble: Griffin Binnicker, Blake Bojewski, Christopher Campbell, Spencer Croy, Jessica Gomes-Ng, Carina Kay-Louchiey, Audrey Kennedy, Nevada Koenig, McKenzie Kurtz, Devon McCleskey, Megumi Nakamura, Mason Reeves, Brianna Stoute, Ben Walker
Sponsors
The performances of the band are sponsored in part by Conlin Travel, Inc.
Special thanks to the Benard L. Maas Foundation for their support.
Media
Program
Photos
[cycloneslider id="17-18-one-hit-wonder"]