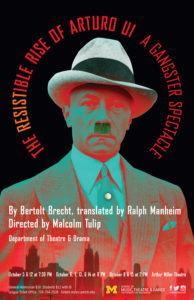 The Resistible Rise of Arturo Ui
a gangster spectacle by Bertolt Brecht, translated by Ralph Manheim
Department of Theatre & Drama
October 5-15, 2015 • Arthur Miller Theatre

Chicago in the midst of the Great Depression – jazz, prohibition, gangsters. As a cartel of Chicago greengrocers find their businesses crashing and their cauliflowers rotting, a small-town thug named Arturo Ui makes an offer of "protection."  His proposal, at first rejected by the Cauliflower Trust, soon becomes an offer they cannot refuse.  Violence escalates, opposition is quashed and the bodies begin to pile up. Can anyone disrupt Ui's rise to power, or will political thuggery win control of the city?
Written as a parable play to the rise of Hitler, The Resistible Rise of Arturo Ui is a masterpiece of Bertolt Brecht's epic theatre. Brecht wrote the play in 1941, intending it for an American audience while he was in exile in the country during the war. However, due to concerns about the war, the play did not debut until 1958 in West Germany and only premiered in the U.S. in 1963. Each scene of the work echoes a real-life event in Germany, with correspondences between the characters and the leaders of Hitler's regime. A savage satire, The Resistible Rise of Arturo Ui (in a prizewinning translation by Ralph Manheim) is a bitingly funny and cautionary tale of political corruption and the rise of a demagogue.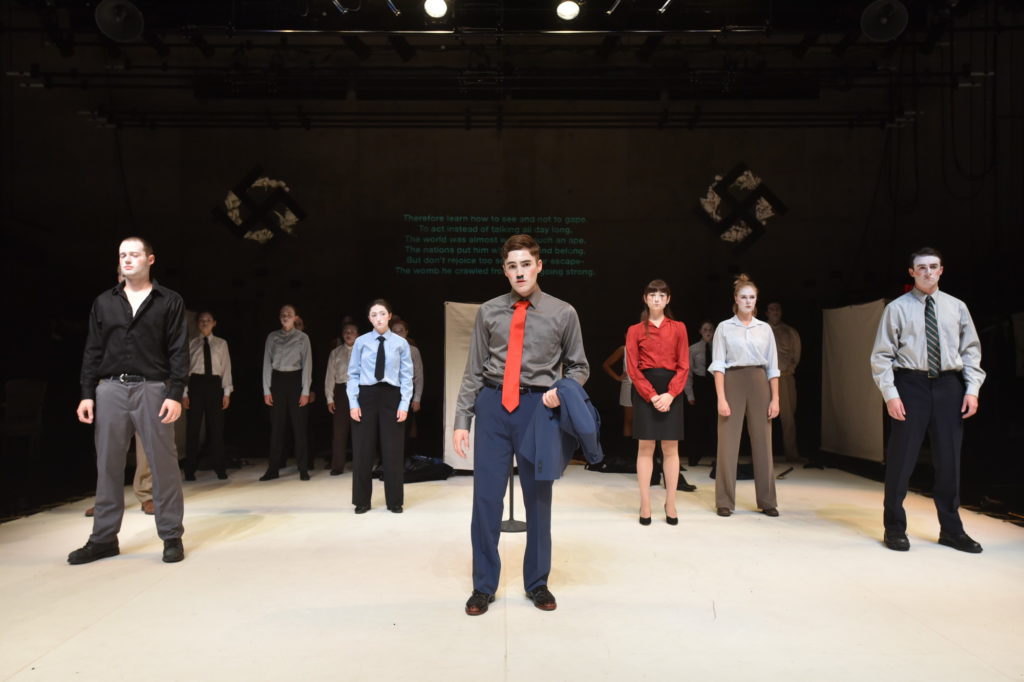 Artistic Staff
Director: Malcolm Tulip
Scenic Designer: Vincent Mountain
Costume Designer: Grace Santamaria
Lighting Designer: Christopher M. Simko
Sound Designer: Spencer Haney
Dialect Coach: Emily Shimsky
Assistant Director: Zoha Bharwani
Stage Manager: Sophia Brichta
Cast
Announcer/Ted Ragg, reporter on The Star/Doctor: Lauren Balone
Flake, director of the Cauliflower Trust/Judge: Carly Van Liere
Caruther, businessman, director of the Cauliflower Trust/Actor: Mason Van Gieson
Butcher, businessman, director of the Cauliflower Trust/Inna:  Sarah Prendergast
Clark, businessman, director of the Cauliflower Trust: Anna Markowitz
Sheet, shipyard owner/Fish: Shaunie Lewis
Old Dogsborough: Chris Van Winkle
Young Dogsborough/Prosecutor: Amy Aaron
Arturo Ui, gang leader: Jesse Aaronson
Ernesto Roma, his lieutenant: Austin D'Ambrosio
Emanuele Giri, gangster: Jack Alberts
Giuseppe Givola, florist/gangster: Brooks Inciardi
Dockdaisy/Ignatius Dullfleet: Shenell McCray
Bowl, Sheet's chief accountant: Kirsten Mossberg
O'Casey, member of city council/Betty Dullfleet: Annamarie Kasper
Gaffles, member of city council: Amanda Kuo
Goodwill, member of city council: Tiffany Wu
Hook, wholesale vegetable dealer/Little Man: Nyah Pierson
Mulberry/Defense Counsel: Savanna Crosby
Woman, Voice: Morgan Waggoner
Vegetable Dealers/Reporters/Bodyguards/Ciceroans: Cast
Resources
[accordion title="From the Director"]
In September 2001, the Department was rehearsing Brecht's The Good Person of Setzuan translated by John Willett. Three gods descend to earth in search of a good person whose presence would justify the continuation of the human race. After the terrible world-changing events in New York, Brecht's play and its questions became more urgent.
When selecting The Resistible Rise of Arturo Ui we could not know how relevant it would be. We are not interested in the idea that the current president is a Hitler of our age. What I find interesting is the question how do "we the people" allow certain individuals to rise to positions of power or authority from which they can inflict hurt and damage upon us and our institutions. That said, there were too many phrases and ideas in a recent biography, Hitler: Ascent 1889-1939, that resonated with the rhetoric of today's administration and its leader. Ui was written in exile to be performed in the United States. Instead it had its premier in East Germany after Brecht's death. Most of Brecht's scripts are revised versions after he had directed them. Ui comes to us without those sorts of revisions.
— Malcolm Tulip, September 2017
[/accordion][accordion title="In Memoriam: Annette Masson"]
Professor of Theatre Annette Masson passed away in early August, following a brief illness. She was surrounded by her family from Saskatoon, in the Canadian province of Saskatchewan where Annette grew up on a farm in the midst of wheat and canola fields and prairies.
Annette received her bachelor of education (English and music) from the University of Saskatchewan in 1978. She left there after college, never really looking back, and lived in many places: Calgary, London, San Francisco, and Berkeley, stopping long enough to receive a master of fine arts (theatre education) from Boston University in 1991.
In London, Annette studied with Patsy Rodenburg, famed British voice coach, author, and theatre director at Guildhall School of Music and Drama. Voice and speech became her passion and she sought out Catherine Fitzmaurice and Joan Melton in England, Roy Hart in France, and many others, to perfect her craft. She taught as a guest artist for the Western Australia Academy of Performing Arts, as a visiting professor at Michigan State University, and on faculty with the American Repertory Theatre at Harvard University. She was associate director of the Drama Studio for London at Berkeley in California.
Finally, Annette spent the last 24 years in Ann Arbor – the town, she said, that became home for her. It reminded her of Saskatoon, with its rivers, many parks, and the friendliness of its inhabitants. Early on, she developed and taught in one of the first musical theatre summer institutes to be offered at U-M. Over the years she was vocal director for countless young actors in university productions. Her core classes for Theatre & Drama performance students were legendary. Ghost giggles, "Salute to the gods," "Soul train," "O, for a Muse of Fire," and other fundamental exercises were not only Annette's hallmarks, but also became her legacy for every actor who darkened the doors of B222 – her Walgreen Drama Center classroom.
Annette was extremely proud to be the president of the National Society of Arts and Letters (Michigan Chapter) since 2007, helping to organize yearly competitions in the fields of dance, music, and literature across the state. Within U-M, Annette taught presentation skills (the art of public talking) to scientists, musicians, doctors, and engineers. For almost 10 years, she headed up the BFA performance program, supervising the restructure of the curriculum, heading up recruitment, auditions, and scholarships.
In 2013, Annette took the cast and crew of Almost, Maine to the International Toronto Fringe Festival, and she shepherded students to Poland with The Prague Project in 2006. She also managed to find time to act in a variety of presentations over the years: Gertrude Stein in Forest Through the Trees with the Department of Dance in 2012; Narrator for A Sweet for Mother Goose in Plymouth, Michigan in 2009; and the Nurse in Romeo and Juliet with the University Orchestra in 2005.
Physically, Annette succumbed to a rare and aggressive form of cancer, but her
indomitable spirit never gave up. It lives on in her many, many students who continue to "salute the gods" in her honor every day. We shall miss her terribly.
— Priscilla Lindsay, Chair, Dept. of Theatre & Drama
[/accordion]
Media
Program
Photos
[cycloneslider id="17-18-arturo-ui"]