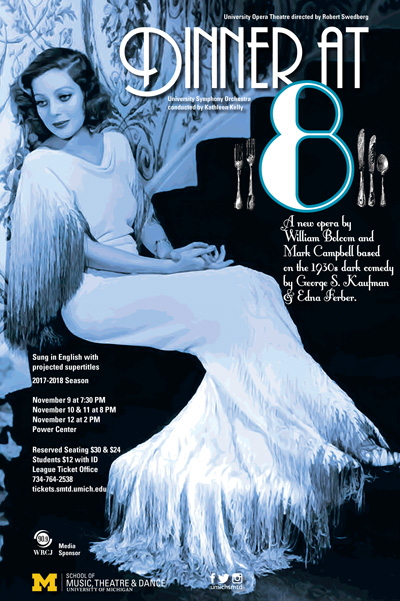 Dinner at Eight
Libretto by Mark Campbell
Music by William Bolcom
Based on the 1932 play by George S. Kaufman and Edna Ferber
University Opera Theatre • University Symphony Orchestra
November 9-12, 2017 • Power Center

Based on the wildly successful 1932 Depression era black comedy by George S. Kaufman and Edna Ferber, this new opera centers on a Manhattan dinner party. With only a week's notice, socialite Millicent Jordan frantically tries to pulls together the perfect dinner party to impress visiting English nobility. As she blithely plans the fashionable soiree, her guests all have secrets, with business intrigues, romantic dalliances, disease, and deceits all ready to unravel her carefully planned arrangements.
Commissioned by thz Minnesota Opera for its New Works Initiative, Dinner at Eight brings together SMTD's own Pulitzer Priize-winning composer William Bolcom (A View from the Bridge) and librettist Mark Campbell (Silent Night, The Manchurian Candidate) for their first full-length work. The opera premiered in March 2017, with further productions scheduled for the Wexford Festival and Atlanta Opera. The score brilliantly highlights Bolcom's expertise with American popular music of the 20th century and displays a deft orchestration that echo the characters' personalities. "Dinner at Eight features marital infidelity, financial ruin, social opportunism, a fatal disease…Naturally, it's a comedy," states Campbell. With equal parts satiric wit and emotional resonance, Dinner at Eight captures an elite group struggling to keep up appearances as their world crumbles around them.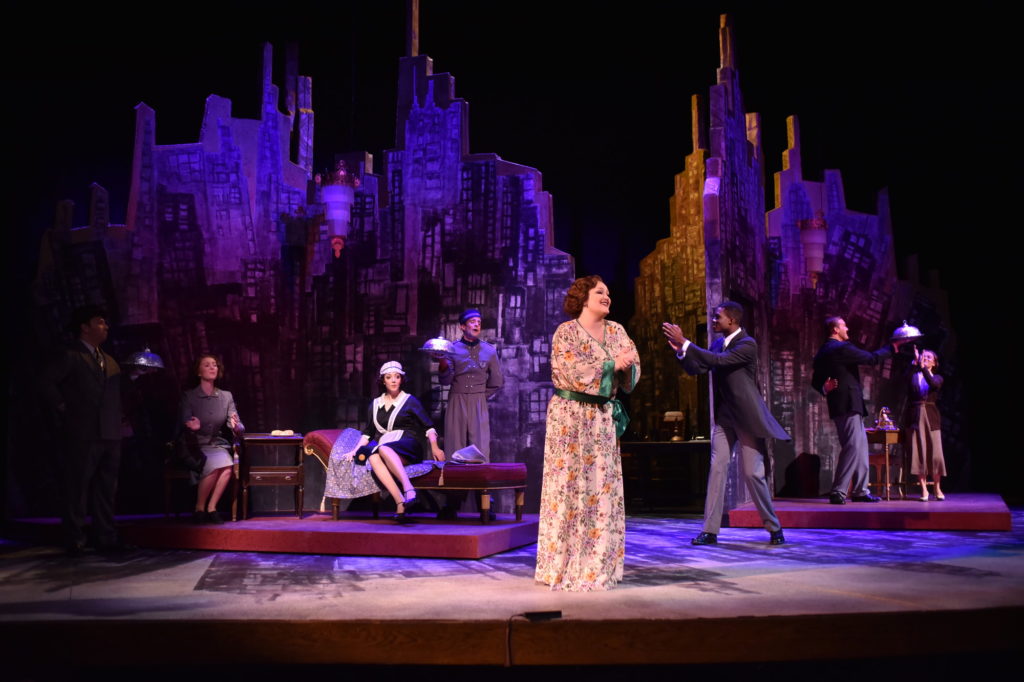 Artistic Staff
Conductor/Music Director: Kathleen Kelly
Director: Robert Swedberg
Cover Conductor: Rotem Weinberg
Scenic Designer: Jeff Bauer
Costume Designer: Jessica Hahn
Lighting Designer: Rob Murphy
Wig & Makeup Designer: Ora Jewell-Busche
Diction Coach: Timothy Cheek
Assistant Conductors: Evan Hines, Lydia Qiu
Stage Manager: Brett Finley
Cast (Thursday-Saturday/Friday-Sunday)
Millicent Jordan, a New York socialite: Allison Prost/Elise Eden
Oliver Jordan, her husband: Yazid Gray/Michael Floriano
Paula Jordan, their daughter: Madison Warren/Rose Mannino
Dan Packard, a wealthy entrepreneur: Zachary Crowle/Joseph Johnson
Kitty Packard, his wife: Madeline Thibault/Hayley Boggs
Dr. Joseph Talbot, a physician: Samuel Kidd/Tanner David Hoertz
Lucy Talbot, his wife: Kristen DiNinno/Helen Hass
Carlotta Vance, a former actress: Rehanna Thelwell/Goitsemang Lehobye
Larry Renault, an actor: Dorian Dillard II/Camron Gray
Max Kane, an agent: Kevin Starnes/Matthew Fleisher
Gustave, a butler: Edward Nunoo/Stephen Wynn
Tina, Kitty' Packard's maid: Isabel Signoret/Emily Davidson
Miss Alden, Dr. Talbot's assistant: Hannah Clague/Isabel Springer
Miss Copeland, Oliver Jordan's secretary: Emily Cotten/Kristine Overman
Mr. Hatfield, the hotel manager: Kurt Clare/Andrew Burgmayer
Eddie, a bellboy: Christopher Wolf/Brent Doucette
Zoltán, a violist: Zoie Hightower/Samuel Koeppe
Sponsors
Media sponsorship by WRCJ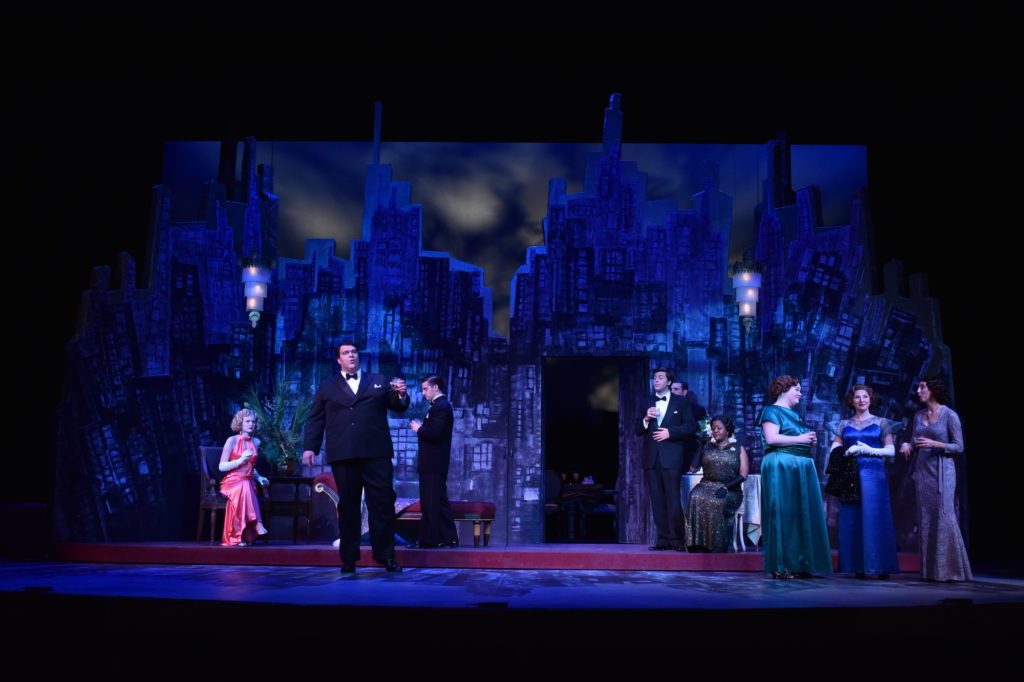 Resources
[accordion title="Synopsis"]
Act I
Scene One: The drawing room of the Jordan home — 9am, Friday
Socialite Millicent Jordan opens her morning mail while talking to her husband Oliver. She receives a radiogram from Lord and Lady Ferncliffe, who will soon arrive from England on the Aquitania. They have accepted an invitation from the Jordans for a dinner party and reception occurring the following Friday, and Millicent is jubilant. Immediately, she starts to imagine the guest list for the party, discussing various potential attendees with Oliver. Dr. Joseph and Lucy Talbot immediately spring to mind, as well as the celebrated former actress Carlotta Vance who has recently returned to New York; Oliver also suggests inviting Dan Packard and his wife Kitty for reasons related to his business. The Jordans' daughter, Paula, enters and avoids discussing her upcoming marriage, to her finacé Ernest and puts off a shopping trip with her mother scheduled for that afternoon. After Oliver and Paula leave for work, Millicent telephones the Talbots and the Packards, and they eagerly accept the invitation to the party. Millicent imagines other details, like engaging an Austrian quartet for the evening and what will be on the menu.
Scene Two: Oliver Jordan's business office in lower Manhattan — 1pm, Friday
Carlotta Vance visits Oliver at his company, Jordan Shipping Lines, and they reminisce about the old days when the city was different. Carlotta then reveals that she is broke and wants to sell her shares of Jordan stock. Jordan explains that he has his own financial concerns, knowing that other shareholders wish to liquidate as well. As Carlotta leaves, Dan Packard enters for an appointment, and Oliver asks him for a loan, which he agrees to. After Dan leaves, Oliver expresses his concerns about weathering the Depression.
Scene Three: Kitty's bedroom in the Packard penthouse — 4pm, Friday
Kitty Packard lies in bed, claiming to be ill. Her husband Dan strides in and expresses his determination in business as he announces that he's going to Washington D.C. to meet with the President. Dan also discloses his secret intention to take over Oliver's business; as a result, dining with the Jordans on Friday will be uncomfortable, but Kitty still wants to go. Before he exits, Dan dreams of a scheme in which he involves surrogates to take over Oliver's business. Dr. Talbot makes a house call to Kitty who bemoans his absence during their ongoing affair.
Scene Four: The drawing room of the Jordan home — 3pm, the following Wednesday
Millicent and Dr. Talbot's wife, Lucy, return from shopping and learn that one of the party guests has canceled. Millicent decides to invite Larry Renault, who is in town rehearsing a play on Broadway. She calls Larry who accepts and hands the phone to Paula before leaving the room; Paula speaks to Larry on the telephone, revealing that they are also having an affair.
Scene Five: The Hotel Versailles — 2pm, Friday, the day of the dinner party
Paula visits Larry at his hotel. She wants to break it off with her fiancé and go public with their relationship, but Larry resists the idea. Paula leaves as Max Kane, Larry's agent, arrives. He reveals that Larry was replaced in the Broadway play. Larry demands that he ask the producer for a secondary role. After Max leaves, Larry orders another bottle of whiskey from room service, and now completely out of cash, pays with his cufflinks. As he drinks, he tries to persuade himself that his career isn't failing.
Scene Six: The drawing room of the Jordan's home — 4pm, Friday
A crash is heard from the kitchen. The doorbell rings. Millicent urgently commands
Gustave the butler to answer the door. Carlotta has unexpectedly stopped by to see Oliver. The bell rings again, and a dozen roses from the Ferncliffes are delivered. At the same moment, Carlotta confesses to Oliver that she has sold her stock. He soon learns by telephone that others have followed suit, revealing a potential takeover. Millicent has also received terrible news. The Ferncliffes have canceled her dinner party, instead going to Florida; rather than an entire string quartet, only a single Hungarian violist is available for the party; and worst of all, Gustave informs her that the lobster aspic has been dropped, ruining it completely. Her daughter reveals that she doesn't want to marry her fiancé, and Oliver wants to beg off attending the dinner that evening as he has chest pains. Utterly defeated, Millicent crumples in despair.
Act II
Scene One: Dr. Talbot's office — 5pm, Friday
Oliver visits Dr. Talbot to make an appointment for the next day. After Oliver leaves, Lucy looks in and, hearing her husband on the phone with Kitty, confronts him about his philandering. After she leaves, it is revealed that Oliver has a serious coronary condition, with weeks to live. Dr. Talbot feels guilty and resolves to change his ways.
Scene Two: The drawing room of the Jordan's home — 6:15pm, Friday
Millicent calls Delmonico's to have them make a dinner and deliver it to her home.
Scene Three: Kitty's bedroom in the Packard penthouse — 7pm, Friday
Kitty is at her vanity, preparing for the dinner party. Dan reiterates his intention to follow politics in Washington and Kitty protests. She confesses that she is having an affair and will not leave New York. Dan threatens to destroy her reputation. Kitty, in turn, promises to reveal his shady business practices and ruin his career.
Scene Four: The drawing room of the Jordan's home — 7:45pm, Friday
Millicent puts the final touches on the dinner party.
Scene Five: The Hotel Versailles — 8pm, Friday
Larry is crushed to learn from Max that he didn't get the secondary role in the play. The hotel manager informs him that his room needs to be vacated the next day. Realizing that he has no career and no money left, he goes to the fireplace in his room and turns on the gas.
Scene Six: The drawing room of the Jordan home — 8:15pm, Friday
Millicent welcomes the guests to her party: the Packards, the Talbots, and Carlotta. As the evening progresses, the events from the preceding week come to light with startling and entertaining consequences.
— courtesy of Minnesota Opera
[/accordion][accordion title="About Dinner at Eight"]
Dinner at Eight debuted on Broadway in 1932 at the Great Depression's lowest ebb, probably intended to cheer audiences with a comedy, but still having a very dark side. In spite of a depressed economy, Broadway held its head high during the 30s, and still managed to supply diversion to those who could afford tickets, though the number of new productions dwindled significantly. Another challenge was the burgeoning motion picture industry, at first seemingly a passing fad, but later, with the introduction of the soundtrack in 1927, becoming a force to be reckoned with. Many theaters were converted into movie houses, but at least the most popular playwrights had a lucrative future – many of their spoken dramas and musicals became major motion pictures.
One figure emerged as the King of Broadway – George S. Kaufman. Producing one show every year beginning in 1921, he is sometimes overlooked today. But at the time, Kaufman was considered the master of stagecraft and satire, mocking the ever modernizing American scene. One of his most popular dramas, Dinner at Eight, begins innocently enough in the arrangement of an elaborate soirée at the same time as bread lines encircle the city block below. The narrative then devolves into the private lives of the invited guests, exposing the sordid underbelly of 1930s societal mores of a parvenu culture. The original play is slightly more biting than the opera, with sharply caustic remarks exchanged between actor Larry, agent Max, and producer Jo as well as the ever-bickering, unhappy Packards – crass symbols of a nouveau riche. There are also several more scheming servants in subplots – Tina, the blackmailing maid with knowledge of Kitty's affair, Gustave, secretly involved with Dora (Millicent's maid, not in the opera), and the conflict between Gustave and Ricci (the chauffeur, also not present in the opera) that leads to the destruction of the lobster main course. Also, Millicent's middle-class sister and husband are called in at the last minute as substitutes for the disappearing Ferncliffes, filling out the guest list to sustain a perfect ten.
Kaufman was to achieve the distinction of gracing the cover of Time magazine on November 20, 1939, for his various contributions and collaborations. He was born in Pittsburgh in 1889. After varying pursuits, the author settled into the penning of humorous, often flippant, columns for several newspapers, which eventually landed him the prestigious position of Dramatic Editor at The New York Times. It was a natural transition to writing plays. His first attempt, ironically entitled The Failure (1911), remained unproduced, but eventually working alongside co-writer Marc Donnelly, he had his first success with Dulcy (1921). Kaufman would go on to win two Pulitzer Prizes, first with the musical Of Thee I Sing, working with Morrie Ryskind, and George and Ira Gershwin, and later, a play, You Can't Take It With You.
Of a different temperament, Edna Ferber was a bit more reserved, and in retrospect, consequently undervalued. Born in Kalamazoo, Michigan in 1885, she was raised in Wisconsin, joining the Appleton Daily Crescent at age 17 as a reporter. A woman working in essentially a male world, Ferber was eventually dismissed, but obtained a better position at the Milwaukee Journal. She wrote short stories and would become a novelist, whose subject matter included a slice of mainly western Americana, often featuring formidable female protagonists in dense plots. Still, she was one of the best-selling writers of the century, leading to a profitable relationship with Hollywood. Like Kaufman, many of her works were adapted for the silver screen, namely Giant, So Big, Cimarron, and Ice Palace. For more than four decades she wrote mostly about the United States with a unique perspective, ostensibly out of patriotic love, while still uncovering the country's many flaws. She valued herself first as an American, second as a writer, and third, as a hardworking, career-minded Jewish woman. Ethnicity and cultural identity were common themes in her works.
Once aspiring to become an actress, Ferber also dabbled in the theater. She first attracted notice as the librettist for Show Boat, and later honed her skills by collaborating with Kaufman on a number of plays, adding a sentimental side to the former's sarcastic wit. Some of their greatest achievements include Minick, The Royal Family, Dinner at Eight, Stage Door, The Land is Bright, and finally, Bravo!.
Both authors died in the 1960s, having clearly made their mark. Kaufman's The Man Who Came To Dinner, You Can't Take It With You, and The Coconuts are standards in regional theatre, as well as Kaufman and Ferber's The Royal Family, loosely based on the famed Barrymore acting family. From its original record-breaking 232 performances to its marvelous operatic world premiere, Dinner at Eight continues to engage and entertain audiences in this latest incarnation, truly enduring as a 20th- and 21st-century modern comedy of manners and a classically crafted well-made play.
— courtesy of Minnesota Opera
[/accordion]
Media
Program
Videos
Photos
[cycloneslider id="17-18-dinner-at-eight"]