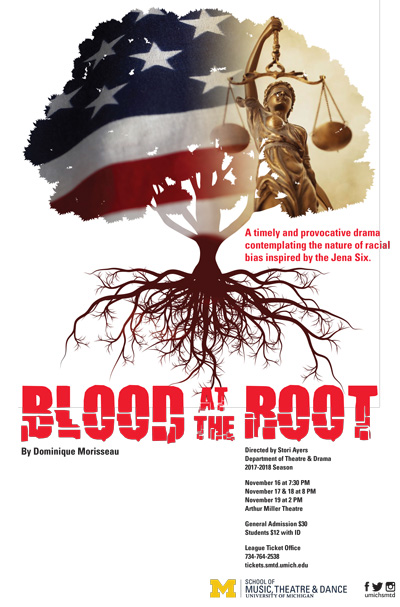 Blood at the Root
By Dominique Morisseau
Department of Theatre & Drama
November 16-19, 2017 • Arthur Miller Theatre

On a hot fall day, African-American senior Raylynn breaks tradition to sit under the old oak tree in front of the high school that is usually a gathering place for white students. The next day, three nooses are found hanging from the tree. The school shrugs it off as a prank, but racial tensions continue to mount until winter when six black students beat up a white student in the cafeteria. As the six are charged, the citizens of the town must contemplate the nature of racial bias and whether justice is truly blind.
Blood at the Root is based on the true case of the Jena Six in 2006. The play was commissioned by Penn State University in 2012, and then toured across the U.S. and internationally, finding global resonance. Award-winning Department of Theatre & Drama alumna Dominique Morisseau is a dynamic, fast-rising playwright. Her play, Pipeline, debuted at the Lincoln Center Theater this summer. Her three-play cycle, The Detroit Project, which explores key moments in the history of the Motor City, includes Detroit '67 (winner of the Edward M. Kennedy Prize for Drama), Paradise Blue, and Skeleton Crew.  "[Blood at the Root] catalyzes conversations on difficult and essential questions of race and justice" (The New York Times).  Join us for this timely and provocative drama.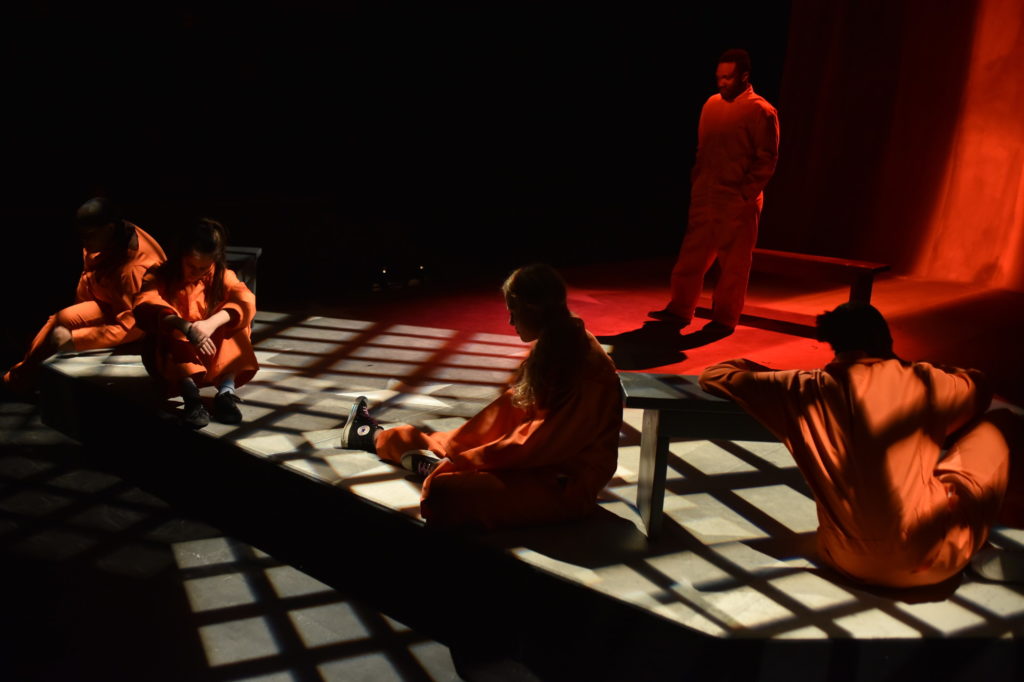 Artistic Staff
Director: Stori Ayers
Scenic/Lighting Designer: Justin N. Lang
Costume Designer: Emilio Sosa
Associate Costume Designer: Michaela Tanksley
Sound Designer: Socrates Papageorgiou
Choreographer/Assistant Director: Christopher Campbell
Stage Manager: Lindsey Zinbarg
Cast
Asha: Julia McDermott
De'Andre: Elyakeem Avraham
Colin: Kevin Corbett
Raylynn: Erin Croom
Toria: Kathleen Taylor
Justin: Eddie Williams
Ensemble: Vincent Ford Jr., Chardanae Jameson, Georgia Spears, Sierra Stephens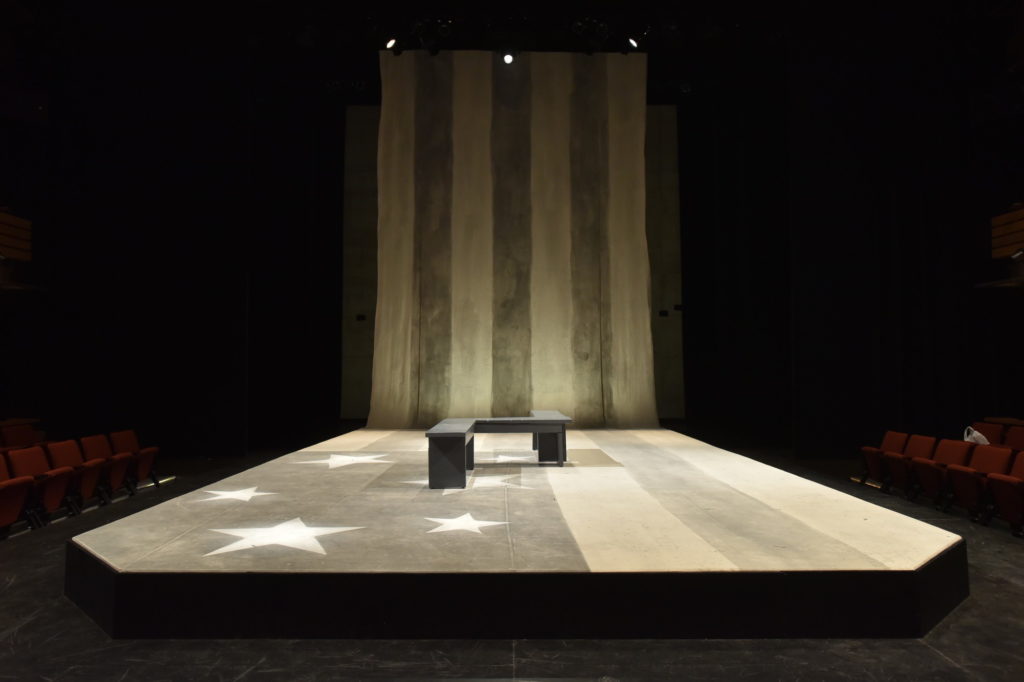 Resources
[accordion title="About Blood at the Root"]
How real-life events inspired the story of Blood at the Root
Blood at the Root is a play commissioned by Dominique Morisseau for the 2014 graduate acting class at Penn State University. The play is inspired by the events surrounding the "Jena Six," six black teenagers convicted in the beating of Justin Barker, a white student at Jena High School in Jena, Louisiana, on December 4, 2006. While the case was pending, it was often cited by liberal commentators as an example of racial injustice in the United States, due to a belief that the defendants had initially been charged with too-serious offenses and had been treated unfairly.
Six individuals (Robert Bailey, then aged 16; Mychal Bell, then 16; Carwin Jones, then
17; Bryant Purvis, then 17; Jesse Ray Beard, then 14; and Theo Shaw, then 17) were arrested in the assault on Barker, who was injured and treated at the emergency room. One, Mychal Bell, was initially convicted as an adult of aggravated battery and conspiracy to commit aggravated battery. His convictions were overturned on the grounds that he should have been tried as a juvenile. Prior to a retrial in juvenile court, he pled guilty to a reduced charge of simple battery. The other five defendants later pled no contest, and were convicted of the same offense.
The Jena Six case sparked protests by those viewing the arrests and subsequent charges – initially attempted second-degree murder (though later reduced) – as excessive and racially discriminatory. The protesters asserted that white Jena youths involved in other incidents were treated leniently. On September 20, 2007, between 15,000 and 20,000 protesters marched on Jena in what was described as the "largest civil rights demonstration in years." Related protests were held in other U.S. cities on the same day.
Playwright Dominique Morisseau uses this historical event as a platform to develop
the fictitious story for Blood at the Root. The story's specificity creates a universality that charges the audience with the social responsibility of dealing with "the other" in order to create change: How do we judge and treat people who are different? How does that judgment keep us apart from one another and impede our progress? Everyone has an "other;" whether based in sexuality, race or gender, we all deal with people who are unlike ourselves. This play explores the experiences of a group of high school students desperately trying to define themselves and navigate around those who identify themselves differently. We meet these high schoolers at a point in their lives where their differences have kept them separate and in judgement of one another, so when the desire for change erupts within them individually, they find themselves powerless and are thus forced to confront and engage "the other" in order to move their community forward. These students learn during their journey that without struggle there is no progress and that that struggle requires uniting despite differences. United, they find their power to reverse injustice. Within the journey of these six high school students, Ms. Morisseau also addresses propaganda, individual freedoms and racial inequality in the judiciary system.
— Search "Jena Six" at npr.org for more coverage surrounding the case
[/accordion]
Media
Program
Video
Photos
[cycloneslider id="17-18-blood-at-the-root"]