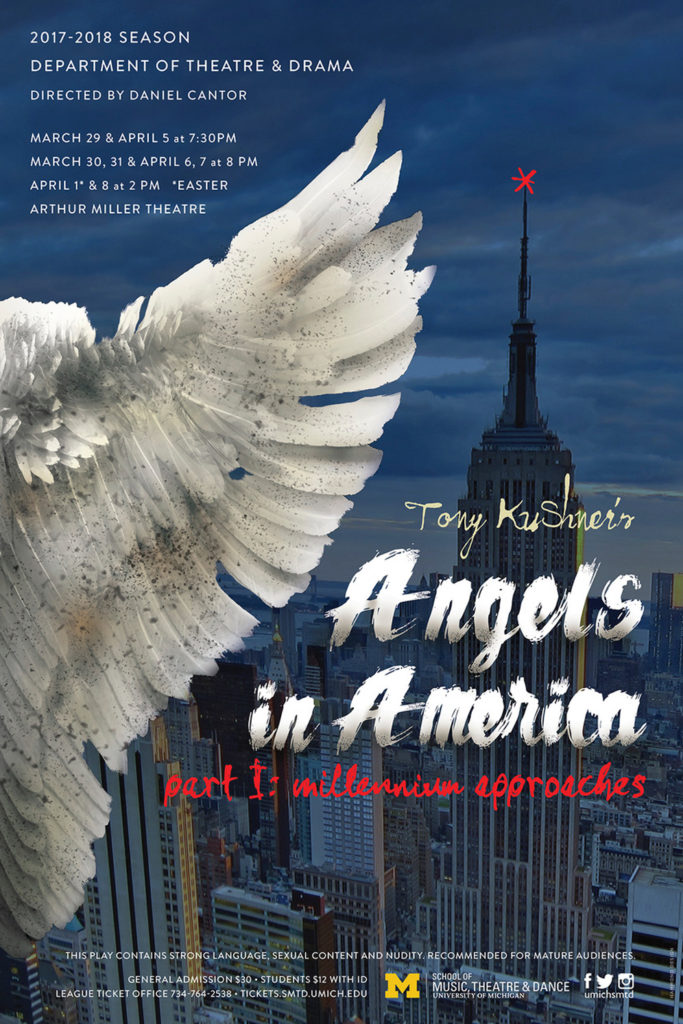 Angels in America
Part I: Millennium Approaches
a gay fantasia on national themes by Tony Kushner
Department of Theatre & Drama
March 29-April 8, 2018 • Arthur Miller Theatre

In the emerging AIDS crisis of the mid-1980s, the lives of five New York City residents collide as they grapple with love, sex, and disease during the conservative Reagan era. As their lives intersect in unexpected ways, they struggle to find solace and meaning, with a little supernatural intervention.
Debuted 26 years ago, Angels in America: Millennium Approaches, remains as controversial and influential as when it was first presented. Playwright Tony Kushner's first major work, Angels opened at the Eureka Theatre in San Francisco before moving to Broadway in 1993. A combination of serious and funny, real and magical, the play earned critical acclaim along with numerous awards including the Tony Award for Best Play and the Pulitzer Prize for Drama. Paired with the sequel, Perestroika, the two play series Kushner called A Gay Fantasia on National Themes would become a landmark for sociopolitical works. In reviewing the National Theatre's revival of the work (recently presented live on film by UMS), Ben Brantley of The New York Times stated "An expressly political response to a specific social crisis, Angels might seem to be too topical for immortality…But the climate of fear and anger Mr. Kushner summoned feels, if anything, even more pervasive today than it did when Angels first opened." Come experience this powerful groundbreaking work filled with wicked humor.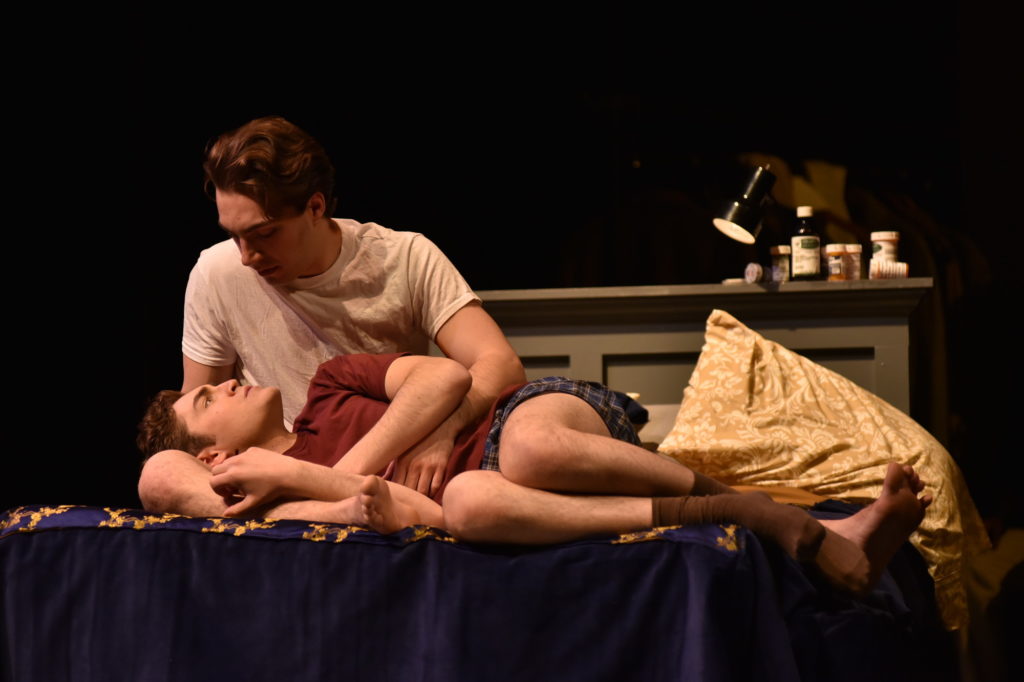 Artistic Staff
Director: Daniel Cantor
Scenic Designer: Vincent Mountain
Costume Designer: Christianne Myers
Lighting Designer: Christopher M. Simko
Sound Designer: Henry Reynolds
Projections Designer: Colin Fulton
Hair & Makeup Designer: Brittany Crinson
Stage Manager: Berrit Keller
Cast
Roy M Cohn, a successful New York lawyer and unofficial power broker / Prior 2: Sam Dubin
Joseph Porter Pitt, chief clerk for Justice Theodore Wilson / Prior 1 / Eskimo: Peter Donahue
Harper Amaty Pitt. Joe's wife, an agoraphobic with a mild Valium addiction / Martin Heller: Savanna Crosby
Louis Ironson, a word processor working for the Second Circuit Court: Jesse Aaronson
Prior Walter, Louis's boyfriend / Man in the Park: Jeffrey James Fox
Hannah Porter Pitt, Joe's mother, living in Salt Lake City / The Rabbi / Henry / Ethel Rosenberg: Morgan Waggoner
Belize, a registered nurse & former drag queen / Mr. Lies: Elyakeem Avraham
The Angel / Emily / Sister Ella Chapter / A Homeless Woman: Rennia Rodney
Percussionist: Nicole Patrick
Resources
[accordion title="From the Director"]
It's interesting, maybe ironic, that twenty-seven years after it premiered at the Eureka Theatre, Angels in America is experiencing a revival, with performances on Broadway and at theaters across the country. Ironic because its dominant theme is change: its inevitability and griefs, though its absolute necessity, too. Our relationship to this play – as a topical piece – surely is different now than it had been when it was being performed twenty-seven years ago. Certainly, like all great plays, Angels in America is both of its time and beyond it, and so withstands reiteration.
The iconography of Angels is as almost as old as human culture itself. What, then, to make of it exactly? In Act II, the character Joe Pitt makes the play's only direct reference to a specific ANGEL – it is God's angel from Genesis 32:22, an angel God sends to wrestle Jacob. Jacob must fight this angel alone, be crippled by it, and inevitably lose the fight. That is, God sends this Angel to remind us that in the end we must lose – that we are ultimately powerless in the face of the forces of life and death.
No other demographic in modern American history better understood fighting against overwhelming forces and insurmountable odds, in death's shadow, but imbued with the spirit of life, than the gay community in 1980s New York City. They fought that fight with great elan and humor. Indeed, Angels in America is a very funny play, epitomized by its central suffering figure, Prior Walter. Prior, though in great pain, never loses his wit. Even at the end, face to face with a confrontational Angel, perhaps about to die, he cracks a joke. Let's not forget that Kushner describes Angels as a "Gay Fantasia." So, while this play might be profound and painful, it is also fantastic, sort of like life on earth.
— Daniel Cantor
[/accordion]
Media
Program
Photos
[cycloneslider id="17-18-angels-in-america"]