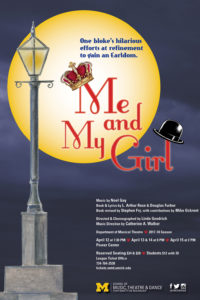 Me and My Girl
Music by Noel Gay
Book & Lyrics by L. Arthur Rose & Douglas Furber
Book revised by Stephen Fry, with contributions by Mike Ockrent
Department of Musical Theatre
April 12-15, 2018 • Power Center

The story is set in 1930s England. Thrilled to have found its long-lost heir to the Earldom of Hareford, the residents are equally horrified to discover that the heir is an unapologetically unrefined cockney bloke from the wrong side of London, Bill Snibson. According to the will, Bill's uncouth ways must change if he has any hope to earn the approval of the executors and gain the title. His Lambeth sweetheart, Sally, is immediately declared an 'inappropriate' match. Encouraged by Sally to take his rightful place, Bill's efforts at refinement don't always go as planned to hilarious and chaotic effect. As Bill strains to get up to snuff without his love, Sally's own efforts on his behalf may ultimately provide his acceptance into the nobility.
Me and My Girl, by Noel Gay, L. Arthur Rose and Douglas Furber, premiered in 1937 on London's West End. The successful musical comedy was one of the first to be broadcast live on the BBC and was faithfully adapted into the 1939 movie The Lambeth Walk. In 1984, a production with a revised script by British comedian and writer Stephen Fry, with contributions by Mike Ockrent (the show's director), opened to renewed critical acclaim in London. The musical earned two Olivier Awards, including Musical of the Year before transferring to Broadway in 1986 and winning three Tony Awards. The show features a number of Noel Gay's inescapably hummable tunes including "The Sun Has Got His Hat On," "The Lambeth Walk," "Leaning on a Lampost," and the title song. The New York Post declared, "It has humor, music, dancing, charm, wit and a deft expertise that takes your heart away." Filled with non-stop tomfoolery and unaffected sweetness, Me and My Girl is a frothy, escapist, old-fashioned musical comedy that is sure to delight.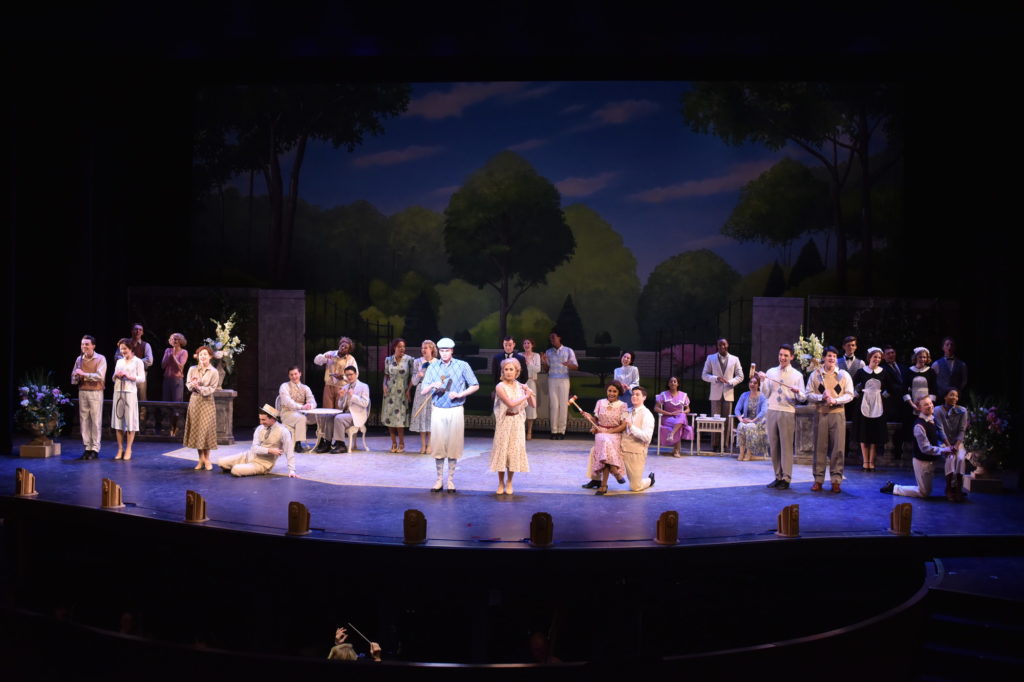 Artistic Staff
Director/Choreographer: Linda Goodrich
Music Director/Conductor: Catherine A. Walker
Scenic Designer: Arthur Ridley
Costume Designer: Jessica Hahn
Lighting Designer: Martijn Appelo
Sound Designer: Al Hurschman
Wigs, Hair & Makeup Design: Brittany Crinson
Dialect & Physical Comedy Coach: Malcolm Tulip
Stage Manager: Jenny Barretto
Cast
Lady Jaqueline Carstone: McKenzie Kurtz
The Hon. Gerald Bolingbroke: Ben Walker
Lord Battersby: Christopher Washington
Lady Battersby: Jessica Gomes-Ng
Herbert Parchester: Matt Sena
Sir Jasper Tring: Justin Showell
Maria, Duchess of Dene: Emilie Kouatchou
Sir John Treymayne: Griffin Binnicker
Charles Hethersett, The Butler: Charlie Patterson
Bill Snibson: Elliott Styles
Sally Smith: Sophie Madorsky
Pub Pianist/Telegraph Boy: Joe Serafini
Mrs. Worthington-Worthington: Nevada Koenig
Lady Diss: Sydney Shepherd
Lady Brighton: Leanne Antonio
Bob Barking: Spencer Croy
Mrs. Brown: Jo Ellen Pellman
Constable: Devon McCleskey
Suit of Armour: Noah Eisenberg
Ensemble: Emma Ashford, Zan Berube, Spencer Croy, Hugh Entrekin, Sam Faulkner, James Fobes, Olivia Hardy, Lauryn Hobbs, Shaye Hodgins, Natalie Kastner, Thomas Laub, Wilson Plonk, Commodore Primous, III, Conrad Sager, Alyah Scott, Jake Smith, Owen Smith, Lake Wilburn
Offstage Vocals: Travis Anderson, Blake Bojewski, Luke Bove, Chloe Castro-Santos, Lorna Courtney, Madeleine Eaton, Noah Eisenberg, Daelynn Jorif, Jack Mastrianni, Madison McBride, Neil McCaffrey, Andrew Plinio, Kaylie Wallace
Resources
[accordion title="About Me and My Girl"]
Me & My Girl opened at The Victoria Palace in London in 1937 starring the music hall legend 'Nipper' Lupino Lane. At first attracting little notice, the production gained success after a matinee performance was broadcast live on BBC radio following the cancellation of a sporting event. On May 1, 1939, a performance was televised from the theatre, one of the first times such a broadcast was made. The show ran for five years and was bombed out of two theatres. It was seen three times by the King George VI and its tunes went round the world. "The Lambeth Walk," is the only song ever to have a Times leader written about it (while dictators rage and statesmen talk all Europe dances to….. The Lambeth Walk!). Mussolini fell over whilst dancing to it. Hitler forbade the dance to be played unless Noel Gay signed a declaration that he had no Jewish blood; he refused. The musical was revived multiple times in the 1940s on the West End, directed by Lane, and again in 1952.
Gay's son, Richard Armitage, a successful impresario and agent, revived Me And My Girl, in London in February 1985. The 1985 revival featured the versatile actor Robert Lindsay as Snibson and Emma Thompson as Sally, a revised book, and two other Gay hits, "The Sun Has Got His Hat On" and "Leaning On A Lamp Post" interpolated into the score. An immediate success, the show closed in 1993. The production won two Olivier Awards: Musical of the Year and Outstanding Performance by an Actor in a Musical.
The revised Me and My Girl opened on Broadway in 1986, featuring Robert Lindsay and Maryann Plunkett. The musical ran for over 1,400 performances, one of New York's biggest hit for years. The production was nominated for 13 Tony Awards and won for Best Actor, Actress, and Choreographer (Gillian Gregory). It was also nominated for 10 Drama Desk awards, winning for Outstanding Book, Music, Actor, Featured Actress (Jane Summerhays), and Director (Mike Ockrent).
[/accordion][accordion title="In Acknowledgement"]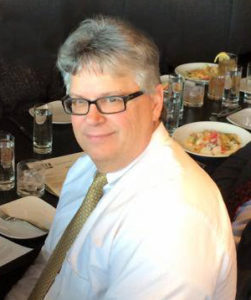 John B. Kennard, Jr., who passed away on March 28th after a long battle with cancer, was known as the Director of Finance and Administration who kept orderly management at the University Musical Society (UMS) for nearly thirty years. Not as widely known was his quiet but unwavering support to continue the decades-old administrative cooperation, in areas such as ticketing and facilities management, between UMS and the School of Music, Theatre & Dance.
John believed that a strong collaboration between the two organizations was best for arts lovers in southeastern Michigan and for the students on campus. John could be a tough bargainer to others, but when dealing with SMTD, he always presented a reasonable proposal right from the start. He did not try to gain an advantage, but sought to strengthen the partnership for the public good. John was a person of his word, and he stuck with an agreement through thick and thin in spite of other financial pressures. John's legacy is a stable administrative environment in which creativity and collaboration can flourish between the two organizations.
— Jeffrey Kuras, Director, University Productions
[/accordion]
Media
Program
Videos
Photos
[cycloneslider id="17-18-me-and-my-girl"]