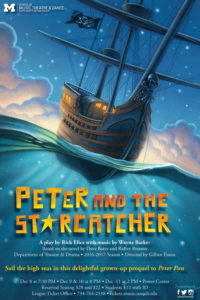 Peter and the Starcatcher
a play by Rick Elice with music by Wayne Barker
Based on the novel by Dave Barry and Ridley Pearson
Department of Theatre & Drama
December 8-11, 2016 • Power Center

Sail on the high seas for a life-changing adventure in this delightful grown-up prequel to Peter Pan. Lord Aster and his precocious thirteen-year-old daughter Molly set sail for the Kingdom of Rundoon on a secret mission for the Queen of England; they must destroy a trunk filled with starstuff. While her starcatcher father journeys with the real treasure on a swift ship, Molly and a decoy trunk are placed on a slower, safer ship, The Never Land. Onboard, Molly meets three young orphans led by a wary, unnamed boy. When she discovers that the trunks have been switched, Molly and her new pal gallantly set off to fulfill the mission themselves. Soon all the elements of the classic story appear – a gang of pirates and their villainous captain, menacing island natives, and a crocodile. The nameless orphan slowly learns to trust the stalwart Molly, becoming the enduring and beloved hero who will never grow up.
Based on the 2006 instant best-selling book by comedian Dave Barry and novelist Ridley Pearson, Peter and the Starcatcher debuted at the la Jolla Playhouse in 2009. Playwright Rick Elice, know for his books for Jersey Boys and The Addams Family, had free reign to translate the book to the stage and wed the contemporary tone of Barry and Pearson with J.M. Barrie's irreverent sense of humor. The show embraces an old-fashioned story-theater tradition, inviting the audience to willingly imagine elements of the fast-paced wildly theatrical story. The show opened on Broadway in 2012 starring U-M alumna Celia Keenan-Bolger as Molly, and won five Tony Awards. Filled with treacherous battles, hilarious dialogue, and surprising sentimentality, Peter and the Starcatcher is a spirited adventure that is "a blissful exercise in make-believe." (Ben Brantley – New York Times)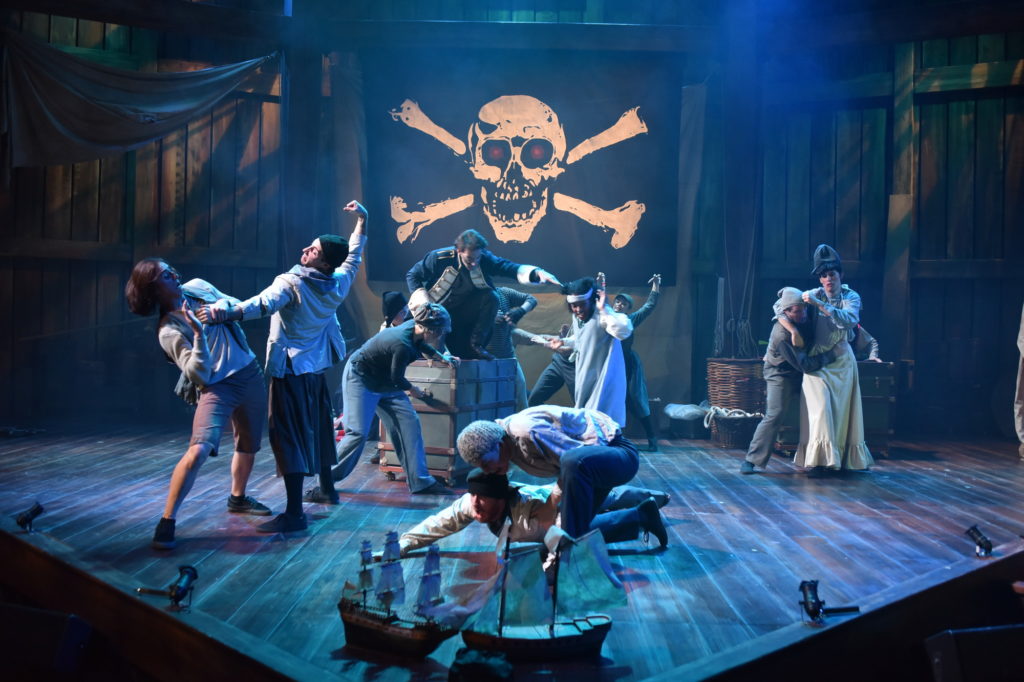 Artistic Staff
Director: Gillian Eaton
Scenic Designer: Vincent Mountain
Costume Designer: Christianne Myers
Lighting Designer: Janak Jha
Sound Designer: Al Hurschman
Fight Director: Robert Najarian
Vocal Coach: Annette Masson
Singing Coach: Naz Edwards
Movement Coach: Tzevta Kassabova
Music Directors: Brian E. Buckner, James Fischer, Riley Palmer
Assistant Director: Martin McGuire
Stage Manager: Jacqueline Saldana
Cast
Slank: Jack Alberts
Prentiss: Brendan Alpiner
Molly: Kourtney Bell
Mrs. Bumbrake: Sam Bell-Gurwitz
Fighting Prawn: Erin Croom
Hawking Clam: Savanna Crosby
Captain Scott: Sten Eikrem
Black Stache: Jeffrey James Fox
Teacher: Sara Frost
Boy: Brooks Inciardi
Smee: Sam Kassover
Grempkin/Mack/Sanchez: Jonathan Keammerer
Lord Aster: David Newman
Ensemble: Chris Van Winkle
Alf: Jackson Verolini
Ted: Aaron Weinstein
Musicians: Brian E. Buckner, James Fischer, Riley Palmer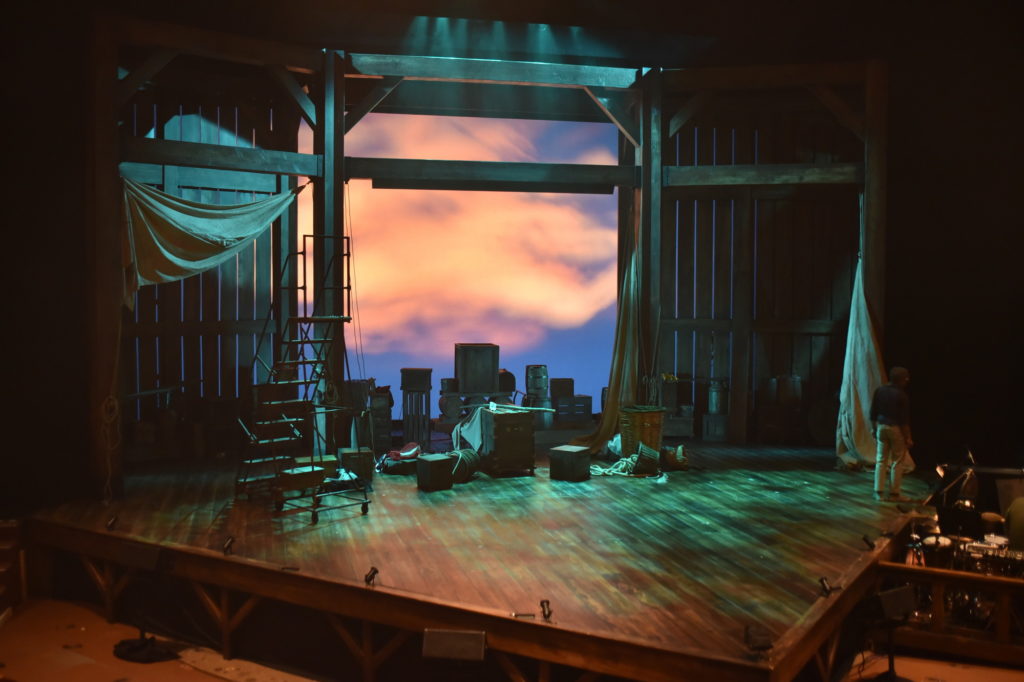 Resources
[accordion title="From the Playwright"]
This new play about our hero of old, this boy Peter, resonates with us all, and with the glorious actors and clever designers who gave it life, first of all, in La Jolla, California, then at New York Theatre Workshop, and now on Broadway. I see the characters emerging out of our island, our Neverland. Wendy has not yet appeared. Instead, we have Molly, our hero, in a time before girls were encouraged to be heroes; a generation before Wendy, name or girl, is born. We have no Captain Hook either, or rather, we have no Hook yet. Instead, we have the pirate who shall become Hook, but not until we're through with him. He, whom the pitiful pirate kingdom calls Black Stache. We have our orphans, perpetually lost, though not quite yet Lost Boys. We have natives and mermaids and a perilously hungry crocodile. Even Tinker Bell reaches our island before we leave it, because she could not stay away. And we have a feral creature, bent low from incessant beating, afraid of his own shadow—the nameless boy at the center of our story. How ironic that he learns what it is to be a man over the course of our play, when he's destined to stay a boy forever… When I was a boy, I wished I could fly, and the notion of being a boy forever was pure delight. No work, no chores, no responsibility, no home, no sorrow. Now that I'm in the middle of my life, I understand what I'd have missed had I never grown up, or fallen in love, or stood my ground, or lost a battle—or written a play… James Barrie found his character by embracing the notion of never growing up. I found mine by realizing I had.
– Rick Elice, 2012
---
When I came on board as playwright, [directors] Roger Rees and Alex Timbers, and Disney's brilliant dramaturg, Ken Cerniglia, had already hit on a great organizing principle. Act One would take place on board two ships at sea—all cramped quarters, tiny cabins, claustrophobic, dark, wet, sinister. Act Two would take place on a tropical island, with bright sky and big, open spaces. In order to create a simple, stark environment in which to tell a young person's story in an adult, muscular and surprising way, the directors embraced the style of Story Theater, or Poor Theater—a favorite technique of Alex's and the trademark of Roger's great Royal Shakespeare Company triumph, The Life and Adventures of Nicholas Nickleby. The dozen actors would play everyone and everything— sailors, pirates, orphans, natives, fish, mermaids, birds … even doors, passageways, masts, storms, jungles. They would also narrate action and memory, giving each of them a privileged relationship with the audience. This would encourage the audience to be more than spectators; it would invite them to play along, to participate, to imagine … I aimed to write a play seasoned with the contemporary, irreverent tone of Dave and Ridley's Peter and the Starcatchers and the stylistic flourishes employed by J. M. Barrie a hundred years earlier for the original Peter Pan—high comedy and low, alliteration, puns, broad physical gags, songs, meta-theatrical anachronisms, sentiment delivered so deftly that the end of the play breaks your heart. My challenge would be to write this new play in such a way that it merged the two disparate styles … The marriage of classic and modern in the writing brings the Story Theater aspect of the play into sharper focus. And the Story Theater style gave me the freedom to create a vast landscape of far-flung places, physical and emotional. And the wings to take you there.
– Rick Elice, 2014
[/accordion]
Media
Program
Photos
[cycloneslider id="16-17-peter-and-the-starcatcher"]