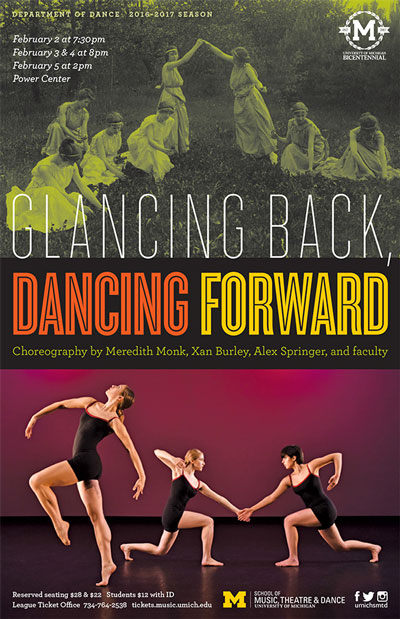 Glancing Back, Dancing Forward
choreography by Meredith Monk, Xan Burley, Alex Springer, and faculty
Department of Dance
February 2-5, 2017 • Power Center

As part of the commemorations of U-M's bicentennial year, Glancing Back, Dancing Forward celebrates the long presence of dance on campus through a fast-paced collage of dance works old and new. Faculty choreographers Missy Beck, Amy Chavasse, Bill DeYoung, Peter Sparling, Sandra Torijano, and Robin Wilson contribute short pieces that acknowledge Michigan's distinctive dance tradition of experimentation and growth. With music ranging from Stravinsky to Reich to Piazzolla, this collage is a thrilling collaboration of dance styles. Alumni Xan Burley and Alex Springer return to create Spelled Like the Dawn, set to John Luther Adams's vivid songbirdsongs. In addition to performances on stage, Dance Department chair Jessica Fogel curates a lobby installation chronicling the history of dance at the University.
Highlighting the concert are three excerpts from Quarry by National Medal of Arts recipient Meredith Monk (watch parts of the work on her YouTube channel: mmonkhouse.) First produced in 1976 at Brooklyn Academic of Music, Quarry confronts the paradox of human extremes during wartime. The work won a special citation at the Obie Awards that year. "Meredith Monk's strange and beautiful creations are mixtures of music, dance, and theater. Images, both visual and aural, are arranged and paced with masterly theatrical craft to produce works that are strikingly original and hauntingly effective. (John Mueller, Dance Magazine)." This restaging by former company member Paul Langland marks only the second time parts of the dance have been performed since its premier.
Artistic Staff
Artistic Director: Peter Sparling
Lighting Designer: Mary Cole
Costume Coordinator: Suzanne Young
Sound Engineer: Roger Arnett
Stage Manager: Sara Burgess

Repertoire & Performers
[accordion title="In the Lobby" newtitle="In the Lobby"]
Glancing Back, Dancing Forward:
A Dance and Photography Installation
Choreography by Jessica Fogel, in collaboration with the dancers
Duet clogging routine by Susan Filipiak
Phrases from Doris Humphrey's Water Study taught by Jillian Hopper
Exhibit Design by Stephanie Brown, Elizabeth Benedict, and Jessica Fogel
A musical collage that includes excerpts from:
"12 Graz Waltzes, D.924, Op.91, No.4" by Franz Schubert
"Albumblatter, Opus 124, No 16, Schlummerlied in E Flat Major" by Robert Schumann
"Double Portrait" by David Borden
"Eight Pieces for Piano, Op. 88, Burlesque" by Alexander Tcherepnin
"I Want to Go Back to Michigan" by Irving Berlin
"Mountain Belle Schottische" by Charles Kinke
Dancers: Shea Carponter-Broderick, Katrina Granger, Johanna Kepler, Emma Lambert, Jolie Moray, Claudia Ronchetti, Alexis Rosenstrauch, Maya Tinoco, Taylor Valadez, Alyssa Winnie
Notes: Inspired by the photographs and artifacts on exhibit, performers reenact creative investigations from dance courses dating from 1909 through the 1930s — an early history of dance at U-M which is not well known. Elements of courses in Swedish gymnastics, clogging, playground games and dances, aesthetic dancing, and natural dancing are on display. The piece includes phrases from Water Study, an iconic 1928 work choreographed by modern dance pioneer Doris Humphrey, first performed by dance students at U-M in 1934 at the Lydia Mendelssohn Theatre. Within the performance, the dancers bring activities into the present, performing studies they created in their composition course in Fall 2016.
Acknowledgments: Special thanks to Roger Arnett, the Bentley Historical Library, Glenn Bering, Laura Brinker, Kirk Donaldson, Doug Edwards, Sean Hoskins, Amanda Mengden, Peter Smith, Kerianne M. Tupac, and Dianne Widzinski.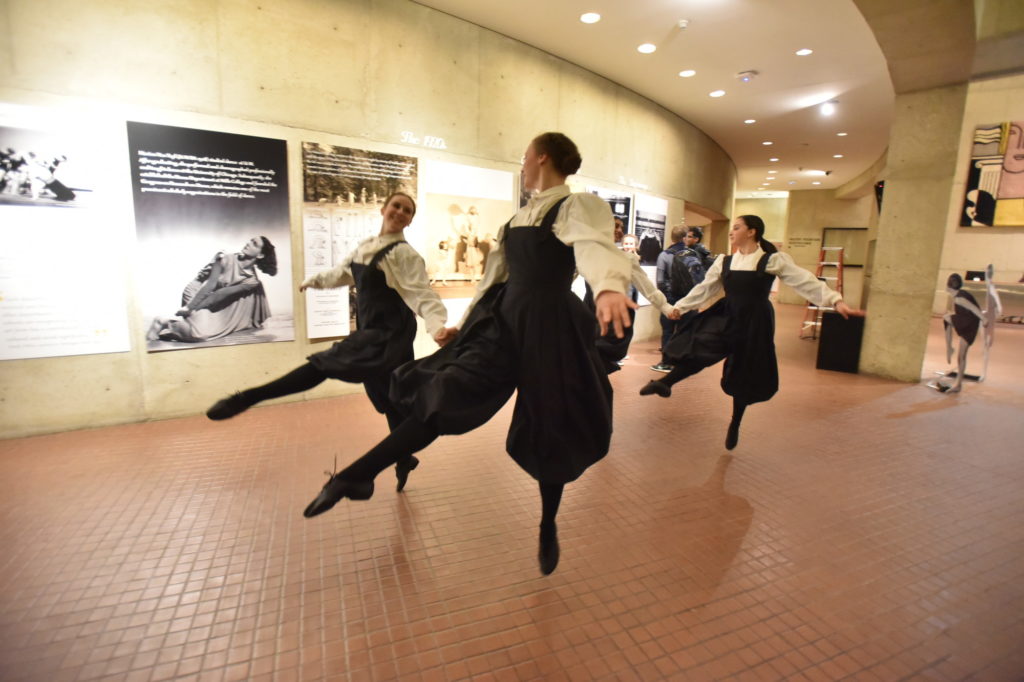 [/accordion][accordion title="Program Part I"]
Faculty Collage
200@200
Video by Peter Sparling
Music: "Trane" by Thollem McDonas and Rick Rivera
Choreographer's note: Thanks to 50 years of U-M dancers who sent me their 10-second iPhone video signatures from near and far to make this video tribute montage for U-M's bicentennial.
Excerpt from Ndebele (2003)
Choreography by Robin Wilson
Music: "Drumming Part IV" by Steve Reich
Dancers: Lauren Dysarz, Cailin Ferguson, Alyssa Gorman, Casey Huhndorff, Mackenzie Larrance, Allison Maebius, Amanda Shah, Kaitlyn Soloway, Audrey Vogelsang, Emily West, Craig White, Abigail Worth, Meredith Ziegelmeyer
Choreographer's note: The dance is named for the Ndebele women of Zimbabwe and inspired by the elaborately painted interiors and exteriors of their homes and encampments.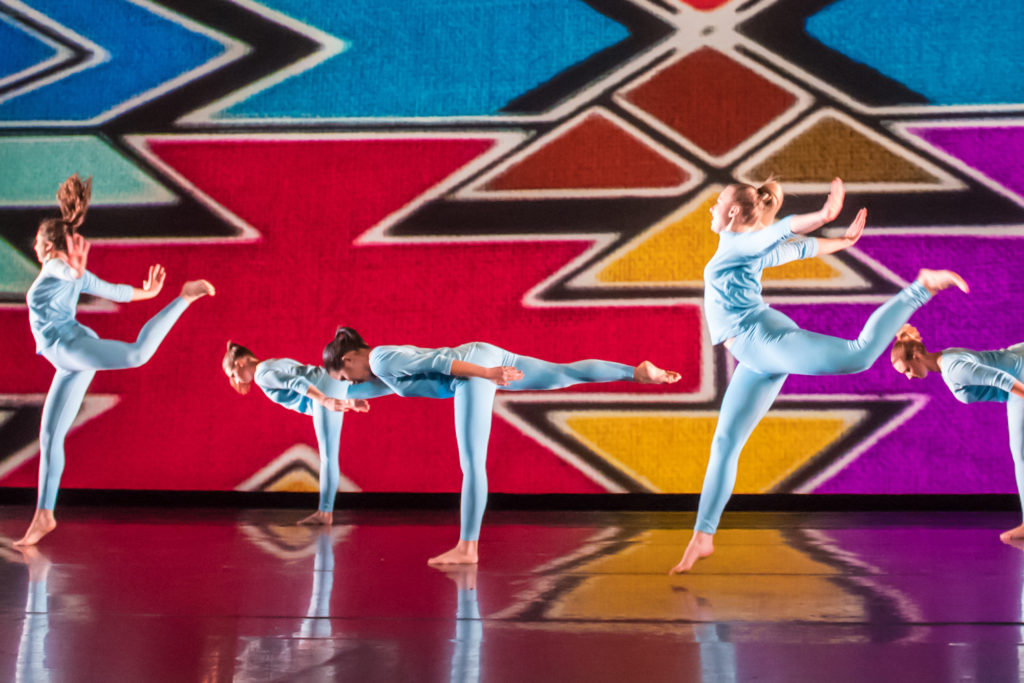 The Reveries (2006)
Choreography by Missy Beck
Rehearsal Coach: Amy West
Music: "Six Piano Pieces: Andante Cantabile" by Leslie Bassett
Dancers: Luna Lemus-Bromley, Johnny Mathews III
Choreographer's note: Unlike artists who don't tinker with their work once complete, I am a hopeless "tinker-er." When revamping one of these living entities, I am challenged to create new material that both honors the original work and reflects my current creative voice. I first created this duet in 2006, as part of a larger work set to U-M composer Leslie Bassett's Six Piano Pieces – an elegant and haunting work with deceptive simplicity.
In each of the four iterations I've done of this duet, the title, music, costumes, and dancers changed. I pull inspiration from my dancers and their unique chemistry. If something does not suit the new pairing, I'll alter that material in conjunction with the dancers. Consequently, the duet is never the same work twice but instead is a variation on a theme. I vividly remember hearing that artist Pierre Bonnard couldn't stop fiddling with his finished paintings, "He was known to go to great lengths to rework a painting, 'using friends to distract guards in museums, or turning up at collectors' houses with a small paint-box in his pocket." What you're seeing today is me with my paint-box in my pocket.
Impetus (2017)
Choreography by Sandra Torijano in collaboration with the dancers
Sound Design: Carolina Heredia
Makeup Design: Emily Soong
Video Design: Sandra Torijano and Sean Hoskins
Music: "Escualo (Shark)" by Astor Piazzolla
Dancers: Michaela Esteban, Danielle (Dee Dee) Fattore, KC Shonk, Emily Soong, Kandis Terry, Kiara Williams, Florence Woo
Choreographer's note: Impetus: Etymology from Latin, the force of energy with which the body moves. In this work, I represent the force and spirit of the will when life challenges us to be strong; the decision to be present with passion and power without diminishing vulnerability and tenderness. Thanks to the cast for all their hard work and Peter Sparling.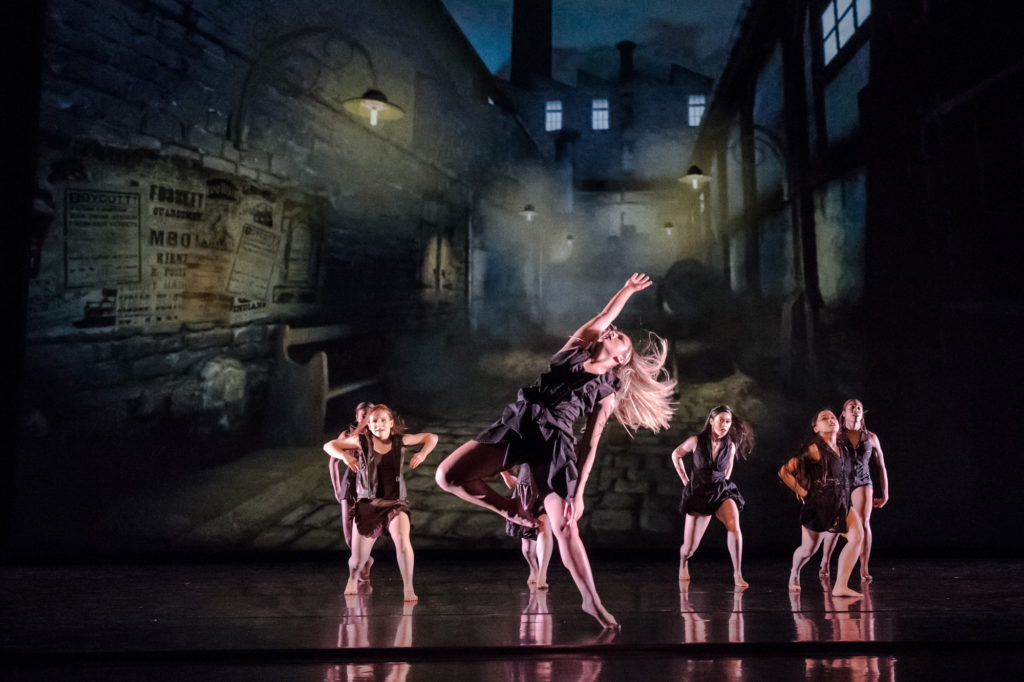 Motorium (2017)
Choreography by Amy West
Assistant to the Choreographer/Rehearsal Coach: Judy Rice
Music: "Widmung" by Robert Schumann, arranged by Franz Liszt
Pianists: Sonya Belaya (Thursday/Friday), Annie Jeng (Saturday/Sunday)
Dancer: Soultana Schiavi
Understudy: Amy Wensley
Choreographer's note: In 1840, Robert Schumann composed the song "Widmung" as a love song to his wife for their wedding day. Franz Liszt later transcribed the song into a virtuoso piano solo. Both born in the same decade as U-M's founding, Liszt and Schumann's work was chosen in celebration of the Bicentennial. Motorium (the area of the brain involved in movement), is a look back to our roots in ballet, which then evolves into a more contemporary style. This progression is an artistic and visual parallel to the evolution of the 200-year history of U-M.
Motorium is my debut work for the Department's Power Center concert. I am grateful to all of my colleagues for their support and encouragement over the years, with a special shout out to Angela Kane, Peter Sparling, Jessica Fogel, and Mary Cole. A special thanks also to Judy Rice for her input and ideas, as well as Soultana Schiavi who was the muse for the coming together of this work. A thank you to Desmond Richardson for his artistic input and coaching. I am grateful to Christian Matijas Mecca who supported my desire for live music and arranged for the pianists.
Double Canon; Epitaphium (2017)
Choreography by Bill De Young
Music: "Double Canon for String Quartet" and "Epitaphium" by Igor Stravinsky
Dancers: Chloe Gonzales, Madeline Joss, Izzi Wayner
Choreographer's note: The choreography is informed by two brief pieces composed by Igor Stravinsky; he honors those who were good friends and patrons of his work at their passing.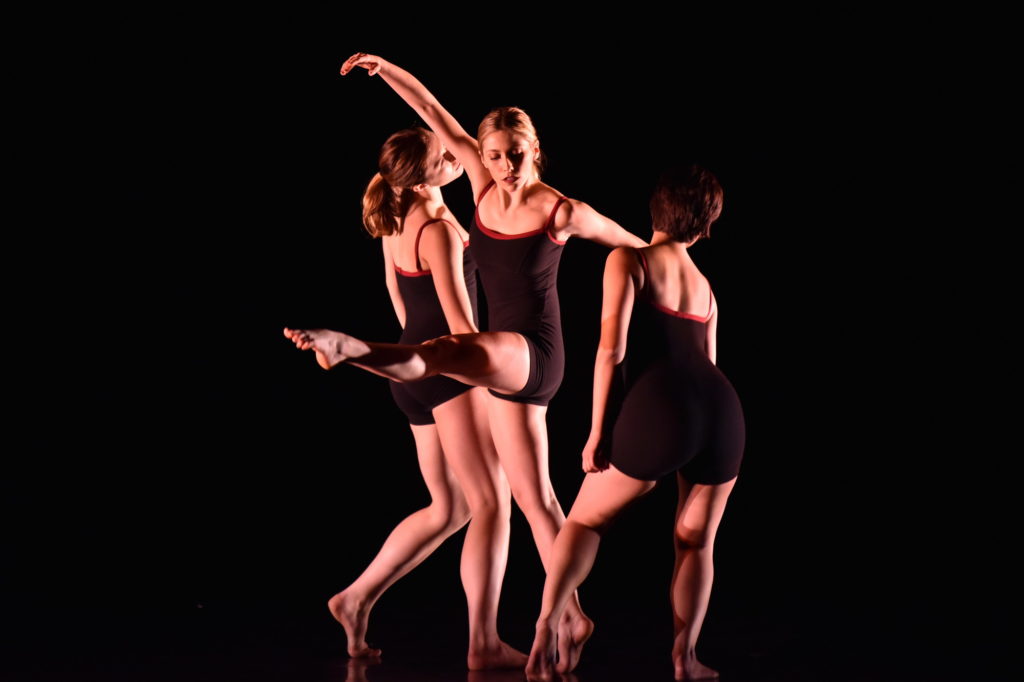 I Want to Put My Arms Around You (2017)
Choreography by Amy Chavasse in collaboration with the dancers
Music: "You Ain't Reeling" by Mind Over Mirrors
Dancers: Sally Butin, Claire Crause, Danielle Evasic, Melanie Holt, Hannah Marcus, Soultana Schiavi
Choreographer's note: Warm thanks to the cast, my collaborators for this three-minute adventure. I want to put my dancing arms around you.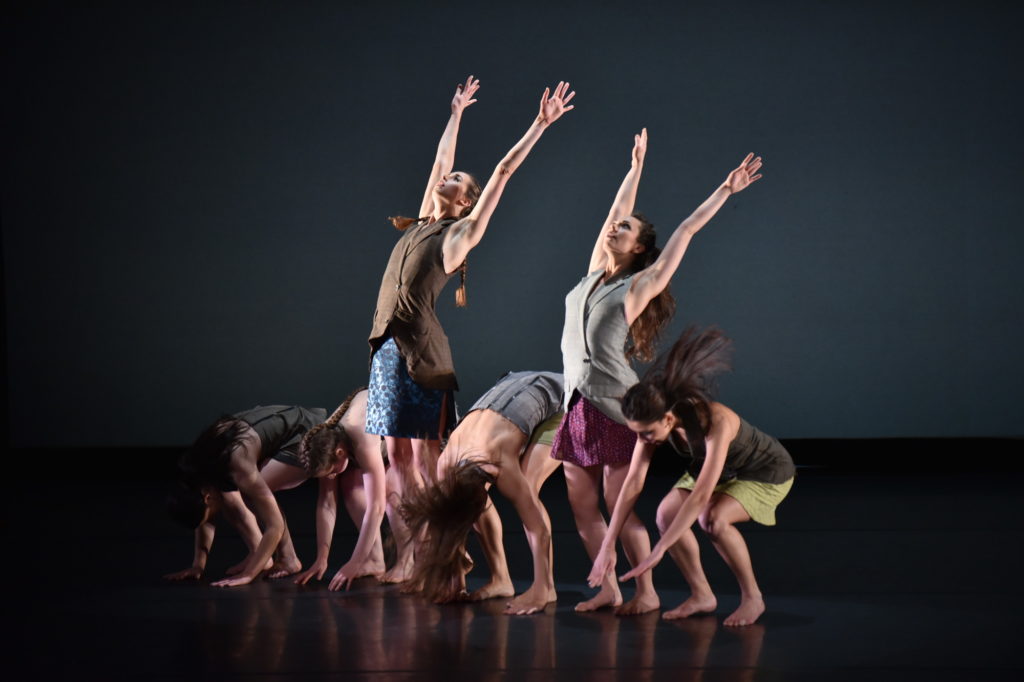 MuNvuka (2017)
Choreography by Jean-Claude Biza (Sompa)
Music: Traditional Kongolese
Musicians: Billy Noah, Jean-Claude Biza (Sompa), Titos Sompa
Dancers: Danielle (Dee Dee) Fattore, Alyssa Gorman, Grace Nagelvoort, Emily Soong, Emily West, Abigail Worth

Choreographer's note: A celebration of different dances from the south, west, and north of the Kongo.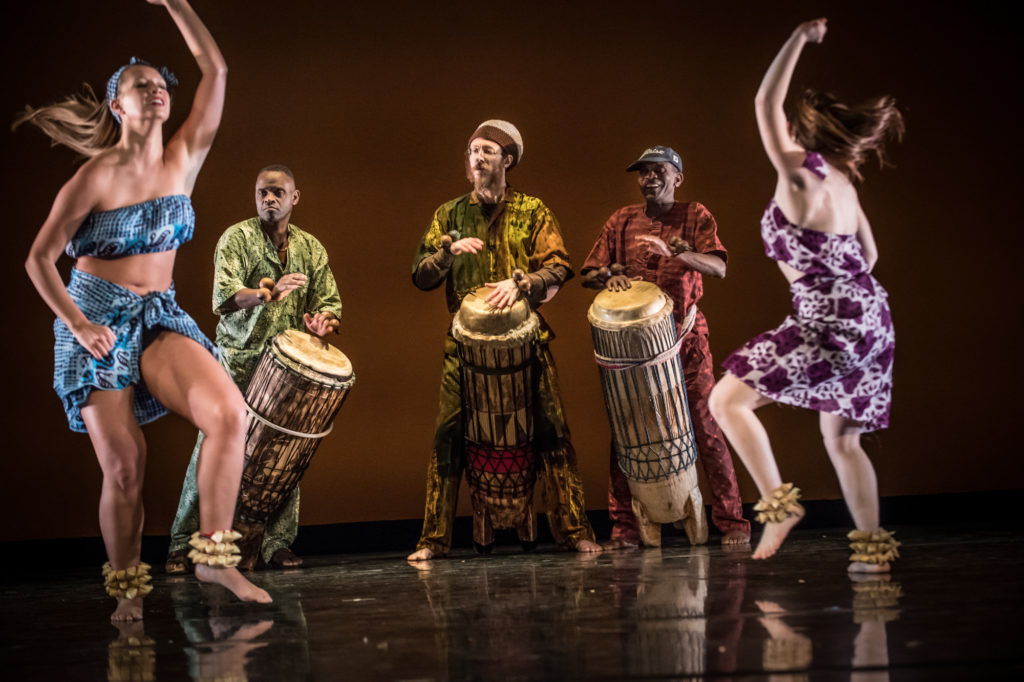 [/accordion][accordion title="Program Part II"]
Suite from Quarry: an opera in three movements (1976)
Choreography and music by Meredith Monk
Restaged by Paul Langland
I. Dictator's Speech
II. Quarry (1975) short film
III. Rally
Dictator: Karl Ronneberg (Thursday/Friday), Al Evangelista (Saturday/Sunday)
Henchman: Johnny Mathews III (Thursday/Friday), Karl Ronneberg (Saturday/Sunday)
Rally: Sophie Allen, Alayna Baron, Al Evangelista, Gretel Falkenstein,
Abbi Frasco, Erica Gavan, Chloe Gonzales, Katrina Granger, Spencer Haney, Madeline Joss, Johanna Kepler, Thomas Kratofil, Mackenzie Larrance, Sadie Lehmker, Allison Maebius, Johnny Mathews III, Hannah Marcus, Kate Montero, Molly Paberzs, Kasia Reilly, Alexis Rosenstrauch, Sheli Ruffer, Sydney Schiff, Kaitlyn Soloway, Fabiola Torralba, Izzi Wayner, Amy Wensley, Craig White, Kiara Williams, Florence Woo, Meredith Ziegelmeyer
Spirit of War: Paula Modafferi
Choreographer's note: "Quarry: an opera in three movements" composed, directed and choreographed by Meredith Monk, is a mosaic of music, images, movement, dialogue, film, sound and light, and premiered at La Mama ETC in New York City in 1976. It is considered by many to be a masterwork of the 20th Century, with revivals taking place in 1985 and 2003. Monk calls the three movements of the OBIE Award-winning work "Lullaby," "March," and "Requiem." "Quarry" centers on the anguished reverie of a child sick in bed (the role Monk originated), a dream that gradually mutates into a nightmare. The child's illness is a metaphor for the darkness of the world at war.
As described by Alan Kriegsman of The Washington Post in 2003, "'Quarry' immerses us in the atmosphere and tenor of the period of World War II, the emergence of Nazism, and the Holocaust…by [evoking] feelings, imagery and sensuous characteristics that are associated with these roots through the power of Monk's multimedia but non-literal treatment. What is most disturbing and urgent about seeing 'Quarry' today is that it resonates with the most fearful anxieties and perils of our time."
Suite from "Quarry" is taken from the second movement, "March."
Spelled Like the Dawn (2017)
Choreography by Xan Burley and Alex Springer with the performers
Rehearsal Director: Jillian Hopper
Music: "Mourning Dove" and "Joyful Noise" by John Luther Adams
Dancers: Alayna Baron, Claire Crause, Julia Dooley, Michaela Esteban, Danielle (Dee Dee) Fattore, Yoshiko Iwai, Sadie Lehmker, Beynji Marsh, Johnny Mathews III, Robert Maynard, Paula Modafferi, Selena Moeljadi, Maggie O'Connor, Molly Paberzs, Kasia Reilly, Alicia Samson, Ellen Wallace, Izzi Wayner
Understudy/Swing: Katrina Granger
Choreographer's note: Spelled Like the Dawn was made in collaboration with our incredible cast of performers during the week of the 2016 election. The title represents the promise of waking up, both to the process of mourning and to the bright light of morning – a bright, but ever-challenging future undertaken by the generations alive now and those yet to come. We felt especially hopeful in the midst of our cast and their fellow classmates – people tirelessly embodying compassion, empathy, and the will to keep moving despite despair. Together we made a work that touches at times on the collective force of forward motion, on relentless turmoil, on willful convergence.
We are endlessly grateful to these young folks who generously came to each rehearsal with renewed passion, for their constant inquiry as artists and for their unwavering courage. It was a special gift to see the light of creative thought alive and well at our alma mater. We thank, with deep love and admiration, our professors who once instilled in us the fire to make art and continue to inspire us with their devotion to this field. We got to come home, and coming home was transformative.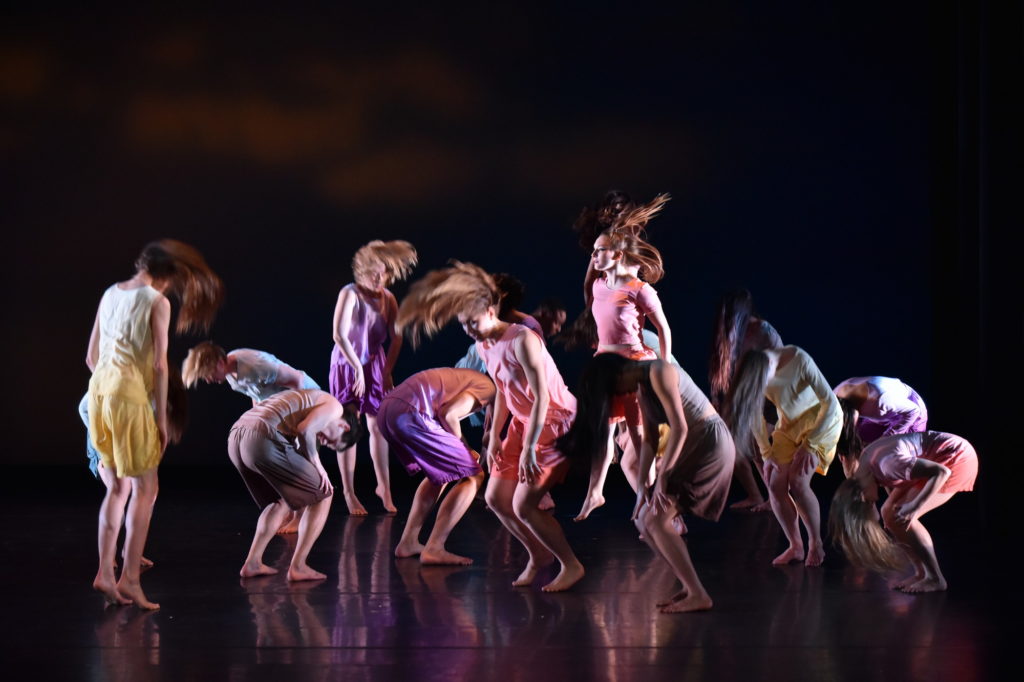 [/accordion]
Sponsors
Lobby installation sponsored by the University of Michigan Bicentennial
Resources
[accordion title="About Glancing Back, Dancing Forward"]
It's not often a 200th anniversary comes around, and what better way to celebrate than to dance? As displayed and embodied in Dance-Department-chair Jessica Fogel's lobby installation, dance at U-M has a long history to celebrate. Dance had its beginnings at Michigan in women's physical education and aesthetic dancing courses. As modern dance took hold through the 30s, 40s, and 50s and began to build its legacy as one of the great American inventions of the 20th century, U-M became an outpost and stopping point for many dance luminaries and companies. The old Barbour Gym housed a thriving population of eager dancers and invested faculty. When the Power Center was completed in 1971, the dance program graced its stage with its annual performances of faculty and guest choreographers' works. By 1974, Dean Paul Boylan and U-M Regents deemed us worthy of a degree-granting department and a new building under the aegis of the School of Music.
Forty-three years later, we have cause to be both celebratory and newly committed to a deeper engagement with the world, and how the arts speak to global issues, events and the movements of isolated communities or entire populations. The Faculty Collage portion of this year's concert features our stellar and eclectic faculty with an array of dance offerings ranging from elegiac and meditative to passionate and exuberant. We showcase the extraordinary talents of two alumni in the new creation by Xan Burley & Alex Springer, recipients of our School's 2015 Emerging Artist Award. Together with their cast, they bring to the stage a different generational landscape, with hybrid movements and innovative choreographic construction that challenge the cast and the audience to look at human motion anew.
The centerpiece of Glancing Back, Dancing Forward is Meredith Monk's searing and disturbing indictment of a not-so-distant totalitarian state and the toll it takes on its inhabitants. A demagogue dictates to his followers, and the masses morph in a highly controlled rhythmic frenzy, first rallying to his cause then becoming doomed victims awaiting their fate.
Dance has always lifted up a lens to the world: a prism of its glorious colors, refined gestures and exhilarating expressions, as well as a reflection of its darker side and of the full spectrum of the human condition. Our faculty's mentors and inspirations — Martha Graham, José Limón, George Balanchine, Jerome Robbins, Pina Bausch, Bella Lewitzky, Donald McKayle, Robert Ellis Dunn, Elena Guttiérrez, Dianne McIntyre, and Susan Zaliouk, to name a few — set the standard of commitment and aspired towards making dance a legitimate art form. We proudly carry that legacy into U-M's third century.
— Peter Sparling, Artistic Director
[/accordion]
Media
Program
Video