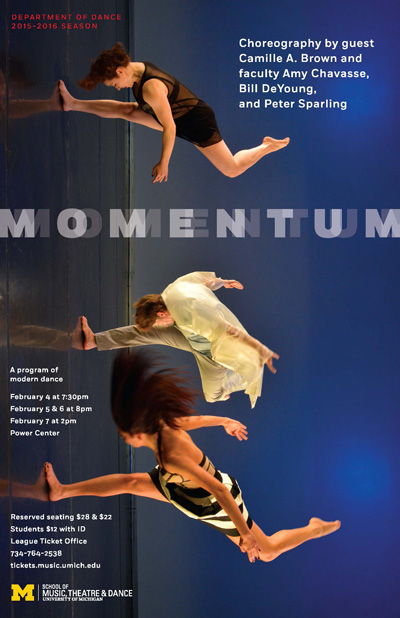 Momentum
choreography by guest Camille A. Brown and faculty Amy Chavasse, Bill DeYoung and Peter Sparling
Department of Dance
February 4-7, 2016 • Power Center

Momentum combines four new dance works revealing four distinct visions of motion. New-York-City based guest Camille A. Brown is a prolific choreographer who has achieved multiple accolades and awards for her daring works including a 2015 Doris Duke Performing Artist Award. The New York Times declared her 2010 City of Rain "Impressive…its dynamics are urgent, its multiplicity of incident always striking. The dance sometimes drives hard against the more melancholy passages of Jonathan Melville Pratt's original score Two Way Dream and sometimes soft against its crescendo. Every aspect of the dance-making here is thoroughly accomplished." Amy Chavasse, in collaboration with the dancers, explores myth making (the misleading kind) to reveal unanticipated outcomes. Against the music of Lonnie Holley, Chavasse's work resets the stage with dioramas to alter perceptions of time and location. In Peter Sparling's Big Weather, Busby Berkeley meets complex systems theory. The action on stage charts the adaptive strategies of a group when sudden stasis or unexpected shifts threaten to alter their flow. Bill DeYoung constructs a dance mix, using recycled choreography as material to be sampled, sliced and diced.
Artistic Staff
Artistic Director: Jessica Fogel
Stage Manager: Kayleigh Laymon
Repertoire & Performers
[accordion title="Big Weather (2016)"]

Choreographed by Peter Sparling in collaboration with the cast
Costume Design: Suzanne Young
Video Design: Peter Sparling
Lighting Design: Mary Cole
Music: Excerpt of "Timber" by Michael Gordon, performed & recorded by the U-M Percussion Ensemble, directed by Joseph Gramley
Ensemble Members: Julian Bridges, Christopher Floyd, Shane Jones, Patterson McKinney, David Newton, Chelsea Tinsler
Dancers:
Sophie Allen, Anthony Alterio, Claire Crause, Danielle Evasic, Cailin Ferguson, John Mathews III, Maeve McEwen, Margaret O'Connor, Emily Soong, Kandis Terry, Irene Vandenberghe, Audrey Vogelsang, Izzi Wayner, Amy Wensley, Emily West
[/accordion][accordion title="Cheating, Lying, Stealing (2016)"]
Choreographed by Bill DeYoung
Scenic Design: Kasia Mrozewska
Costume Design: Suzanne Young
Lighting Design: Mary Cole
Music: "Cheating, Lying, Stealing" by David Lang
Dancers:
Julia Dooley, Michael Erickson, Alyse Farrar, Danielle (Dee Dee) Fattore, Alyssa Gorman, Mackenzie Larrance, Celina Lindland, Grace Nagelvoort, Riley O'Donnell, Lena Oren, Abigail Worth, Meredith Ziegelmeyer
[/accordion][accordion title="Goodbye to Wayward Flesh (2016)"]

Choreographed by Amy Chavasse in collaboration with the cast
Scenic Design: Kasia Mrozewska
Costume Design: Jean-Luc Deladurantaye
Lighting Design: Mary Cole
Asst. to the Choreographer: Charles Gushue
Sound Design & Arrangement: Simon Alexander-Adams
Music: "Mind On" and "Sun and Water" performed by Lonnie Holley
Dancers:
Adriana Allman, Efrén Cruz Cortés, Layla El-Khoury, Michaela Esteban, Charles Gushue, Gabriella Gutt, Melanie Holt, Madeline Joss, Monica Miller, Paula Modafferi, Callie Munn, Sheli Ruffer, Soultana Schiavi, Ellen Wallace, Kiara Williams
Choreographer's Note:
Beginning with a few fledgling and wavering ideas about what might happen in a strange diorama, a sense of movement language and situations emerged. The dancers and I built this dance from our time together in rehearsals – making it from scratch. From slivers of desire and imagination – my own and from the cast, we shook it out in the studio and tried out all kinds of possibilities. I made it clear that I love rehearsing – the most underrated and beautiful assignment there is, and hope that I passed this along to the performers. Most importantly, we had funny conversations, made up names for things, worked hard, buckled over and laughed a lot.
[/accordion][accordion title="City of Rain (2010)"]
Choreographed by Camille A. Brown
Restager: Mayte Natalio
Rehearsal Director: Robin Wilson
Lighting Design: Burke Wilmore, re-created by Mary Cole
Costumes: Carolyn Meckha Cherry, re-created by Suzanne Young
Music composed by Jonathan Melville Pratt
Dancers:
Anthony Alterio, Beynji Marsh, Paula Modafferi, Selena Moeljadi, Riley O'Donnell, Lena Oren, Michael Parmelee, KC Shonk, Annelise Senkowski, Irene Vandenberghe
Understudies: Danielle (Dee Dee) Fattore, John Mathews III
[/accordion]
Resources
[accordion title="From the Chair"]
Dancers are in constant negotiation with gravity, giving in to and resisting its force. They ride arcs of breath, navigate shifts of direction, mediate the push and pull of other dancing bodies, and leverage the dynamics and rhythms of sound. In their every move, they celebrate momentum—the product of mass and velocity. And beyond the physics of a single gesture or a phrase of movement, dancers and choreographers participate in larger frames of momentum: they follow headlong the first glimmer of an idea, allow it to gather speed and force in order to reach the full throttle of rehearsals and the culmination of performance.
The dances we present now have been in rehearsal since September, and it has been thrilling to witness them come into being. Each of the four dances portrays a choreographer's distinct vision of motion: Peter Sparling explores a group's adaptive strategies in dealing with sudden threats, caught in the momentum of extreme weather conditions; Bill DeYoung envisions the relentless dog-eat-dog momentum of office dynamics; Amy Chavasse dislocates time and place, her unusual juxtapositions of imagery creating their own momentum; and Camille A. Brown, in emotional dialogue with John Melville Pratt's poignant score, confronts the urgent momentum of grieving.
Each year, we feel privileged to come to this moment. You, our audience, become part of our creative momentum, as you engage with the dances and dancers. You extend and complete the process. And so we invite you to set your own minds in motion as you experience the weight, the lightness, the velocities of the dances. May you dance along with us.
— Jessica Fogel, Artistic Director/Chair, Department of Dance
[/accordion]
Media
Program
Video