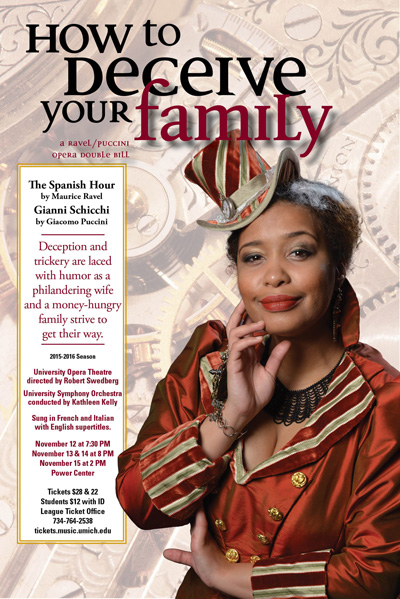 How to Deceive Your Family
a Ravel/Puccini Double Bill
University Opera Theatre • University Symphony Orchestra
November 12-15, 2015 • Power Center

In these two delightful one-act operas, deception and trickery are laced with humor as a philandering wife and a money-hungry family strive to get their way
The Spanish Hour (L'heure espagnole) by Maurice Ravel tells the story of a clockmaker, Torquemada, and his lusty wife, Concepción. With her husband off to tend to the town clocks, Concepción decides to arrange some assignations in his absence. What to do with the unknown gentleman waiting for his watch? How to manage the dilemma of both lovers arriving at the same time? Conceal the men and move around some clocks! Rich with musical sophistication, melody, and humor, Ravel's first opera (1911) is playful example of sensuous time management. Sung in French with projected English translations.
Premiered at the NY Metropolitan Opera in 1919, Gianni Schicchi (pronounced "Johnny Skeekee") is a mischievous episode from The Divine Comedy about a group of greedy relatives who have been left out of a dying man's will in favor of a monastery. His relatives enlist a crafty old peasant, Gianni Schicchi, to impersonate the old man and dictate a new will. But their plan may not quite work the way they intend. Giacomo Puccini's only comic opera, the work contains one of his most popular arias, "O mio babbino caro." Filled with trickery and triumphant comeuppance, Gianni Schicchi is "A rollicking, madcap scherzo, overflowing with merry deviltries." (The New York Times) Sung in Italian with projected English translations.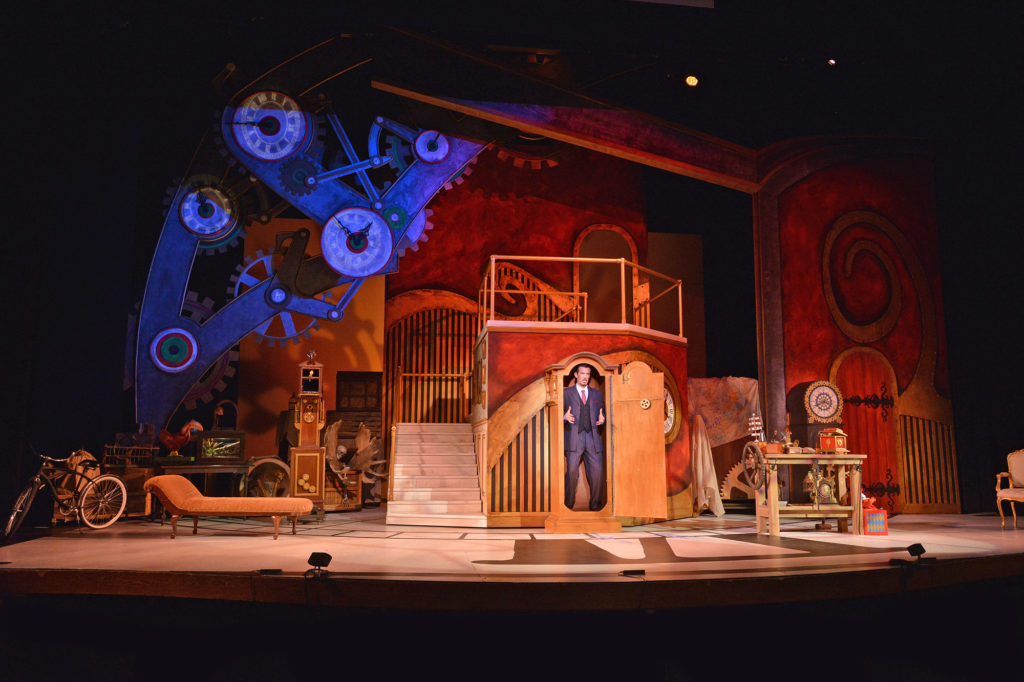 Artistic Staff
Director: Robert Swedberg
Conductor/Music Director: Kathleen Kelly
Cover Conductor – The Spanish Hour: Adrian Slywotzky
Cover Conductor – Gianni Schicchi: Mélisse Brunet
Scenic Designer: Justin N. Lang
Costume Designer: Jessica Hahn
Costume Designer (Lauretta), Gianni Schicchi: Camille Charara
Lighting Designer: Rob Murphy
Wig & Makeup Designer: Dawn Rivard
Diction Coach: Timothy Cheek
Assistant Conductors: Nathan Harris, Blair Salter
Supertitles: Robert Swedberg
Stage Manager: Jean-Luc DeLadurantaye
Cast (Thursday-Saturday/Friday-Sunday)
The Spanish Hour (L'Heure Espagnole)
Torquemada, a clock maker: Benjamin Boskoff/Tomer Eres
Concepción, his wife: Kara Mulder/Janel Speelman
Gonzalve: Carlos Santelli/Achilles Bezanis
Ramiro: Luke Randall/Michael Miller
Don Iñigo Gomez: Joseph Johnson/Glenn Healy
Gianni Schicchi
Buoso Donati: George Shirley
Zita, Buoso's cousin: Rehanna Thelwell/Kaswanna Kanyinda
Rinuccio, Zita's nephew: Tom Cilluffo/Josh Lovell
Betto, Buoso's brother-in-law: Nicholas Rathgeb/Alex Greenzeig
Simone, Buoso's cousin: Joseph Johnson/Glenn Healy
Marco, Simone's son: Luke Randall/Michael Miller
La Ciesca, Marco's wife: Stephannie Moore/Allyssa Kemp
Gherardo, Buoso's nephew: Benjamin Boskoff/Tomer Eres
Nella, Gherardo's wife: Megan Smania/Sandra Periord
Gherardino, Gherardo & Nella's son: Jackie Cano/Madeline Thibault
Gianni Schicchi: Paul Grosvenor/Ian Greenlaw
Lauretta, his daughter & Rinuccio's fiancée: Rose Mannino/Amy Petrongelli
Dr. Spinelloccio: Westley Montgomery
Amantio de Nicolao, a notary: Jason Berger
Pinellino, a shoe-maker: Michael Fragale
Guccio, a dyer: Patrick Kiessling

Resources
[accordion title="From the Director"]
While it may seem unusual to put these particular two one-act operas together in a double bill, it turns out that there are a number of wonderful reasons to do so. As Professor Kathleen Kelly and I looked at possible repertoire for this season, one of our goals was to provide a vehicle that would maximize the number of wonderfully talented singing actors we have in our opera program. No single work looked like it would serve us as well as putting two one-act operas together. Gianni Schicchi has lots of roles, so it was an easy choice. With Schicchi being presented in Italian, a second piece in another language would also give our students more opportunity to spread their wings. L'heure espagnole – a one-act opera in French – is a gem of a work, too rarely produced. By linking these works, and with double-casting, we end up with roles for 30 singing-actors! Both works also share similar orchestration, so this would be another bonus for our students as we savor the opulent orchestral textures and colors of both Puccini and Ravel. And, while both operas were written in the early 20th century, they have themes that resonate with a contemporary audience, even though there is an even more ancient tie. In the final moments of each opera, the audience is addressed with a moral: one from the works of Boccaccio (something about choosing an efficient lover) and the other refers to Dante (Schicchi is a character mentioned in Dante's Inferno). Boccaccio and Dante were near contemporaries – in the 14th century! – but as our theme in bundling these operas implies, some things (such as deceit, greed, and the power of love), never change.
— Robert Swedberg
[/accordion][accordion title="Synopses"]
The Spanish Hour (L'Heure Espagnole)

Setting: Torquemada's clock shop
It is the clock maker Torquemada's day to leave his shop so he can regulate the municipal clocks, and it is also the day his wife Concepción hopes to entertain a lover while the husband is away. Unfortunately, it is also the day that Ramiro, a muleteer, visits the clock shop to have his watch repaired. Torquemada asks Ramiro to wait in the shop for him as he goes off to his duties. This presents a problem for Concepción, who worries that the presence of this customer will ruin her rendezvous with the poet Gonzalve. How to distract him? She decides to ask Ramiro to take one of the heavy grandfather clocks in the shop up to her room. He does so just at Gonzalve appears. But Gonzalve seems to be more distracted by creating poems than in making love to Concepción. As Ramiro returns, she decides to hide Gonzalve in another clock, with the idea that perhaps Ramiro would carry that clock up to her room.
Now things get complicated when another suitor, the financier Don Iñigo Gomez, arrives, also wanting to take advantage of the time that the husband is away. He too will need to be hidden from the others, but where? After a lot of clock moving, Concepción still has not had her desired "Spanish Hour" with a lover. She must find a way to solve that dilemma, and she does, just before her husband returns. The opera ends with all characters joining in the presentation of a moral that was inspired by Boccaccio, the first part of which is: "among all lovers, it is only the effective one who counts." We can't tell you any more than that.
Gianni Schicchi
Setting: Buoso Donati's home, Florence, Italy, 1920s
The story begins just as the wealthy Buoso Donati is about to die. It is rumored that old Buoso has willed all of his money to the Church in repentance for his sinful life. After a brief period of feigned grief, his relatives conduct a feverish search for the will. They soon discover that there is much truth to this loathsome rumor. So, in an effort to extract what they consider to be their lost legacy from the clutches of the clergy, the family must resort to some sort of deceit. But what is to be done?
Rinuccio, the young nephew of Buoso, tells the Donati family that there is only one man in all of Florence who is clever and cunning enough to help the greedy relatives gain an inheritance: the ever-resourceful (but lower-class) Gianni Schicchi (who also happens to be the father of Rinuccio's fiancée Lauretta). Rinuccio arranges to have Schicchi and Lauretta brought to them.
Against his better judgment (as he sees the greed of the Donati relatives), Schicchi hatches a plot. The relatives explain that no one outside of the immediate family knows Buoso is dead, nor has any outsider, as yet, discovered the real contents of the will. Schicchi then calls on a notary to take the last will and testament of the "dying" Buoso Donati and all will be right again. But not without a price!
[/accordion]

Media
Program
Photos
[cycloneslider id="15-16-how-to-deceive-your-family"]