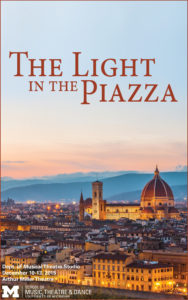 The Light in the Piazza
Book by Craig Lucas
Music & Lyrics by Adam Guettel
Department of Musical Theatre Studio Production
December 10-13, 2015 • Arthur Miller Theatre

Winner of the 2005 Tony Award for Best Score, The Light in the Piazza follows Margaret Johnson and her daughter Clara on their Italian holiday in summer 1953. When Clara falls for a handsome young Italian, her mother must choose whether or not to reveal truths about her daughter that may shatter their happiness. Featuring a sumptuous and romantic score, The Light in the Piazza captures the unconditional love between a parent and child.
Artistic Staff
Director: Brian Hill
Music Director/Conductor: Catherine A. Walker
Scenic Designer: Anton Volovsek
Costume Coordinator: Kayleigh Laymon
Lighting Designer: Rob Murphy
Italian Specialist: Scott Piper
Diction Coach: Annette Masson
Stage Manager: Kayleigh Laymon
Cast
Margaret Johnson: Kaity Paschetto
Clara Johnson, her daughter: Christina Maxwell
Fabrizio Naccarelli: Luke Steinhauer
Giuseppe Naccarelli, his brother: Ben Bogen
Franca Naccarelli, his sister-in-law: Liesl Collazo
Signor Naccarelli, his father: David Barnes
Signora Naccarelli, his mother: Kalia Medeiros
Roy Johnson, Margaret's husband: Charlie Patterson
Ensemble: Grace Bydalek, Simon Longnight, Sarah Lynn Marion, Jordyn Norkey, Matt Sena, Carly Snyder, Ben Walker

Resources
[accordion title="From the Authors"]
Certain places are hard to describe directly, certain places in the heart. Elizabeth Spencer's novella, The Light in the Piazza, first published in 1959 in The New Yorker magazine, creates enormous potential for music, as much by what is said as by what is not.
In her introduction to the novella, she writes, "The first time I saw Italy was in August of 1949. Italians were glad to be alive in a life that was possible to live, and their gladness filled the air and reached out to all comers. All the dancing and romancing, the easy friendships and dates, meetings and partings, may seem frivolous to talk about – though there's not much wrong with frivolity, God knows – but it was more then that one felt in France and Italy in those days. It had come out of the inferno just endured; it was a resurrection."
For the two of us, finding Elizabeth's work has been a joyous privilege, as has finding one another as collaborators. Our deepest thanks to Elizabeth Spencer for making both things possible.
— Adam Guettel and Craig Lucas, 2005
[/accordion]
Media
Program
Photos
[cycloneslider id="15-16-light-in-the-piazza"]