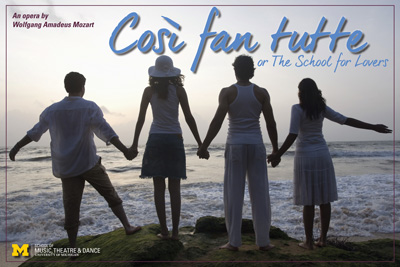 Così fan tutte
Music by Wolfgang Amadeus Mozart
Libretto by Lorenzo da Ponte
University Opera Theatre • University Philharmonia Orchestra
March 24-27, 2016  • Lydia Mendelssohn Theatre
Egged on by a cynical misogynist, Don Alfonso, who claims that women are by nature unfaithful, two young men bet that their girlfriends, who are sisters, will remain loyal. Drawn away by a trumped up call to arms and aided by Alfonso and a maid, the men return in disguise to woo the girls in an intriguing and often comic game of fiancée swapping. The sisters initially resist the advances, but eventually break down after a series of tricks, and declare their adoration for their new loves. But sometimes a joke can go too far and the young men begin to regret their actions as they find their own hearts are equally susceptible to change. When the young men reveal their deception to the sisters and their own disloyalty, all bets are off as the capriciousness of love muddles who really loves whom.
Così fan tutte is the third and last of Mozart's great operas written with librettist Lorenzo da Ponte, following closely on the heels of their success with Don Giovanni. The score is one of unsurpassed tenderness and perception – a complete union of words and music. Così features beautiful arias including "Come scoglio," "Smanie implacabili," and "Per pietà" and incomparable ensembles that highlight both the laughter and pathos in the story. The opera's plot was considered scandalous during its time and only gained international popularity in the 20th century. An exquisite and intimate opera written at the summit of Mozart's creative genius, Così fan tutte is a delightful tale about the ties of love.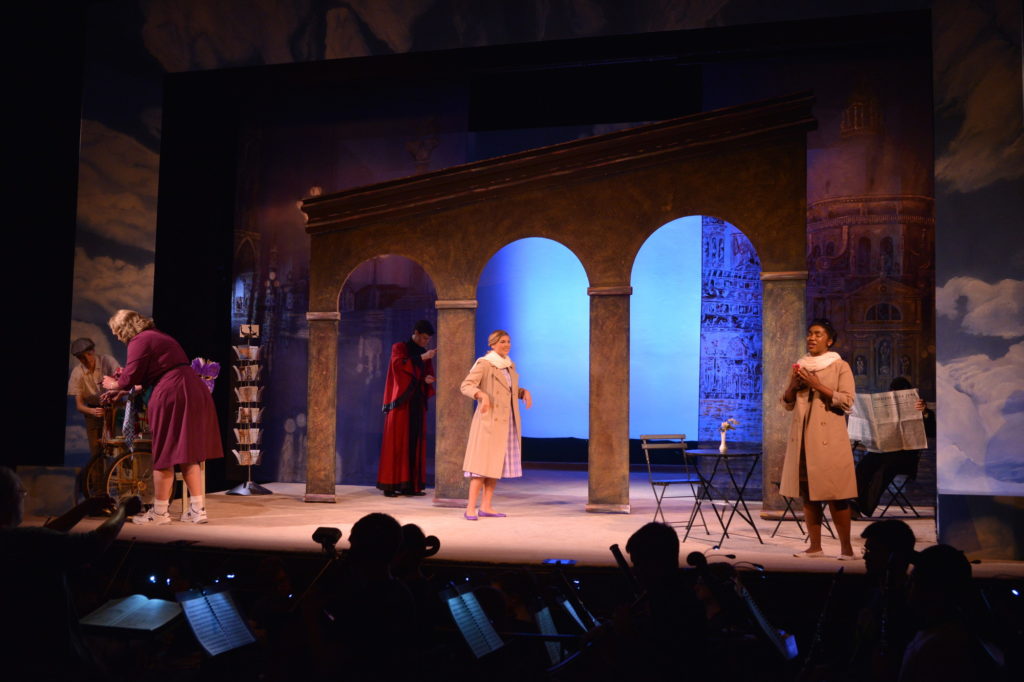 Artistic Staff
Director: Omer Ben Seadia
Conductor/Music Director: Kathleen Kelly
Cover Conductor: Diego Piedra
Scenic Designer: Jeffrey Bauer
Costume Designer: Camille Charara
Lighting Designer: Rob Murphy
Hair & Make-up Designer: Samantha Whetstone
Diction Coach: Timothy Cheek
Chorus Master: Jessica Allen
Choreographer: Molly Paberzs
Assistant Conductors: Trevor Chartrand, Joshua Marzan
Supertitles: Chris Bergen
Stage Manager: Rachel Kaplow
Cast (Thursday-Saturday/Friday-Sunday)
Fiordiligi: Kara Mulder/Laurie Ann Taylor
Dorabella: Olivia Johnson/Maddie Montambault
Despina: Amy Petrongelli/Sandra Periord
Ferrando: Josh Lovell/Carlos Enrique Santelli
Guglielmo: John Daugherty/Zachary Crowle
Don Alfonso: Jonathan Harris/Paul Grosvenor
Chaperone: Joseph Johnson
Ensemble: Giovanni Bellegarde, Justin Burgess, Lyndsay Burke, Ann Marie Calvaneso, Tori Darnell, Emily Davidson, Walker Durell, Aldon Knolls, Camille Primeau, Allison Prost, Andrew Schafer, Isabel Signoret, Megan Wheeler
Resources
[accordion title="Synopsis"]
Setting: Venice, Italy, present day
Act I
At the crack of a new day, four young people: Ferrando, Guglielmo, Fiordiligi, and Dorabella, arrive in Venice. Accompanied by their chaperone, they set out on an exciting adventure in a new city. Don Alfonso debates women's constancy with Ferrando and Guglielmo, young officers who insist their sweethearts – the sisters Dorabella and Fiordiligi – are faithful. Alfonso bets that if they give him one day and do everything he asks, he will prove the sisters are like all other women – fickle. Fiordiligi and Dorabella are comparing pictures of their boyfriends when Alfonso pays a visit, bringing news that Guglielmo and Ferrando have been ordered away with their regiment. The two men appear, and the sisters, overwhelmed with grief, bid them farewell. Alfonso is delighted with his plot and feels certain of winning his wager. Despina consoles the ladies and advises them to forget their old lovers with the help of new ones. The girls, scandalized by Despina's depiction of men as swaggering liars, depart. Alfonso convinces Despina to help him introduce new suitors into the sisters' favor, then brings in "gondoliers" – Ferrando and Guglielmo in disguise. Fiordiligi and Dorabella don't warm to the newcomers at all, with Fiordiligi likening her constancy to a rock in a storm, and they take their leave again. The men, confident of winning their bet, are thrilled, and Ferrando sings amorously of his steadfast sweetheart, but Alfonso reminds him the day is not yet over. As the sisters debate what to do next, the gondoliers storm their cabana claiming to have taken poison. The women call Despina, who urges them to care for the men while she fetches a medic. She returns disguised as a lifeguard, pretends to draw off the poison, then watches with Alfonso as Fiordiligi and Dorabella waver under renewed protestations of love.
Act II
In the afternoon, Despina urges Fiordiligi and Dorabella to choose their favorite, and each picks the other's suitor. After the gondoliers serenade the sisters, Despina and Alfonso give lessons in courting and leave the young people together. Guglielmo, courting Dorabella, succeeds in replacing her gift from Ferrando with a new charm. Ferrando has no such luck with Fiordiligi, who still thinks guiltily of Guglielmo. Comparing notes later, Ferrando is furious over Dorabella's betrayal, but Alfonso is not finished yet. Under Despina's supervision, Dorabella tries to persuade Fiordiligi to give in, but Fiordiligi decides that she and Dorabella must join their lovers at the front. Ferrando appears, however, and wins her over. Now Guglielmo is furious, but the officers still owe Alfonso time: as night falls he plans a double wedding. The couples are married by a "notary" – again Despina in disguise. As they sign the contracts, the women hear a military march that heralds the return of their original suitors. They force the gondoliers into hiding and try to compose themselves for Ferrando and Guglielmo, who shed their disguises and enter, dressed as soldiers. Confessions are made by the sisters, and forgiveness is begged. Alfonso bids the lovers learn their lesson, and with a hymn to reason and enlightenment, the day comes to a close.
—courtesy of Opera News
[/accordion]
Media
Program
Video
Photos
[cycloneslider id="15-16-cosi-fan-tutte"]