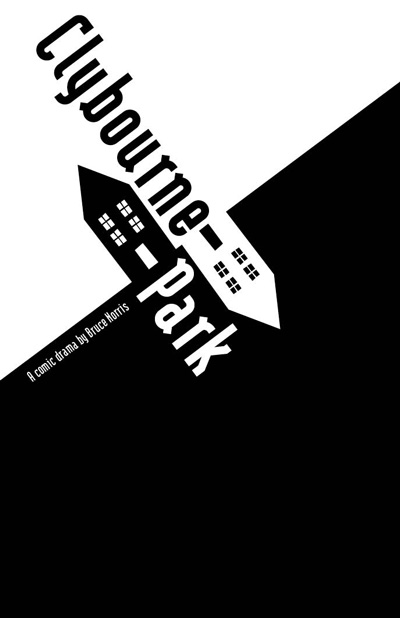 Clybourne Park
a comic drama by Bruce Norris
Department of Theatre & Drama
February 18-21, 2016 • Lydia Mendelssohn Theatre

A spin-off of Lorraine Hansberry's seminal 1959 work A Raisin in the Sun, playwright Bruce Norris portrays the families that reside at 406 Clybourne Park before and after the Younger family. Unable to convince the Youngers to sell, neighborhood-association chair Karl comes to try to convince homeowners Russ and Bev to pull out of the deal in order to preserve their all-white neighborhood. But Russ and Bev have their own reasons for wanting to move, not the least of which is the lack of the so-called "community" that Karl is trying so hard to ensure. Five decades later, the descendants of the Youngers fight their own battle against gentrification when the new white owners of the house declare their plan to tear the house down and build a much larger house. Filled with sharp comedy and provocative interplay, Clybourne Park examines through the prism of property how far the country has come and how far we need to go when faced with talking about race.
From his writing debut in 1992 with The Actor Retires, Bruce Norris has built a reputation for his provocative work: "There's nothing better than the feeling of coming into the room and feeling that something dangerous is happening." Clybourne Park debuted Off-Broadway at Playwrights Horizon in New York City in 2010, and made its way to London's West End before returning to Broadway. The comedy is the first play to win the triple crown of playwriting – the Pulitzer Prize and Laurence Olivier Award for Best Play in 2011 followed by the Tony Award for Best Play in 2012. Don't miss this "dangerous, provocative, and pulverizingly funny [play]" (Variety).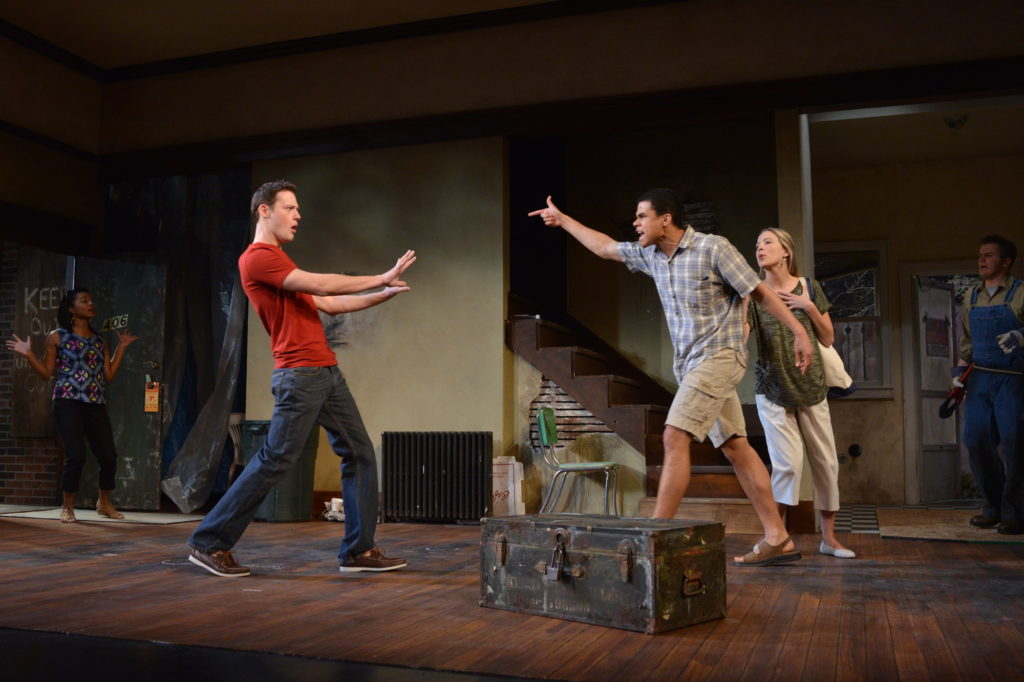 Artistic Staff
Director: John Neville-Andrews
Scenic Designer: Gary Decker
Costume Designer: Christianne Myers
Lighting Designer: Janak Jha
Sound Designer: Henry Reynolds
Wig & Make-up Designer: Rowan Renstrom-Richards
Vocal Coach: Annette Masson
Stage Manager: Sara Burgess
Cast
Russ/Dan: David Newman
Bev/Kathy: Madeline Rouverol
Francine/Lena: Blair Prince
Jim/Tom: Jordan Rich
Albert/Kevin: Aaron Huey
Karl/Steve: Jack Alberts
Betsy/Lindsey: Lila Hood
Kenneth: Julian Schwartz
Resources
[accordion title="From the Director"]
It's been a privilege to direct Clybourne Park, so artfully written by Bruce Norris about race, racism, and real estate. Many Americans live in a predicament concerning racial issues: desperate to be straightforward and inclusive on one hand, but panicky about expressing a thoughtless or offensive perspective on the other. They endeavor to say the appropriate words, believing they are well meaning and enlightened, and do not consider themselves maliciously racist. However, racial enmity frequently bubbles under the surface as they clumsily scramble to say the most politically correct thing.
And so it is with the characters in Clybourne Park. Almost everyone in Clybourne Park has an inner life that hinges on a hidden agenda. As the tension rises in the play, the characters adopt "code speak" to camouflage their true feelings. In Act One, set in 1959, the characters use their "code speak" since they do not have the emotional capability to express their genuine feelings on racial issues, even though they do understand exactly what is going on. The characters tap dance around the real ramifications of a White family, living in a predominately White neighborhood, selling their house to a Black family, potentially causing reduced property values and changing the culture of the community. For Karl Linder, a Caucasian and head of the Community Association, his "code speak" centers around his determination that people of different races shouldn't live together in a neighborhood. He asks Bev & Russ's African-American maid Francine: "I think you'd agree, I'm assuming, that in the world, there exist certain differences. Agreed?" … That people live differently."
In the second act, set fifty years later in 2009, the characters have presumptions regarding race and racism, but initially refuse to divulge them until their "code speak" fractures and their true feelings are crudely and humorously exposed. In what is now a Black neighborhood that seems to have fallen into decline, a White family has bought the house with the wish of tearing it down to build something higher than the surrounding houses, thereby changing the aesthetic of the neighborhood and possibly starting the process of gentrification. Lena, a direct descendent of the Black family who bought the house in 1959, uses her own "code speak" to state her opposition to the house being rebuilt. "And some of our concerns have to do with a particular period in history … That's just a part of my history and my parents' history – and honoring the connection to that history…" For Lena it's simply: "we don't want you here; we don't want you to rebuild this house."
The two acts of Clybourne Park have been categorized respectively as a tragedy and a comedy. The first act helps to clue in its audience to listen for every nuance in the second act, which nevertheless does not provide any uncomplicated resolutions. The way you see each act might rely on your own race, your own "politically correct" way of thinking, and your own "code speak" when it comes to racial issues.
— John Neville-Andrews
[/accordion]
Media
Program
Video
Photos
[cycloneslider id="15-16-clybourne-park"]