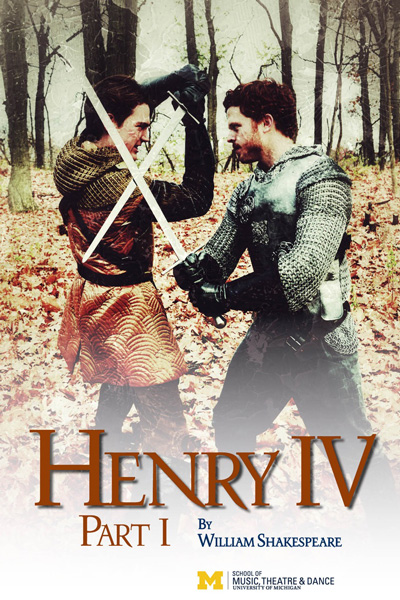 Henry IV, Part I
a drama by William Shakespeare
Department of Theatre & Drama
December 10-13, 2015 • Power Center

Fresh from his ouster of Richard II, King Henry IV finds no joy in ruling as he faces political derision from those who consider him a usurper to the throne. Even his son Hal is absent, choosing instead to lead a desolate life with the lowly knight Falstaff and his gang of riffraff. As Henry's reign faces increasing threats from Lord Northumberland and his son Hotspur, Hal must begin his own journey towards honor and the respect of a nation.
Oft called Shakespeare's greatest history play, Henry IV, Part I debuted in 1596 and was an immediate success on stage and in print. The drama intricately weaves a complex royal history with a realistic portrayal of the common man. In Falstaff, Shakespeare creates his most unforgettable personality – one of quick, irreverent wit and willing irresponsibility. From boisterous comedy, to political intrigue, to the chaos of the battlefield, Henry IV, Part I is a intriguing look at a country and family in turmoil.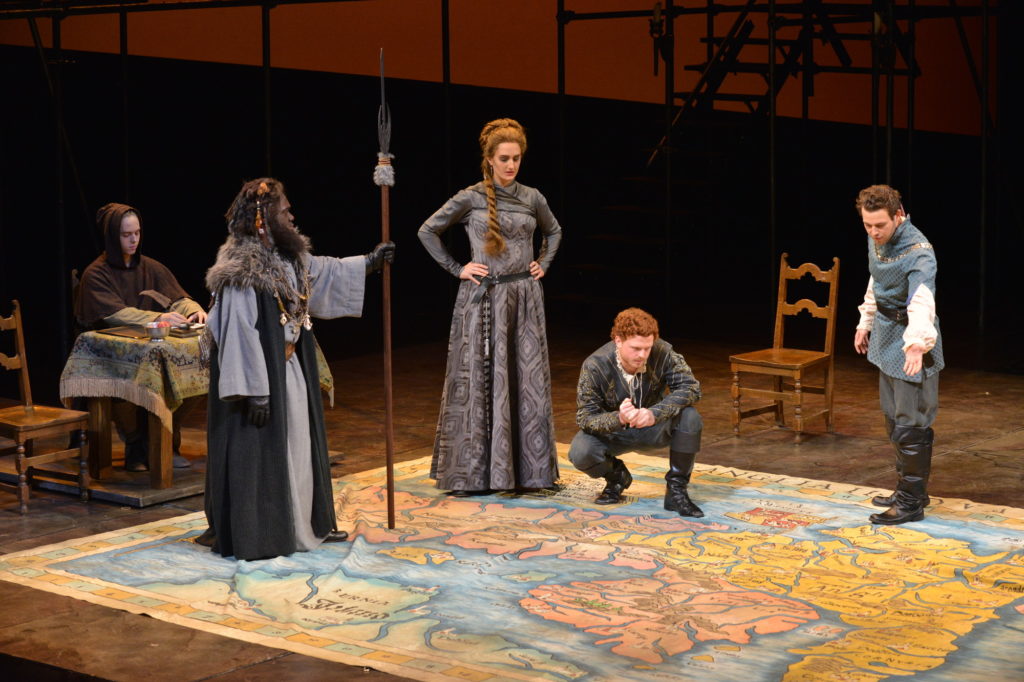 Artistic Staff
Director: Priscilla Lindsay
Fight Director: Robert Najarian
Scenic Designer: Gary Decker
Costume Designer: Christianne Myers
Lighting Designer: Kendall Smith
Sound Designer: Henry Reynolds
Composers/Asst. Sound Designers: Avery Bruni, Shamik Ganguly
Vocal Coach: Annette Masson
Assistant Director: Leia Squillace
Fight Captains: Caleb Foote, Chris Van Winkle
Stage Manager: Emily Fischer
Cast
The English Court
King Henry IV, Henry Bolingbroke: Matthew Provenza
Prince Hal, the King's eldest son: Robert M. O'Brien
Prince John of Lancaster, the King's younger son: Brooks Inciardi
Earl of Westmoreland, loyal to the king: Kevin Corbett
Sir Walter Blunt, loyal to the King: Jonathan Keammerer
Attendants to the King: Brendan Alpiner, Peter Donahue, Oren Steiner
The Rebel Faction
Duchess of Worcester, sister to Northumberland: Larissa Marten
Earl of Northumberland, Henry Percy: Samuel Bell-Gurwitz
Sir Harry Percy (Hotspur), Northumberland's son: Caleb Foote
Lady Percy (Kate), Hotspur's wife, Mortimer's sister: Molly Wear
Owen Glendower, a Welsh Lord: Elyakeem Avraham
Edmund Mortimer, Earl of March, Richard II's "rightful heir": Zachary Levine
Lady Mortimer, Mortimer's wife, Glendower's daughter: Anastasia Zavitsanos
Earl of Douglas, Archibald, a Scottish rebel: Ian Johnston
Sir Richard Vernon, loyal to Percy: Peter Donahue
Archbishop of York, Richard Scroop: David Newman
Sir Michael, of the Archbishop's household: Brendan Alpiner
Myfanwy, attendant to Lady Mortimer: Caroline Van Liere
Godfrey, Hotspur's servant: Chris Van Winkle
The Tavern
Sir John Falstaff, a friend of Hal: Graham Techler
Mistress Quickly, hostess of the Boar's Head: Daisy Bishop
Ned Poins, Hal's companion: Jesse Aaronson
Bardolph, Falstaff's companion: Samuel Bell-Gurwitz
Peto, Falstaff's companion: Sten Eikrem
Francis, an apprentice tapster: Oren Steiner
Vintner, owner of the Boar's Head: Eddie Williams Jr.
Nell: Molly Wear
Lizzie: Zoey Bond
Old Jenny: Anastasia Zavitsanos
Sally: Caroline Van Liere
Soldiers/Tavern Patrons/Ensemble: Brendan Alpiner, Elyakeem Avraham, Samuel Bell-Gurwitz, Daisy Bishop, Zoey Bond, Sten Eikrem, Brooks Inciardi, Ian Johnston, Zachary Levine, David Newman, Oren Steiner, Caroline Van Liere, Chris Van Winkle, Molly Wear, Eddie Williams Jr., Anastasia Zavitsanos

Resources
[accordion title="Synopsis"]
Written some time in the years 1596-97, Henry IV, Part I offers up a rich, if not totally accurate version of the establishment of the Tudor dynasty in England. As the play unfolds, Henry Bolingbroke has deposed Richard II and ascended to the throne. His son, known as Hal, stands poised between princely duties and the temptations of tavern life, extolled by his portly companion and second "father," Sir John Falstaff. Meanwhile, King Henry faces his own issues of "civil butchery" in the persons of his rival Edmund Mortimer, the Welsh Lord Glendower, and the Northumberland nobles of the Percy clan. Mortimer, also a legitimate heir to Richard's throne, has been captured by Glendower and is held for ransom. The Percies, tied to Mortimer through the marriage of his sister to Harry Percy (aka Hotspur) demand that King Henry pay the ransom. Henry refuses. In the ensuing months, Glendower decides to marry his own daughter off to Mortimer, and thus ally himself with the rebellious Percies. This uneasy alliance includes Worcester, also a Percy – and in our play – a Machiavellian Duchess instead of a Duke. The pride of this alliance and the Percy family is Hotspur, son of Northumberland – the embodiment of chivalry and honor. Before the Battle of Shrewsbury, Worcester and Sir Richard Vernon meet with the King to settle on terms, saying they will carry the proposal back to the rebel camp. Out of fear for future reprisals, Worcester tells the rebels that the King wants war, rather than the peace he actually offers.
At the climactic Battle of Shrewsbury, Glendower begs off coming at all, using dire prophecy as his excuse; Mortimer never "shows;" and even Hotspur's own father, the Earl of Northumberland, sends word he is "sick." Meanwhile Hal fights bravely with the King's soldiers, and tolerates Falstaff's disreputable tricks on the battlefield. Left to fight with only his family's troops and the Scottish Earl of Douglas, Hotspur is killed by Prince Hal and Worcester is captured and beheaded (offstage) along with Vernon. The play ends with an uneasy peace in the land. Hal is redeemed in the eyes of his ailing father. He must now prepare to assume the throne, and deal with Falstaff, but that is for another play.
— Priscilla Lindsay, Director
[/accordion]
Media
Program
Photos
[cycloneslider id="15-16-henry-iv-part-i"]