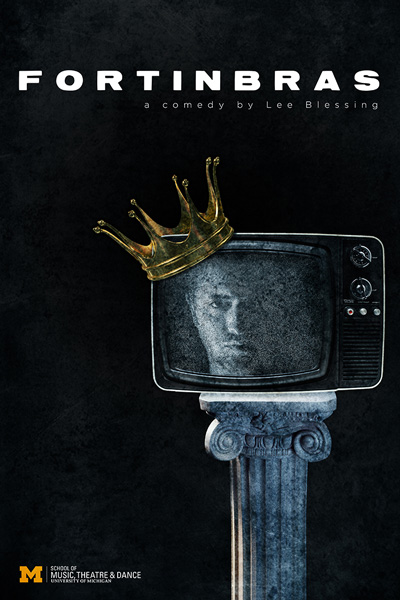 Fortinbras
a comedy by Lee Blessing
Department of Musical Theatre Studio Production
February 18-21, 2016 • Arthur Miller Theatre

Picking up where Shakespeare's Hamlet ends, Fortinbras, the new ruler of Denmark, finds himself in the tricky situation of having to explain why he is suddenly in charge. Finding the truth too complicated and, honestly, a little implausible, he creates his own much to the ire of Hamlet's pal Horatio and the much larger contingent of ghosts now roaming the halls of Elsinore. Best known for his works A Walk in the Woods and Eleemosynary, playwright Lee Blessing's Fortinbras was declared one of 1991's Best Plays by Time magazine. "Blessing's deconstruction of Hamlet is rich with metaphor and irony, reverberating with insights about politics, history, and truth" (Variety).
Artistic Staff
Director: Malcolm Tulip
Costume Designer: Claire Zimmeth
Lighting Designer: Steven Wezelman
Sound Designers: Landon Orr, Christopher Schaublin
Composer: Barrett Riggins
Assistant Director: Marty McGuire
Stage Manager: Devon Sparks

Cast
Hamlet, Prince of Denmark: Jo Ellen Pellman
Osric, member of the Danish court: Rohit Gopal
Horatio, friend of Hamlet: Alex Sherwin
English Ambassador: Grace Bydelek
Fortinbras, Prince of Norway: Tom Sweeney
Captain of the Norwegian Army: Elliott Styles
Marcellus, a sentinel: Carly Snyder
Barnardo, a sentinel: Grace Bydelek
Polish Maidens: Sophie Madorsky, AnnEliza Canning-Skinner
Polonius, the Court Councillor: BJ Myers
Ophelia, his daughter: Nkeki Obi-Mlekwe
Claudius, King of Denmark: Barrett Riggins
Gertrude, Queen of Denmark: Leah Mattfield
Laertes, Polonius's son: Griffin Binnicker

Resources
[accordion title="From the Director"]
The Studio looms. A title is required. "Do Shakespeare" they cry. "Again?" I complain. "It's good for them." I compromise. Fortinbras by Lee Blessing. This way they get twenty-four lines and a few iambs of Hamlet then a workshop in comedy with brains. Rehearsing comedy is always a roller-coaster ride. There are wonderful highs and miserable lows as
the "language" of the production is hunted. It is a joy to see the epiphanies as the actors encounter or stumble upon moments that evoke a response: learning that truth can exist in exaggerated form and the necessity of maintaining the joy of performing under pressure. For an actor I believe that comedy is the true test. In it, one must find a marriage between the framework and substance the playwright provides and the whimsy of the foolish showoff. Discipline woos anarchy and the lovechild comedy is born.
I would like to dedicate this production to Chair Brent Wagner. For years, his support of and belief in the value of the non-musical studio experience for his students has been unstinting and trusting. On behalf of all the students I have worked with under his leadership I say thank you and a happy next act.
— Malcolm Tulip
[/accordion]
So shall you hear
Of carnal, bloody and unnatural acts;
Of accidental judgments, casual slaughters:
Of deaths put on by cunning and forc'd cause;
And in this upshot, purposes mistook
Fall'n on th'inventors' heads. All this can [we]
Truly deliver.

–Hamlet 5.2
Media
Program
Photos
[cycloneslider id="15-16-fortinbras"]