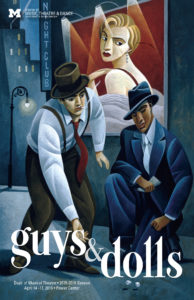 Guys & Dolls
Book by Abe Burrows and Jo Swerling
Music and Lyrics by Frank Loesser
Department of Musical Theatre
April 14-17, 2016 • Power Center
A fable about Broadway, Guys and Dolls is based on Damon Runyon's rough-and-tumble stories of New York City. Nathan Detroit, organizer of the longest running floating crap game in the city, bets gambler Sky Masterson that he can't make the next girl he sees fall in love with him. The next girl just happens to be Sarah Brown – a Salvation Army missionary! Meanwhile, Nathan is having trouble with his own girlfriend, Adelaide, who after fourteen years of dating is ready for the next step – marriage. Hilarity abounds as morality vies with love in the ultimate game of chance.
Winner of two Tony Awards for Best Musical for the original premiere in 1951 and the 1995 revival, Guys and Dolls has universally won over audiences through its productions onstage and onscreen. Brooks Atkinson of The New York Times declared "We might as well admit that Guys and Dolls is a work of art. It is spontaneous and has form, style, and spirit." Frank Loesser's dynamic score features song favorites such as "Luck be a Lady," "Sit Down You're Rockin' the Boat," "I've Never Been in Love Before," and the title song. With an incredibly funny book, vivid characters, fantastic dance sequences, and warm-hearted romance, Guys and Dolls is truly what many have labeled it – the perfect musical comedy.
This production is dedicated to Brent Wagner, Arthur F. Thurnau Assoc. Professor and Chair of Musical Theatre, in celebration of his retirement after thirty-two years of leadership.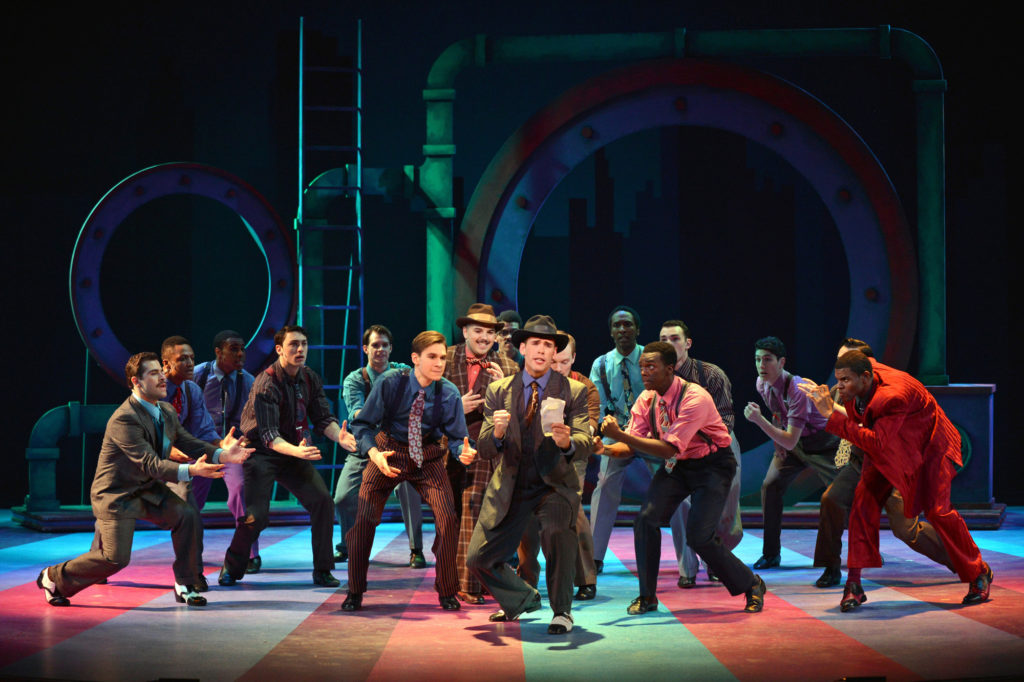 Artistic Staff
Director: Mark Madama
Music Director/Conductor: Cynthia Kortman Westphal
Choreographer: Mara Newbery Greer
Scenic Designer: Edward T. Morris
Costume Designer: Jessica Hahn
Costume Designer (Havana Ladies): Michayla Van Treeck
Lighting Designer: Mark Allen Berg
Sound Designer: Al Hurschman
Wig Designer: Erin Kennedy Lunsford
Stage Manager: Jessica Browning
Cast
Nicely-Nicely Johnson: Noah Weisbart
Benny Southstreet: Wonza Johnson
Rusty Charlie: Tyler Leahy
Sarah Brown: Solea Pfeiffer
Arvide Abernathy: Cameron Jones
Agatha: Jordyn Norkey
Calvin: Trevor Carr
Martha: Natalie Duncan
Harry the Horse: Daniel Schwartzberg
Lieutenant Brannigan: Charlie Patterson
Nathan Detroit: Joseph Sammour
Gamblers: Christopher Campbell, Noah Kieserman, James Kilmeade, Simon Longnight, Riley McFarland, Justin Showell, Chris Washington, Aidan Ziegler-Hansen
Angie the Ox: Ben Bogen
Miss Adelaide: Hannah Flam
Sky Masterson: Will Branner
Joey Biltmore: Riley McFarland
General Matilda B. Cartwright: Sarah Lynn Marion
Big Jule: Jordan Samuels
Master of Ceremonies: Noah Kieserman
Runyonland Girls: Lola Leon, Aline Mayagoitia
Hot Box Girls: Marina Kondo, McKenzie Kurtz, Carina-Kay Louchiey, Hannah Lynne Miller, Isabel Stein, Halli Toland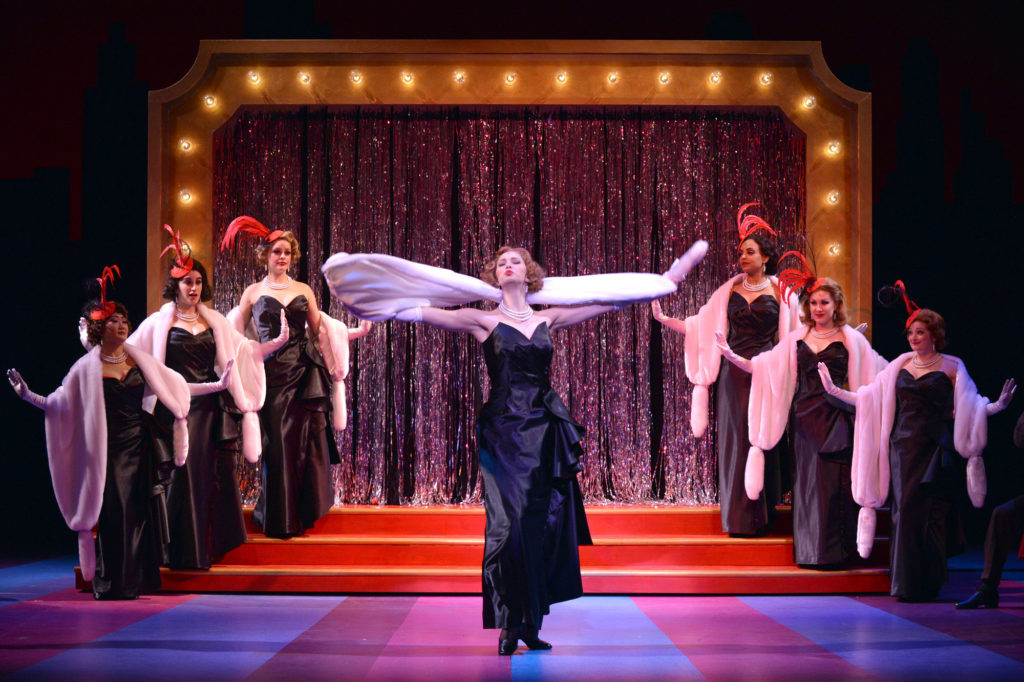 Media
Program
Photos
[cycloneslider id="15-16-guys-and-dolls"]