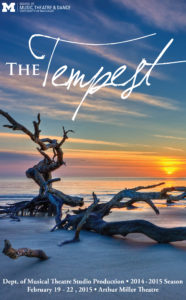 The Tempest
By William Shakespeare
Department of Musical Theatre Studio Production
February 19-22, 2015 • Arthur Miller Theatre

An enchanted isle comes to life in Shakespeare's last great romance play, The Tempest. Regarded as one of his most beautiful and accomplished, if also most mysterious plays, it evocatively yet elusively touches on themes of art and nature, appearance and reality, immortality and death. An enduring masterpiece of forgiveness, redemption, and renewal that has delighted audiences for over 400 years, The Tempest features musical theatre students in a spoken play.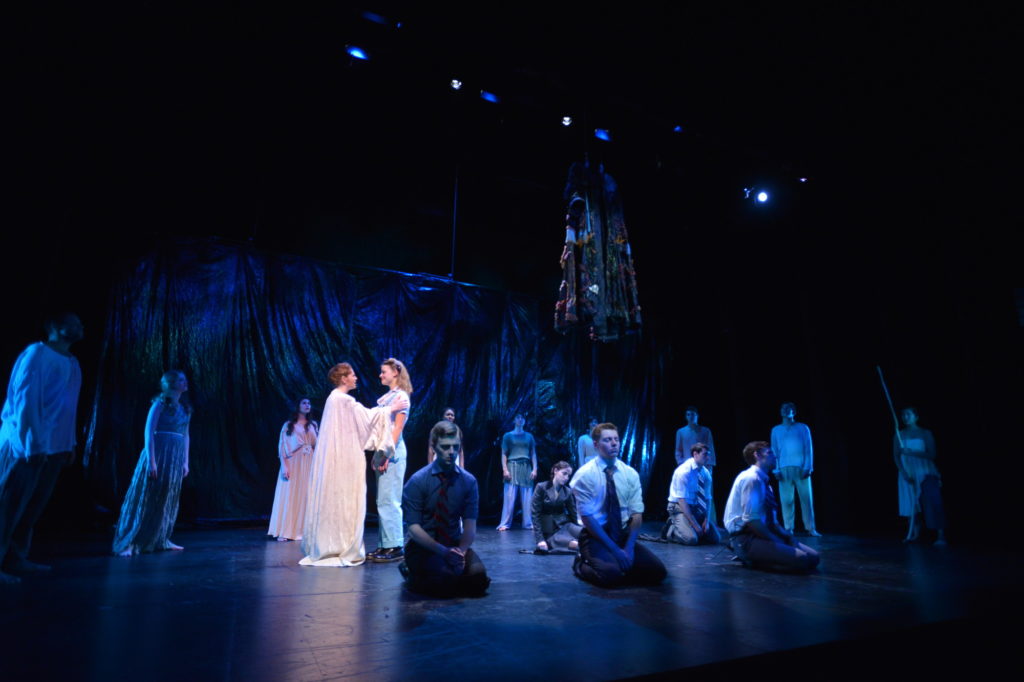 Artistic Staff
Director: Malcolm Tulip
Scenic Designer: Anton Volovsek
Costume Designer: Lindsay Balaka
Lighting Designer: Janak Jha
Sound Designer: Andrew Hintzen
Choreographer: Wonza Johnson
Assistant Director: Lindsay Wormser
Stage Manager: Kelsy Durkin
Cast
Prospero: Kalia Medeiros
Miranda: Jillian Slade
Ariel: Hannah Lynne Miller
Caliban: Simon Longnight
Ferdinand: Alex Miller
Stephano: Liesl Collazo
Trinculo: Riley McFarland
Antonio: Will Branner
Sebastian: Kyle McClellan
Alonso: Peter Scattini
Gonzalo: Audrey Rose Young
Adrian: Noah Kieserman
Ensemble: Samuel Hamashima, James Kilmeade, Sophie Madorsky, Aline Mayagoitia, Jessica Ng, Nkeki Obi-Melekwe, Jo Ellen Pellman, Jordan Samuels, Daniel Schwartzberg
Resources
[accordion title="From the Director"]
The Tempest. I first doubled as Antonio and Stephano in College, was a Dancing Sailor in Derek Jarman's film, was Trinculo twice in the SMTD's Power Center productions, called my company Prospero Theatre Company, and my first full-length original piece was The Caliban Motel referred to by the Detroit Free Press critic as "Theatre of Crud." I do truly love this play and am yet again astounded by new discoveries as we have worked on it. I have stolen Jarman's idea of replacing the Goddesses scene with the song "Stormy Weather." The content of this Masque is less important than the gift it brings to the soon-to-be-weds and the audience: the gift originally a parting one from the Bard to his public.
— Malcolm Tulip
[/accordion]
Media
Program
Photos
[cycloneslider id="14-15-the-tempest"]