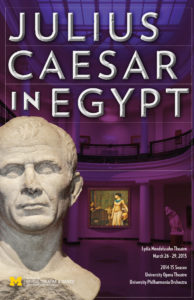 Julius Caesar in Egypt
Music by George G. Handel
Libretto by Nicola Francisco Haym
University Opera Theatre • University Philharmonia Orchestra
March 26-29, 2015 • Lydia Mendelssohn Theatre

George F. Handel, composer of the beloved Messiah, was also one of the greatest opera composers of all time. Julius Caesar in Egypt (Giulio Cesare in Egitto) is his most popular opera, and has entranced audiences since its debut in 1724. Our production of this Baroque classic sets the action in a contemporary art gallery, where patrons attend a function celebrating the unveiling of new statues of Caesar and Cleopatra. Interwoven with the contemporary setting are the Roman and Egyptian characters in period dress to tell this legendary story of lust, ambition, and revenge. Handel's incredibly beautiful music will be produced in authentic Baroque style (condensed to 2½ hours) with all the vocal fireworks that make music from this era so powerful.
The story begins in 48 B.C.E. The ambitious Caesar, fresh from his defeat of Pompey in a Roman civil war, enters Egypt to continue his conquest of the ancient world. The Queen of Egypt, Cleopatra, caught in her own civil war for the throne against her brother Ptolemy, decides to seduce the Roman general to gain him as an ally. Caesar and Cleopatra's surprise love match and political alliance withstands war, capture, and political intrigue, to cement their enduring legacy as the world's first power couple.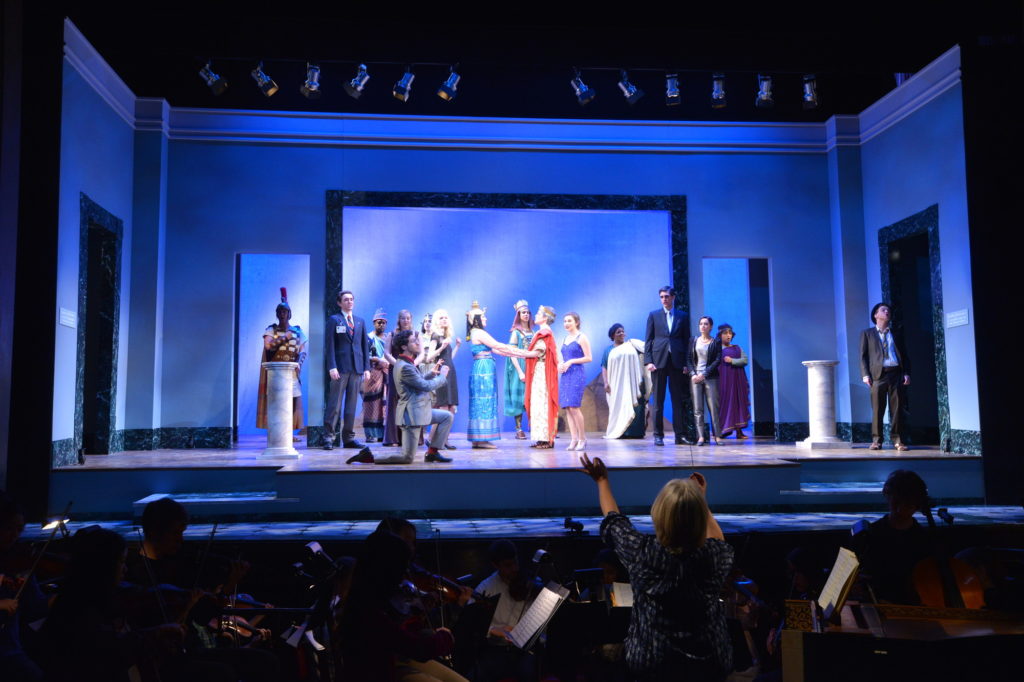 Artistic Staff
Director: Robert Swedberg
Conductor/Harpsichordist: Kathleen Kelly
Cover Conductor/Harpsichordist: Roberto Kalb
Scenic Designer: Gary Decker
Costume Designer: George Bacon
Lighting Designer: Kendall Smith
Wig & Makeup Designer: Erin Kennedy Lunsford
Choreographer: Alexandria Strother
Italian Diction Coach: Timothy Cheek
Chorus Master: Jessica Allen
Dramaturg: Dr. Anita Gonzalez
Assistant Conductors: César Cañon, Kirill Kuzmin
Supertitles: Robert Swedberg
Stage Manager: Elana Lantry
Cast (Thursday-Saturday/Friday-Sunday)
Giulio Cesare (Julius Caesar): Sarah Coit/Ashley Dixon
Curio, a Roman tribune: Glenn Healy/Michael Miller
Cornelia, widow of Pompey: Rehanna Thelwell/Kaswanna Kanyinda
Sesto (Sextus), son of Pompey: Janel Speelman/Natasha Drake
Achilla (Achillas), a general, Cesare's counselor: Luke Randall/Ian Greenlaw
Cleopatra, Queen of Egypt: Martha Guth/Rose Mannino
Nireno, confidant of Cleopatra & Tolomeo: Jonathan Harris/Paul Grosvenor
Tolomeo (Ptolemy), King & Cleopatra's brother: Nora Burgard/Tessa Romano
Major Donor/Board Member/Warrior: Jackie Cano
Major Donor/ Board Member: Perry Bleiberg
Museum Guests/Warriors: Dan Iammatteo, Jasmin Mould, Matt Whitehead
Museum Guest: Hayley Boggs
Museum Curator: Megan Smania
Fund Raiser/Guard: Andrew Burgmayer
Caterer/Guard: Aaquil Rowe
Caterer: Grace Santamaria
Security Guard: Samuel Kidd
Dancers: Patricia Sholtis, Jillian Slade
Onstage Banda: Laura Longman, Hannah Rumora, Bekah Ruetz, Melody Stein, Kristina Willey, Paulina Tsao
Sponsors
Media Sponsorship by WRCJ.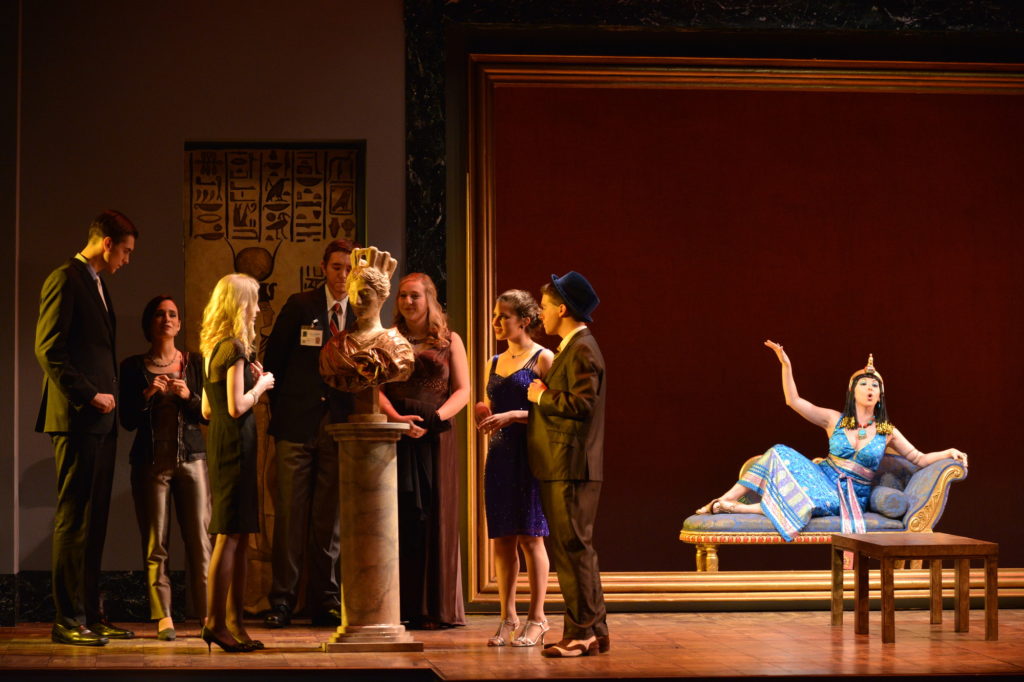 Resources
[accordion title="Ancillary Events"]
Opera to Go
Join local opera expert Richard Lesueur, conductor Kathleen Kelly, and singers for a lively, interactive discussion on the opera.
March 17 • 7 PM • Barnes & Noble
Pre-Opera Talks
Kathleen Kelly and guest lecturers discuss Julius Caesar before each performance.
March 26 – 29 • 45-min prior to curtain • Michigan League Bldg.
[/accordion][accordion title="Synopsis"]
Handel's Giulio Cesare takes place in Egypt in 48 B.C. Our production maintains the period of this story but frames it within a contemporary art gallery. As each scene unfolds, the characters step out of period tableaux of statuary or paintings into their own world, which is sometimes interwoven with the modern world of the gallery as we tell this story:
Act I
Cesare and his general Curio arrive in Alexandria in pursuit of his Roman rival, Pompeo. There is turmoil in Egypt as Cleopatra and her younger brother King Tolomeo vie for control. The presence of the warring Romans makes the question of leadership even more complex. As a gesture of good will, Tolomeo sends the severed head of Pompeo to Cesare. Horrified, Cesare tells Tolomeo's general Achilla that he will punish the king for this deed. Cesare also takes Pompeo's wife Cornelia and son Sesto under his protection.
At the Egyptian court, Cleopatra learns of Cesare's conquests and resolves to seduce him. Achilla tells Tolomeo that Cesare was not happy with his "gift" and offers to kill Cesare if he can have Cornelia as his reward.
Cleopatra arrives at Cesare's camp disguised as a servant named Lydia. She enlists Cesare's aid against Tolomeo. Mourning her husband, Cornelia attempts suicide but Sesto stops her. He vows to avenge his father by killing Tolomeo. Cleopatra overhears this and promises to help them.
Tolomeo captures Cornelia and Sesto; he decides to take Cornelia as one of his concubines, cheating Achilla of the privilege. Cleopatra's advisor Nireno frees Sesto and suggests that the best time to take his revenge is when Tolomeo is distracted in his harem.
Cleopatra (still disguised as Lydia) meets Cesare again and they fall in love. She finally reveals her true identity to Cesare as Curio arrives to warn of a plot to kill him. Cleopatra promises her support and tells her lover to flee while he can. Cesare refuses and prepares to face his enemy. Cleopatra prays to the gods to preserve him.
Act II
Tolomeo, secure in his harem, tries to have his way with Cornelia. Sesto steals in to kill him but is interrupted by Achilla, who warns the king that Cleopatra is plotting against him. Once again, Achilla demands Cornelia as payment for his services, but Tolomeo refuses. Cornelia sends her son off, telling him to be brave and wait for another chance to kill Tolomeo.
Achilla decides to help Cleopatra but their forces are overpowered by Tolomeo's armies and the queen is taken prisoner. Wounded, Achilla confesses that he killed Pompeo and gives Sesto command over his warriors. Cesare, having been presumed dead, arrives and vows to rescue Cleopatra and Cornelia with Achilla's troops.
Still a prisoner, Cleopatra prepares to die, but Cesare frees her. Sesto kills Tolomeo, having found him seducing his mother.
Cesare crowns Cleopatra as sole Queen of Egypt. She declares her allegiance to the Roman Empire, and all welcome the arrival of peace.
[/accordion]
Media
Program
Photos
[cycloneslider id="14-15-julius-caesar"]