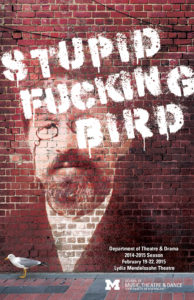 Stupid F###ing Bird
by Aaron Posner
Sort of adapted from Chekhov's The Seagull
Department of Theatre & Drama
February 19-22, 2015 • Lydia Mendelssohn Theatre

The Story: In this irreverent remix of Anton Chekhov's The Seagull, unrequited love and artistic angst take on a decidedly modern bent. An aspiring playwright with a radical view of the theatre yearns for love, acceptance, and success. His ingénue girlfriend searches for fame and oh so slyly goes after his mother' famous boyfriend. A fading Hollywood star fights getting older by using her sardonic wit as a lethal weapon. Lest one think Stupid F###ing Bird too similar to the classic, the Washington Post declares "The rude, childish title turns out to be smack on the money for Aaron Posner's savvy, petulant blitz through Chekhov… [the] new play is less an adaptation than a funny, moving slugfest, a ripe mashup of mock and awe."
Background: Playwright Aaron Posner has adapted and written over 20 works, including My Name is Asher Lev and The Chosen. Premiered in 2013 at the Woolly Mammoth Theatre Company in Washington D.C., Stupid F###ing Bird brings Chekhov's subtext to the forefront. Posner's clever and zippy script "captures precisely how people communicate in real life these days – in fumbling, incomplete fragments groping for expression and hoping for comprehension." (John Stoltenberg) Hilarious and contemporary, Stupid F###ing Bird succeeds in forging new theatrical ground just as its predecessor did over a century ago.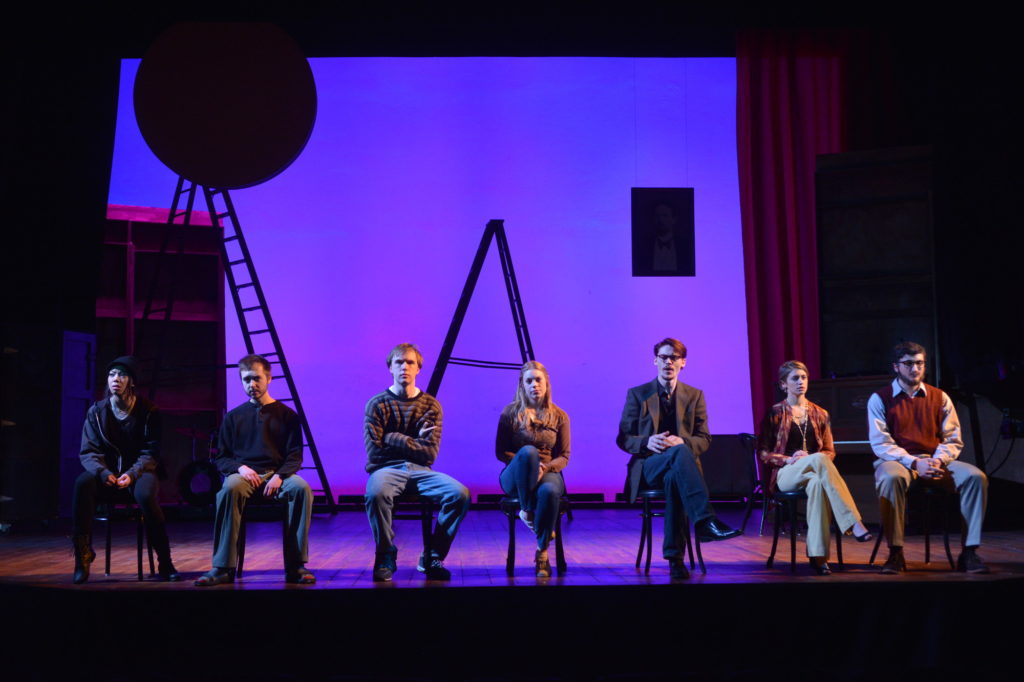 Artistic Staff
Director: Daniel Cantor
Scenic Designer: Lucy Briggs
Costume Designer: Christianne Myers
Lighting Designer: Miriam Michaels
Composer: James Sugg
Sound Designer: Henry Reynolds
Music Director: Kevin Goldberg
Assistant Director: Gregory Strasser
Choreographer: Lena Drake
Stage Manager: Rachel Kaplow
Cast
Con: Graham Techler
Dev: Avery DiUbaldo
Emma: Teagan Rose
Mash: Caitlin Chou
Nina: Kate Berg
Trig: Ben Reitemeier
Sorn: Josh Aber
Resources
[accordion title="From the Director"]
If you read the first act of Anton Chekhov's The Seagull carefully, you will notice that all of the young people of the play – Constantine, Nina, Medvedenko, and Masha complain bitterly about their parents. While their angst may be a touch adolescent, their dissatisfactions are more than valid: Constantine's father is out of the picture, and his mother, a famous actress, not only overshadows him but has neglected him his whole life to pursue her career; Medvendenko is forced to forgo basic pleasures like tobacco to support his entire family, including his parents, on a teacher's salary; Masha's father is imperious, and her mother is obviously in love with another man; Nina's mother is presumably dead, and her father and step-mother are intolerant and most probably abusive.
All four of these characters suffer a legitimate void. And they all believe, or want to believe, that they can fill that void with the fulfillment of their romantic or artistic ambitions (or both). That is, they all fiercely compensate for the emotional malnourishment of their childhood (and present lives), by fighting for relevance – a relevance that will only be affirmed by the other (the object of their lust, an adoring audience, the validation of critics, the belated unconditional acceptance of mother). And they all project their desires – with great subconscious brilliance – onto an object that will surely never adequately return the favor.
Then again, aren't we all doing this to one degree or another? In fact, this might be exactly what Stupid Fucking Bird is itself doing. In this case, the over-shadowing parental figure is Chekhov himself. Like Shakespeare before him, Chekhov, for most theater artists, stands as a towering patriarch. What are we to do in the face of his stupid fucking genius? I mean – what? How do we top his plays? How do we move on from them? How do carve out our own relevance in relation?
In The Seagull, when Constantine rails against old forms (and when Con does it in SFB) and cries that the answer – to everything – is only in new forms, his aesthetic argument is really only a thinly veiled sublimation of his need to strike out at his mother, to differentiate himself from her. Though when he summons her, and his friends and family, to witness a performance of his experimental play that implicitly mocks her art, he's at once being oppositional and begging for her approval. He's at once saying to her, "Fuck you and please love me."
And that is precisely the posture Aaron Posner assumes in dealing with our theatrical father, Chekhov. By reorganizing Chekhov's play – by toying with its narrative, and mostly by playing with its form – Posner is at once thumbing his nose at Chekhov and writing him a love letter (he is doing just what Constantine attempted, only more successfully!). By pulling The Seagull apart and reconstituting it in a post-modern structural pastiche, with songs, movement sequences, audience involvement, and alternating genres, SFB makes sure to assert nothing is sacred, not even Chekhov.
At the same time, with an adaptation that is irreverent and bold, Posner adoringly brings out the best of Chekhov to a contemporary American audience that is prone to mistake Chekhov's work as dour and slow. Indeed, Stupid Fucking Bird lays vigorous claim to how fun, funny, passionate, energized, sexy, absurd, heart-breaking, contradictory, soulful, and surprising Chekhov really is. And how fun, funny, passionate, energized, sexy, absurd, heart-breaking, contradictory, soulful, and surprising our lives on this strange earth really are.
— Daniel Cantor
[/accordion]
Media
Program
Photos
[cycloneslider id="14-15-stupid-f-ing-bird"]